Fresh tomato lemon olive pasta is a beautiful blend of sweet summer-ripe tomatoes, lemon-basil zing and salty olives, capers and Parmesan.
My sister Kathy had the family over for dinner on the weekend. She served us this pasta dish with a green salad and a shrimp cake appetizer in her backyard.  So good!
The pasta was light and bursting with freshness from the tomatoes, marinated in lemon zest, olives, capers, basil, garlic, olive oil and Parmesan.
The recipe is adapted from Food & Drink, an Ontario LCBO magazine with stunning pictures. When I got home from my sister's dinner, I found my copy and made it again the next day – in less than half hour.  Really easy.
I typically serve this pasta as a Main Course with some warm crusty bread. It would also be great as a side for cold sliced chicken, Mediterranean-Style Marinated Chicken or Roasted Salmon Stuffed With Herbs.
Tailor To Your Taste
The recipe called for anchovy paste which I didn't have so I substituted  capers.
Use shaved or grated Parmesan cheese.
Try different pastas. My sister used rigatoni. I prefer baby penne, a smaller pasta.
Blanched asparagus and some toasted almond slivers might be a great addition too.
Make Ahead Fresh Tomato Lemon Olive Pasta
To make this pasta ahead, prepare the tomato-olive mixture and marinade a couple of hours ahead, then just before serving, make the pasta and tossed it all together.



Fresh Tomato Lemon Olive Pasta Recipe
Fresh tomato lemon olive pasta is a beautiful blend of sweet summer-ripe tomatoes, lemon-basil zing and salty olives, capers and cheese.


Ingredients
1 1/4

lb

fresh tomatoes, any colour and shape

(about 2 large tomatoes)

1/4

cup

basil leaves, roughly chopped

1/3

cup

kalamata olives, roughly chopped

zest of 1 lemon

1/4

cup

freshly grated Parmigiano-Reggiano cheese

(or shaved if preferred)

1/2

lb

baby rigatoni

(250 gm, about 2 cups)
Marinade
1/4

cup

olive oil

1

tbsp

lemon juice

2

tsp

chopped capers, rinsed

(or 1 teaspoon anchovy paste)

1.5

cloves garlic, finely minced

1/8

tsp

chili flakes

1/8

tsp

salt or to taste
Instructions
PREPARE TOMATO-OLIVE MIXTURE: Cut tomatoes into chunks and place in a medium bowl. Add olives, basil, lemon zest and cheese.

MAKE MARINADE: In a small bowl, whisk vigorously olive oil, lemon juice, capers, garlic, chili flakes and salt. Add this marinade to the tomato-olive mixture. Set the mixture aside to marinate at room temperature while you boil the pasta.

MAKE PASTA: Put pasta into well-salted boiling water and cook as per package directions until al dente (with a slight firmness). Drain (do not rinse), reserving 1/4 cup of pasta liquid if needed.

ASSEMBLE AND SERVE: Put pasta and tomato mixture into the pot (not over the heat). Mix together, adding some of the pasta liquid - if needed - for a smooth consistency. Drizzle with a touch of olive oil. Adjust seasonings. Pour into a large shallow bowl and serve with a green salad and some crusty bread or slices of cured meats if desired.
Other easy pasta dishes you might like: 
Fresh Vegetable Pasta
This is one of my favorite non-meat meals. Its a light, healthy, zesty, fresh vegetable pasta dish and perfect for spring (or any time for that matter).
Get the recipe
Print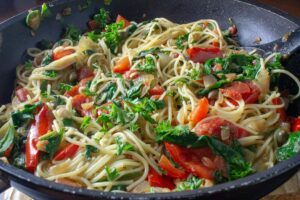 Lemon Shrimp Pasta in 30 Minutes
This Lemon Pasta with Shrimp is out of this world. The lemon shines through, the capers and garlic give it extra oomph and the butter makes it rich and silky. Seriously good!
Get the recipe
Print