This light Mediterranean Pasta is inspired by Mediterranean flavors of garlic, olives, lemon, basil and tomatoes. It's a great weeknight vegetarian meal in under 30 minutes.
I'm trying to eat less meat and poultry these days. This is one of my go to's because it's so versatile and I can get dinner on the table in 20-30 minutes. I rummage through my fridge and use this recipe as a guide, substituting what I have on hand. Exact amounts are not necessary. Just taste and adjust.
The salty, tangy olives deepen the flavors and the veggies make it a healthy meal in a bowl. I use black Kalamata olives, but so many others would work well too. Here's a great beginners guide to olives by Serious Eats. A final drizzle of good quality olive oil to finish the dish is a big plus if you have some in your cupboard.
For hungry non vegetarian eaters, you can top the pasta with roasted shrimp or grilled chicken. To roast shrimp, toss uncooked shelled and deveined shrimp with olive oil, salt and pepper, then roast them at 425F for 5-6 minutes. For grilled chicken, try our Mediterranean Chicken recipe and skip the marinating if you're short on time.
So… start with the basics and create your own version with the suggestions below or wherever your imagination takes you. The recipe serves 3 (or two big eaters like my husband).
Tailor To Your Taste
Vary the vegetables with asparagus, eggplant, zucchini, mushrooms.
I use a thin spaghetti type pasta, but short pastas like penne and zitti will work fine too.
Replace the Parmesan with feta cheese.
Use cherry tomatoes cuts in half instead of a whole chopped tomato. You can also use a small can of whole tomatoes, well drained. Squeeze out some of the seeds and juice.
Shortcuts
Buy pitted olives
Buy pre-grated Parmesan cheese
Use fresh baby spinach (pre-washed) and don't bother roughly chopping it
Use bottled lemon juice and frozen garlic cubes (or pureed garlic in a jar)
Make Ahead
I love leftovers of this pasta the next day for lunch because the flavors have time to blend. I just heat the pasta in the microwave and dig in right out of the container I refrigerate it in.
Other vegetarian pasta recipes to check out
How to make Mediterranean pasta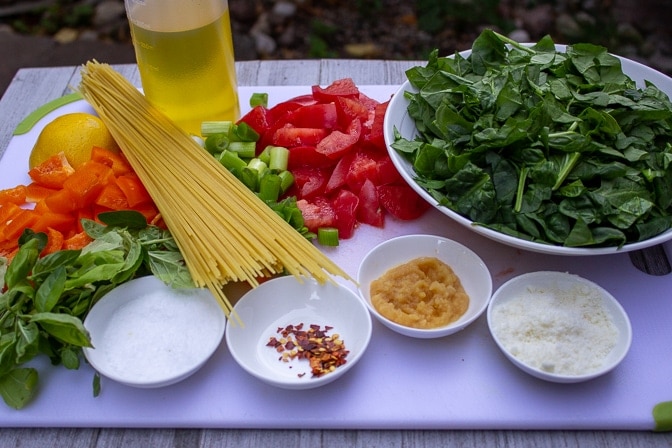 Mediterranean Pasta
This light Mediterranean Pasta is inspired by Mediterranean flavors of garlic, olives, lemon, basil and tomatoes. It's a great weeknight vegetarian meal in under 30 minutes. 
Ingredients
6

ounce

pasta, about 190g

(I use capellini, vermacelli or spaghettini)

2

tablespoon

olive oil

1

pepper, seeded and chopped

red, yellow or orange

1/2

cup

olives, pitted and chopped

(I use black olives)

1 1/2

cup

cherry tomatoes, halved

(or 1 large tomato, chopped)

3

green onions, chopped into 1 inch pieces

juice from 1/2 lemon

3

garlic cloves, minced

1/4

teaspoon

salt

pinch

chili flakes

(I use 1/4-1/2 tsp)

4

cups

fresh baby spinach, roughly chopped

1/4

cup

basil, chopped

1/4

cup

Parmesan cheese (or more) for garnish- optional
Instructions
COOK PASTA: Add pasta to boiling salted water and cook until desired consistency according to package directions. Drain, reserving 1/2 cup pasta liquid. Put pasta back in pot and cover to keep warm.

MAKE SAUCE: While pasta is cooking, In a medium skillet or sauce pan, heat oil to medium high, add red pepper and green onions. Saute for 2 minutes. Add olives, basil, tomatoes, garlic, salt, chili flakes and lemon juice - saute for 4-5 more minutes. If tomatoes are very watery, cook an extra 1-2 minutes. Add spinach and basil, stirring just until wilted.

COMBINE PASTA AND SAUCE: Add pasta to sauce and mix well, incorporating a bit of pasta liquid at a time to moisten if needed (i.e. if pasta is too dry). Taste and adjust seasonings. Sprinkle Parmesan on the pasta or serve separately as garnish. Alternatively, add roasted shrimp or grilled chicken pieces if desired.
Notes
Make Ahead: This pasta is actually excellent the next day, so sure, go ahead and make it the day before. Store in a sealed container. To reheat, add a tablespoon or two of water, then heat in the microwave on  high for a couple of minutes, stirring half way through. 
Nutrition value estimates do not include optional Parmesan cheese.
Nutrition
Calories:
369
kcal
|
Carbohydrates:
52
g
|
Protein:
10
g
|
Fat:
14
g
|
Saturated Fat:
2
g
|
Sodium:
591
mg
|
Potassium:
641
mg
|
Fiber:
5
g
|
Sugar:
6
g
|
Vitamin A:
5671
IU
|
Vitamin C:
82
mg
|
Calcium:
89
mg
|
Iron:
3
mg
Tried this recipe?
We'd love you to rate it above under 'rate this recipe' or in the comment section below. Thanks!