You don't need a special smoker to add wonderful smoky flavor to your chicken. With simple wood planks, you can achieve a beautifully golden juicy cedar plank chicken infused with a mild woody smoked flavor.
Easier than you think!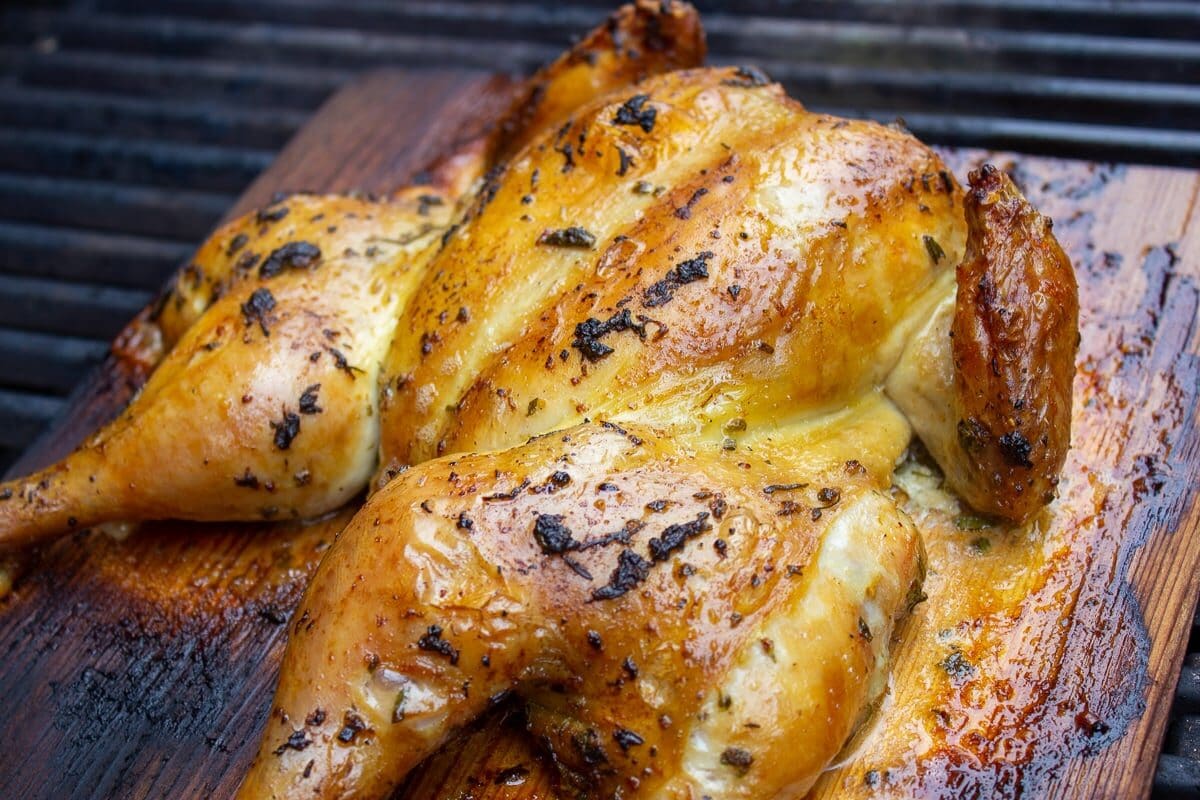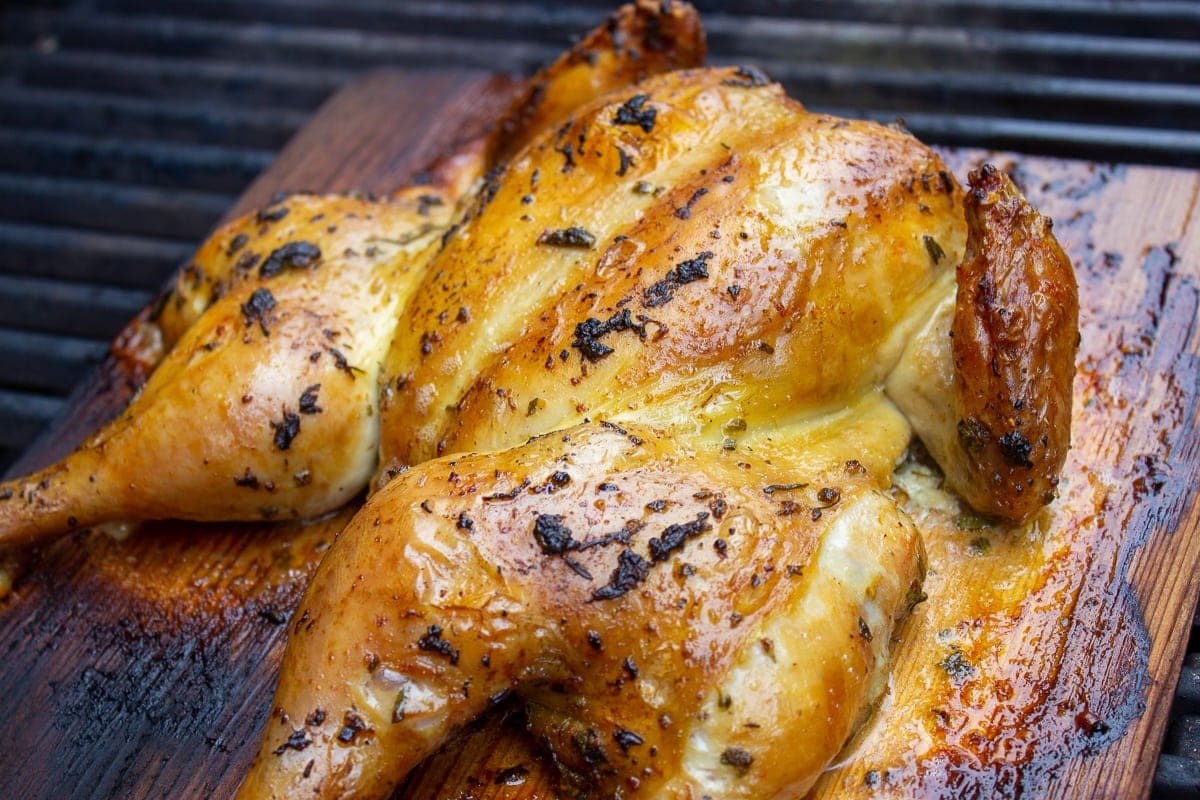 What is plank grilling?
Plank grilling (or planking) is a method of grilling on wood planks to infuse the food with smoky wood flavor. Planks are just plain wood.
Plank cooking is not new. It was apparently used by Native tribes for hundreds of years and culinary schools since the early 1900's.
I admit I was intimidated when I first started using this method years ago, but after a bit of research and testing, I realized there was no need to be.
The method is surprisingly easy with great results. I use a flattened (spatchcock) chicken, dress it simply with lemon, olive oil and herbs, then set it on planks on the grill to do their magic.
Try it once or twice and you'll be a pro.
Tailor To Your Taste
Use any marinade you like for the chicken.
Skip the marinade and sprinkle the chicken on all sides with salt, garlic powder, pepper, onion powder before cooking. Or your favorite chicken rub.
Step by step instructions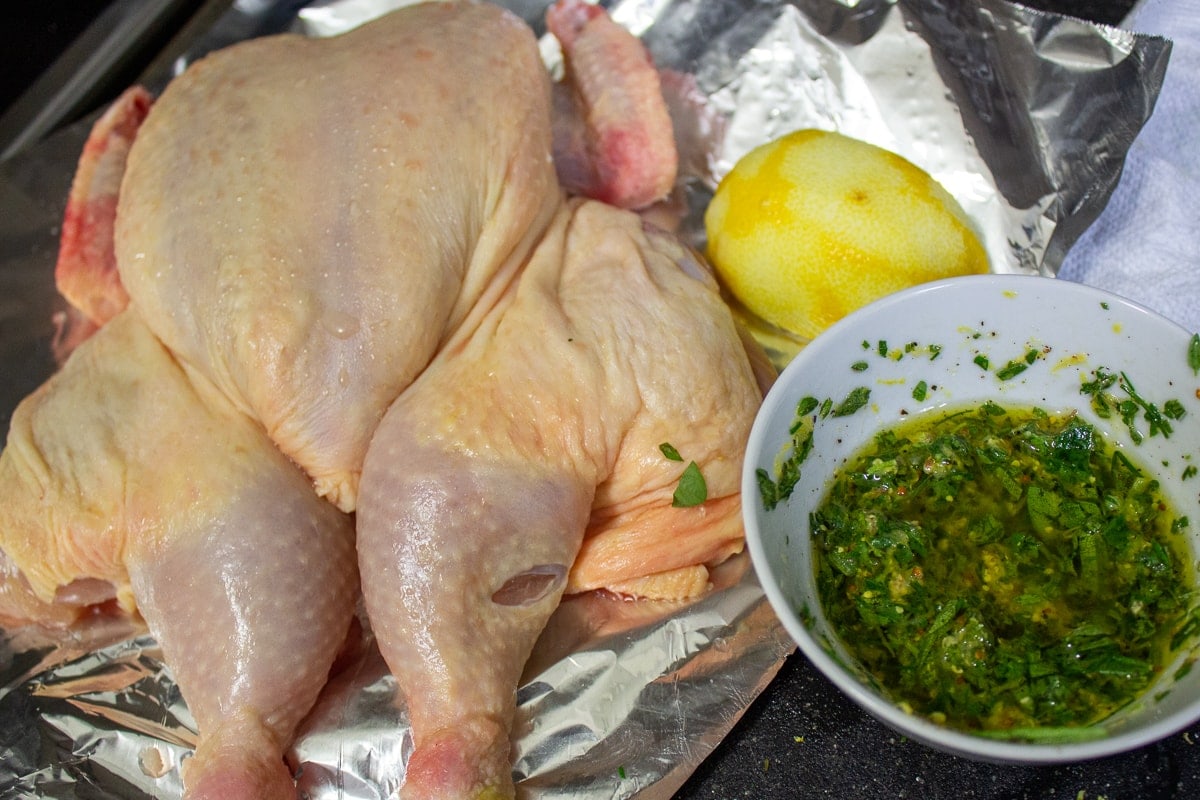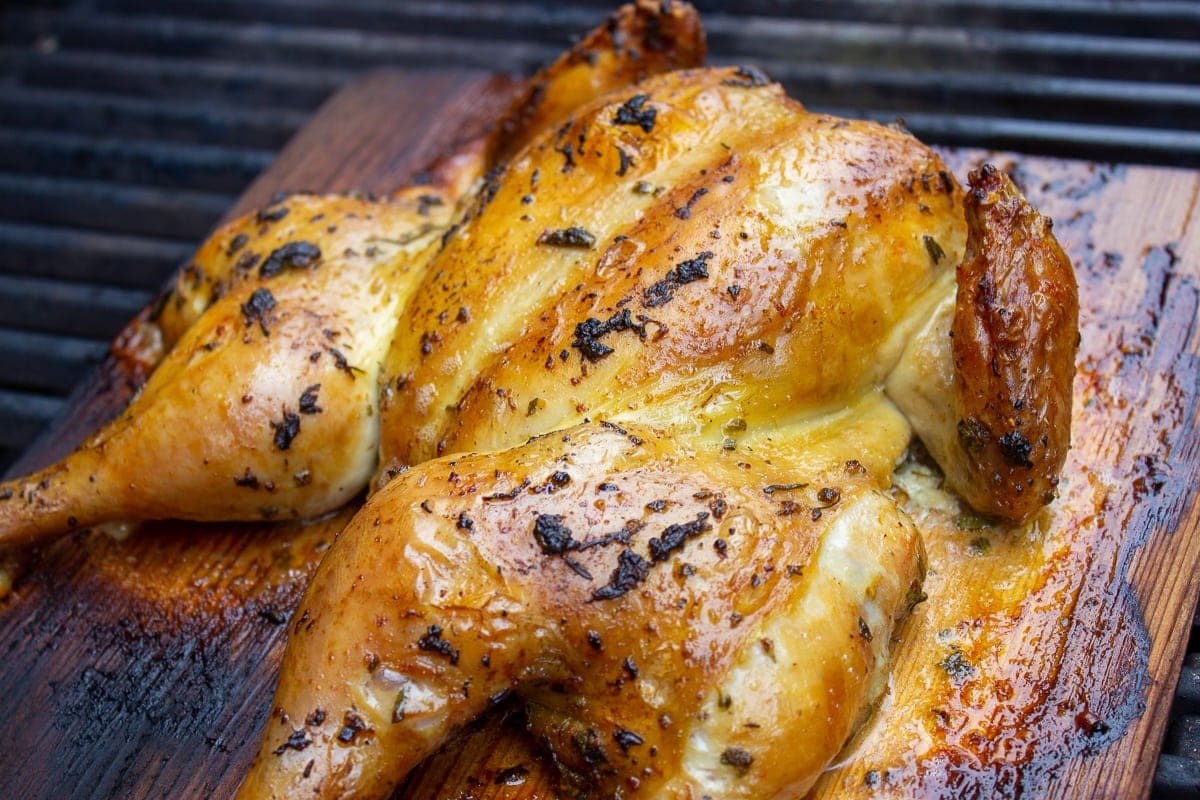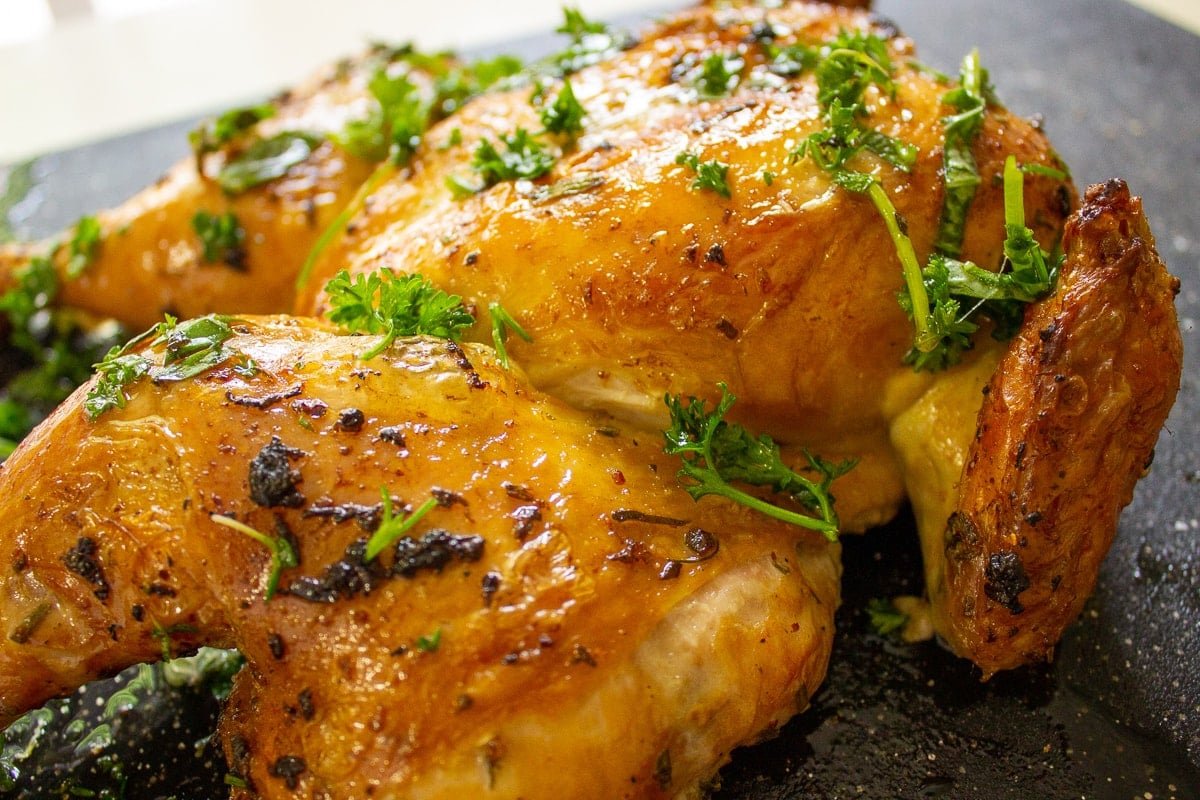 FAQ on Planks – The Basics
What size planks should I buy?
I prefer thinner planks of 1/8-1/4 inch (0.3-0.6cm) as they only take 15-30 minutes to soak and you can toss them out after one use so no clean up.
The 1/2 or 3/4 inch (1.3-1.9cm) planks take an hour to soak before grilling, but they can be reused.
Where can I buy planks?
Buy planks almost anywhere they sell accessories for the BBQ. Home Depot, Canadian Tire, Costco, Walmart, many grocery stores. Make sure the planks are 100% natural and free of chemical treatment. Cedar wood is almost never treated so you can even buy it in a lumber yard. Good grilling plank choices for chicken are cedar, apple, hickory, cherry, oak. Experiment to see what you like best.
Is cedar plank grilling healthy?
Actually, cedar plank grilling is a healthier option than direct grilling as the wood creates a barrier between the food and the grill. This helps avoid charring and unhealthy carcinogens.
Can I reuse the plank after I have grilled with it?
Experts say you can wash the thicker 1/2-3/4 inch planks with water  (not soap) and reuse them if they are not too charred.  After a couple of uses, though, the smoky flavors diminishes. I am not crazy about the idea of chicken bits sticking to the wood so try to buy the thinner ones and just toss them.
Tips for plank grilling
Soak the planks before grilling (15-60 minutes depending on thickness). You can add apple juice, white wine or beer to the water for soaking for extra flavor.
Start the plank grilling on high for a few minutes to get the wood smoking.
Then use indirect heat for most of the time (and then low heat during the final phase)
There is no need to turn the food.
Keep the BBQ lid closed as much as possible to keep in the smoke.
Keep a spray bottle or water handy in case the planks catch fire.
What to serve with cedar plank chicken
Sides
Almost anything goes. Here are a few of my favorites.
Condiments
Make Ahead
This cedar plank chicken is delicious cold or at room temperature so, yes, it can be made ahead.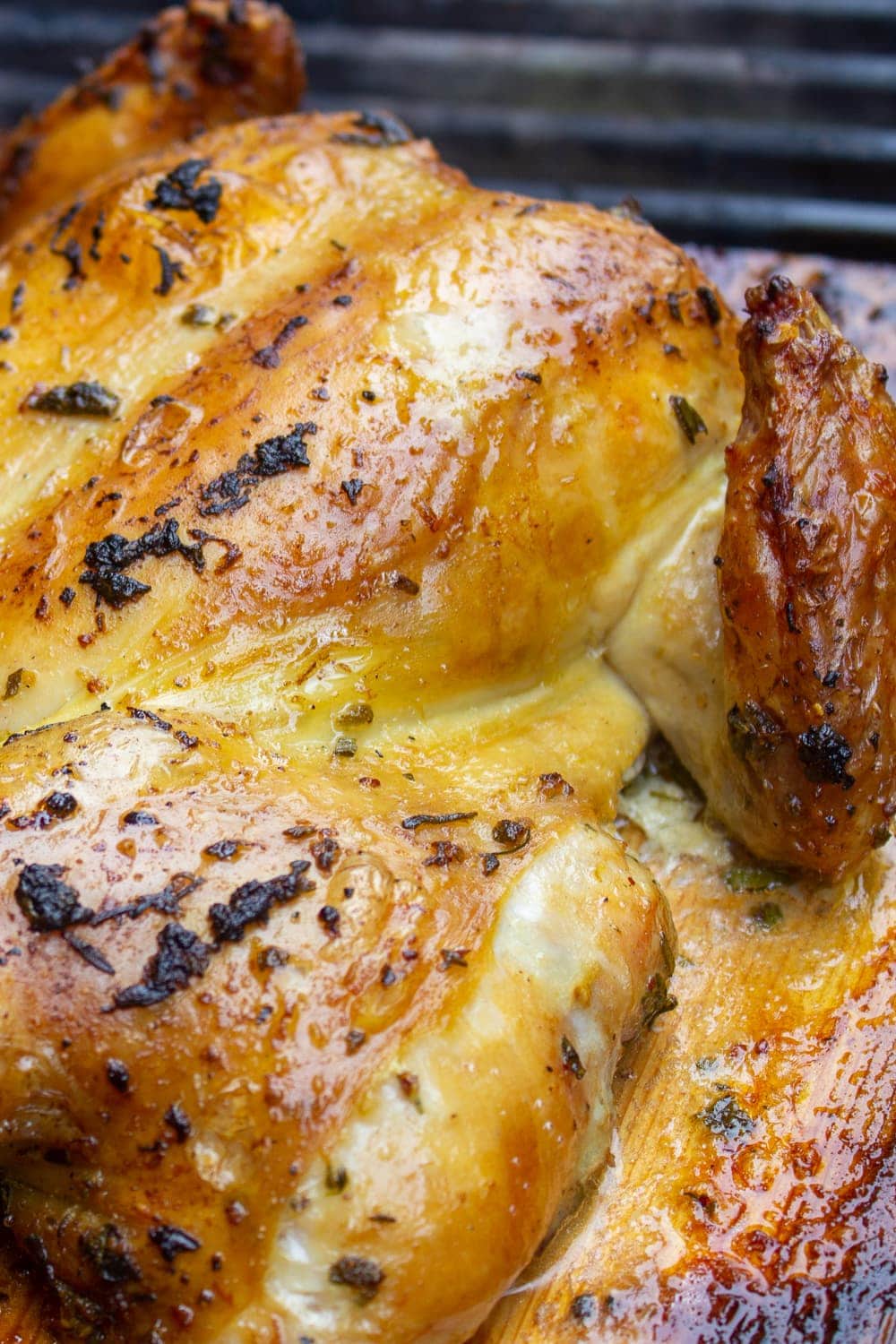 Other grilled plank recipes
If you have a smoker, try our how to smoke a brisket (step by step) recipe.
If you like this recipe, please leave a 5 star rating 🌟🌟🌟🌟🌟in the recipe card below. And if you REALLY like it, consider a review in the comments. Thanks!
Cedar Planked Chicken
You don't need a special smoker to add wonderful smoky flavor to your chicken. With simple wood planks, you can achieve a beautifully golden juicy cedar plank chicken infused with a mild woody smoked flavor. Simple and delicious!
Ingredients
1

whole chicken or one flattened/spatchcocked chicken, Note 1 (I use kosher chicken which is already brined, Note 2)

2

cedar grilling planks (1/8 to 1/4 inch thick/3.2-6.3mm)

(or one if chicken will fit)

Garnish: chopped parsley or herbs, plus squeeze of lemon for garnish
Marinade for chicken
1/4

cup

(60ml) olive oil

zest of 1 lemon

1

tablespoon

lemon juice

1

teaspoon

Dijon mustard

1/4

cup

(5g) chopped fresh herbs (thyme, green onions, oregano, rosemary)

or 1 tablespoon dried

1/2

teaspoon

kosher salt

1/4

teaspoon

pepper
Instructions
PREPARE CHICKEN and PLANKS: To flatten (spatchcock) a chicken, see Note 1. Soak the planks in water for 15-30 minutes if 1/4-1/8/3.2-6.3mm inch thick and 60 minutes if 1/2 inch/1.27cm thick. Put them in the sink or a large pan and place cans or a pot on top to hold them down under water.

COAT CHICKEN WITH LEMON HERB MIXTURE: Combine all marinade ingredients in a small bowl. Coat the chicken all over with the mixture. Place in fridge, covered in a ziploc bag or covered with plastic wrap and marinate for a few hours or overnight. Shortcut : Eliminate marinating step by buying a kosher chicken (already brined). Or, let chicken marinate on counter for 30-45 minutes.

If refrigerated, bring chicken to room temperature before grilling for 30 minutes.

PLANK AND GRILL CHICKEN: Heat gas grill to high. Pat planks with paper towel and spray lightly with oil. Place chicken, skin side up, on the planks (I use two planks side by side if chicken is too wide for one). Step 1: Place plank with chicken directly on the hot grill, close the lid for 3-4 minutes (if 1/8-1/4 inch plank) and 5-8 minutes for 1/2-3/4 inch plank. Planks will start charring and begin to give off smoke. Step 2: Then turn off burners under the chicken (keep on other burners). Cook undisturbed for about 20 minutes. Shift planks 180 degrees to help with even cooking. Close lid. Step 3: Turn burner(s) that were off back on to low and cook for another 18-22 minutes or until chicken is golden brown and reaches temperature of 160F/71C in breast on instant read thermometer. Temperature will rise as chicken rests.

SERVE: Transfer chicken to cutting board, loosely cover with foil and let rest for 10 minutes before cutting into pieces. Temperature will rise. Add garnishes and serve. If not too charred, planks can be rinsed in water (no soap) and reused. If only 1/4 inch, I toss them.
Recipe Notes
Optional brine time is not included in timing. 
To flatten (spatchcock) a whole chicken: Turn chicken over, breast side down. Cut along both sides of the backbone using a kitchen scissors or boning knife. Remove backbone. Turn chicken over and press down hard on the breast bone to flatten. 
To brine chicken (optional): Place 4 cups room temperature water in a large ziploc or container. Add 4 tbsp salt, 1 tbsp sugar (and a clove or garlic and fresh thyme or rosemary if you like). Squish bag to dissolve salt and sugar. Add chicken. Seal bag/container and refrigerate for 6-8 hours or 1 hour at room temperature. Rinse chicken, pat dry and continue recipe. 
Make Ahead: this chicken can be made ahead as it's delicious cold or at room temperature. 
Nutrition values are estimates. 
Nutrition
Calories:
532
kcal
|
Carbohydrates:
1
g
|
Protein:
36
g
|
Fat:
42
g
|
Saturated Fat:
10
g
|
Cholesterol:
143
mg
|
Sodium:
441
mg
|
Potassium:
381
mg
|
Fiber:
1
g
|
Sugar:
1
g
|
Vitamin A:
583
IU
|
Vitamin C:
9
mg
|
Calcium:
26
mg
|
Iron:
2
mg
Tried this recipe?
We'd love you to rate it above under 'rate this recipe' or in the comment section below. Thanks!