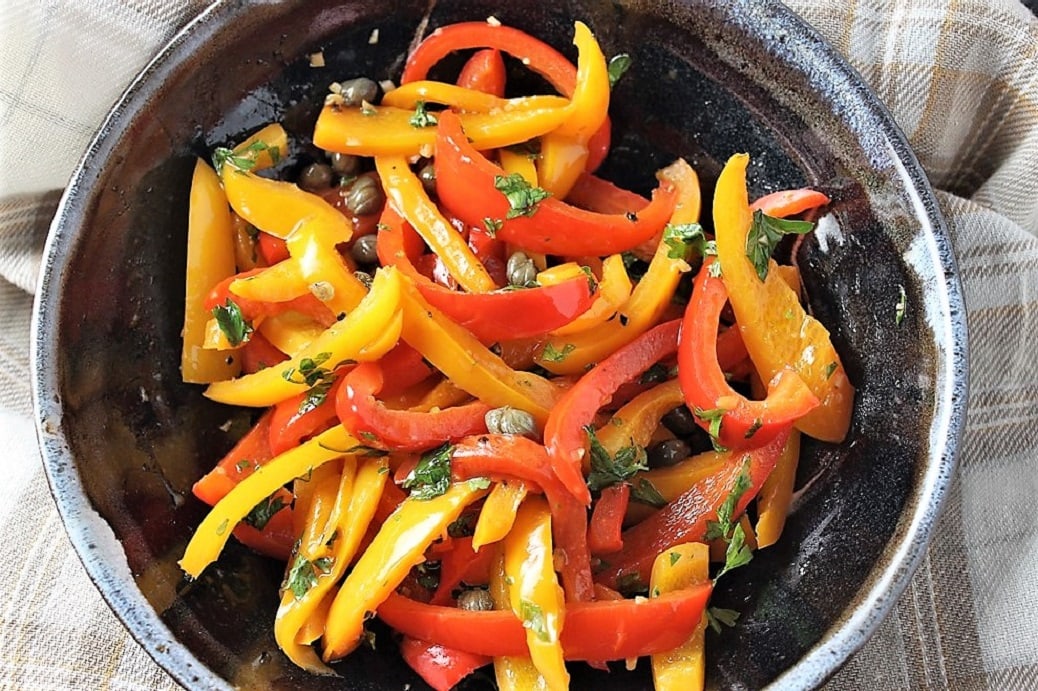 If you're looking for something to "pop" on the plate with gorgeous visual appeal, check out this recipe for sauteed peppers with caper vinaigrette.  I use it as a vegetarian side dish for chicken, meat or fish, but you can always toss in some sausage, quinoa or tofu  – and even a few other veggies like asparagus – and make it a complete meal.  If you're doing this, just double the vinaigrette.
I only used red and orange peppers for the pictures.  Adding yellow or green peppers, though, would make it even more vibrant.  I guess you can tell I love colours on the plate.  Anyway, this dish is so simple and quick to make (12 minutes!), there is not much else to say. Well, maybe one thing.  It's not just about the looks.  It tastes good too.
Shortcut
Buy a jar of roasted red peppers.  Add the caper vinaigrette.
Variations
Char whole red peppers on the BBQ.  Peel off the blackened skin.  Slice and seed them.  Add the caper vinaigrette.
Sprinkle with chopped fresh basil instead of parsley.
Not a pepper fan?  Then try these 10-minute pretty and simple Gruyere-topped tomatoes.