Purple Cabbage Slaw (Grilled, Bold & Beautiful)
Purple cabbage slaw is transformed on a grill into a super flavorful, no mayo coleslaw. The vibrant colors of the cabbage, julienne carrots, green onion and sesame seeds make a stunning vegetarian side dish or topping.
You're going to love the perfect balance of sweet, tangy, and charred flavors in this delicious recipe.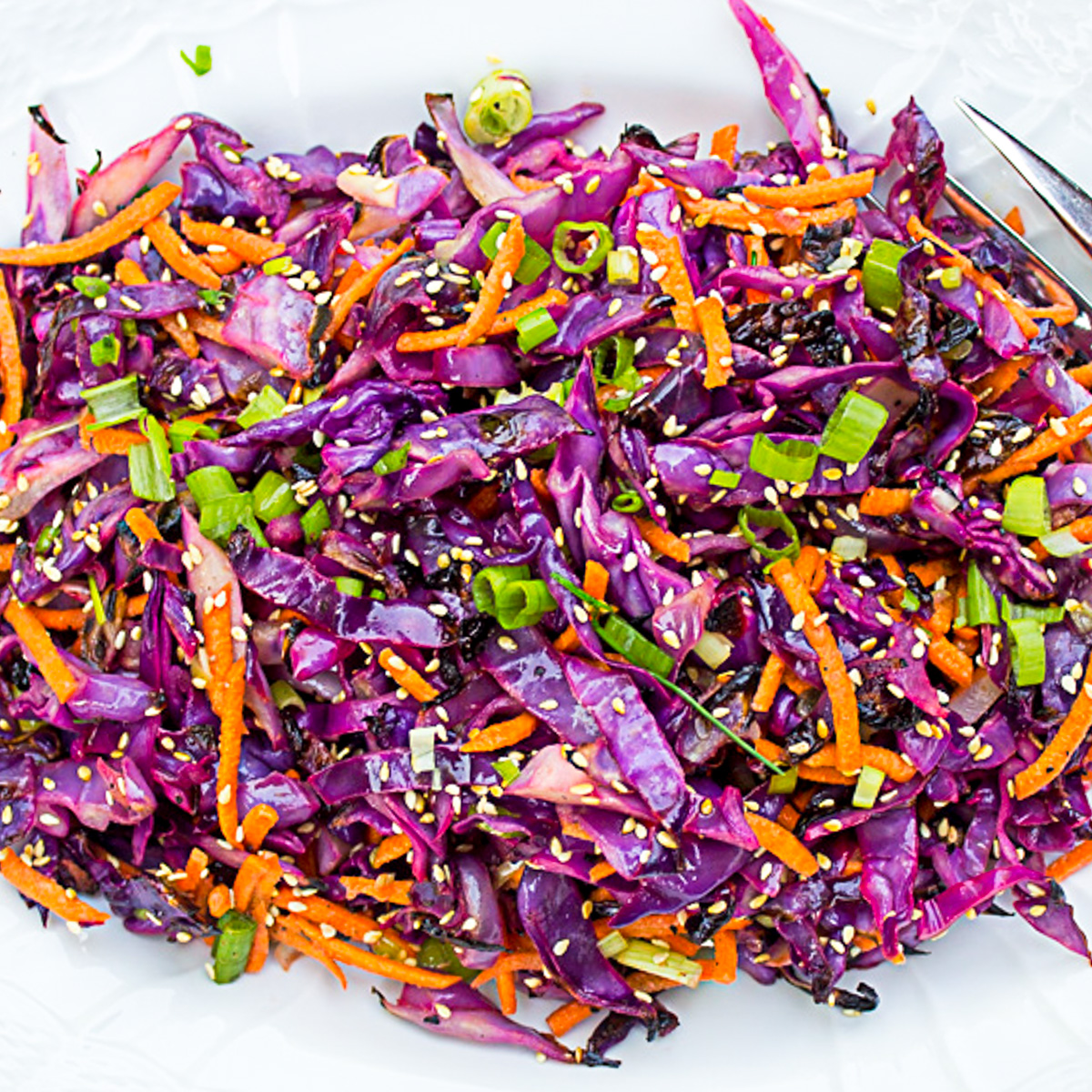 I'm in love with the colors – one of my favorite things about serving food – but I also love the trifecta – quick (22 minutes), easy, great taste.
Grilling cabbage is not a new idea. Most recipes, however, grill wedges of cabbage or grill wedges then chop them up into a slaw. I tried that and found it awkward as my wedges kept falling apart and slipping through the grill.
So, I found an easier way. I use a grill basket which is a basket with holes that prevents grilled veggies or other small food from falling through the grates of the grill.
This purple cabbage coleslaw is a simple recipe with a creative twist on traditional coleslaw recipes. You may want to make a double batch because it never lasts long.
What you can expect
beautiful color and flavor
a great side dish with fresh ingredients.
a wonderful topping for fish tacos, pork sandwiches or burgers
extra depth of flavor from the charring of the slaw that you just don't get with traditional coleslaw recipes.
Ingredients – tailored to your taste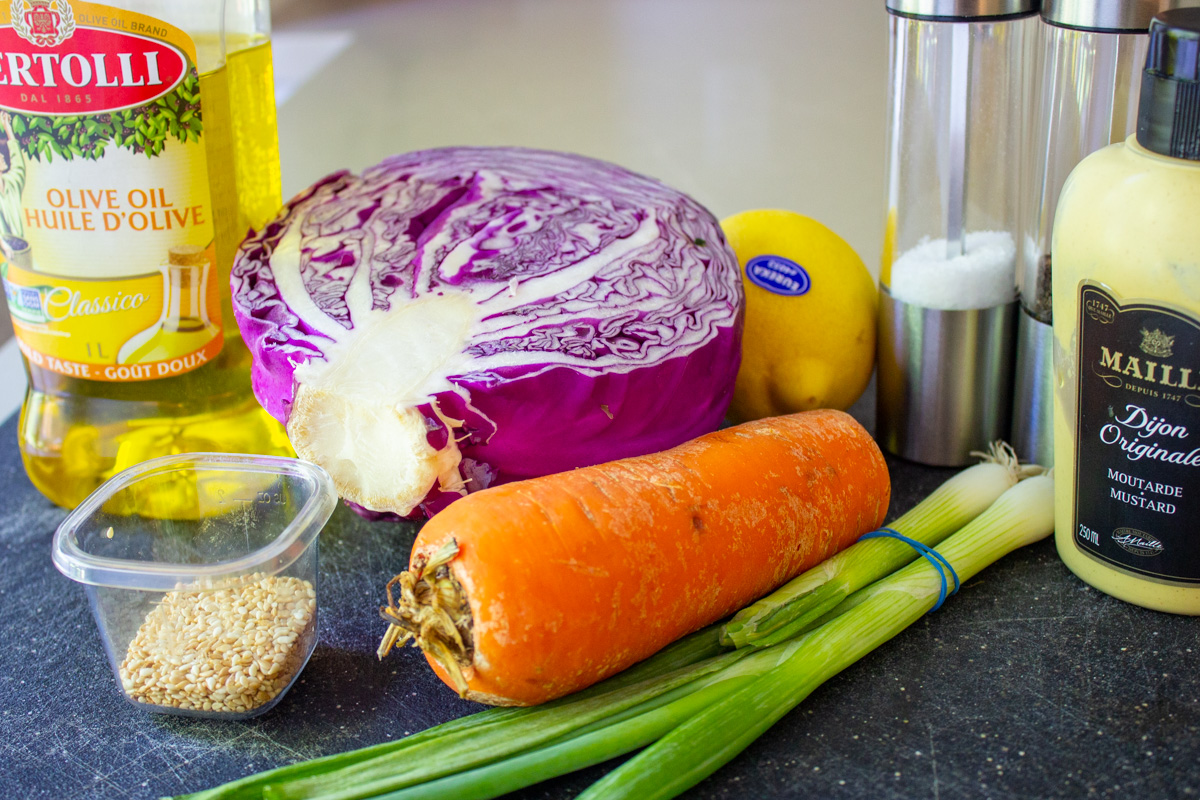 Cabbage: I love the gorgeous pop of color with purple cabbage, but feel free to use half green or a mix of red, purple and green.
Other veggies: Carrots and green onions are my go-to's. For additional color, add some finely chopped red pepper and chopped fresh parsley. You can also add some sliced red onion while grilling the cabbage.
Vinaigrette: I use a fairly basic vinaigrette of olive oil, garlic, Dijon, lemon, salt and pepper. Try other dressings such as an Asian dressing or another type of vinaigrette with a little apple cider vinegar, fresh lime juice and olive oil.
Garnish: Toasted sesame seeds add great flavor and texture. You can substitute them with any toasted chopped nuts, pumpkin seeds, or sunflower seeds. Or just leave them out. Another option is to add a few drops of sesame oil.
Step by step instructions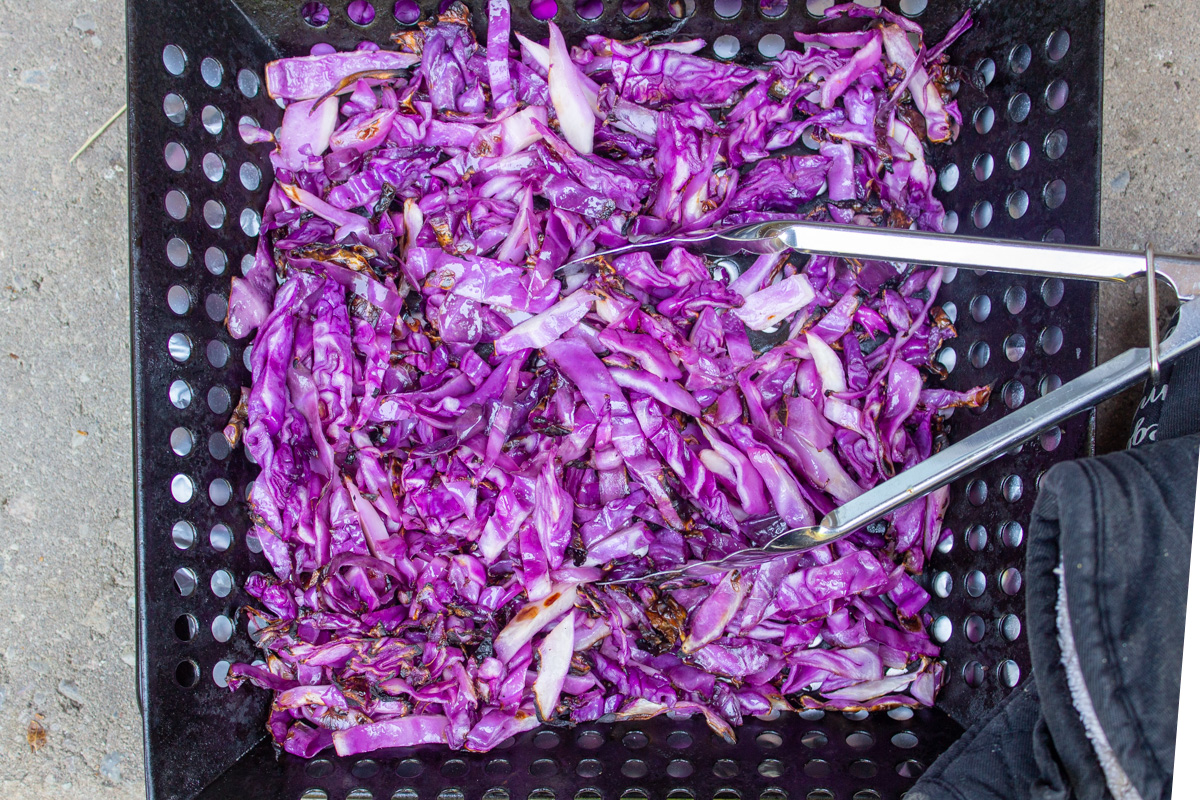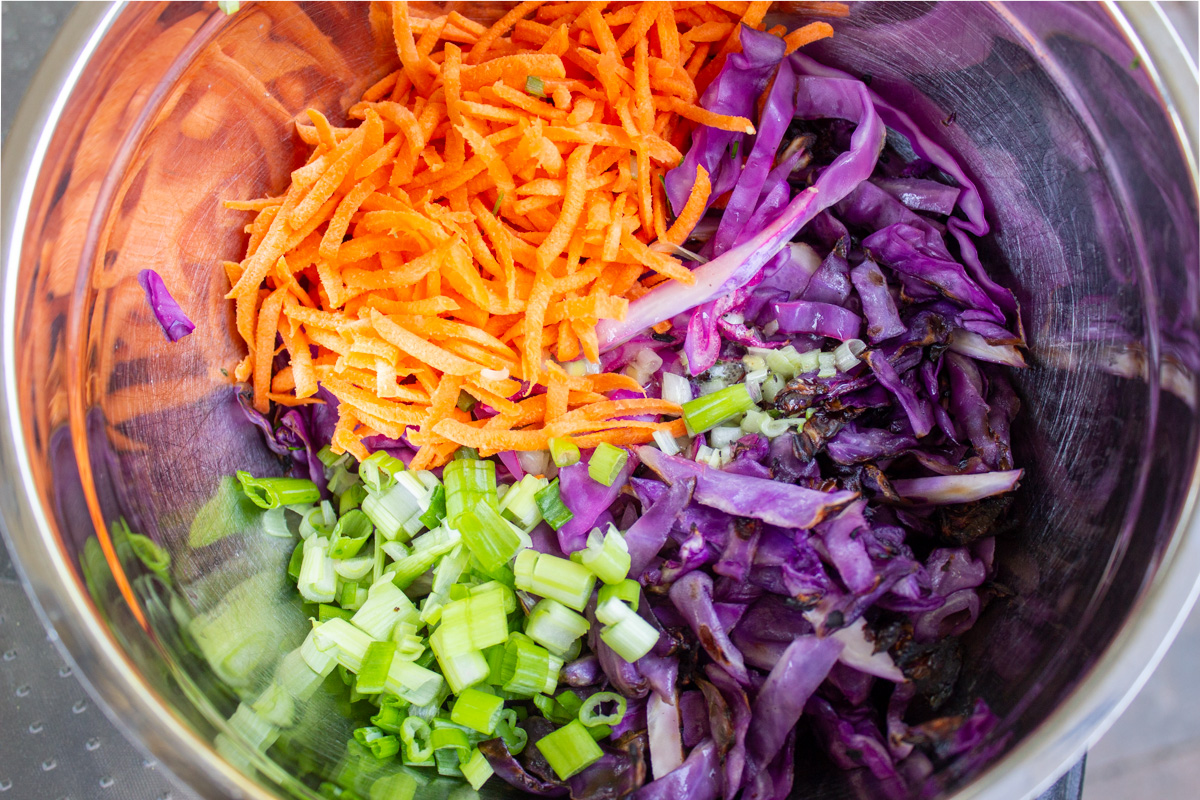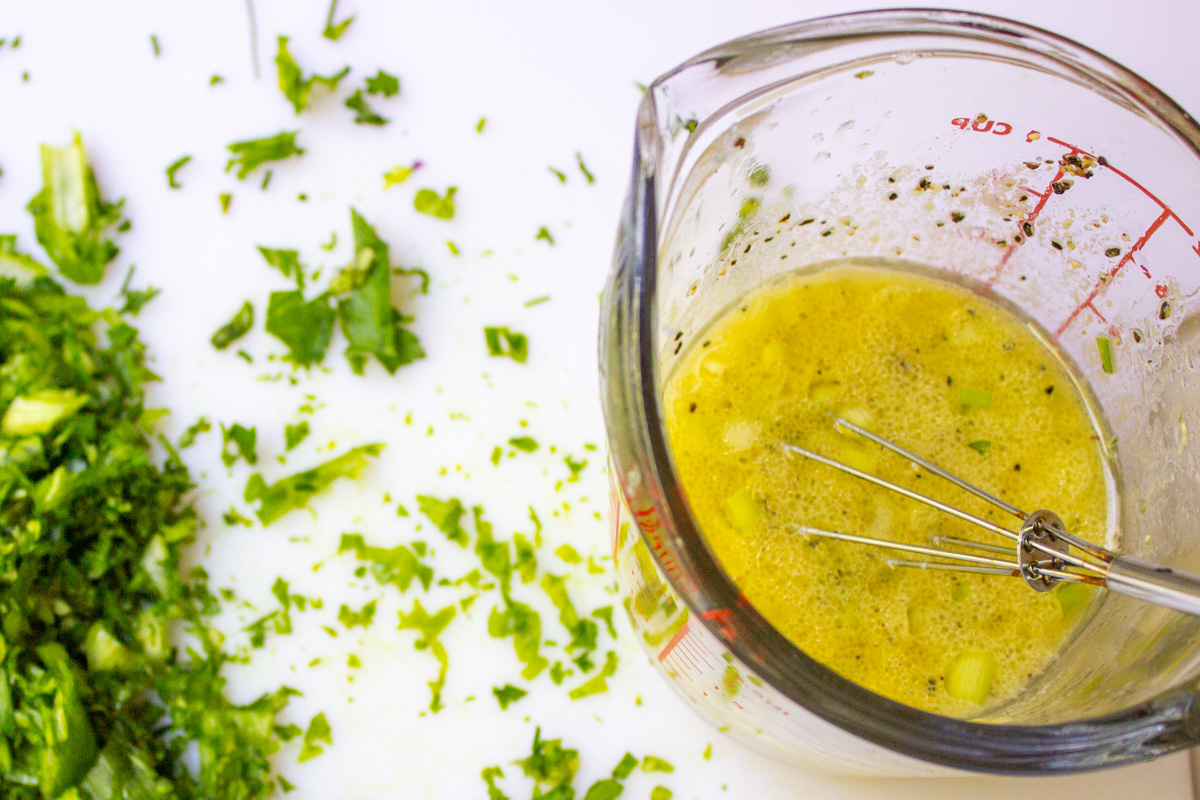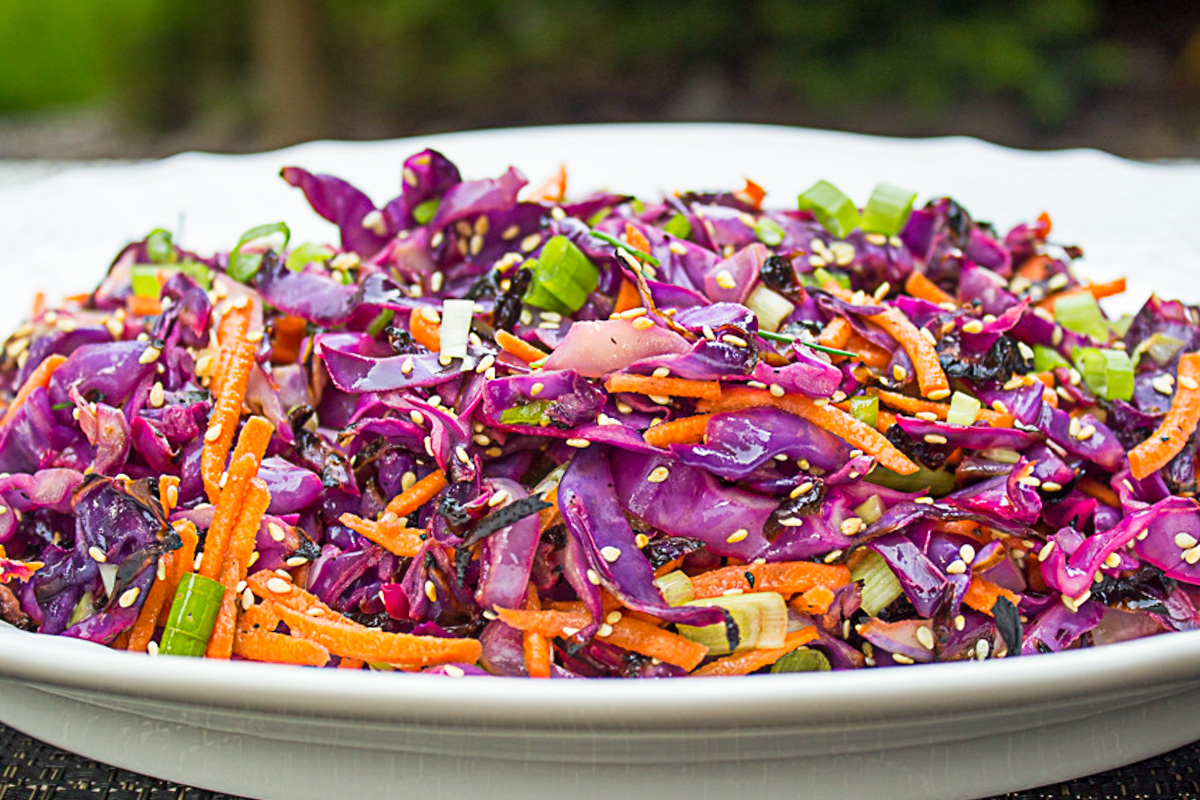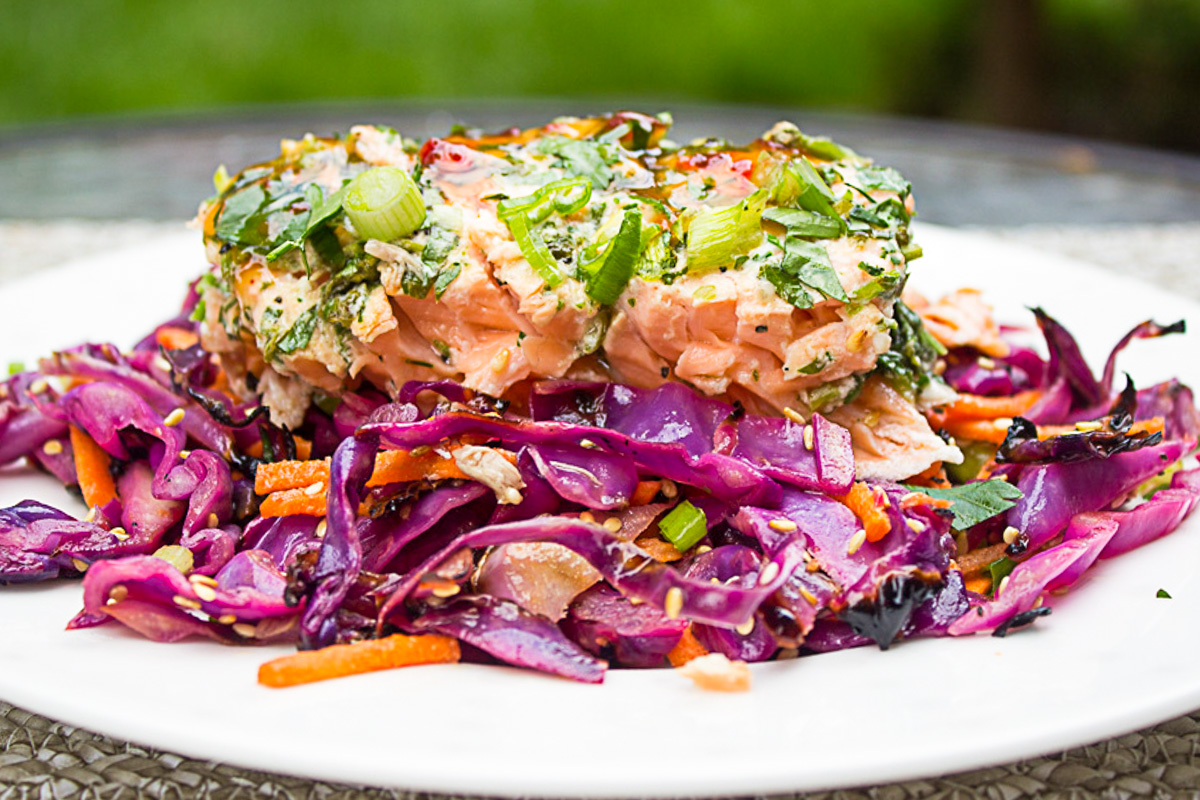 Tips
How to cut cabbage: If you're not sure how to tackle a whole cabbage, here is a video on how to cut cabbage for slaw.
Using a grill basket makes this recipe a breeze. If your grill basket is on the smaller side, cooking time will take a bit longer and you will need to stir a bit more often to make sure the cabbage gets some char all over. If you don't own a grill basket (my favorite BBQ tool), you can use the wedge method (instructions are in the recipe notes).
Dressing: The tangy dressing is a simple vinaigrette with a bit more punch to offset the blandness of the cabbage. The amount of dressing in the recipe is more than you will need, so you can use more cabbage (almost, but not quite a whole medium cabbage) or save it for your next salad.
Recipe FAQs
What is a grill basket?
Grill baskets are typically made of stainless steel or chrome-plated steel. Some models may also be made of aluminum or other materials. They're used to cook veggies, fish fillets, and other delicate foods on your BBQ grill. They help keep food from falling through the grates yet allows the food to retain the smoky flavor from grilling.
Is purple cabbage healthy?
Purple cabbage is low in calories and is a good source of dietary fiber. Plus, it contains vitamins A, C, K, and B6, which makes this a very healthy slaw recipe.
Do you serve grilled cabbage slaw warm or cold?
This grilled cabbage slaw can be served warm or at room temperature or even cold. Perfect for picnics, buffet, BBQs and potluck.
What to serve with purple cabbage slaw
Serve the grilled purple cabbage slaw as a side dish or use it as a foundation for a protein like Mediterranean grilled marinated chicken, homemade peri peri chicken (grilled or baked) or roasted salmon stuffed with herbs.
It's also great as a topping for sous vide burgers, Broccoli Cheddar Veggie Burgers, Grilled Shrimp Tacos, Chicken Burgers or in wraps.
Shortcuts
The recipe only takes about 22 minutes, but if you're really feeling lazy (no judgement – I often do).
Use a good bottled Italian dressing.
Buy matchstick carrots.
Buy pre-shredded cabbage from the grocery store (and cook it less time on the grill)
Make Ahead
Store leftovers in the fridge in an airtight container for a few days.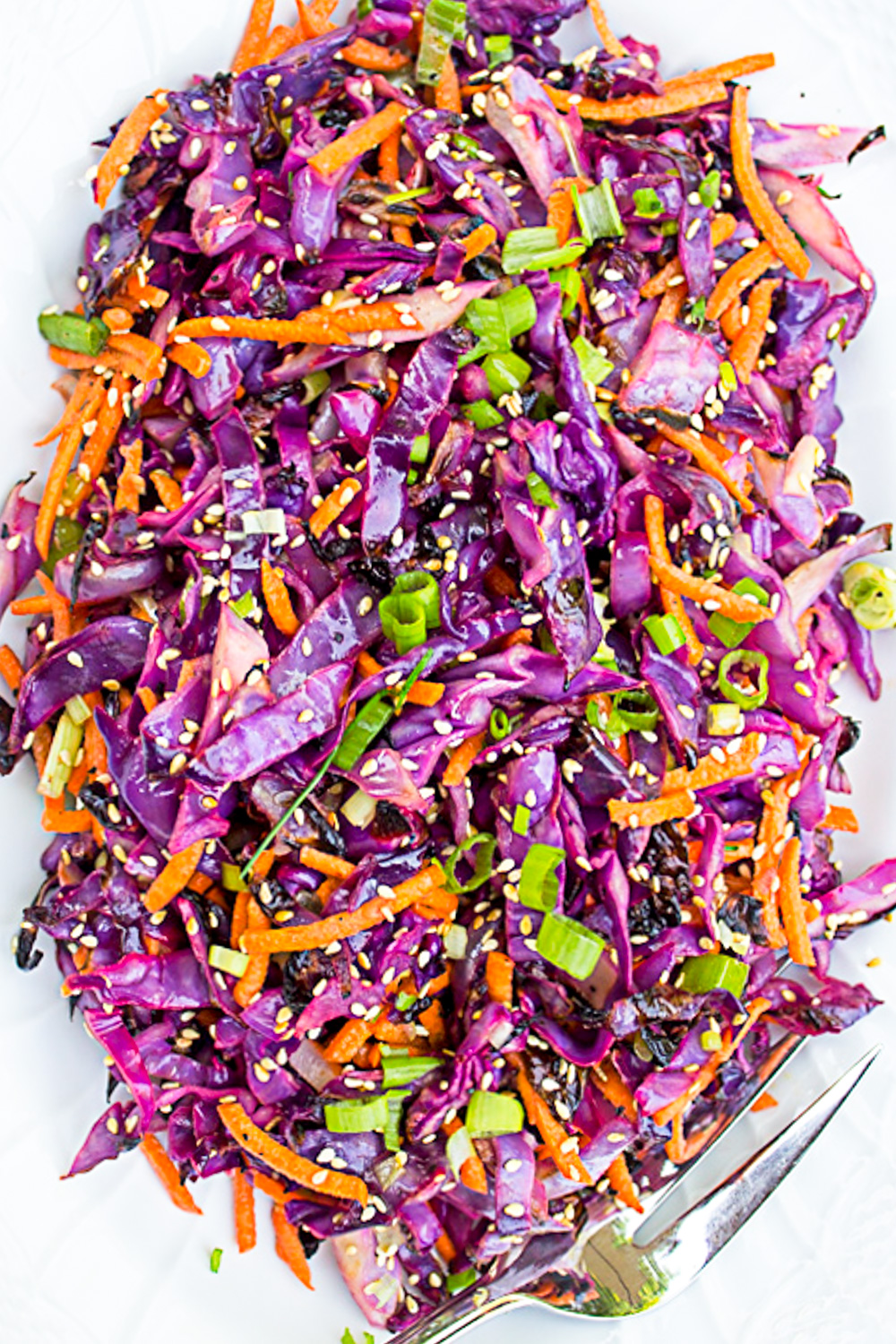 Other grilled vegetables to try
Or try this quick and easy sautéed peppers recipe, ready in 12 minutes.
If you like this recipe, please leave a 5 star rating 🌟🌟🌟🌟🌟in the recipe card below. And if you REALLY like it, consider a review in the comments. Thanks very much!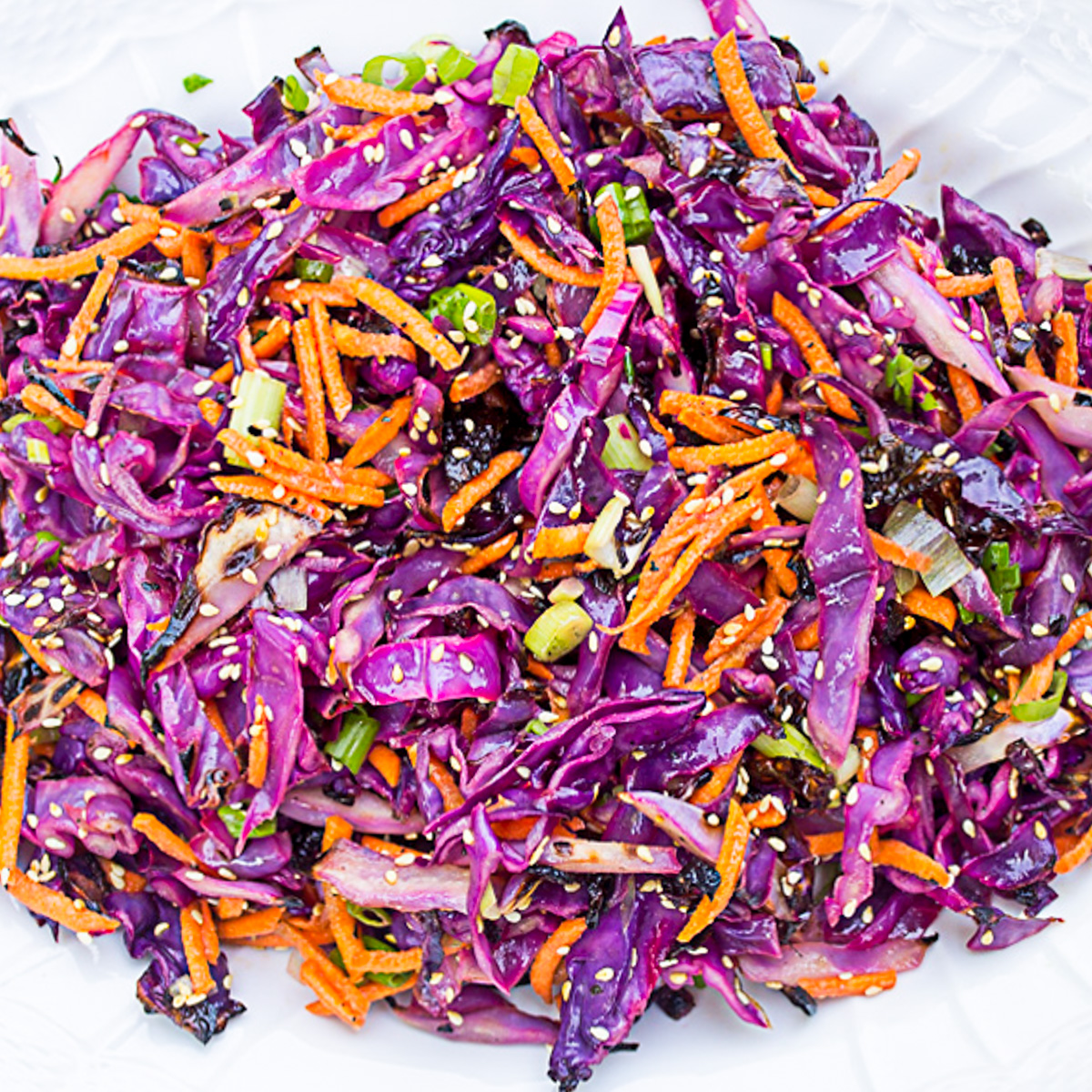 Print Recipe
Pin
Save Recipe
Recipe Saved!
Rate this recipe here
Grilled Purple Cabbage Slaw (Bold & Beautiful)
Purple cabbage slaw is transformed on the grill into our version of a super flavorful, no mayo coleslaw. The vibrant colors of the red cabbage, julienne carrots, green onion  and sesame seeds make a stunning vegetarian side dish.
Equipment
Grill basket: makes the recipe very easy.
Ingredients
1/2

medium purple cabbage

about 1 to 1 1/2 pounds (450-680 grams)

1/2

cup

julienne carrots

(or use matchstick carrots for shortcut)

1/4

cup

green onions, chopped

~ 2 green onions

1

tablespoon

olive oil

salt and pepper to taste

1

tablespoon

toasted sesame seeds (or more to taste), Note 1

Garnish: additional chopped green onions
Vinaigrette Dressing (this will make more than you need)
2

tablespoon

lemon juice

(about 1 lemon)

2 1/2

teaspoon

Dijon mustard

1

tablespoon

minced green onion

1/2

teaspoon

sugar

1/2

teaspoon

salt

1/4

teaspoon

black pepper

1/4

cup

olive oil
Instructions
HEAT GRILL: to medium-high heat or high (about 450F/232C). Spray a grill basket with oil and set on a pan. Note 2

PREPARE AND GRILL CABBAGE: Slice the half cabbage into thin slices (I set the half cabbage on cutting board flat side down. Cut into thin slices, Then cut those slices into thin slices.) Place in grill basket. Drizzle on oil and sprinkle lightly with salt and pepper. Toss to coat. Place grill basket on grill. Cover grill. Cook for 5 minutes. Stir, cook another 3-6 minutes (depending on how much char you want, how small your cabbage pieces are and how crunchy or soft you want the cabbage). Remove and set aside.

MAKE VINAIGRETTE: While cabbage is grilling, place all vinaigrette ingredients in a sealed container and shake well. (Or whisk together all ingredients except oil. Then whisk while slowly adding oil).

ASSEMBLE: In a medium bowl, add grilled cabbage, carrots, green onion and sesame seeds if desired. Add about 3 tablespoons of the Vinaigrette and toss everything together. Taste and add more dressing, salt and/or pepper if needed. Garnish with additional green onion and toasted sesame seeds if using. Serve warm or at room temperature. Can be made ahead and served warm or at room temperature.
Recipe Notes
To toast sesame seeds: Place seeds in small pan over medium heat and toast for 4-5 minutes until light brown, shaking pan regularly to avoid burning.
To grill without a grill basket: Cut cabbage in wedges leaving the core intact. Season with oil, salt and pepper. Grill on both sides until softened (but still with some bite). Chop into slaw. 
Recipe variations:

There's no need for exact measurements for the cabbage, carrots and green onions. 
Use green cabbage or half green, half red or purple.
Try other vinaigrette dressings or an Asian dressing.
Add some finely chopped red pepper or fresh parsley for additional color.
Substitute the sesame seeds with any toasted chopped nuts. Or just leave them out.

Make ahead: This recipe is best served fresh or same day as it will lose some of the vibrant colors in the fridge. Leftovers can be stored in an airtight container in the fridge for 3-4 days. 
Nutrition values are estimates. 
Nutrition
Calories:
209
kcal
|
Carbohydrates:
12
g
|
Protein:
2
g
|
Fat:
18
g
|
Saturated Fat:
3
g
|
Sodium:
658
mg
|
Potassium:
333
mg
|
Fiber:
3
g
|
Sugar:
6
g
|
Vitamin A:
3921
IU
|
Vitamin C:
65
mg
|
Calcium:
76
mg
|
Iron:
1
mg
Tried this recipe?
We'd love you to rate it above under 'rate this recipe' or in the comment section below. Thanks!