Homemade Peri Peri Chicken (Grill or Bake)
Succulent peri peri chicken, inspired by Portuguese-African cuisine, is elevated to a whole new level with its tangy-spicy sauce. It's a must-try if you love bold and unique flavors.
The star of the dish is homemade peri-peri sauce (also called piri piri or pili pili). Traditionally made with African Bird's Eye chilies, it's an aromatic blend of heat, mild smokiness, garlic, zesty lemon and vinegar and flavorful spices. It pairs beautifully with chicken and shrimp.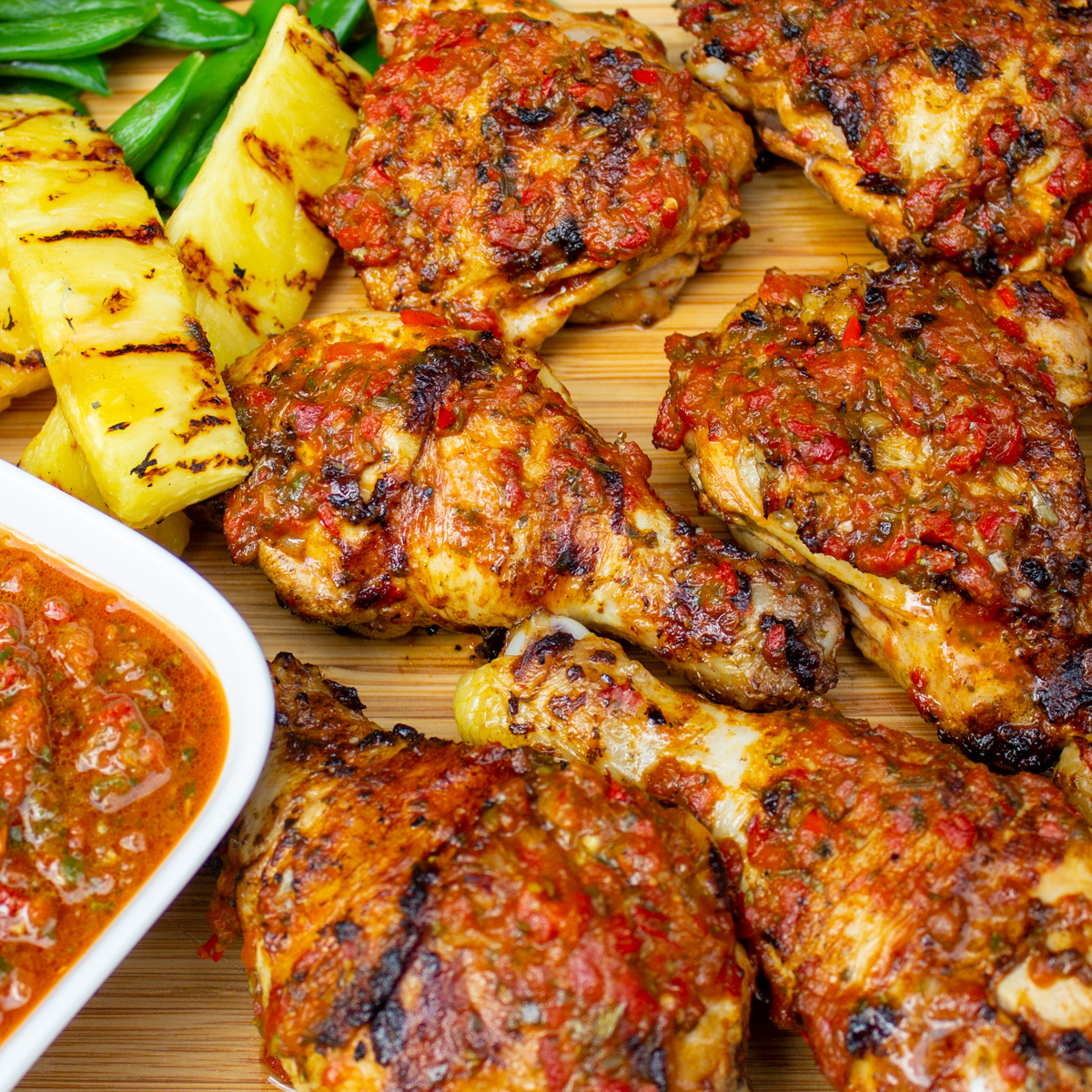 African Bird's Eye chilies are lip-numbing hot and difficult to find in North America. Fortunately, you have options. And no worries – you can adjust the heat level to your tolerance with this easy peri peri chicken recipe. Mine is not very high 🙂
The recipe is inspired by Nando's restaurant, a South African chain that specializes in Portuguese-style flame-grilled chicken. It is well-known for its signature spicy sauces, now sold worldwide.
We've simplified the recipe while still maintaining the fabulous flavors. Just 30 minutes plus marinating time.
What to expect
Our version of a homemade peri peri sauce recipe:
allows for chili peppers options.
sticks to fresh ingredients – we don't cook the veggies or sauce – so it's quicker than most of the other recipes on the internet.
The peri peri chicken is:
moist, tender and really delicious.
the chicken is marinated in the peri peri sauce 4-24 hours then basted with additional sauce while cooking for best results – both are key to building the sensational flavors.
Ingredients – tailored to your taste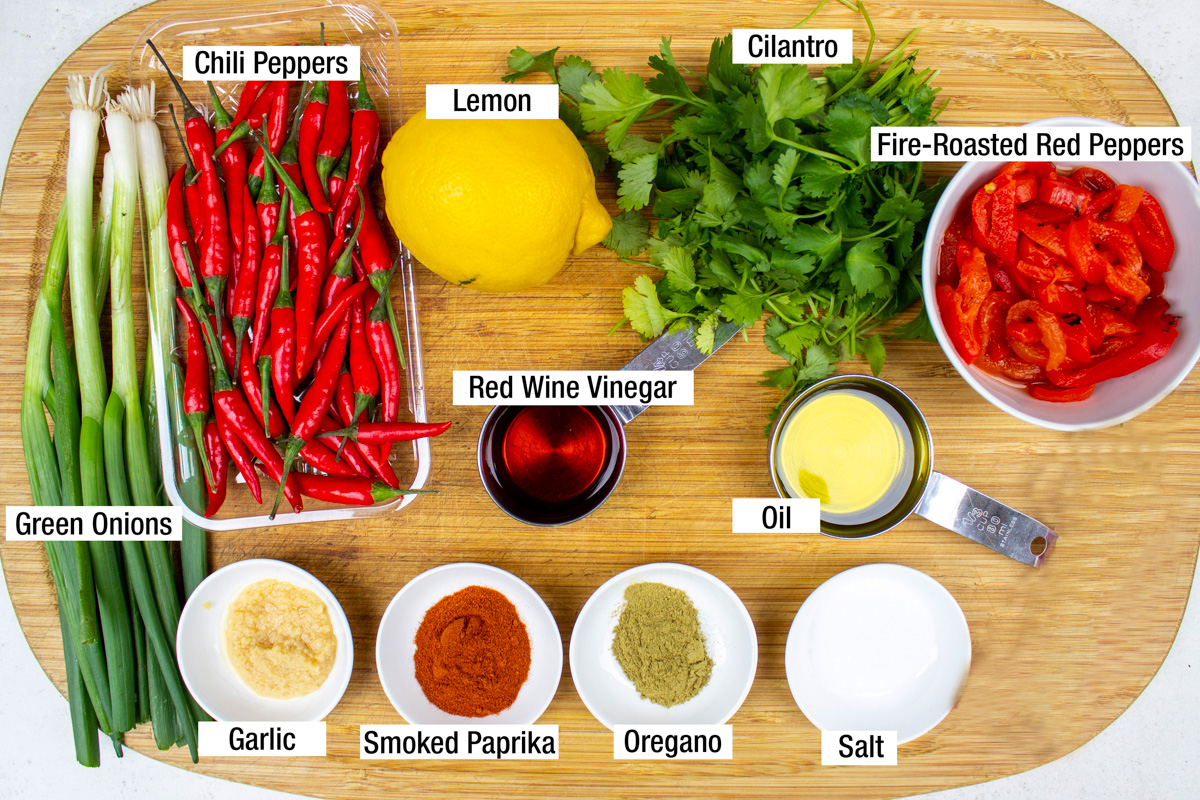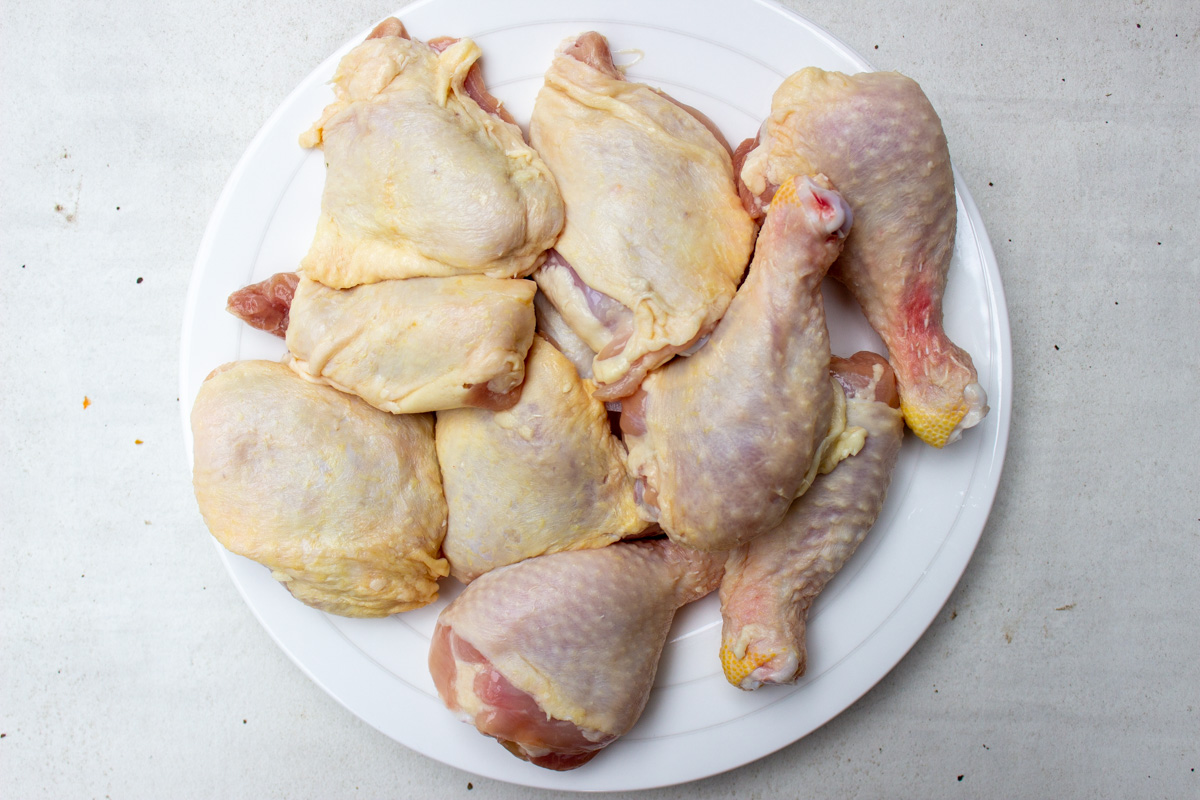 Chicken:
We prefer to use dark meat (thighs and drumsticks) which is more forgiving and less likely to dry out. But you can use chicken breasts instead if you like. Just don't overcook them. Chicken wings would be great too.
My favorite for maximum juiciness is bone-in skin-on chicken. Boneless, skinless chicken breasts and thighs will work too with less marinating and less cooking time.
Instead of chicken pieces, you can use a whole chicken (I suggest butterflying it for quicker and more even cooking).
Red chili peppers: Choose the ones you can find and the heat level you prefer. Here are some options. It's ok to buy hot peppers even if you don't want the sauce too spicy. Just use much less of them and remove the seeds and white ribs inside.
Habañero – 🌶🌶🌶🌶🌶🌶🌶🌶
Bird's Eye Chili – 🌶🌶🌶🌶🌶🌶🌶
Thai Chili – 🌶🌶🌶🌶🌶🌶
Cayenne – 🌶🌶🌶🌶🌶 (common in red pepper flakes)
Serrano – 🌶🌶🌶🌶
Jalapeño – 🌶🌶🌶
Poblano – 🌶🌶
Anaheim – 🌶 mildly hot
Other piri piri sauce ingredients:
In addition to chili peppers, the sauce also includes roasted sweet red bell peppers (I buy fire-roasted peppers in a jar to save time), fresh lemon juice and lemon zest, red wine vinegar, smoked paprika, oregano, green onions, garlic and olive oil.
Substitutions: Replace the red wine vinegar with sherry vinegar or apple cider vinegar. Replace the oregano with another herb like basil. Replace smoked paprika with chipotle powder.
Step by step instructions
Peri peri sauce recipe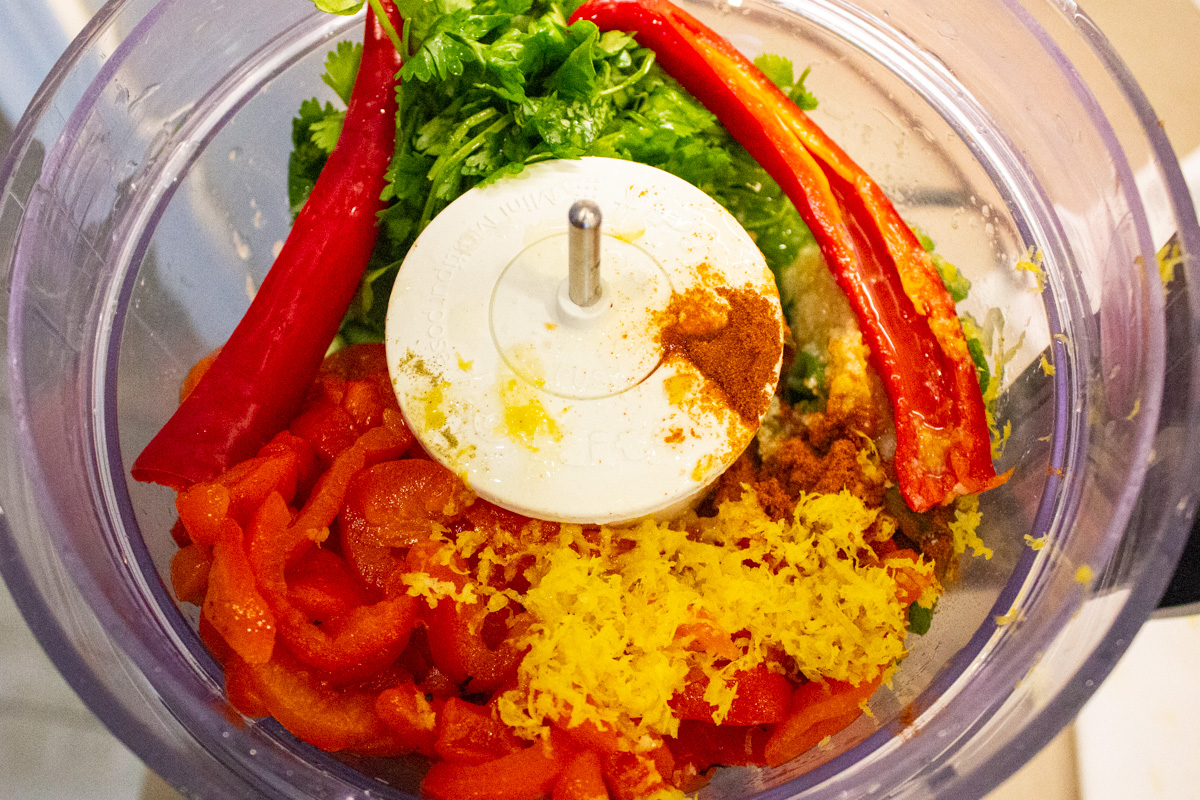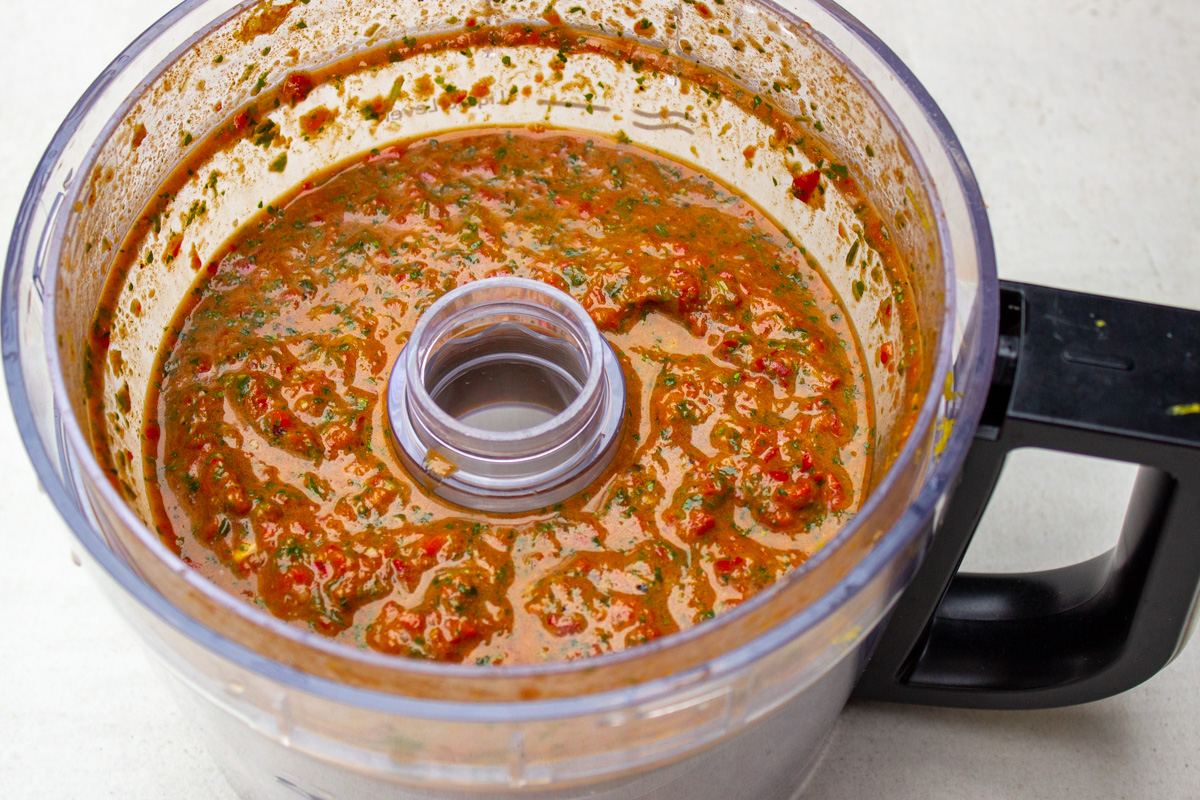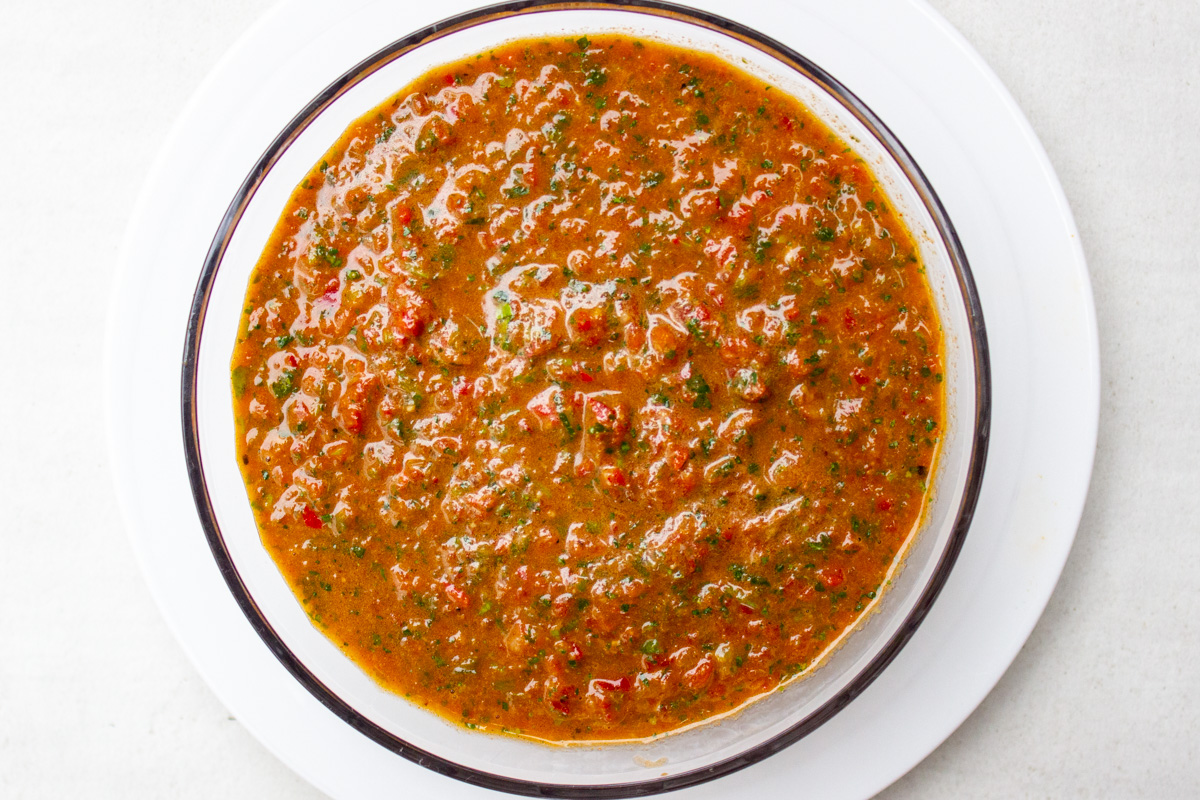 Peri peri chicken recipe
If you prefer to bake the chicken, see instructions in the recipe card.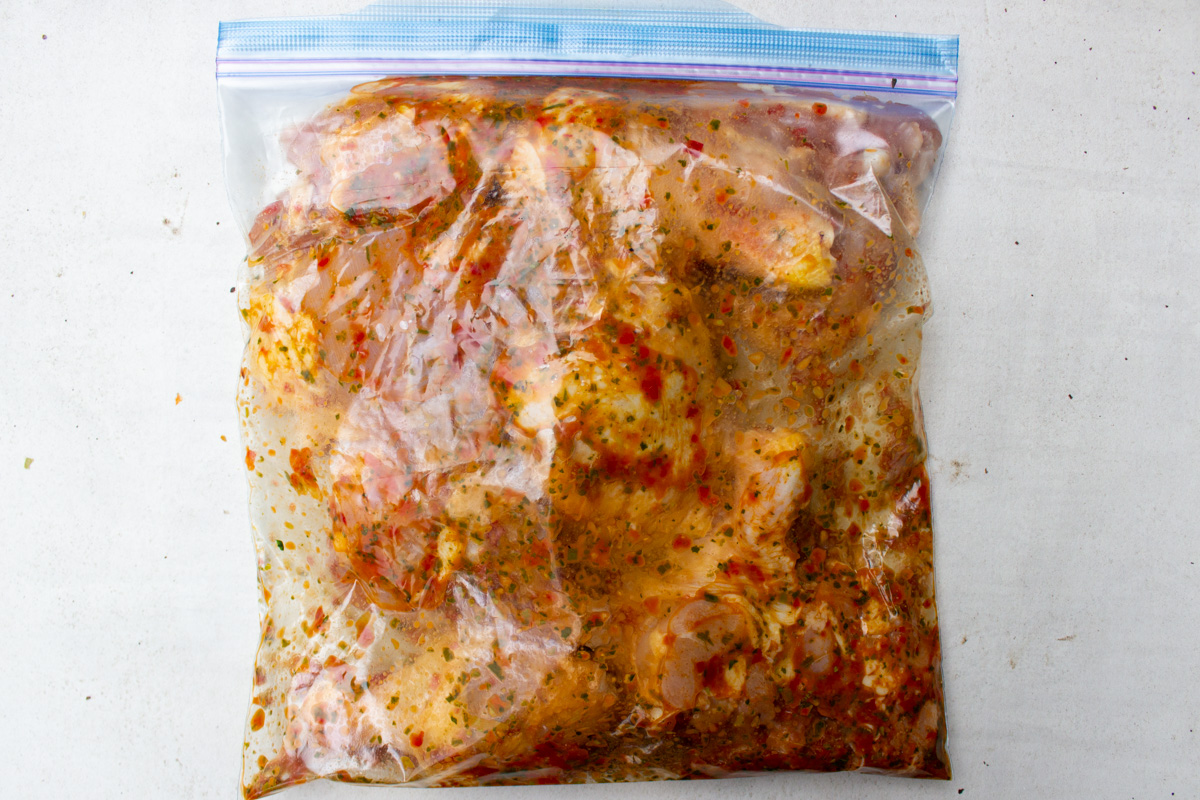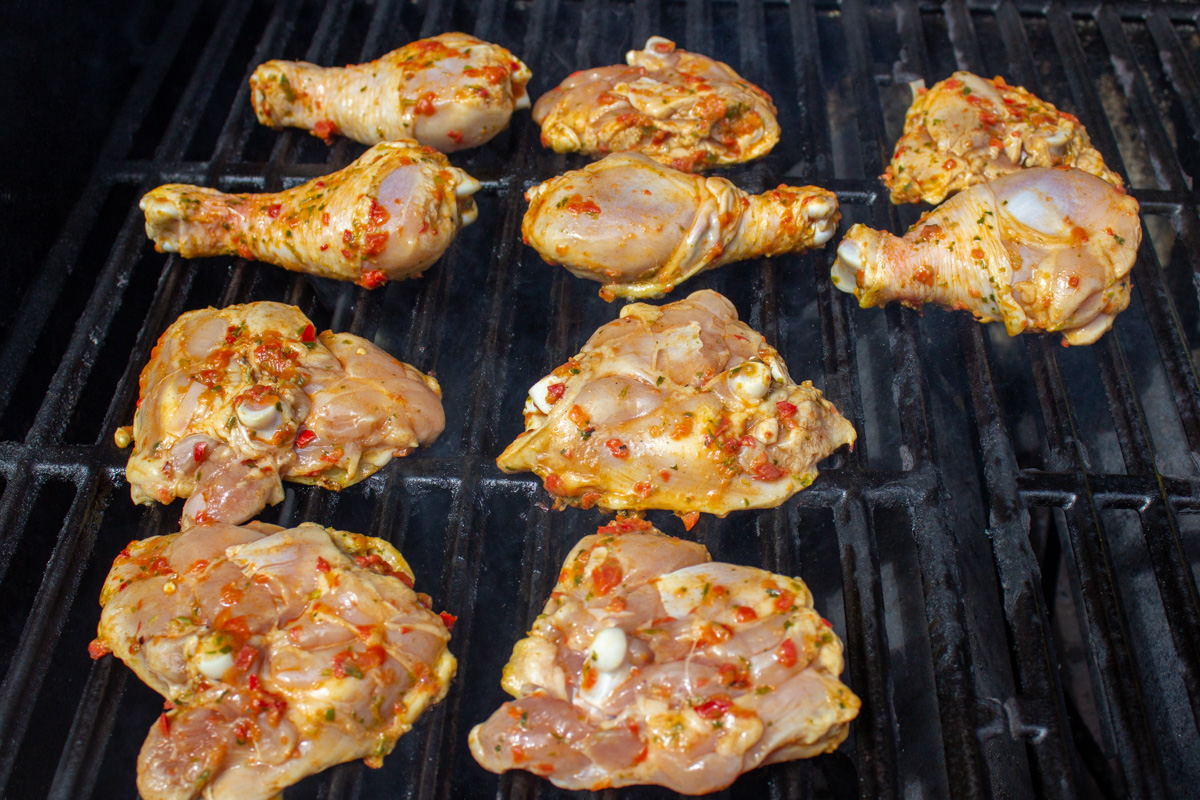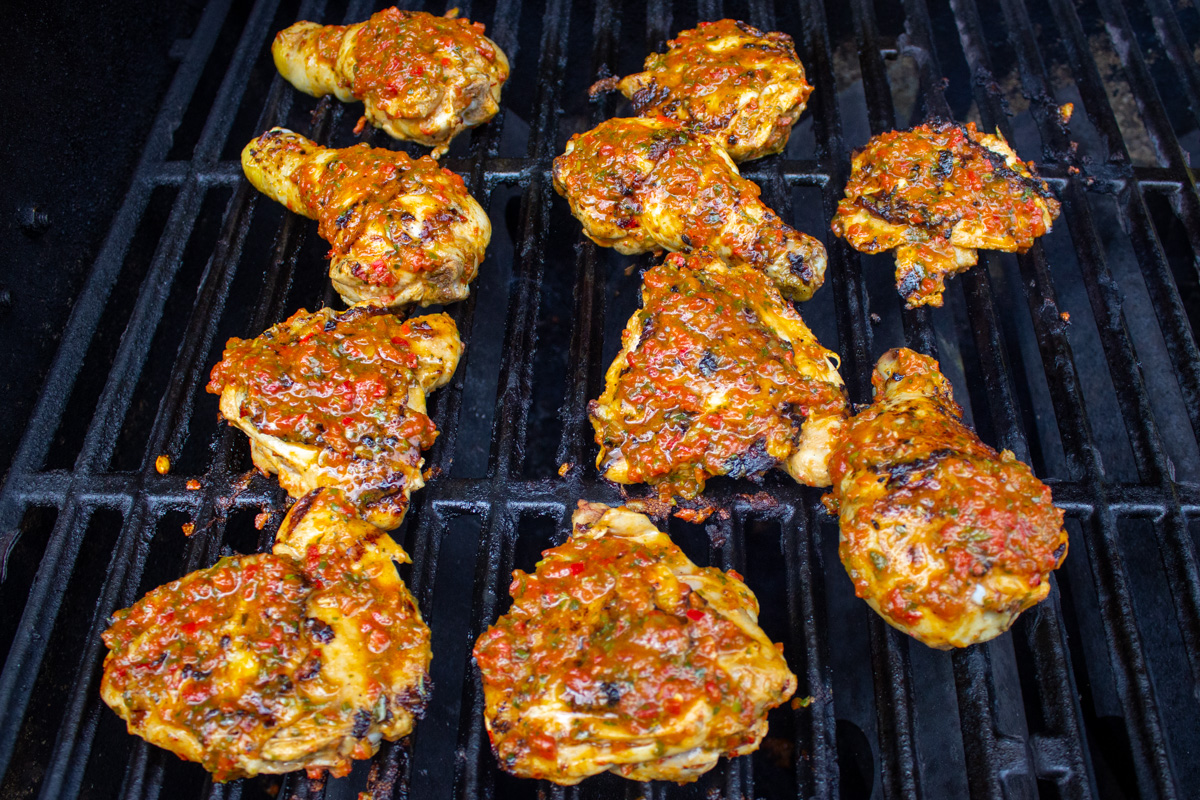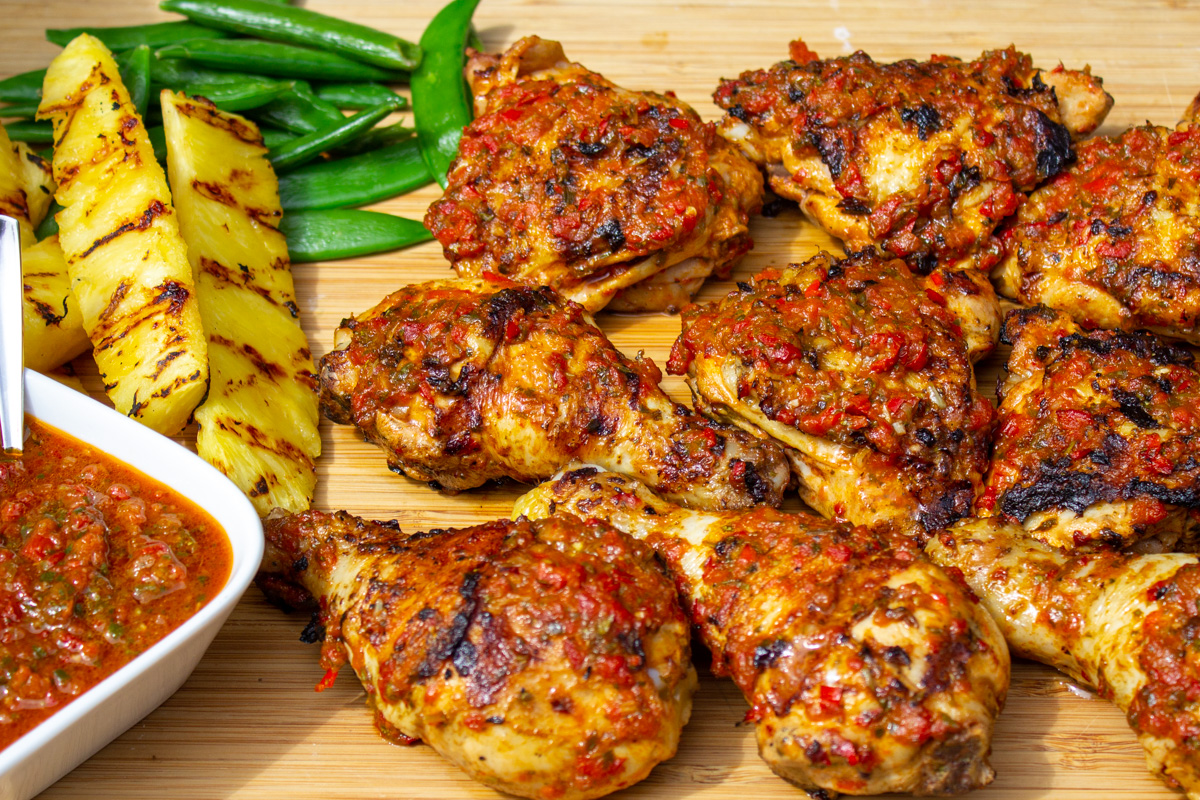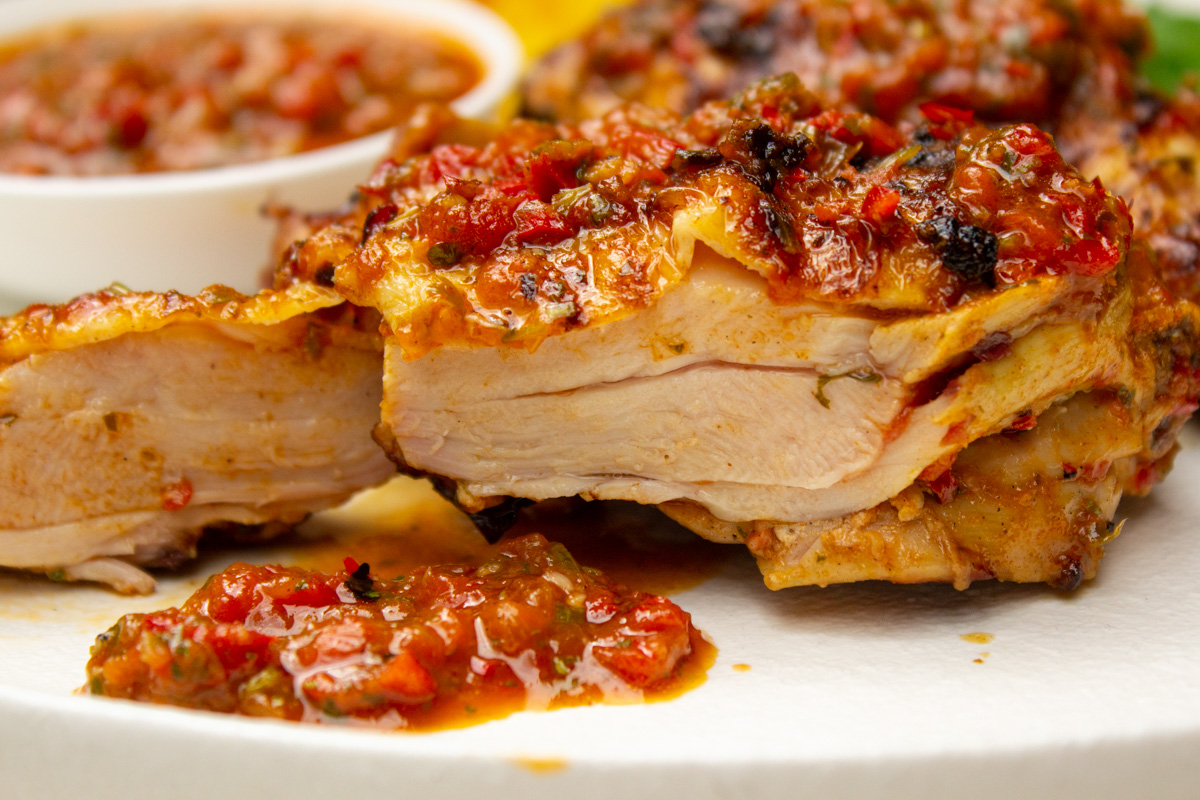 Tips on heat level
You can modify the heat level in the peri peri sauce recipe by:
Choosing the type and amount of chili peppers you add to the sauce.
Removing the seeds and white fleshy ribs inside the peppers for less spicy (that's where most of the heat lies).
If you are worried about making the peri peri sauce too spicy, start with less peppers. You can always add more or adjust the heat by adding chili pepper flakes or cayenne pepper. It's much harder to remove heat!
CAUTION: If you are removing seeds and ribs from very hot peppers, use gloves or a plastic bag over your hands to prevent serious discomfort and burning sensation on your skin. And don't touch your face and eyes!
Recipe FAQs
What is peri peri?
Peri peri takes its name from piri piri which is the Swahili word for pepper pepper. Peri peri, also known as African Bird's Eye chilies, are small red chili peppers native to south Africa and used by Nando's restaurants in their peri peri sauce.
How can I use peri peri sauce?
Peri peri sauce is a spicy marinade and sauce for chicken, tofu and shrimp. You can also mix it into hummus, drizzle it on burgers and vegetables or use it as a spicy dipping sauce for crusty bread.
How is peri peri sauce different from other hot sauces?
Hot sauce such as sriracha, tabasco, chili-garlic sauce and sambal oelek is mostly made with chili peppers, vinegar and sometimes garlic and onions. Peri Peri sauce is a bit more complex with added sweet peppers, lemon, spices like smoked paprika and herbs. Still a super spicy sauce though!
Can I use dried Thai chili peppers to make peri peri marinade?
You can use dried Thai chili peppers to make peri peri sauce, but keep in mind they are much spicier when dehydrated so you might want to use less. Slice them open, remove the seeds and soak them in boiling water for 15 minutes to rehydrate.
Is peri peri sauce gluten free?
Yes, peri peri sauce is gluten free. Be sure to check labels on ingredients.
Shortcuts
I find using jarred fire-roasted red peppers a super convenient time-saver, but if you prefer, make your own. Here's a good article on how to char red peppers using an oven or grill.
You can also use frozen garlic cubes or minced garlic in the jar instead of fresh garlic, and bottled lemon juice instead of fresh lemon juice.
Lastly, you can buy peri peri sauce! It does have preservatives though and may be a bit salty or vinegary for your taste. Plus it's pretty pricey.
If you love peri peri sauce, check out our 20-minute spicy chicken pasta peri-peri style, with a slightly modified peri peri sauce.
Make ahead
In the recipe notes, you will find instructions for storing, meal prep, reheating and freezing.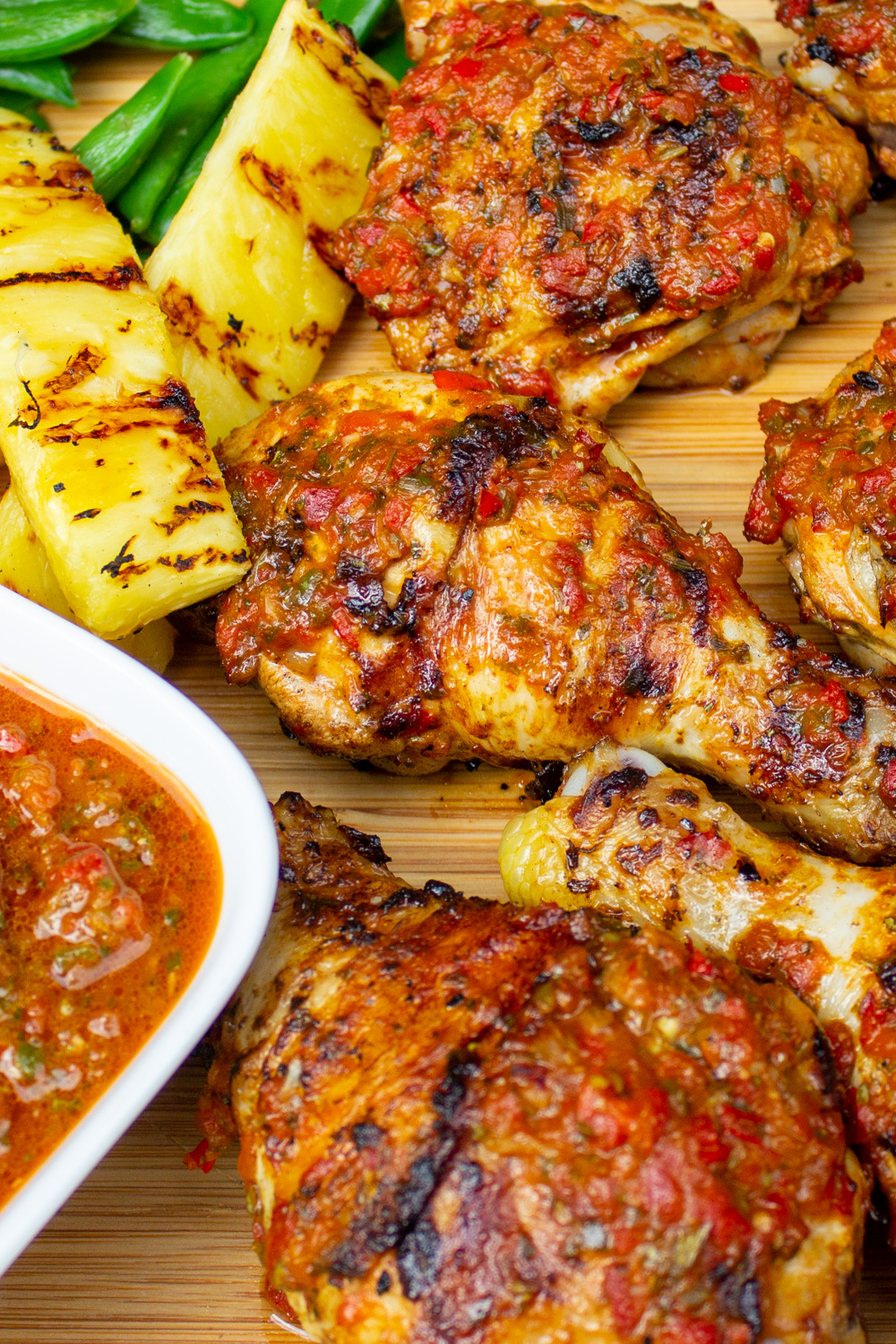 More marinated chicken recipes
Love peri peri sauce? Then try our quick and easy spicy chicken pasta with peri peri sauce (20 minutes).
If you like this recipe, please leave a 5 star rating 🌟🌟🌟🌟🌟in the recipe card below. And if you REALLY like it, consider a review in the comments. Thanks very much!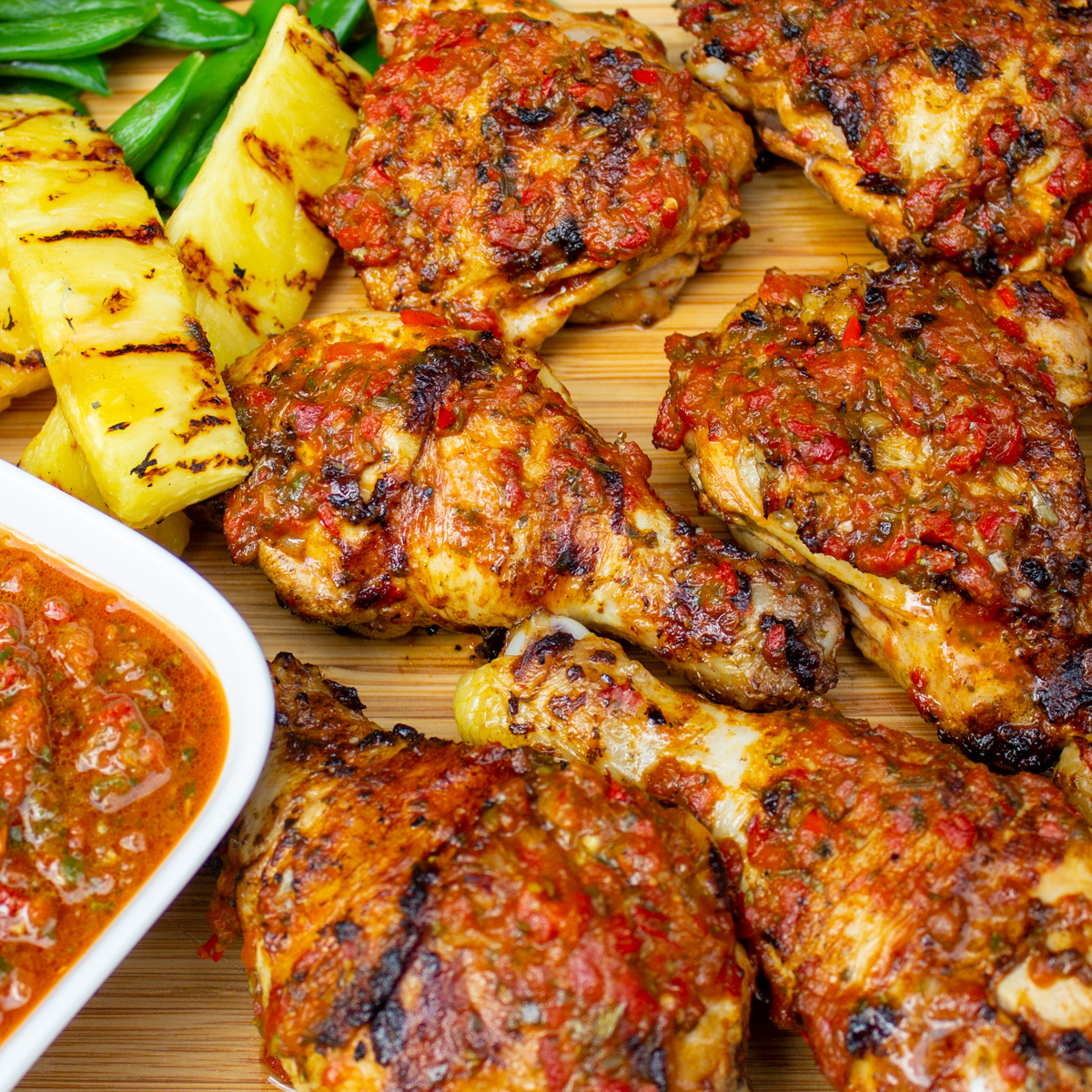 Print Recipe
Pin
Save Recipe
Recipe Saved!
Rate this recipe here
Homemade Peri Peri Chicken (Grilled or Baked)
Succulent peri peri chicken, inspired by Portuguese-African cuisine, is elevated to a whole new level with its tangy-spicy sauce. It's a must-try if you love bold and unique flavors. Make it as mild or as spicy as you like.
Equipment
food processor

or blender or immersion stick
Ingredients
2

pounds

chicken pieces, trimmed Note 1

bone-in skin-on
Peri peri sauce and marinade
370

ml

jar of fire-roasted red peppers, drained

12 ounces (~1 1/4 cups)

4

Thai chili peppers, Note 2 seeds and ribs removed (with gloves!)

6

green onions, chopped

~ 1 cup/11 grams

1

large lemon, zest and juice

1/3

cup

red wine vinegar

(or sherry vinegar, apple cider vinegar)

4

cloves fresh garlic, minced

4 teaspoons (or more if you like)

1/2

cup

fresh cilantro

optional (I use it)

1

tablespoon

dried oregano

(or 1/2 tbsp ground oregano)

2

teaspoons

smoked paprika

2

teaspoons

kosher salt

1

teaspoon

black pepper

1/3

cup

olive oil

(add at the end)
Instructions
MAKE PERI PERI SAUCE: Place all peri peri marinade/sauce ingredients in food processor except oil. Process on high for a minute or until well blended. Slowly add oil. Taste and adjust flavors, Note 3. If you don't have a processor, use a blender or immersion blender.

MARINATE CHICKEN: Place chicken in ziploc bag or container with 1/2 cup/118ml marinade/sauce. Set remaining marinade aside for later. Make sure chicken is coated all over with sauce. Marinate chicken in fridge for 4-24 hours (or up to 8 hours if using boneless or white meat chicken). Longer marinating will result in more flavor but too long can result in mushy stringy chicken because of the acid in the marinade.

PREPARE GRILL: Heat grill to medium-high heat ~ 425F/218C and grease grill by spraying with oil or using paper towel dipped in oil. Remove chicken from marinade. Discard marinade. Pat chicken with paper towels to remove excess moisture and spray it with cooking oil to further avoid sticking on grill.

GRILL CHICKEN: Place chicken, skin side down, on grill. Cook with lid closed: 5 minutes, turn chicken and baste with remaining sauce, then cook 5 minutes , turn again and cook another 2-3 minutes until meat thermometer shows an internal temperature of 160F/71C. Transfer chicken to plate and let it rest 5 minutes. Temperature will rise about 5 degrees f. Serve with remaining sauce. Note 4 for baking chicken instead.
Recipe Notes
Chicken options: Bone-in thighs and legs are more flavorful and moist. Other options: boneless skinless chicken (marinate it and cook it for less time), wings, whole chicken (butterflied for quicker and more even cooking).

Brining chicken before marinating will make it juicier and more flavorful if you have the time. Add chicken to large sealed bag of salted water (6 cups/1.4 liters plus 6 tablespoons kosher salt). Brine in fridge for 2-4 hours. Remove chicken, rinse, pat dry. Discard brine.

Chili pepper options

:

For the approximate

equivalent of 4 Thai chili peppers

– sauce will be quite hot, but not crazy hot – substitute one of the following (seeds and rib removed). Start with less and add more as needed:

1 Habañero pepper (extremely hot!)
2 Bird's Eye Chili peppers
6-8 Cayenne peppers
2-4 teaspoons red chili flakes
2-4 tablespoons chili garlic sauce
You would need a lot of milder chili peppers to equate to 4 Thai peppers so it might be better to use chili flakes. (unless you want very mild).

Variations and substitutions for the peri peri sauce:

Less heat, use fewer peppers AND make sure to remove the seeds and white ribs inside (with gloves or bag over your hands)
More heat, add another chili pepper or red pepper flakes. 
More tangy – add extra vinegar or lemon juice. 
Add a touch of sweetness – add a teaspoon maple syrup or brown sugar. I do. 
Substitute fresh garlic with 1/2 teaspoon garlic powder or 1 teaspoon granulated garlic. 
Substitute smoked paprika with chipotle chili powder.
Substitute jarred roasted peppers with 2 fresh bell red peppers. Here's how to char red peppers using an oven or grill. 
Substitute cilantro with parsley or basil (use less basil). Or leave it out. 
Substitute dried oregano with 3 tablespoon chopped fresh oregano. 

To bake piri piri chicken: Place chicken in a single layer, skin side up, on a baking sheet lined with parchment paper or aluminum foil (sprayed with oil). Spoon some sauce on top of chicken. Bake at 400F/204C for 35-45 minutes depending on the thickness of the chicken, adding more sauce part way through. Cook to internal temp of

160F/71C

(temp will rise 5 degrees f on resting). For extra char, broil chicken for 2-3 minutes close to heat source.
Make ahead: 

Make sauce up to a week ahead. Keep in fridge in airtight container or freezer bag. 
Freeze raw chicken in 1/2 cup/118 ml of the marinade/sauce for up to 3 months. Defrost in fridge overnight and cook as per recipe. 
Store leftover chicken in fridge for 3-4 days. Reheat in medium heat oven (350F/177C) for 10-15 minutes. Or in the microwave for a couple of minutes.
Nutrition values are estimates for about 2 pieces bone-in skin-on chicken dark meat per serving. 
Nutrition
Calories:
628
kcal
|
Carbohydrates:
11
g
|
Protein:
33
g
|
Fat:
51
g
|
Saturated Fat:
11
g
|
Polyunsaturated Fat:
9
g
|
Monounsaturated Fat:
26
g
|
Trans Fat:
0.2
g
|
Cholesterol:
189
mg
|
Sodium:
1322
mg
|
Potassium:
694
mg
|
Fiber:
4
g
|
Sugar:
4
g
|
Vitamin A:
2886
IU
|
Vitamin C:
103
mg
|
Calcium:
73
mg
|
Iron:
3
mg
Tried this recipe?
We'd love you to rate it above under 'rate this recipe' or in the comment section below. Thanks!