Smoked Chicken Thighs (without a smoker)
Treat yourself to juicy, BBQ, lightly smoked chicken thighs. No need for a smoker, wood chips or long cooking times. Just a simple wood plank to infuse the smoke flavor and make the grilling easy.
Don't be intimidated by plank grilling – it's surprisingly simple!
Keep in mind that plank grilling will not give you the intense smoke flavor a smoker does since the smoke does not penetrate the protein as much. But…
The mild smokiness still tastes undeniably yummy and the chicken looks so cool when served on a plank.
The cooking process also takes way less time than a smoker – only about 25-30 minutes cook time in total.
If you have a smoker and prefer that method, here's a smoked chicken thighs recipe you can try by Dinner At The Zoo using an electric smoker.
Ingredients – tailored to your taste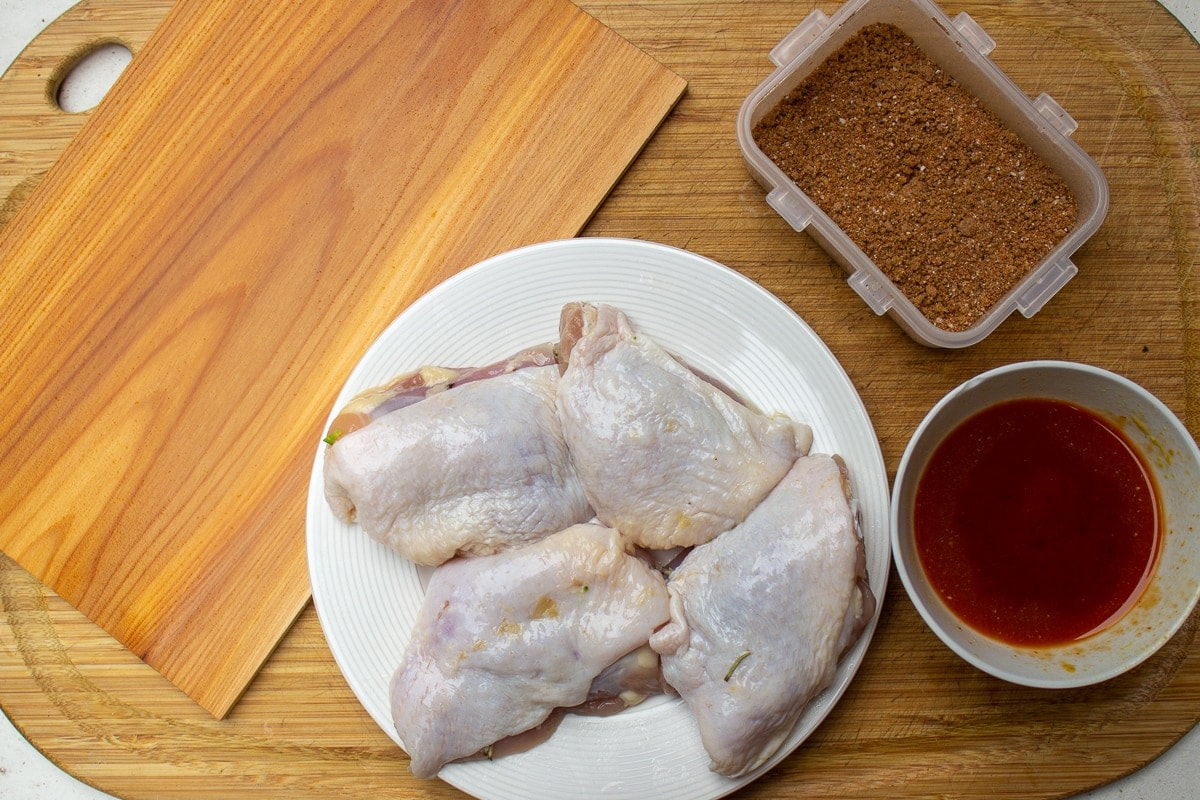 Variations and substitutions:
Dry
Rub
Keep it simple with a sprinkle of salt, pepper, garlic powder and paprika or use our rub recipe in the recipe notes
Use your favorite store bought BBQ rub for chicken and ribs.
Chicken
Instead of thighs, use bone-in chicken breasts or drumsticks. Just adjust the cooking time accordingly
I always prefer dark meat like thighs because it's more forgiving, stays juicier and has a higher fat content which makes it more flavorful.
Glaze
Instead of using your favorite BBQ sauce from the store, here's a simple no-cook BBQ sauce recipe found in our sous vide baby back ribs post.
Or try a different sauce/glaze like teriyaki or Thai sweet chili sauce (hot!).
Step by step instructions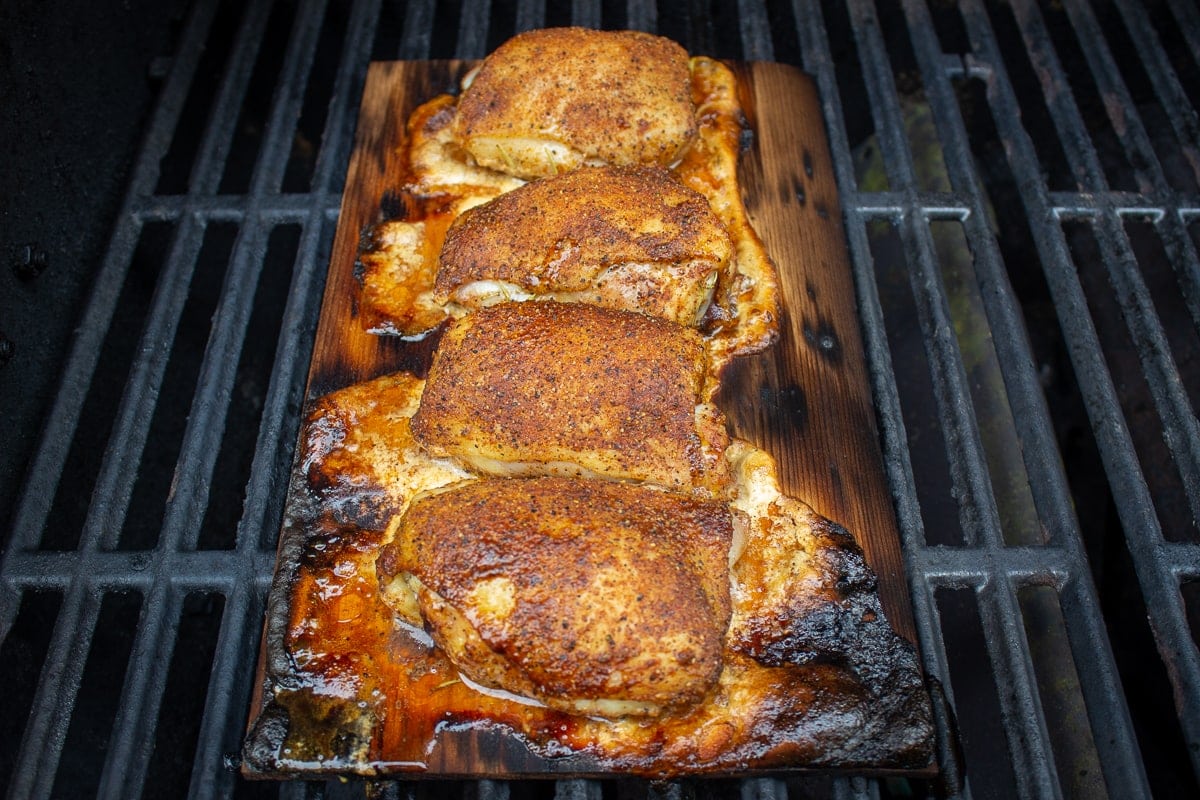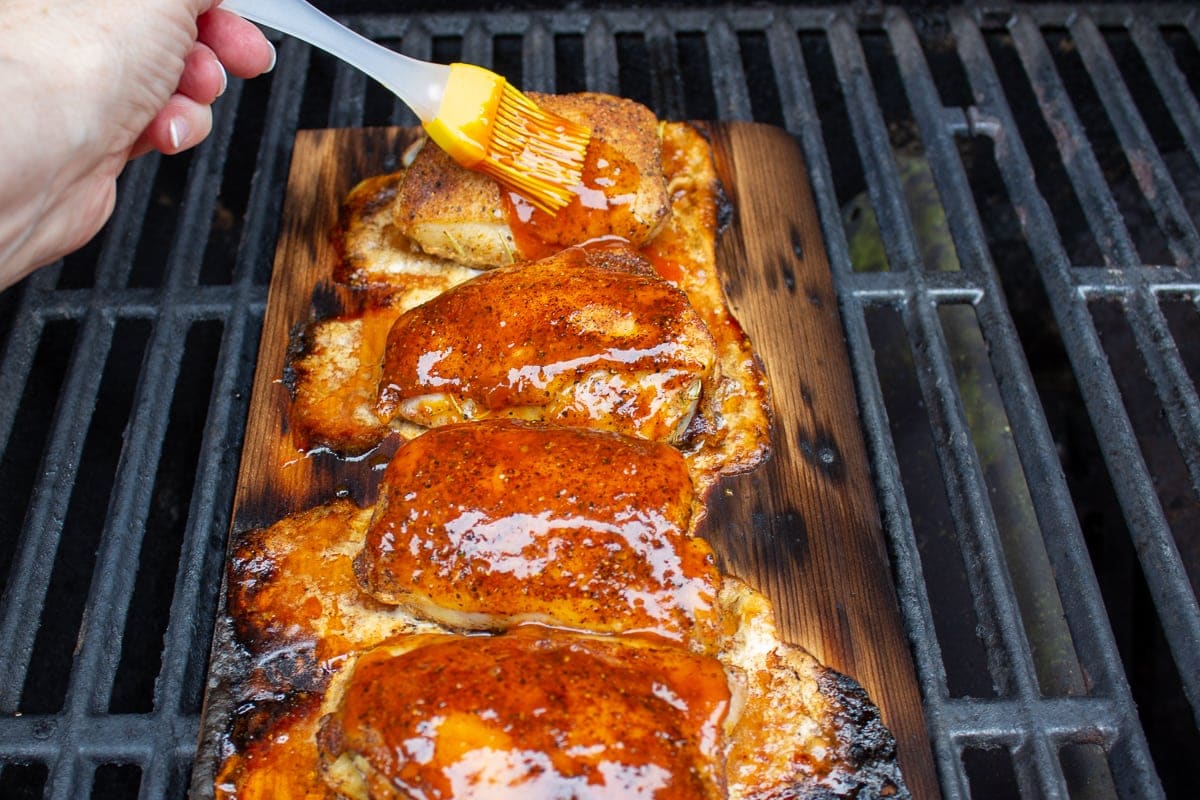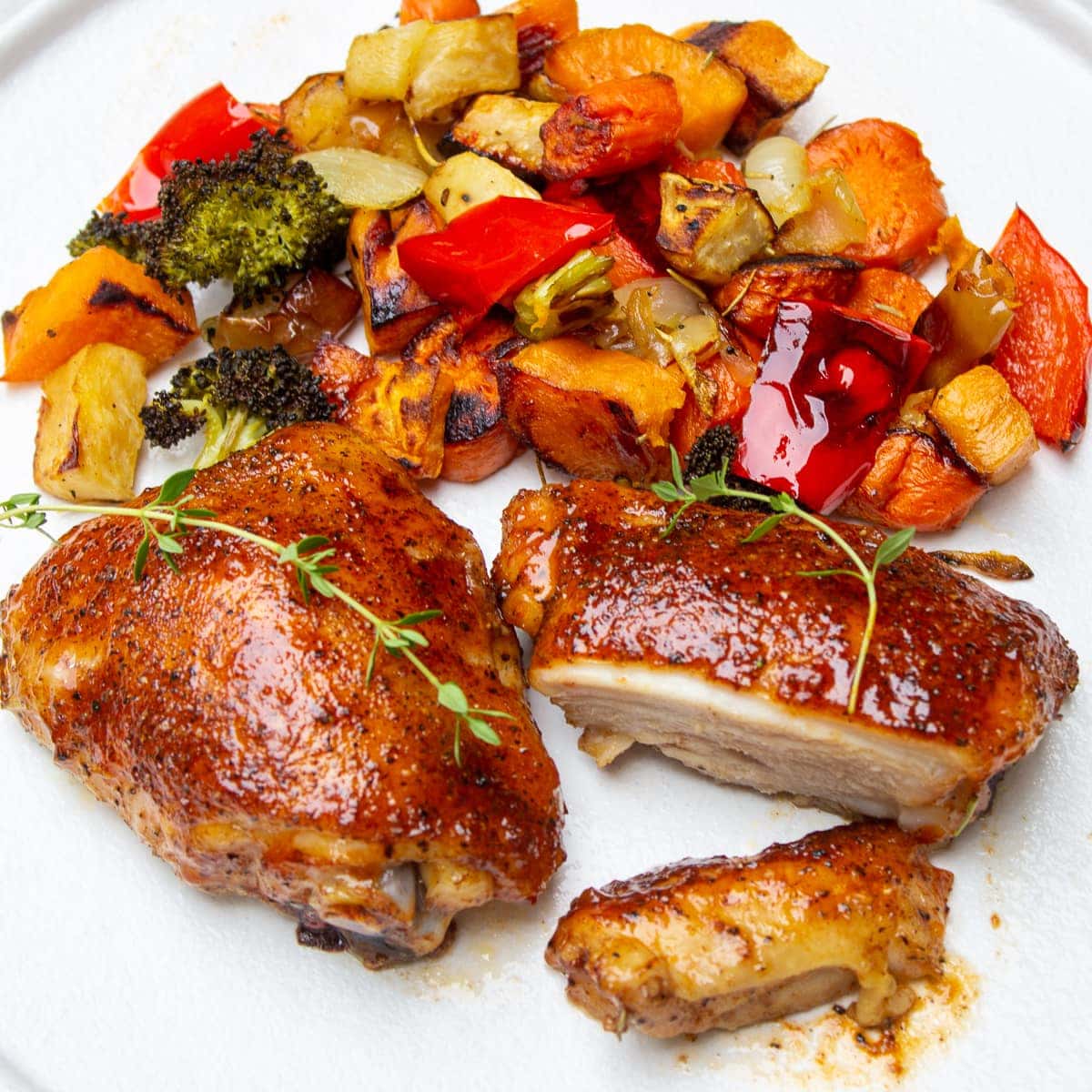 Shortcuts
There are 3 great shortcuts for this smoked chicken thigh recipe.
Buy kosher chicken which is already brined. It's extra flavorful and juicy. This way you can skip brining the chicken yourself. Alternatively, skip the brining altogether.
Use a good store-bought chicken rub instead of making one yourself. See instructions in the recipe notes.
Buy a BBQ sauce and add a bit of water to thin it out for a glaze.
Best side dishes to go with the chicken
Grilled side dishes
I love that you can make these sides on the grill along side the chicken. Especially when you don't want to heat up the house.
Or check out our summer Sunday dinner ideas for other options.
Salads
Simple stove top sides
What is plank grilling?
Plank grilling (or planking) simply means grilling on a wood plank. You soak the plank, then place it on the grill with the meat, fish, chicken or vegetables on top of it. Sit back and wait for the wood to impart a smoky flavor to the food.
Two methods to get the wood plank to do its magic
Heat both sides of the plank first until it starts smoking, then add the food and cook until it's done.

OR

Place the food on the plank first, then put the plank on a hot grill for the first few minutes until it starts charring. Switch to low or indirect heat for the rest of the cooking process. I use this method.
With both methods, there is no need to flip the food.
What type of planks to buy
You can find untreated pre-sized planks at many stores such as Home Depot, Canadian Tire, Costco, Walmart, many grocery stores and any store that sells BBQ accessories. For newbies, it's best to stick to store-bought, packaged planks to be safe.
Match the type of wood to the food you are cooking. Cherry, maple, apple and ash (all hardwoods) are great choices for this smoked chicken thigh recipe. Red cedar (a softwood) is great too – and very common with this type of cooking. Experiment to find your favorite wood flavor.
If you buy planks that are 1/2 or 3/4 inch (1.3-1.9cm), you can reuse them up to 3 times if you wash them with soap and water. I admit I'm not a fan of reusing planks.
I prefer thinner planks of 1/8-1/4 inch (0.3-0.6cm) as they take less time to soak, they are cheaper and you can toss them out after one use, so no clean up.
Is plank grilling healthy?
Plank grilling is a healthier option than direct grilling as the wood creates a barrier between the food and the grill. This helps avoid charring and unhealthy carcinogens. Experts suggest using hardwood planks or red cedar (which is a softwood).
Tips for plank grilling
Make sure to use untreated wood planks
Soak the planks before grilling (20-60 minutes depending on thickness). You can add apple juice, white wine or beer to the water for soaking for extra flavor.
Start the plank grilling on high for a few minutes to get the wood smoking.
Keep the BBQ lid closed as much as possible to keep in the smoke.
Keep a spray bottle or water handy in case the planks catch fire.
Make ahead
The rub and BBQ sauce can be made well ahead (if you choose to make your own).
You can also brine the chicken a day ahead.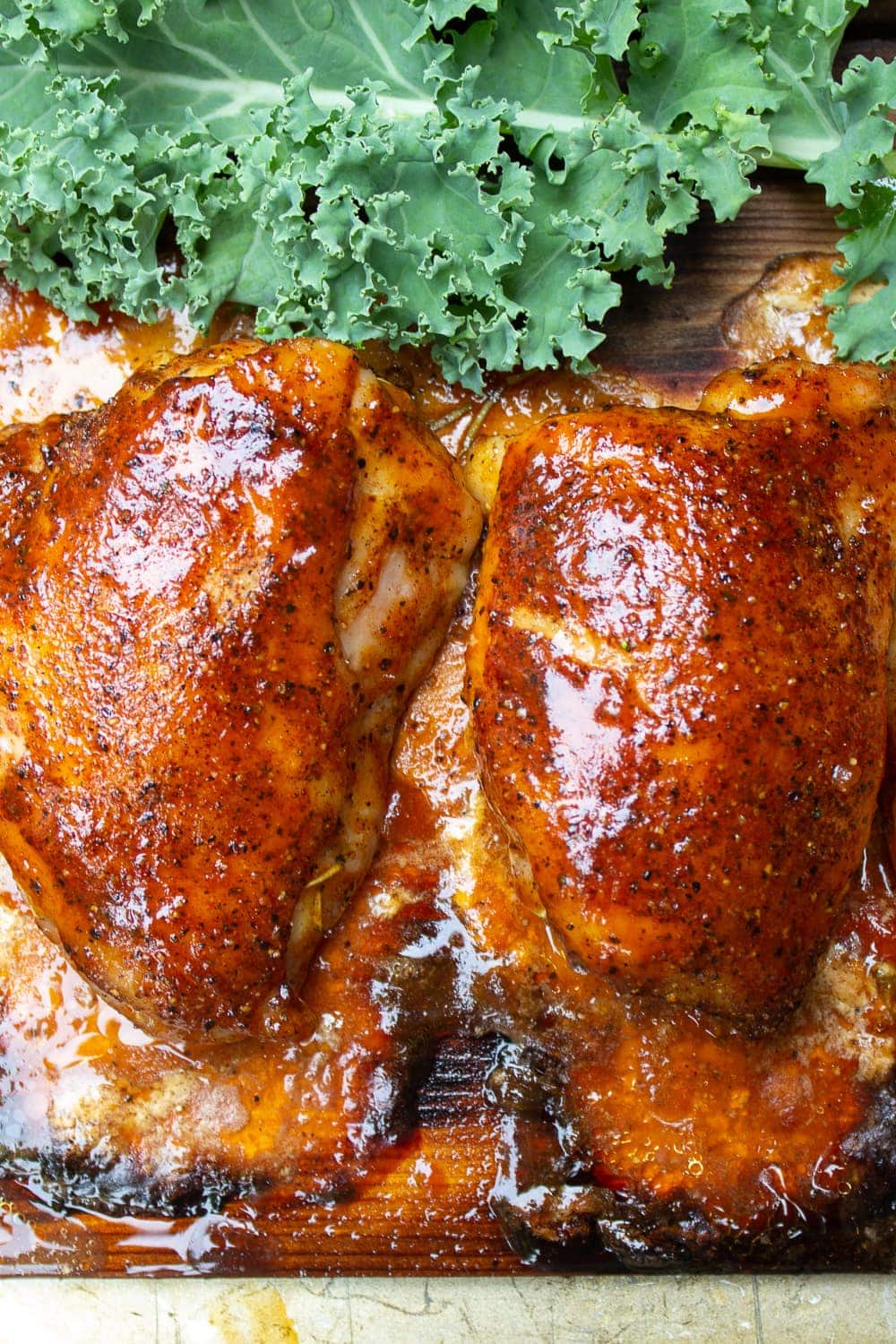 If you like this recipe, please leave a 5 star rating 🌟🌟🌟🌟🌟in the recipe card below. And if you REALLY like it, consider a review in the comments. Thanks very much!
Smoked Chicken Thighs (without a smoker)
Treat yourself to juicy, BBQ, lightly smoked chicken thighs. No need for a smoker, wood chips or long cooking times. Just a simple wood plank to infuse the smoke flavor and make the grilling easy. And don't be intimidated by plank grilling – it's surprisingly simple! 
Ingredients
1 1/4

pound

(567g) bone-in, skin on chicken thigh meat, Note 1

about 4 thighs, trimmed of excess fat

1

teaspoon

olive oil

kosher or sea salt for sprinkling at the end
Dry rub for chicken, Note 2
2

tablespoon

brown sugar

1

teaspoon

kosher salt

1

teaspoon

black pepper

1

teaspoon

smoked paprika

(or regular)

1/2

teaspoon

garlic powder

1/2

teaspoon

onion powder

1/2

teaspoon

mustard powder

1/4

teaspoon

ground cinnamon

1/8

teaspoon

cayenne pepper

optional
BBQ sauce glaze
1/4

cup

BBQ sauce mixed with 1 tbsp water, Note 3
Instructions
BRINE CHICKEN (Optional): Note 4. Or buy kosher chicken which is already brined.

SOAK PLANK: Immerse a thin wood plank under water for 30 minutes (or 60 minutes if using a 1/2 inch/1.2 cm thick plank). Weigh it down with a pot or can to keep it under water. Feel free to add apple juice, white wine or beer to the water to enhance the flavors.

MAKE DRY RUB: Combine all dry rub ingredients together in a small bowl or container. You may not need all of it.

PREPARE CHICKEN AND GRILL: Heat grill to high (500F/260C). Remove plank from water, pat dry and spray one side with oil. For chicken, rub oil on chicken thighs, then coat with dry rub on all sides. Place chicken pieces, skin side up, on oiled side of plank.

GRILL CHICKEN: Step 1: Place plank with the chicken on the grill and cook for 5 minutes on high heat. Keep a spray bottle or water handy in case the planks catch fire.Step 2: Turn heat down under plank to lowest setting and lower other burners so that chicken is cooking at about 400F/204C. Cook another 15-20 minutes or until the internal temperature reaches 160F/71C using an instant read thermometer. Note 5. Step 3: In final step, brush on BBQ sauce/glaze and cook another minute or two. Remove from grill. Add more glaze if you like. Let chicken rest, loosely covered to keep warm, for 10 minutes.

SERVE: Serve chicken right on plank (placed on a baking pan or tray) for a beautiful presentation. Garnish with chopped parsley.
Recipe Notes
Chicken: Instead of bone-in thigh meat, you can use bone-in skin on white meat (breasts). I would not use boneless chicken as it cooks more quickly and won't pick up much smoke flavor. If possible, buy kosher chicken thighs as they are already brined. 
Dry Rub: Instead of this rub recipe, use 3-4 tablespoons of your favorite chicken rub. 
BBQ Sauce/Glaze: Use your favorite BBQ sauce or another type of sauce like teriyaki or spicy Thai sweet chili sauce. If you want to make your own, try this easy no-cook BBQ sauce from one of our rib recipes. 
How to brine chicken: Place 2 cups water, 2 tbsp kosher salt and 1 tsp sugar (plus a tsp of dried rosemary or thyme if you like) into a ziploc or airtight container. Swish around to dissolve the salt. Add chicken and marinate for 2-6 hours in the fridge. Discard water, rinse chicken and pat dry with paper towels. 
How to tell when chicken is cooked: A meat thermometer is best, but if you don't have one, pierce the chicken. If juices are clear and the meat is not pink or red, the chicken is cooked. 
Nutrition values are estimates. You may not need all the rub and glaze. Using less will lower values for salt and sugar.
Nutrition
Calories:
759
kcal
|
Carbohydrates:
30
g
|
Protein:
47
g
|
Fat:
50
g
|
Saturated Fat:
13
g
|
Polyunsaturated Fat:
10
g
|
Monounsaturated Fat:
21
g
|
Trans Fat:
1
g
|
Cholesterol:
278
mg
|
Sodium:
1754
mg
|
Potassium:
737
mg
|
Fiber:
1
g
|
Sugar:
24
g
|
Vitamin A:
847
IU
|
Vitamin C:
1
mg
|
Calcium:
59
mg
|
Iron:
3
mg
Tried this recipe?
We'd love you to rate it above under 'rate this recipe' or in the comment section below. Thanks!