Peach Panzanella Salad is a simple tuscan bread salad that celebrates fresh summer peaches, tomatoes, cucumbers and basil. Great side dish.
This bread salad that starts with a loaf of crusty bread turned into golden bread cubes.  You then add a few fresh-from-the-market peaches, tomatoes, basil and cucumbers (and some ripped bocconcini or mozzarella cheese if you want), toss it with a vinaigrette and let it sit around to let the bread soak up all the flavors.
Classic panzanella recipes include tomatoes, basil and bread as the foundation.  I like to use peaches every chance I get when they are season because they add a wonderful juicy sweetness to this savory salad.
The recipe is just a guideline as far as the salad ingredients go.  If the cucumbers have very little seeds, don't bother seeding them.  If you prefer to peel the peaches, go ahead.  The only important thing here is to use a crusty bread that will hold up even when soaked in juices and not turn to mush.  Day-old bread is perfect.  Yes, the bread cubes sog a bit, but they still maintain some bite.
Serve the Panzanella salad as a side dish, light brunch item or lunch main course.  It works really well for potlucks, buffets and BBQs.
Tailor To Your Taste
This salad recipe is, once again, easily adaptable to your tastes.
Add sliced red onions, nuts, beets, capers.
Use our vinaigrette recipe or your favorite bottled dressing. I wouldn't use a creamy dressing, though, as it may hide the beautiful colors.
Make Ahead Panzanella Salad
Because the bread needs a little time to soak up the vinaigrette and juices from the vegetables and peaches, it makes a great make-ahead dish.


Peach Panzanella Salad Recipe
This Peach Panzanella Salad is a simple tuscan bread salad that celebrates fresh summer peaches, tomatoes, cucumbers and basil. Great side dish.
Resting time to absorb dressing
30
mins
Ingredients
1

small loaf crusty bread (baguette, ciabatta, italian - day old even better) cut into 1 inch cubes

3-4 cups

2

tbsp

olive oil

2

medium tomatoes (heirloom, cherry, ripe field), cut into chunks

2

-3 peaches, sliced

1

small English cucumber, seeded and sliced (leave peel on)

1/4

cup

-1/2 cup fresh basil, chopped

ball of fresh mozzarella or bocconcini cheese, drained and sliced or ripped up (optional)

Optional: red onion, roasted chopped almonds, julienne beets, etc
Vinaigrette
1/2

tsp

Dijon mustard

1/2

tsp

garlic, grated or minced

1 1/2

tbsp

white or red wine vinegar

1/4

cup

good olive oil

1/4

tsp

each, salt and freshly ground pepper
Instructions
Preheat oven to 425F

MAKE BREAD CUBES: Toss bread cubes with olive oil and a pinch of salt. Lay in a single layer on a foil lined pan. Bake for about 7 minutes or until golden brown.

MAKE VINAIGRETTE: Put all vinaigrette ingredients into a sealed container (jar, plastic) and shake hard until well blended/emulsified.

ASSEMBLE PANZANELLA SALAD: Place tomatoes, peaches, bread cubes, cucumbers, basil and cheese in a shallow bowl. Pour well-shaken vinaigrette over the salad (you may not need it all). Toss gently. Taste and add more salt and pepper or basil if needed. Let sit for at least 30 minutes (and up to 5 hours) to allow dressing to absorb.
Other salads you might like:
Party Salad with Grilled Vegetables and Quinoa Recipe
We love this Party Salad with Grilled Vegetables and Quinoa, loaded with eggplant, corn, peppers and maple-balsamic dressing. Three sides in one colorful dish.
Get the recipe
Print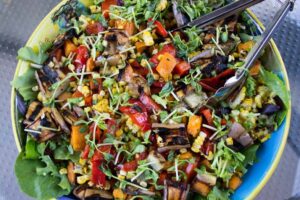 Marinated Tomato Salad Recipe
This sweet, tangy Marinated Tomato Salad with homemade Catalina dressing creates a colorful side dish even when tomatoes are not at their best.
Print
Butternut Squash Salad with Warm Cinnamon Dressing
Beautiful, delicious and satisfying as a vegetarian main or side, Butternut Squash Salad with Warm Cinnamon Dressing will get rave reviews at your next holiday or dinner event.
Get the recipe
Print