Once marinated for an hour, these Grilled Pork Chops turn out moist and full of flavour in only 5-6 minutes on the BBQ.  My husband and I love these pork chops (and truth be told, we have them every other week). I alter the marinade from time to time, but the basic easy prep and grill are the same.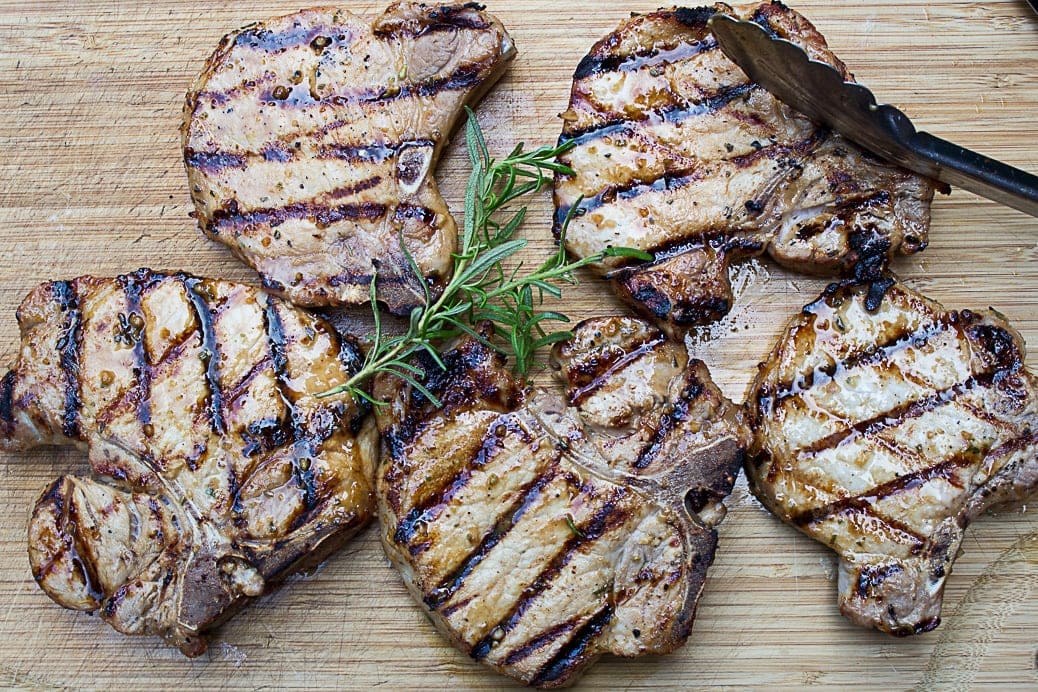 I use thinner pork chops for this recipe, about 1/2-3/4 inch.  For thicker pork chops, I use the brine method them as described in our Glazed Pork Chops recipe.
The trick to these chops is to not overcook them so that they stay tender and juicy. A little pink is perfectly safe. I find the marinade adds great flavour to otherwise very bland meat. There is a big debate about the usefulness of marinating meat. Food scientists say that marinades don't penetrate much past the surface so it's a waste of time. I have to disagree – at least for thinner pork chops. Since the chops are thin, penetrating the front and back surfaces pretty much covers half the chops.  All I can say is that the chops are a lot tastier with the marinade than without.  For extra oomph, I serve them with apple sauce or a fruit chutney.
Try serving these pork chops with some corn on the cob and Charred Onions, Summer Grilled Peaches or Grilled Hasselback Sweet Potatoes.
Tailor To Your Taste
Use balsamic vinegar instead of the lemon and soy.
Try using other herbs like oregano and thyme.
Shortcut
When I have no time to marinate, I smear on Dijon mustard, drizzle some olive oil and sprinkle with chopped herbs, then salt and pepper the chops generously. You can then have dinner on the table in under 30 minutes including a side or two.
Make Ahead
Marinate the chops ahead of time in the fridge. Bring to room temperature before grilling.
These chops taste great cold.
Here are three other pork chop recipes you might like:
Sous Vide Pork Chops With Pineapple Salsa get the recipe