Easy Gnocchi Recipe (au gratin)
The pillowy gnocchi in this easy gnocchi recipe au gratin is transformed with a rich, velvety white cheese sauce. Serve it as an appetizer, side or main dish using fresh store-bought gnocchi for a great shortcut.
I served this dish to my guests a while ago as an appetizer. Some ate it with toothpicks, but most scooped a few gnocchi onto their plates with a spoon and then proceeded to use the cut up bread from another appetizer as a tool to mop up any remaining sauce.
When I went to check how things were going about 10 minutes after I planted the dish on the coffee table, I found the bowl scraped clean. I guess it was a success! Truth be told, this is the one dish I stressed over that night as I wasn't sure it was going to work as an appetizer. It does. Needless to say, it also makes a nice main dish or side dish.
I love being able to make the baked gnocchi a few hours ahead then broil it when guests arrive. And the dish is easy to make. It's just a simple white cheese sauce with a few seasonings.
Using store bought fresh potato gnocchi, of course, cuts the time and effort way down. A great shortcut in my opinion. The vacuum sealed packages of handmade gnocchi – or even the more common Olivieri brand – work really well. They have few or no additives and cook in just a few minutes.
When you wrap a yummy, cheesy sauce around the soft plump gnocchi – which, by the way, are small dumplings made from potato, semolina, or flour – the dish becomes real comfort food – sort of like upscale gnocchi mac and cheese.
Tailor To Your Taste
Cheese
I use Gruyere or Emmanthal cheese. Fontina, provolone or other melty cheeses would work as well.
Seasoning
A key flavor booster in this baked gnocchi recipe is poultry seasoning – a combination of sage, thyme, rosemary, marjoram and pepper. If you don't have any, try combining sage and one or more of the others.
Basil would be nice substitute in a summer version of this dish.
Serving alternatives
For a main or side dish, try adding chopped fresh baby spinach at the same time you add the gnocchi to the sauce. Extra nutrition. Serve with a fig salad with pomegranates if using the cheesy gnocchi as a main meal.
For an appetizer, I suggest having some cut up French bread available for dipping the delicious sauce. Try a great appetizer combo: the baked gnocchi and a spicy cherry tomato sauce (used as a dip) with some fresh dunking bread for both.
Sauce
I use 2% milk and a splash of half and half cream for added richness. Feel free to use whole milk or a lighter combination if you prefer.
Want to try to make your own gnocchi?
Shortcut
Talk about easy Italian recipes and easy dinners. As noted, the big shortcut is using store-bought potato gnocchi. Buy it fresh if possible, but frozen is fine too.
One blog I read said it's not necessary to boil the gnocchi before adding it to the sauce. If you want to try this, I suggest doing it when you are making the dish the day before since the bake time increases substantially.
Make Ahead
Instructions for make ahead baked gnocchi gratin are in the recipe. The bake time will take longer as the dish will be cold.
Another easy gnocchi recipe you might like
Try our Indian style gnocchi that uses the same fresh packaged potato gnocchi. It has deep, rich Indian flavors with a creamy tomato-based sauce. Make it in just 20 minutes.
How to make this baked gnocchi au gratin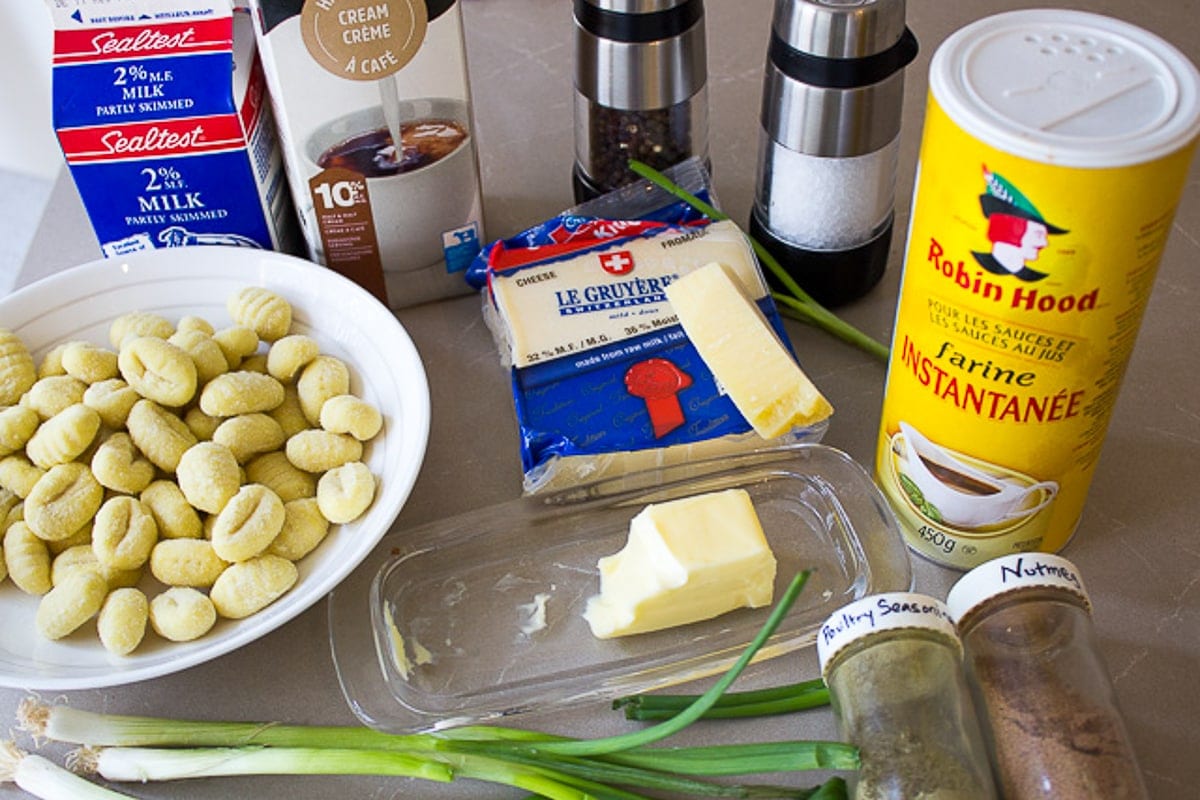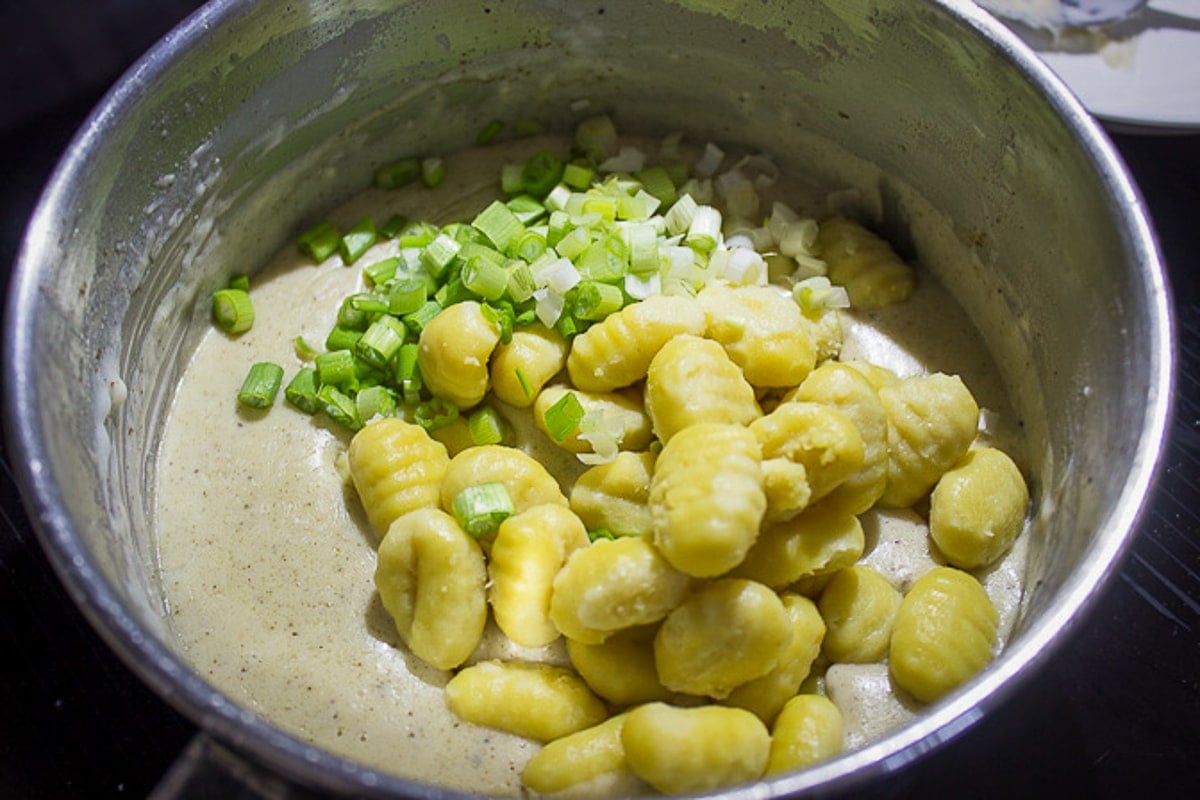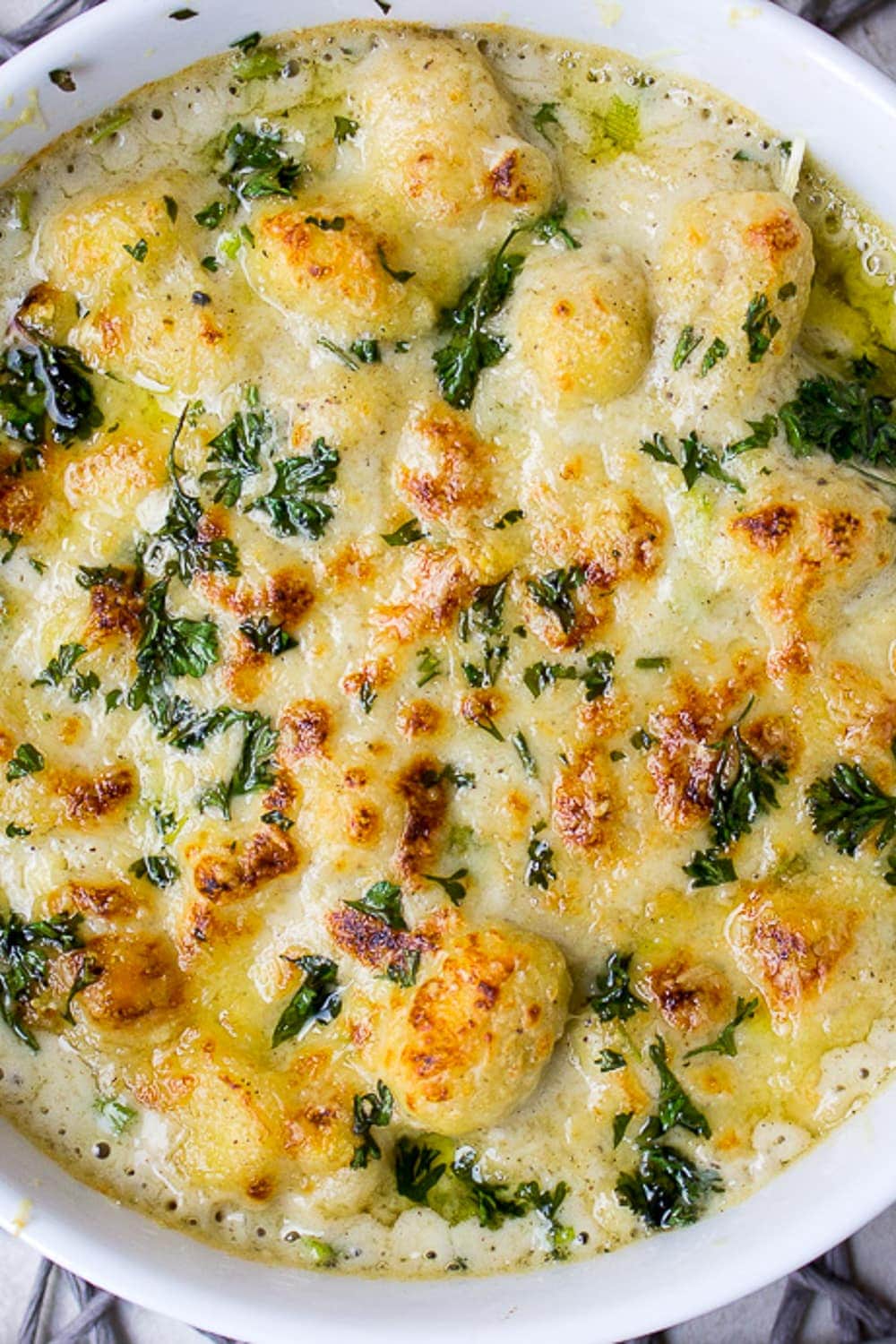 Print Recipe
Pin
Save Recipe
Recipe Saved!
Rate this recipe here
Easy Gnocchi Recipe (Au Gratin)
The pillowy gnocchi in this easy gnocchi recipe au gratin is transformed with a rich, velvety white cheese sauce. Serve it as an appetizer, side or main dish using fresh store-bought gnocchi for a great shortcut. 
Servings:
3
mains (see note 2)
Ingredients
1

package gnocchi, fresh or defrosted

375-500 g or 13-16 ounces

1/4

cup

(22.5g) grated fresh Parmesan cheese

1

tablespoon

chopped parsley for garnish
White Cheese Sauce
1 1/2

tablespoon

butter

salted or unsalted butter is fine

2

tablespoon

all purpose flour

1

garlic cloves, minced

(or 1/4 tsp garlic powder)

1

teaspoon

poultry seasoning

or more to taste

1/2

teaspoon

salt

(or to taste)

pinch

black pepper

pinch

nutmeg

optional

1 1/2

cup

(375ml, 12 oz) milk, 2% or whole

(1/4 cup of this can be light or heavy cream for extra richness)

1

cup

(83g) grated white cheese e.g. Gruyere, Fontina, Emmenthal, Monterey Jack, Provolone

1/4

cup

chopped green onion
Instructions
PREHEAT OVEN to 400F/204C. Spray a small 7-8 inch/18-20cm ovenproof baking dish with olive oil or cooking spray

BOIL GNOCCHI: Bring salted water to boil in medium saucepan. Put gnocchi in boiling water, bring water back to boil, and lower heat to med heat. Gently boil for 2 minutes. Drain gnocchi and set aside.

MAKE CHEESE SAUCE: Melt butter on medium heat in a medium or large saucepan. Add garlic and stir for 30 seconds. Add flour and seasonings, stirring for 2 minutes. Add milk (and cream if using), whisking until slightly thickened, about 4-5 minutes. Turn off heat. Stir in grated cheese until smooth sauce is formed. If too thick, add a bit more milk (but note that sauce will thicken further with baking and standing). Taste and adjust seasonings. Stir in gnocchi and green onions.

ASSEMBLE AND BAKE/BROIL: Spoon mixture into prepared gratin dish. Sprinkle 1/4 cup Parmesan cheese and chopped parsley over the surface. Bake for 7 minutes, then broil for 3 minutes to brown, watching to ensure it doesn't burn. Let stand for a few minutes (sauce will thicken more) and serve with toothpicks as an appetizer or as a side or main dish.
0
Notes
Make Ahead: Follow instructions above to boil gnocchi and make cheese sauce, including mixing in gnocchi and green onions. Pour mixture into prepared dish. Cover and refrigerate for up to 2 days. When ready to use, sprinkle Parmesan and chopped parsley over surface. Bake in preheated 400F oven for 20-25 minutes. Broil for 2-3 minutes if further browning is needed.
Servings: Makes 6-8 appetizer servings, 2-3 mains, 4-5 sides.
Nutrition values are estimates for a main dish serving. They will be considerably lower for sides and appetizers. 
Nutrition
Serving:
0
g
|
Calories:
536
kcal
|
Carbohydrates:
56
g
|
Protein:
22
g
|
Fat:
26
g
|
Saturated Fat:
16
g
|
Cholesterol:
74
mg
|
Sodium:
1270
mg
|
Potassium:
221
mg
|
Fiber:
3
g
|
Sugar:
7
g
|
Vitamin A:
1035
IU
|
Vitamin C:
4
mg
|
Calcium:
539
mg
|
Iron:
5
mg
Tried this recipe?
We'd love you to rate it above under 'rate this recipe' or in the comment section below. Thanks!
0
g
This easy gnocchi recipe au gratin, originally published in 2018, has been updated with new pictures and information.