Try this 20-minute easy Spaghetti Carbonara with spinach and fresh tomatoes for a healthy summer meal in a bowl. A bacon-y, cheesy taste of summer.
My Dad recently turned 95 years old and my sisters and I decided to make him Spaghetti Carbonara, an old favorite of his. He loved it. It brought back memories as food often does.
I've always found Spaghetti Carbonara to be a bit "beige" looking.  Since I love vibrant colors, I decided to add some some baby spinach and fresh tomatoes (local tomatoes that actually taste like tomatoes should – fresh picked from the garden or field – I wait for these all year).  I've convinced myself that this update adds a touch of healthiness to the dish as well.
I like this dish because it's super fast to make, it looks pretty and it's a delicious meal in a bowl.  By the way, if you don't like to fry bacon (smelly!), you can use our recipe for Perfect Oven-Baked Bacon instead.
Tailor To Your Taste
For a vegetarian or kosher version, you can simply leave out the bacon, use turkey or vegetarian "bacon". Or try adding a bit of smoked paprika.
Experiment with adding different vegetables – grilled, fresh or stir fried.
Make Ahead Easy Spaghetti Carbonara
Spaghetti Carbonara has to be assembled at the last minute for best results. The ingredients, however, and the bacon can be prepped ahead.


Print Recipe
Pin
Rate this recipe
Easy Spaghetti Carbonara Summer Version Recipe
Ingredients
8

oz

spaghetti, spaghettini or vermicelli

(225 gm)

2

eggs

1

cup

grated Parmesan cheese

5

slices bacon, chopped

4

cloves garlic, minced or grated

(or 4 cubes frozen)

kosher salt and pepper, to taste

6

cups

baby spinach, loosely packed

1

large tomato, seeded and chopped

chopped parsley, for garnish
Instructions
PREPARE EGGS AND PARMESAN: Whisk together eggs and 3/4 cup Parmesan in a small bowl. Set aside.

COOK BACON: Heat skillet to medium high heat and cook bacon until crisp, about 5-6 minutes, turning a few times. Note 1 to bake bacon instead. Leave 1-2 tablespoons of fat for flavor in pan if desired. Stir in garlic and cook for one minute. Turn burner to low.

BOIL SPAGHETTI AND SPINACH: While the bacon is cooking, boil spaghetti in salted water according to package directions. Just before it's ready, add the baby spinach and stir once or twice (no need to cook it). Drain spaghetti and spinach immediately. Reserve 1/2 cup pasta liquid.

ASSEMBLE SPAGHETTI CARBONARA: Once the pan has cooled to a lower heat, add hot spaghetti, spinach and egg-cheese mixture to skillet. Toss quickly and blend well. Add tomatoes and parsley. Add pasta liquid a little at a time until you get a nice smooth consistency. You may not need all of it. Add salt and pepper to taste. Sprinkle remaining Parmesan on top or serve on the side. Serve immediately.
Other simple pasta dishes you might like:
Fresh Tomato Lemon Olive Pasta Recipe
Fresh tomato lemon olive pasta is a beautiful blend of sweet summer-ripe tomatoes, lemon-basil zing and salty olives, capers and cheese.


Get the recipe
Print
Fresh Vegetable Pasta
This is one of my favorite non-meat meals. Its a light, healthy, zesty, fresh vegetable pasta dish and perfect for spring (or any time for that matter).
Get the recipe
Print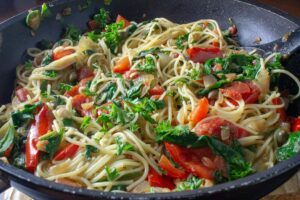 Grilled Vegetable Pasta with Wine Sauce Recipe
Grilled Vegetable Pasta with Wine Sauce is a versatile, healthy summer weeknight meal. Grill the vegetables you have on hand and add shrimp or tofu if you want to stretch it further. Delicious!
Get the recipe
Print