Stuffed Pasta Shells With Spinach
You'll love the four cheeses, basil and hint of nutmeg in these delicious vegetarian stuffed pasta shells with spinach, smothered in Marinara sauce.
My friend Cathy made pasta shells recently and tempted me by sending some pictures and the recipe. I couldn't resist the beautiful colors and decided to give the recipe a whirl. In my obsessive research fashion, I checked out half a dozen similar recipes which were all – ah – similar. The only real differences were in the proportions of filling ingredients, some used an egg and some topped the shells with Mozzarella. Cathy's recipe from an old Food and Wine cookbook used a lot of goat cheese, breadcrumbs and jalapeno pepper in the sauce.
I ended up blending recipes from Food and Wine, Serious Eats, Eating Well and Fork Knife Spoon based on my own tastes and any tips the authors had to share. I served it recently to the vegetarians at a family dinner party. Very well received – phew.
I'm not a huge cheese fan, but I found the blend of cheeses with the spinach, garlic, basil and nutmeg to be a great combination. Try to get the best ricotta you can – creamier, less grainy. Or if you're feeling ambitious, the recipe for homemade ricotta from Smitten Kitchen comes well recommended with minimal hands on time.
All in all, this is a solid make-ahead vegetarian pasta dish that is sure to please the family or guests. And the bold red and green colors, as I said, are great! Hey, maybe a good dish for the vegetarians at the Christmas dinner table?
Shortcut
Needless to say, you can save time by using a great store-bought Marinara sauce like White Linen from Costco. The total time will then take about 45 minutes, most of that baking time.
Tailor To Your Tastes
You can use fresh spinach instead of frozen. Wilt it in the microwave for a minute, chop and squeeze dry in paper towels.
Vary the proportion of cheeses e.g. more goat cheese, less ricotta, more Parmesan, etc.
Vary the heat/spice in the sauce. Kick it up with more chili flakes or a seeded, chopped jalapeno pepper.
Use your own favorite marinara sauce.
Make Ahead Stuffed Pasta Shells With Spinach
Prepare the whole dish, cover and refrigerate for a day or two. When ready to use, follow baking instructions, but add 10-15 minutes to covered baking portion.
Print Recipe
Pin
Save Recipe
Recipe Saved!
Rate this recipe here
Stuffed Pasta Shells With Spinach
You'll love the four cheeses, basil and hint of nutmeg in these delicious vegetarian stuffed pasta shells with spinach, smothered in Marinara sauce. 
Servings:
4
(3-4 shells each)
Ingredients
14

large pasta shells. I make 18-20 in case some break

(if jumbo size, make less)
Marinara Sauce (NOTE 1)
1

tablespoon

olive oil

3-4 cloves minced garlic

1

28-ounce can San Marzano whole tomatoes, preferably

(or other kind)

0.25

teaspoon

chili flakes

(or more to taste)

0.5

teaspoon

kosher salt

0.25

teaspoon

pepper
Stuffing for pasta
1

cup

combination ricotta and goat cheese

(I used 3/4 cup ricotta, 1/4 cup goat cheese)

6

tablespoon

Parmesan cheese

1/2

cup

fresh basil, packed

5

ounce

frozen chopped spinach

(to make 1/4 cup well drained cooked spinach)

1/2

cup

Mozzarella cheese

1/4

teaspoon

garlic powder

1/2

teaspoon

salt

1/4

teaspoon

pepper

1/8

teaspoon

nutmeg

(adds great flavor!)
Topping
1/2

cup

Mozzarella cheese

2

tablespoon

Parmesan cheese
Instructions
Preheat oven to 375F

BOIL PASTA SHELLS: Place pasta shells in boiling salted water and cook 2 minutes less than instructions say on package for al dente. Drain, add a few drops of oil to prevent them sticking and set aside.

MAKE MARINARA SAUCE: While pasta is boiling, in a medium saucepan, heat olive oil to medium. Add garlic and cook for 30 seconds until fragrant. Wash hands well. Remove 1-2 tomatoes at a time from can, squish over saucepan until well broken up, then add to saucepan. Repeat with all tomatoes. Add juice from can. Add salt, pepper and chili flakes. Stir, bring to boil, then lower to medium and cook uncovered for 20-30 minutes until thickened to consistency you like. For shortcut, see NOTE 1.

MAKE CHEESE STUFFING: Microwave frozen spinach covered for 2 minutes (or rinse under water to thaw). Drain well and squeeze excess water out with paper towels. You should have about 1/4 cup (but a bit more or less is fine). Add spinach and all other cheese stuffing ingredients to a processor. Process for a minute until well blended. (Alternatively, chop basil finely and mix all ingredients together by hand).

STUFF SHELLS: Add about 1/2 cup of Marinara sauce to bottom of a 7 x 11 or 9 x 9 glass pyrex or oven proof pan. Stuff shells with cheese-spinach mixture. (Some find it easier to put stuffing in a plastic bag, cut off one bottom tip of the bag, and pipe stuffing into pasta shells. ) Arrange shells in pan, stuffed side up.

FINISH AND BAKE: Add about 1 cup Marinara sauce evenly over stuffed shells. Sprinkle Mozzarella and Parmesan on top. Cover with foil and bake for 20 minutes. Uncover and bake another 10 minutes or until bubbling and starting to brown. Serve immediately with extra Marinara sauce on the side if you like. Note 2.
Recipe Notes
Shortcut for Marinara Sauce: Feel free to use 1 1/2 - 2 cups of a good store-bought Marinara sauce. A great one is White Linen Marinara Sauce found at Costco. This will save about 1/2 hour of cooking time for this recipe. 
To make ahead: Refrigerate casserole, then bake as instructed, adding 10-15 minutes extra time to the covered baking portion.
Nutrition value estimates are for 3-4 large stuffed pasta shells per serving. 
Nutrition
Calories:
415
kcal
|
Carbohydrates:
34
g
|
Protein:
24
g
|
Fat:
21
g
|
Saturated Fat:
11
g
|
Cholesterol:
60
mg
|
Sodium:
1283
mg
|
Potassium:
653
mg
|
Fiber:
4
g
|
Sugar:
6
g
|
Vitamin A:
5124
IU
|
Vitamin C:
22
mg
|
Calcium:
509
mg
|
Iron:
3
mg
Tried this recipe?
We'd love you to rate it above under 'rate this recipe' or in the comment section below. Thanks!
If you make this pasta, feel free to rate it in the recipe above (using the stars above "rate this recipe") and leave a comment if you like below.
Here are a couple of other vegetarian pasta dishes you might like:
Simple Mediterranean Spaghetti (22 Minutes)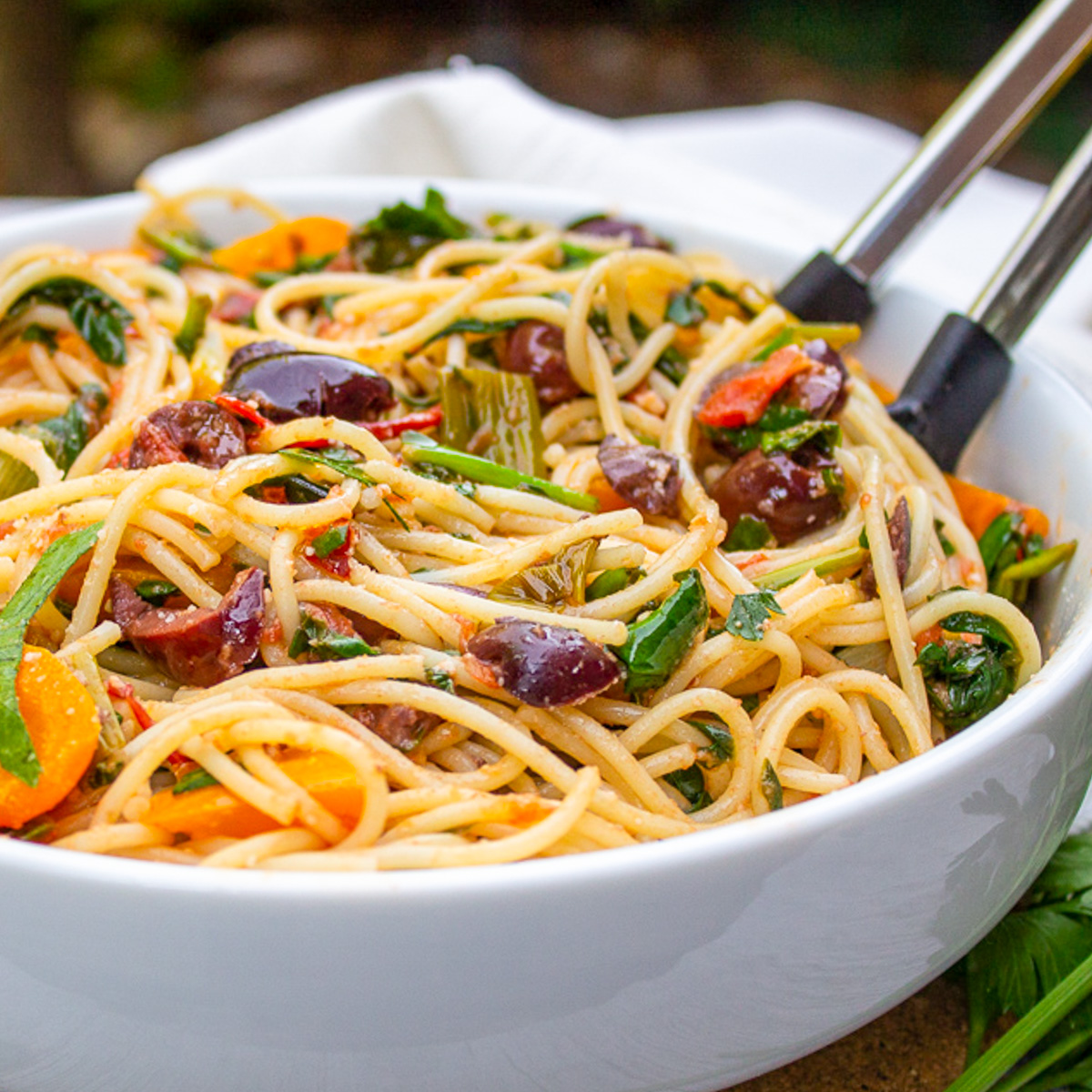 This quick and easy Mediterranean spaghetti is bursting with traditional Mediterranean flavors of garlic, olives, lemon, peppers, basil, and tomatoes. Make this simple weeknight vegetarian meal in 22 minutes.
Get the recipe
Fresh Tomato and Basil Pasta With Lemon and Olives
Fresh tomato and basil pasta is a beautiful blend of sweet summer-ripe fresh tomatoes, lemon-basil zing, salty olives, capers and Parmesan.
Get the recipe
Mushroom Spinach Pasta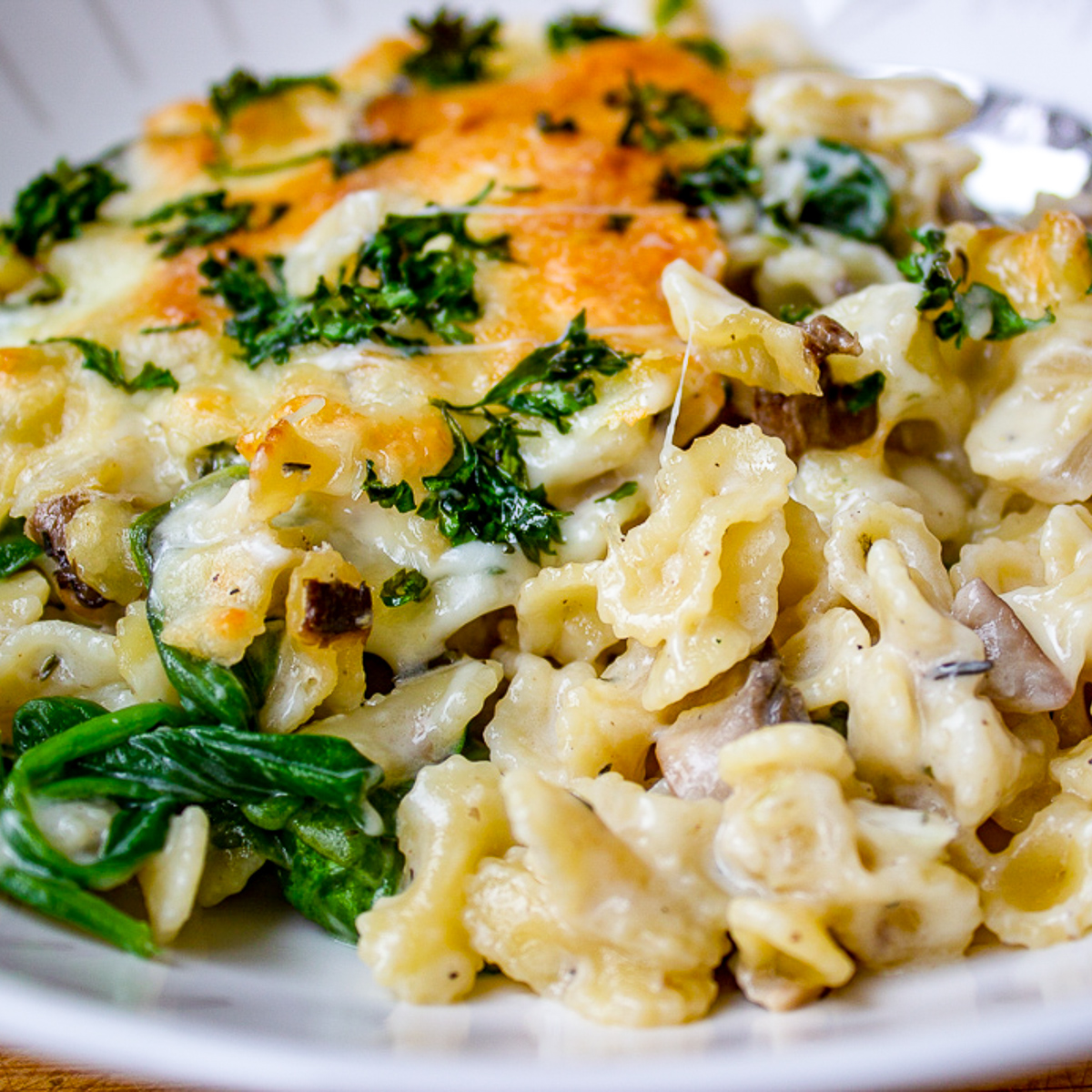 This versatile mushroom spinach pasta dish makes for a quick, vegetarian weeknight meal. Creamy, cheesy satisfaction mixed with hearty mushrooms and healthy spinach. 
Get the recipe
Tomato Spinach Pasta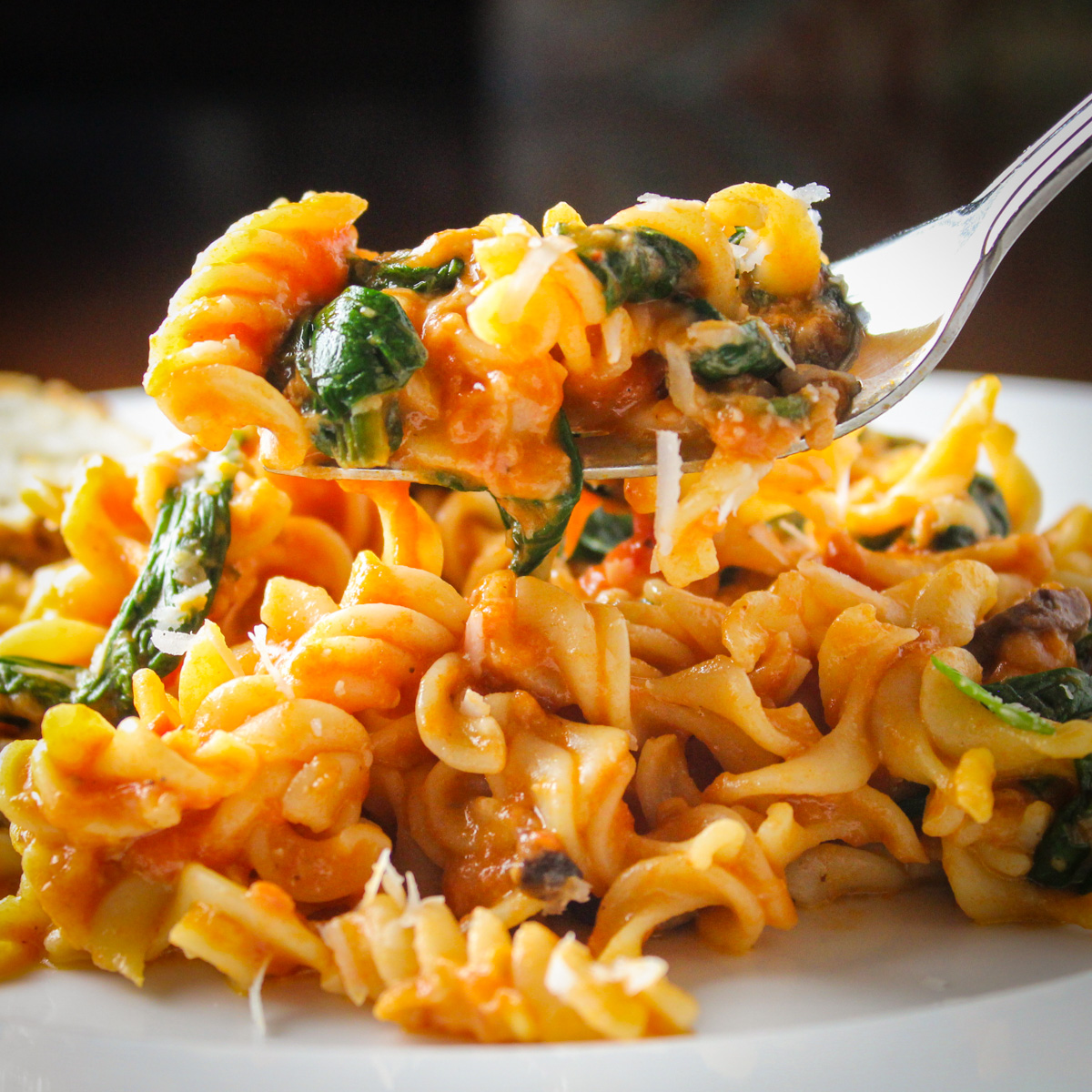 This spicy cheesy Tomato Spinach Pasta is a quick and easy vegetarian meal. Melty cheese, tangy olives, tomato sauce and healthy spinach. A simple meal in a skillet.
Get the recipe
Easy Vegetable Spaghetti in 30 Minutes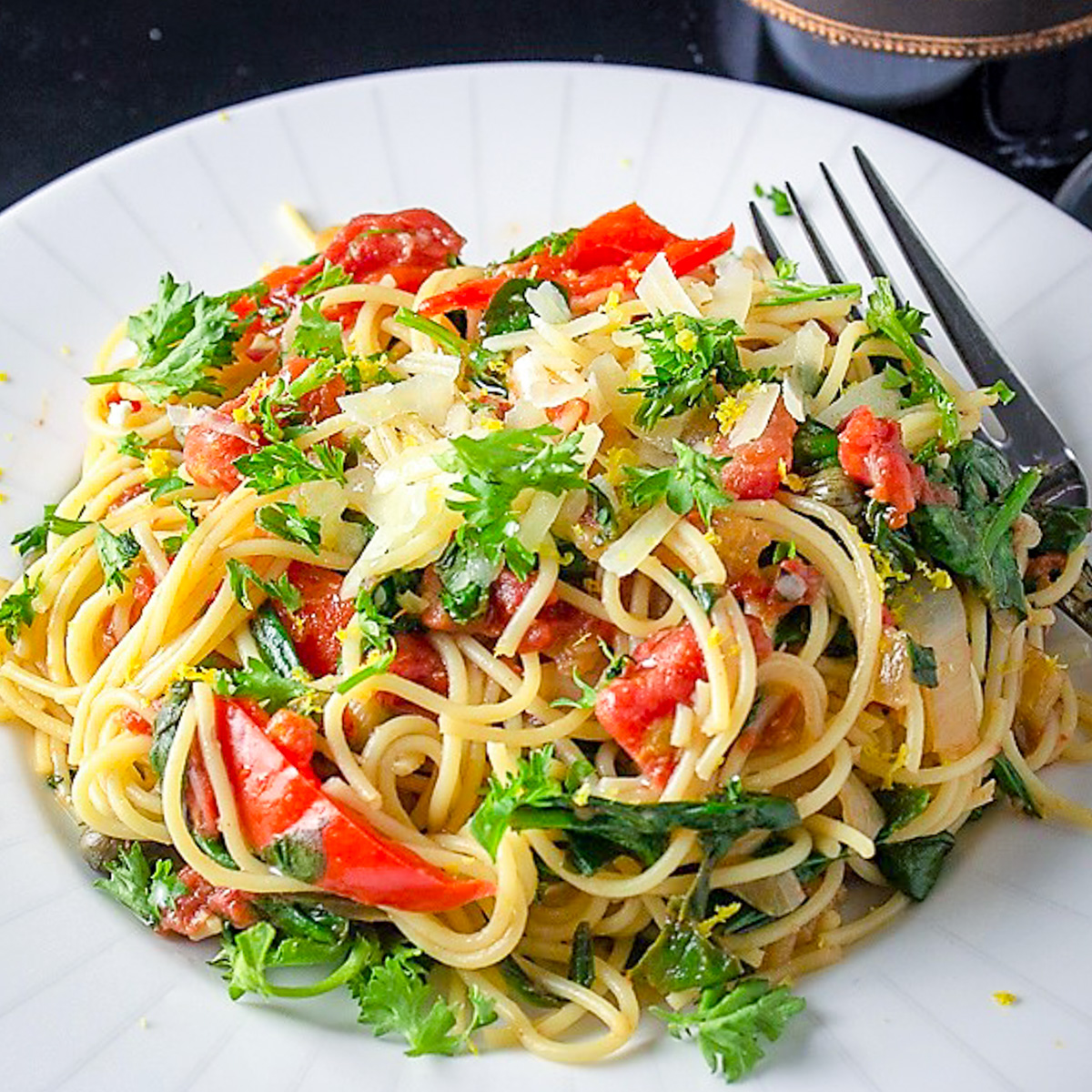 Whip up a nutritious and flavorful vegetable spaghetti with your favorite veggies, capers, lemon, and garlic. This is an easy meatless meal made with simple ingredients, ready in 30 minutes and perfect for any season.
Get the recipe