Potato Latke Recipe (skillet-oven method – less smell!)
Eating latkes – potato pancakes – is one of the great Hanukkah traditions to look forward to every year. I'm not a fan of making them, though since they are typically fried. Pretty smelly. For a smaller batch, I use an oven skillet method for this delicious potato latke recipe – less fry smell!
Latkes are a Jewish tradition for Chanukah (or Hanukkah – there are many spellings). It's a holiday where you are supposed to eat fried foods to celebrate the oil lasting 8 nights instead of 1 after much suffering in ancient times (long story).
As much as I like fried food, I hate frying because it smells up my kitchen, my hair and my clothes. Yuck.
Since I was assigned to bring latkes to our family Chanukah party this year, I decided to look for a non fried method. I found a couple of recipes including Once Upon a Chef and Food in Jars and started formulating a plan.
Most latke recipes are pretty similar – just a few simple ingredients – potatoes, flour, oil, onions, egg, baking powder.
I decided to go with Jennifer Segal's recipe from Once Upon a Chef (her recipes always work) with a few changes in the method.
One, I used a skillet instead of sheet pans.
Two, I chopped my ingredients in a processor instead of grating them (I was lazy).
Three, I made a couple of giant latkes and cut them in wedges instead of making little individual ones.
The oven method does start with a two minute fry to be perfectly honest. As you can see in the pictures below, the side that starts with frying comes out darker than the other side.
Which method is better for a potato latkes – fried or skillet-oven?
Well, they both taste the same and the texture is similar too. As I said, the skillet-oven method starts with a two minute fry, so I cheated a bit. It was definitely less smelly, but the process takes longer.
I guess it's a trade off – smellier vs faster. You choose. I included the fry method in the recipe notes if you prefer to go that way.
The other day, my friend Judi said she knew someone who made the latkes outside in an electric skillet to avoid the smell in her kitchen. Clever!
The bottom line, regardless of method, is good latkes. Tender on the inside, crispy on the outside. This year, we're going to try our latkes with a dollop of dill sour cream and smoked salmon.
For a very different twist on latkes, try our very popular mashed potato pancakes. Delish!
Shortcut
Using a processor is WAY faster than hand grating potatoes and onions.
Tailor To Your Taste
Use sweet potatoes or a combination of sweet and white. I used one sweet potato for color and 3 white ones when I quadrupled the recipe.
Yellow onions are traditional, but go ahead and use sweet onions if you prefer. They're a little milder. Here are the bare essentials about onions that may be handy.
Add some garlic powder.
Incorporate fresh or dried herbs such as thyme or dill.
Toppings
Make Ahead
Best fresh from the oven, but make ahead works well too. Especially for a crowd. See recipe notes for instructions.
Steps to make potato latke recipe (skillet oven method)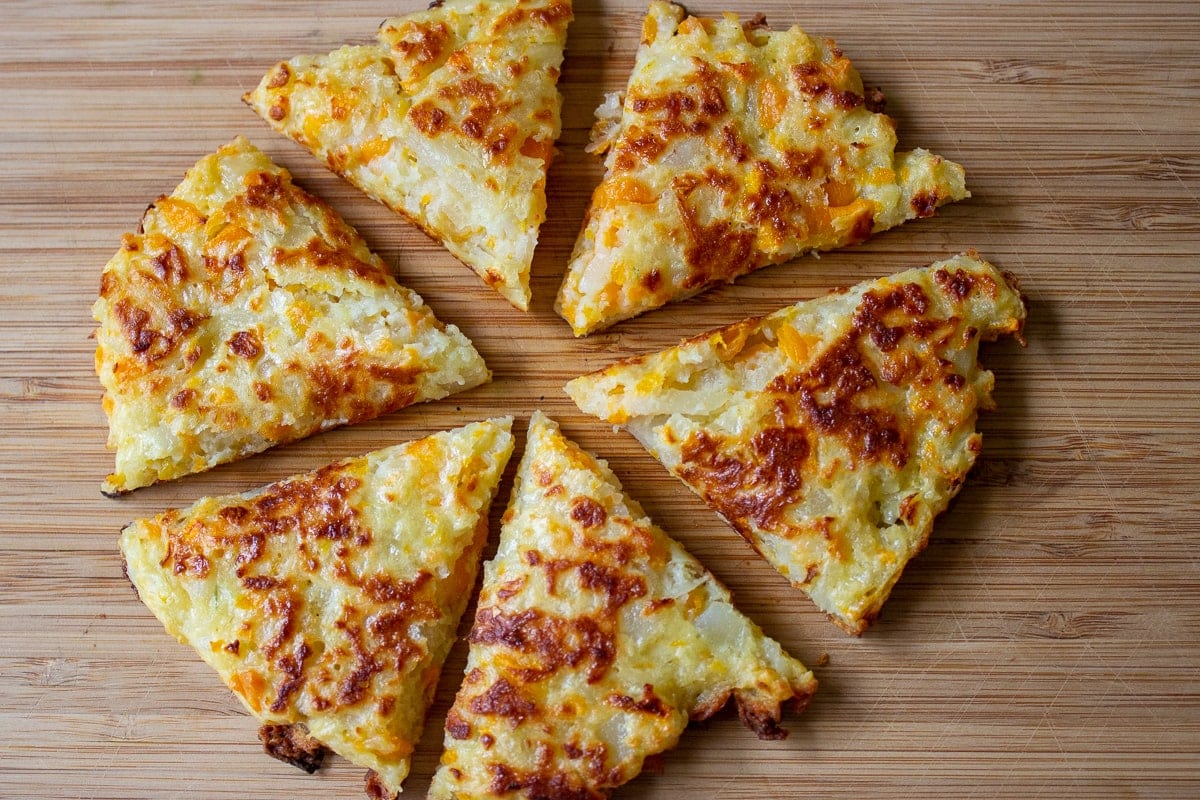 Potato Latke Recipe (Skillet Oven Method - less smell)
For a small batch, I use an oven skillet method for this delicious potato latke recipe - less fry smell! But the traditional skillet fry method works great too.
Servings:
12
mini pancakes or wedges
Ingredients
1

large russet/baking potato, peeled (about 1 pound/450 grams).

Use part white, part sweet potato is desired.

1

small onion

yellow onions are traditional

1

teaspoon

baking powder

1/4

cup

(31 grams) flour

1

egg, slightly beaten

1

teaspoon

salt

(or a bit less)

1/4

teaspoon

pepper

2

tablespoon

vegetable oil (need high smoke point)

don't use olive oil
Instructions
Preheat oven to 425F/218C.

GRATE/CHOP POTATO AND ONION: Cut potato and onion into chunks. Place in processor and pulse to get small rice-size pieces. Alternatively: grate onion and potato by hand using a box grater OR use grater attachment for food processor, feed potato and onion pieces through the feed tube to grate. Note 1 if doubling/tripling recipe.

SQUEEZE WATER OUT OF POTATO AND ONION: Have paper towels ready on counter. Taking handfuls or potato/onion at a time, squeeze as much water out as you can between your two hands over the sink. Place on paper towels. Repeat until all potato/onion pieces are squeezed dry. Wrap in paper towels and squeeze to get more moisture out. Place in bowl.

FINISH LATKE MIXTURE: Add flour, baking powder, egg, salt and pepper to potato and onions. Mix well to combine.

SKILLET OVEN METHOD: Heat oil in large cast iron or other oven-proof skillet (12 inches/30.4cm or more) to medium-high heat. Add latke mixture in two large circles or ovals. (You can make one giant latke, but it's harder to flip). Fry for 2 minutes then place in oven. Bake for 7 minutes. Remove, flip latkes over, return to oven and bake for 8-10 minutes. Note 2 for skillet fry method.

SERVE: If making a couple of giant latkes, cut each into wedges with a pizza cutter or large knife. Serve with toppings such as sour cream, Greek yogurt mixed with dill, applesauce, chutney or pesto.
Recipe Notes
If doubling or tripling the recipe:  Grate or chop onion and potato in smaller batches or you will be left with tiny pieces plus many large unprocessed pieces.
Skillet Fry Method: To save time (but much smellier!), heat oil in large cast iron or other skillet (12 inches or more) to medium high. Add latke mixture in two large circles or ovals. Or make small 3 inch latkes. (You will have to make two batches, adding extra oil between batches). Lower heat to medium and fry on each side for 2-4 minutes, depending on how big you make latkes. Transfer to paper towels to absorb oil.
Make Ahead: Freeze latkes in a single layer on tray for an hour. Then transfer them to a tightly locked container or ziploc bag and store in freezer for up to 6 weeks. Reheat from frozen at 425F/218C for about 15 minutes or at 450F/232C for 5-7 minutes. You can under-do latkes a bit if making ahead. 
Nutrition values are estimates for one wedge or mini latke (potato pancake).
Nutrition
Calories:
69
kcal
|
Carbohydrates:
10
g
|
Protein:
2
g
|
Fat:
3
g
|
Saturated Fat:
1
g
|
Polyunsaturated Fat:
1
g
|
Monounsaturated Fat:
1
g
|
Trans Fat:
1
g
|
Cholesterol:
14
mg
|
Sodium:
237
mg
|
Potassium:
180
mg
|
Fiber:
1
g
|
Sugar:
1
g
|
Vitamin A:
21
IU
|
Vitamin C:
3
mg
|
Calcium:
29
mg
|
Iron:
1
mg
Tried this recipe?
We'd love you to rate it above under 'rate this recipe' or in the comment section below. Thanks!