After visiting Kendal Hills Game Farm just north of Toronto in Canada, I knew I had to get my hands on its incredibly flavorful and hearty Mushroom Vegan Soup. The perfect meal for a cold winter day.
My husband and I purchased a pound of mushrooms (4 different kinds) and I was determined to get their recipe for the incredible Mushroom Vegan Soup served to us on our visit. After a few emails back and forth, Emily wrote down her recipe and allowed me to share it with our Two Kooks In The Kitchen readers. The following weekend I got to work and finally sat down to a delicious bowl 🙂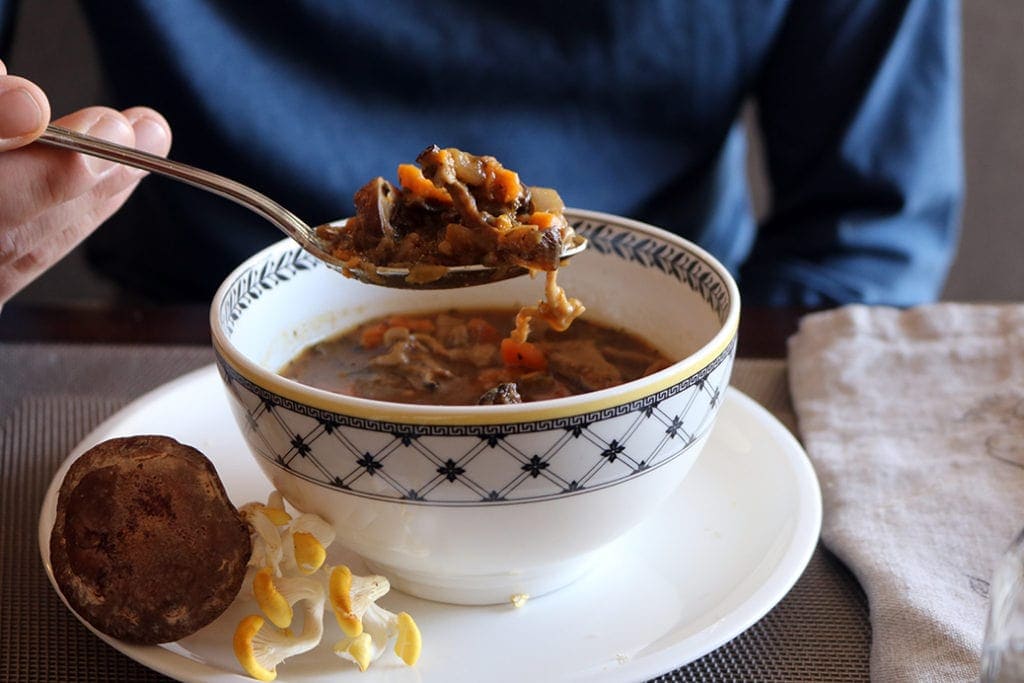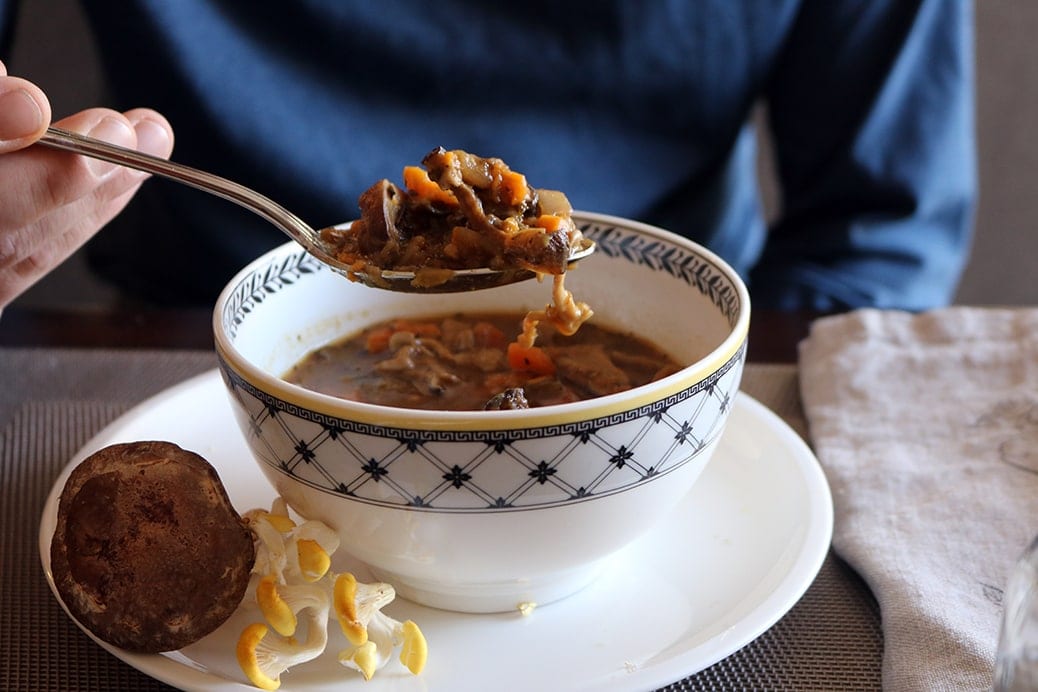 I received an email from Kendal Hills Game Farm inviting loyal customers to their first "open farm" in early November. As I knew they specialized in mushrooms, I told my husband that we had to go. (I love mushrooms). Farm tours, free apple cider and delicious mushroom soup (or chicken soup) made it the perfect Sunday afternoon outing.
It turned out to be an informative day. We learned a lot about how they grow mushrooms and the farm's aspirations for an "edible forest" where the land would be used to naturally produce a wide variety of food.
The farm also raises chickens outside with plenty of sunlight and space to walk around. I was pleased to learn that while the chicken aren't considered "organic", they only eat organic feed. All in all, the farm offered great practices, delicious food and a very friendly atmosphere thanks to the kindness of Dave, his wife Emily and their family.
SHORTCUTS
While the soup recipe below includes a second recipe for homemade vegetable broth, you can, of course, buy the broth instead (although homemade broth is really good!).
You can quickly chop up the carrots, onions in a food processor to save you some time using the 'pulse' button. Make sure you don't over process though.
For a hands-on time saver, make the vegetable broth in a slow cooker. Put all the ingredients in the cooker and let it run on high overnight. In the morning you will have fresh vegetable stock waiting for you.
I used a large pasta pot with a built in colander when I made my vegetable broth which made it very easy to strain out all the vegetables and herbs.
TAILOR TO YOUR TASTE
For both the broth and soup itself you can try different vegetables that you might have on hand.
If you don't have certain herbs on hand then substitute ones you enjoy. I, for instance, didn't have herbs de Provence so I just doubled the amount of thyme and rosemary.
MAKE AHEAD MUSHROOM VEGAN SOUP
If you plan on making the vegetable broth, you can absolutely do so ahead of time. Vegetable broth will keep in the fridge for several days or it freezes really well in locked freezer bags or containers. You can make a big batch, freeze it in smaller portions and then use it as needed.
Print Recipe
Pin
Save Recipe
Recipe Saved!
Rate this recipe here
Mushroom Vegan Soup
After visiting Kendal Hills Game Farm just north of Toronto Canada, I knew I had to get my hands on its incredibly flavorful and hearty Mushroom Vegan Soup. The perfect meal for a cold winter day.
Ingredients
Mushroom Soup
2

tablespoon

oil

2

cups

dried mix mushrooms (shiitake, porcini, oyster, etc)

4

cups

hot water

2

large onions, diced

4

large carrots, diced

4

celery ribs, diced

1

teaspoon

salt

1/2

teaspoon

pepper

2

garlic cloves, minced

1

large leek, (white & pale green parts only), cut in half lengthwise then diced into 1/4" thickness

1

large sweet potato, peeled and chopped into 1" cubes

2

pound

mixed mushrooms (cinnamon cap, shiitake, oyster, abalone, etc). Trim stems and roughly chop.

1

tablespoon

dried thyme

1

tablespoon

dried rosemary, ground

1

tablespoon

herbs de provence

4

cups

homemade vegetable stock (see recipe below)

or use store bought

salt & pepper to taste
Vegetable Broth Recipe (if short on time, use store bought vegetable broth)
1

tablespoon

oil

2

onions, roughly chopped including skins

3

large carrots, roughly chopped including skins and tops

3

celery stalks, roughly chopped including leaves

1

leek, roughly chopped including dark green parts

1/2

pound

mushrooms (shiitaki, cinnamon cap, abalone, oyster, etc), roughly chopped

1

small bunch of fresh sage

1

small bunch of fresh parsley

1

teaspoon

whole peppercorns

1

bay leaf

Water
Instructions
MAKE BROTH if desired (ALTERNATIVELY, use store bought vegetable broth): Heat oil in large stock pot on medium heat and add all vegetables. Saute, stirring often, until they become soft (approx 5 minutes). Add herbs, peppercorn and bay leaf and stir to combine. Pour in enough water to cover vegetables then bring to a boil. Reduce to a simmer and cook for 2-4 hours (or longer). Remove from heat, cool and strain so you are only left with a clear broth.

RE-HYDRATE MUSHROOMS: Put dry mushrooms in a bowl and cover with 4 cups of hot water. Set aside for at least 30 mins.

SAUTE VEGETABLES/MAKE SOUP: Put large soup pot on medium heat and add in oil. Add diced onions, celery & carrots. Saute for about 5 mins stirring often. Add minced garlic and cook for another 2 mins. Add leeks to pot and cook for 6 mins. Add dried herbs and stir to combine. Reduce heat to medium-low and add sweet potato, cooking for 5-10 mins. Add chopped mushrooms to the pot and allow them to cook for 2-3 mins. Add re-hydrated mushrooms including the soaking liquid into the pot along with the vegetable broth, stirring to combine.

COOK & FINISH SOUP: Bring soup to a boil then reduce to a simmer for 1 hour (until vegetables are tender). Season with salt and pepper to taste and serve.
Nutrition
Calories:
210
kcal
|
Carbohydrates:
37
g
|
Protein:
6
g
|
Fat:
6
g
|
Saturated Fat:
1
g
|
Polyunsaturated Fat:
2
g
|
Monounsaturated Fat:
3
g
|
Trans Fat:
0.02
g
|
Sodium:
916
mg
|
Potassium:
957
mg
|
Fiber:
9
g
|
Sugar:
12
g
|
Vitamin A:
13624
IU
|
Vitamin C:
12
mg
|
Calcium:
87
mg
|
Iron:
3
mg
Tried this recipe?
We'd love you to rate it above under 'rate this recipe' or in the comment section below. Thanks!
Here's a few other vegetarian and vegan soups you might like:
Spiced Butternut Squash Soup (Thai-Inspired)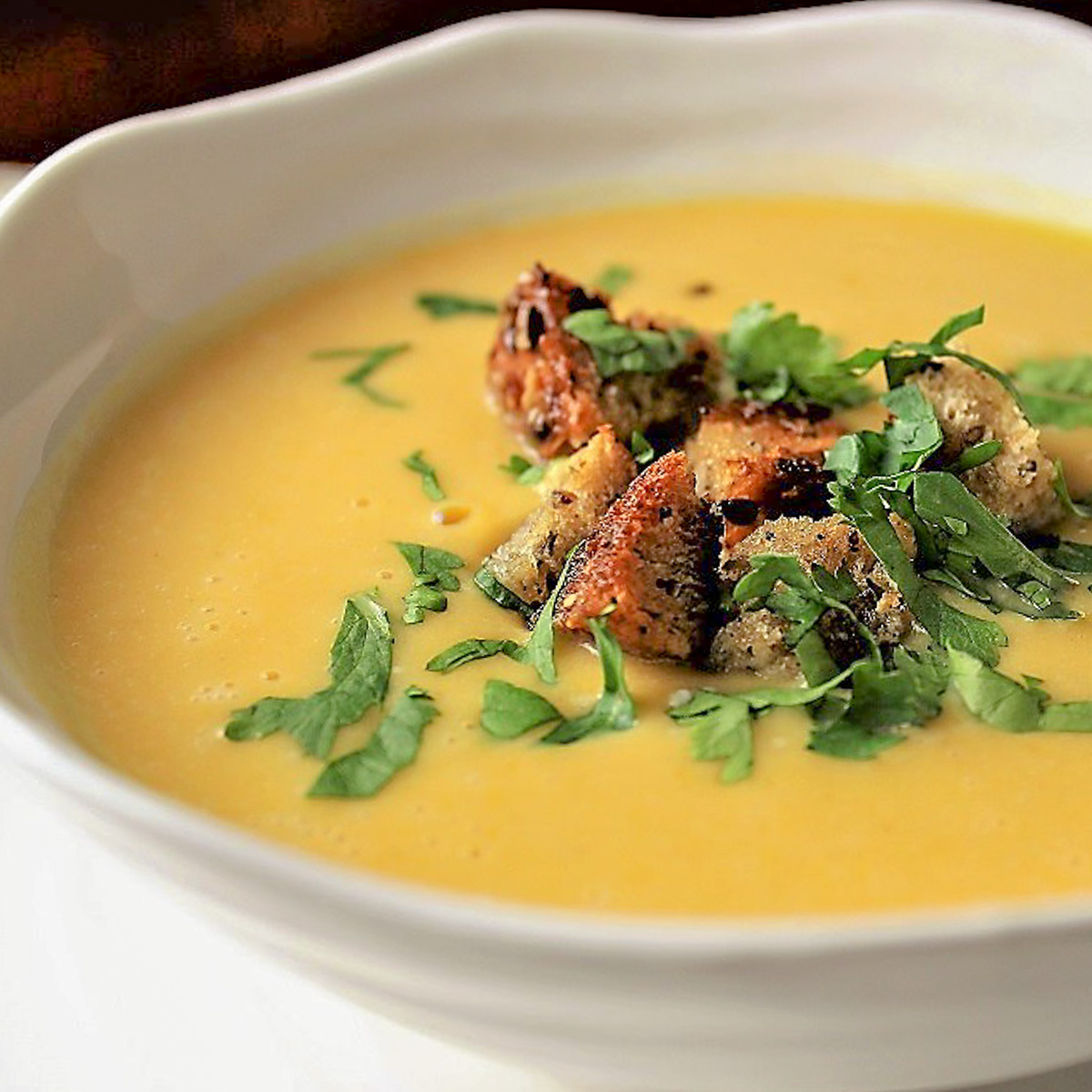 Create this velvety, flavorful Thai-inspired spiced butternut squash soup with a kick of heat. Just 30 minutes with a few simple ingredients. 
Get the recipe
Healthy Ratatouille Soup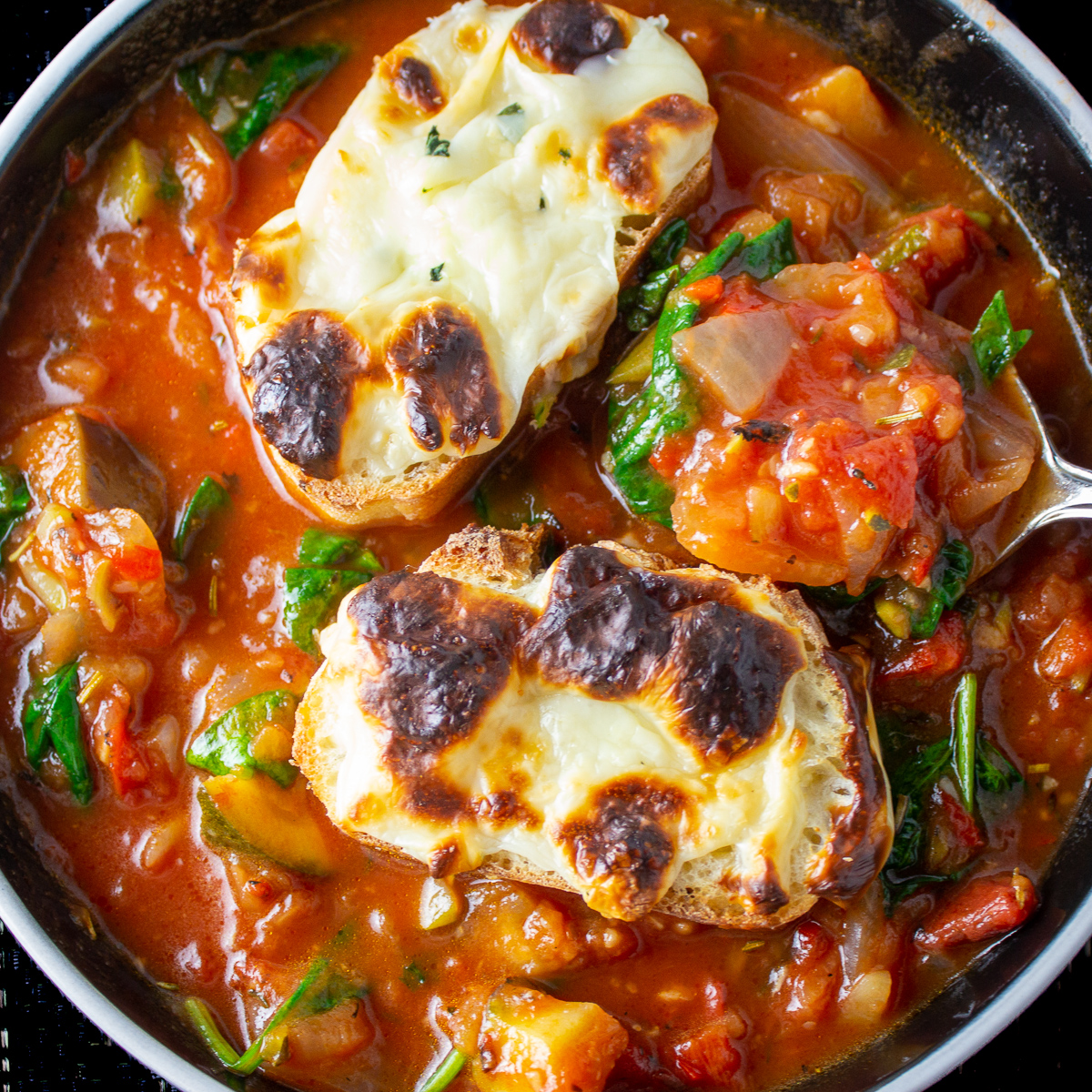 Loaded with summer vegetables, this hearty and healthy ratatouille soup is low calorie and satisfying. It makes a great vegetarian meal with some warm fresh bread and cheese.
Get the recipe
Red Lentil Soup Recipe With Vegetables
This red lentil soup recipe with vegetables is a healthy, hearty, satisfying meal in a bowl. Perfect for a weeknight meal served with crusty bread.
Get the recipe
Vegetable Barley Soup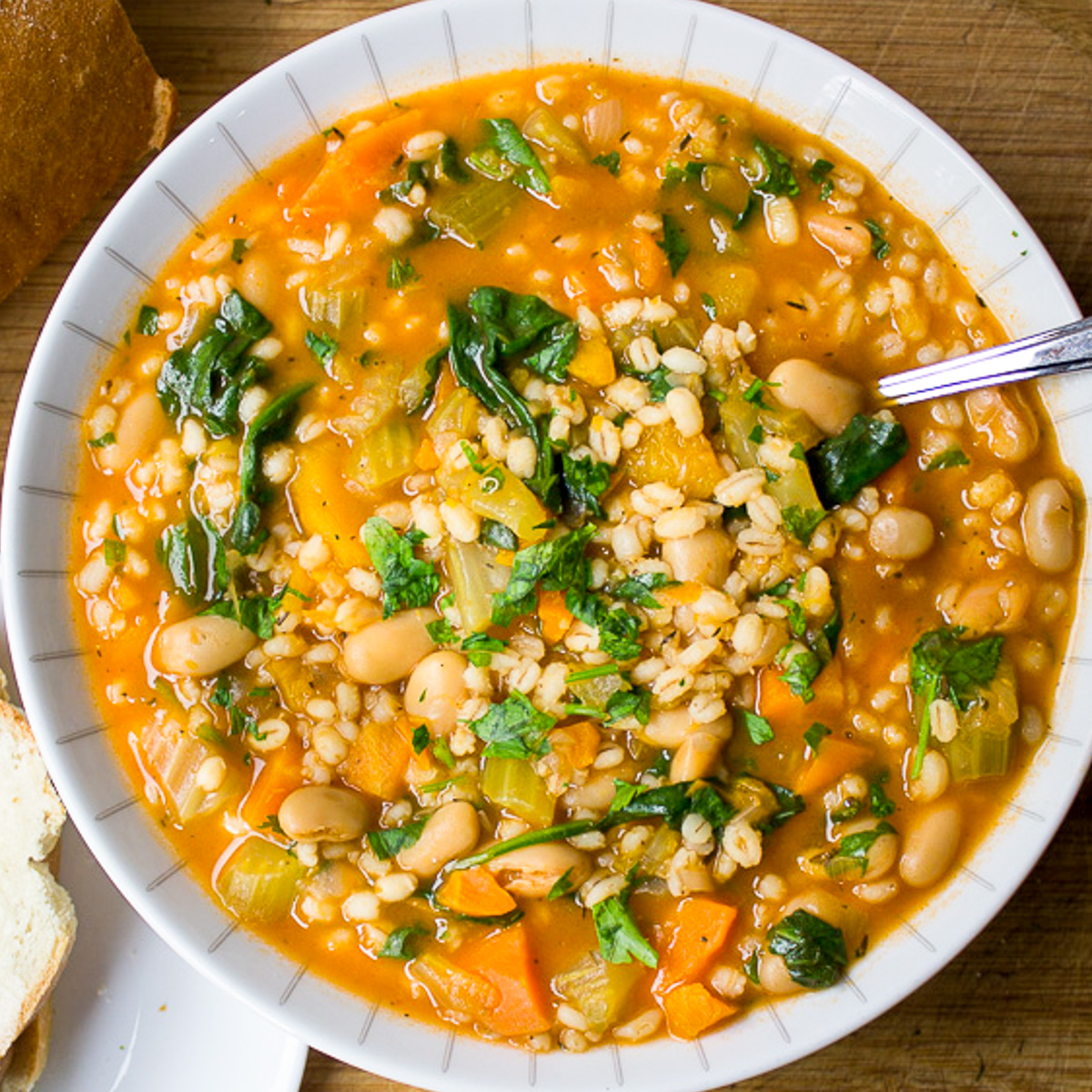 You will not miss the meat in this hearty, healthy vegetable barley soup with fiber and protein-rich beans. I make a big batch and serve it as a meal-in-a-bowl for lunch all week. The best...
Get the recipe
Sweet Potato and Carrot Soup With Spinach
Sweet potato and carrot soup with spinach makes a hearty, healthy satisfying starter or meal packed with nutrition. Robust, rich and spicy.
Get the recipe