Breakfast Strata (with fillings you choose)
The essence of a breakfast strata is eggs, milk, cheese and bread. The personality comes from great fillings – choose the ones you like. Assemble the casserole the night before and pop it in the oven the next day for a great comfort food dish.
If you're looking for a make-ahead breakfast casserole, this is a great one. Versatile, easy to make with our step by step instructions and delicious with its pillow-y moist texture.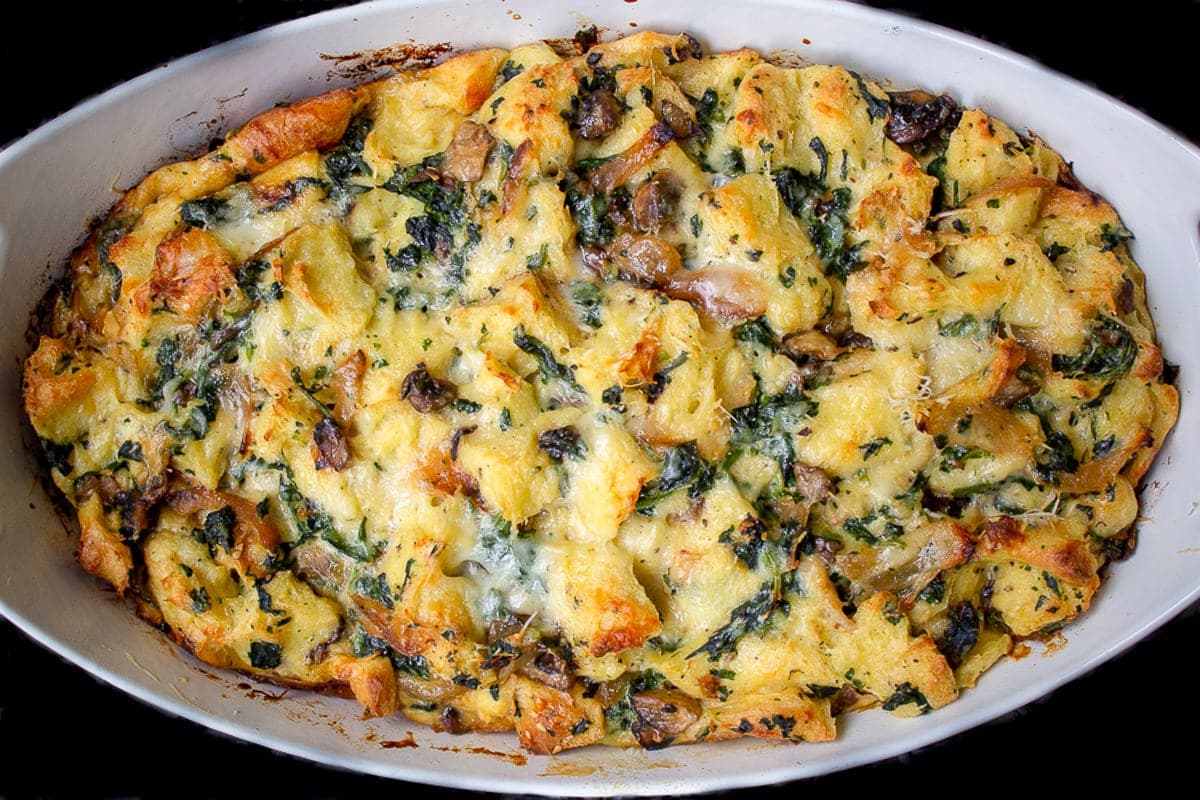 A strata is perfect entertaining fare for a weekend breakfasts, holiday breakfasts, brunch or lunch. It's like a savory bread pudding.
This is a 'make it your own' simple recipe for strata. You can stick to the basic core ingredients and serve it with a topping or you can choose a few fillings that:
suit the preferences of your guests
match what you have in the fridge or
are easy to prepare
The recipes on the internet are very similar for breakfast strata. I scoured many of them for good tips to share along with the trick I discovered on my own (see shortcuts below).
A breakfast strata recipe can stand on its own or pairs well with a tropical fruit salad or a fig salad with pomegranates. A smoothie on the side is another good option.
If you prefer a make-ahead breakfast casserole that's sweet instead of savory, try our Apple French Toast Casserole or Sinful Baked French Toast Casserole.
Why a breakfast strata works well for entertaining
Day ahead prep: The great thing about a strata recipe is being able to assemble the whole thing the day before, allowing you to concentrate on other tasks for your breakfast or lunch the next day.
Different strokes for different folks: The other plus is being able to divide the basic mixture with different fillings into two different casseroles to cater to different tastes. I did this the other day with my daughter (the other kook) who is a vegetarian and her husband who is not. The vegetarian strata included onions, mushrooms and spinach. The non vegetarian version included sausage, onions and spinach.
Tailor To Your Taste
Check out these variations and substitutes to try for your make-ahead breakfast casserole.
Bread
Anything goes including using crusts or no crusts. Stale bread or leftover bread is fine.
I love using Challah. Most strata recipes use a large Italian bread, but pumpernickel, French bread or brioche all work well.
Even gluten-free bread.
Cheese
I use a Gruyere and Parmesan combination.
Also try sharp Cheddar cheese, Fontina, Mozzarella or Monterey Jack.
If you really love cheese, feel free to add more.
Milk/Cream options
Use any combination of milk and cream (depending on the level of richness you like) – and any type of milk.
If you want to lower calories and fat, use 2% milk and low fat cheese
Fillings
All fillings should be cooked except asparagus (which will have enough time to cook in the oven if not too thick) and green onions
Great add-ins are caramelized or sautéed onions, spinach, asparagus, cherry tomatoes, bell peppers, mushrooms, bacon, ham, sausage.
Crumbled goat cheese can be added as well.
For a sweet strata, skip the cheese and add berries or bananas for the filling. And a splash of vanilla.
Seasonings
I use thyme, Dijon mustard, salt, black pepper and a dash of nutmeg.
You could also try paprika, a bit of hot sauce, rosemary, marjoram or dry mustard.
Toppings
If you want to stick to a no-filling strata (almost like a savory bread pudding), you can use toppings to enhance the flavors such as a chutney, Greek yogurt or sour cream with chives.
FAQ about strata
How will I know when the strata is fully baked?
The length of cooking depends on how thick the strata is in the pan. The strata is ready when it doesn't jiggle in the center when you shake it or when a toothpick comes out clean. Try not to overcook the strata or it will become dry.
Can I bake the breakfast strata right away instead of leaving it in the fridge overnight? 
It is important for the bread to absorb all the liquid egg mixture, so it's best to wait at least 30 minutes (60 minutes is even better) before baking.
Shortcuts
Use pre-grated cheeses.
Try fillings that don't need to be cooked (e.g. asparagus, green onions) or that are pre-cooked like ham.
Process shortcut: Many recipes will tell you to use layers of bread, cheese and fillings, then pour the egg and milk mixture on top, pushing things around to make sure everything is covered. My trick is to combine the entire mixture in one bowl, then spoon it into the casserole dish. Much easier. (I like to get from point A to point B the fastest way possible)
Make Ahead
A strata is the perfect make-ahead dish the day before to be served to next morning. See instructions in the recipe.
Other breakfast recipe ideas you might like
Or check out our full list of vegetarian brunch recipes for Mother's Day.
Breakfast strata – step by step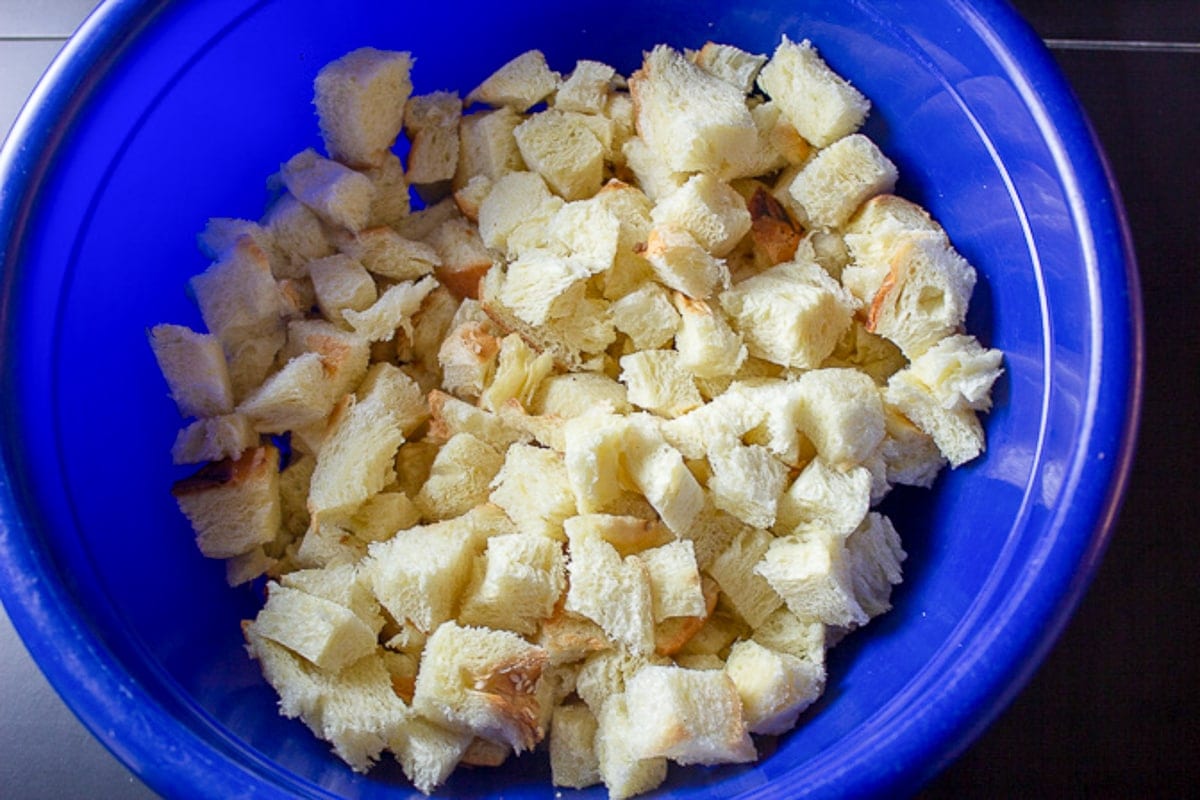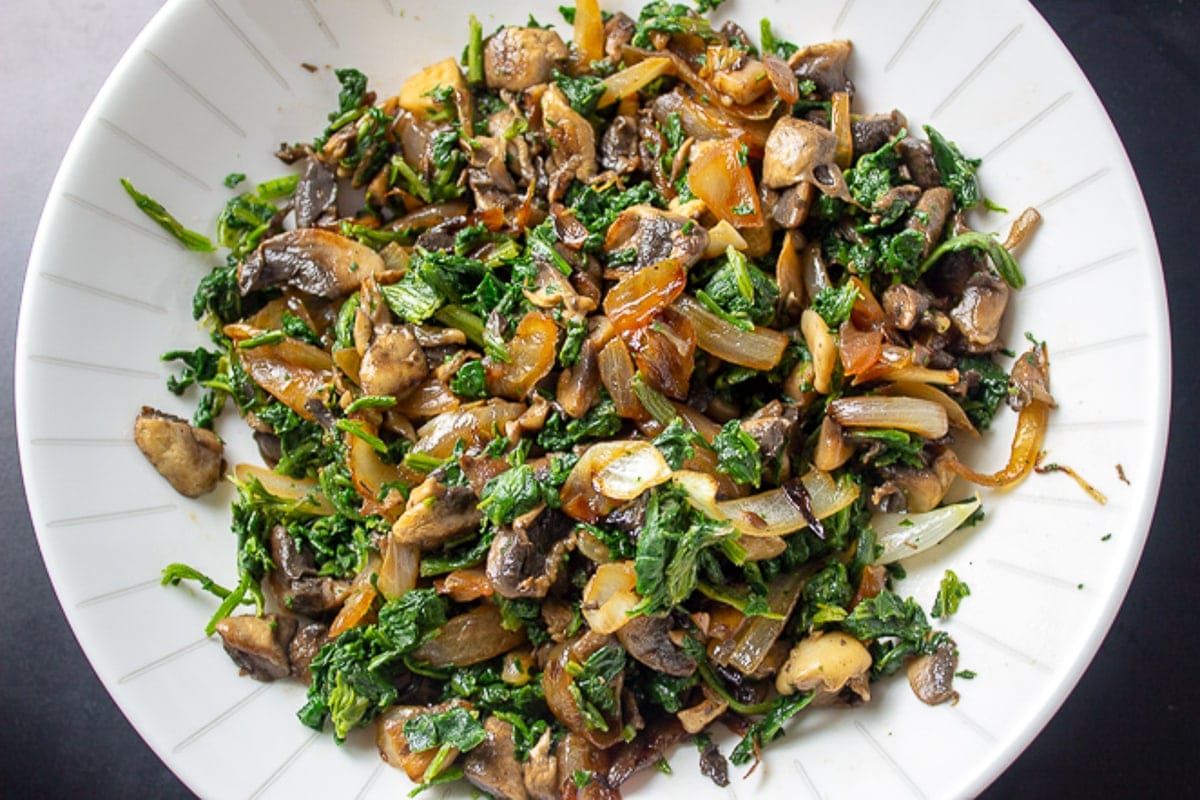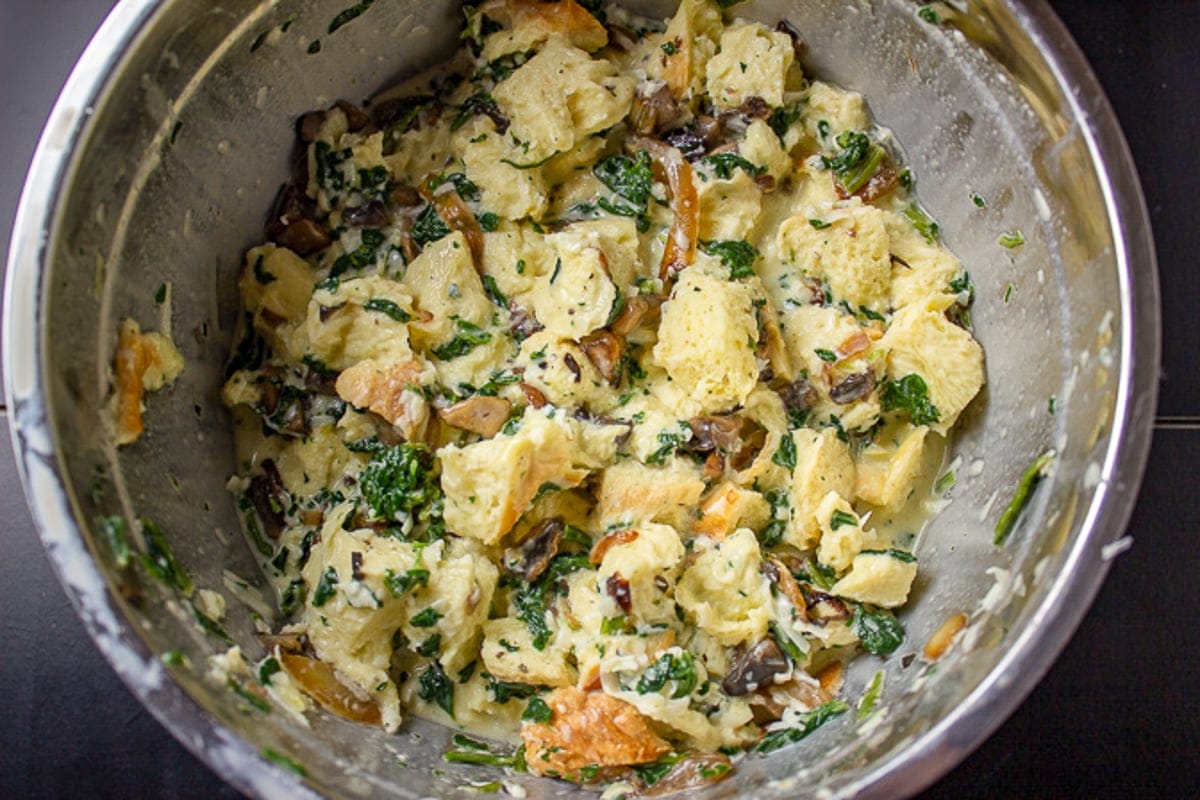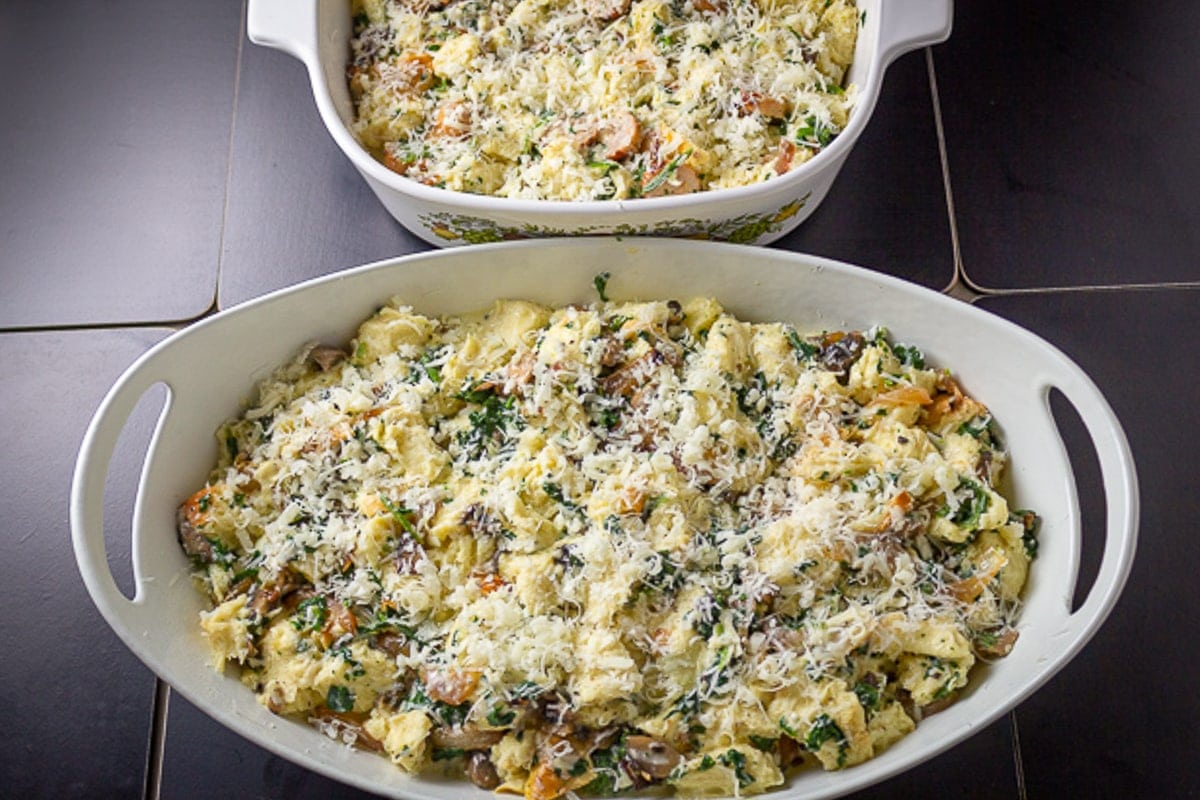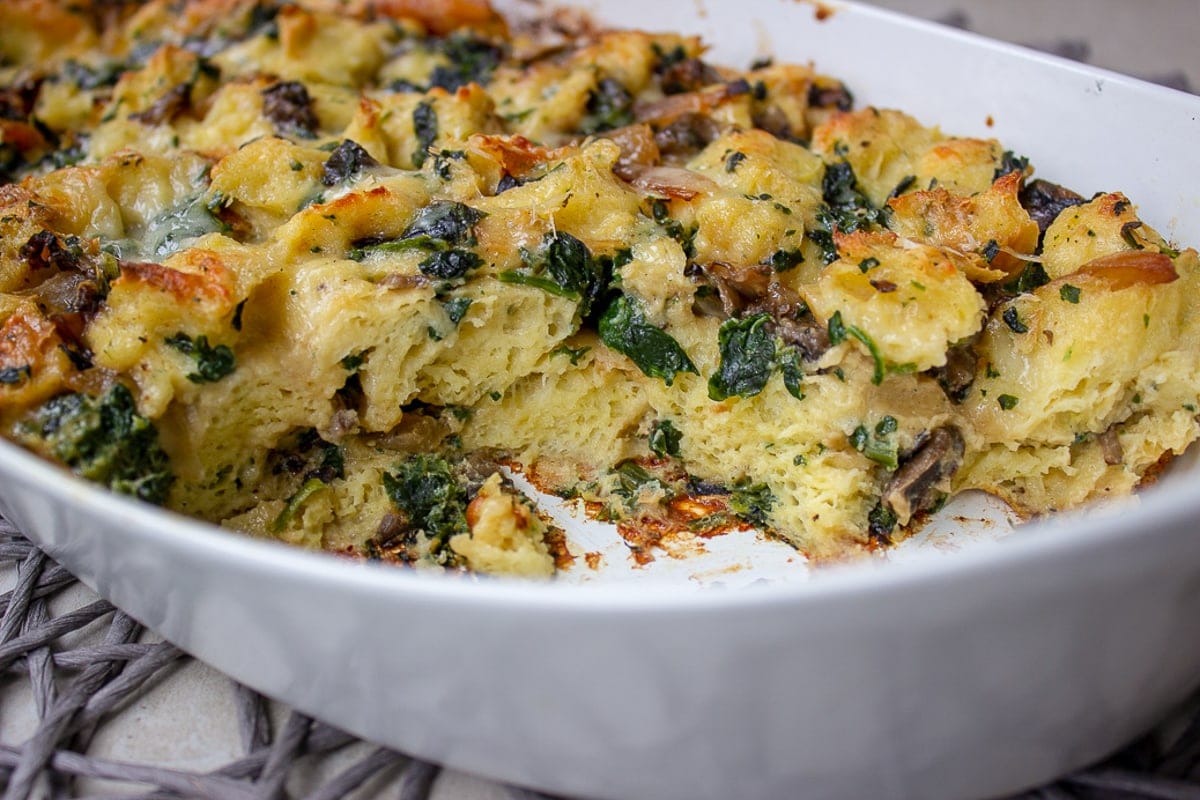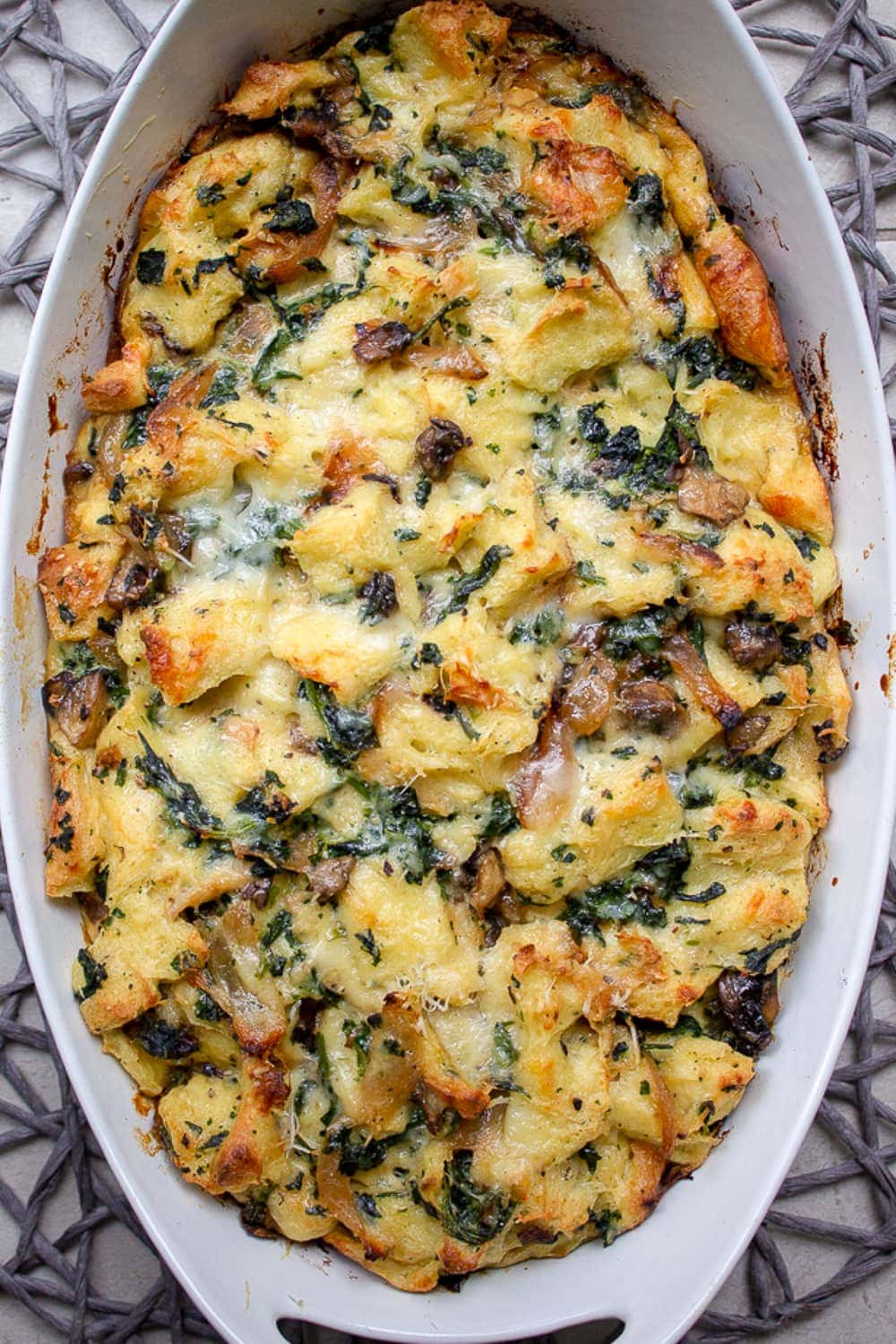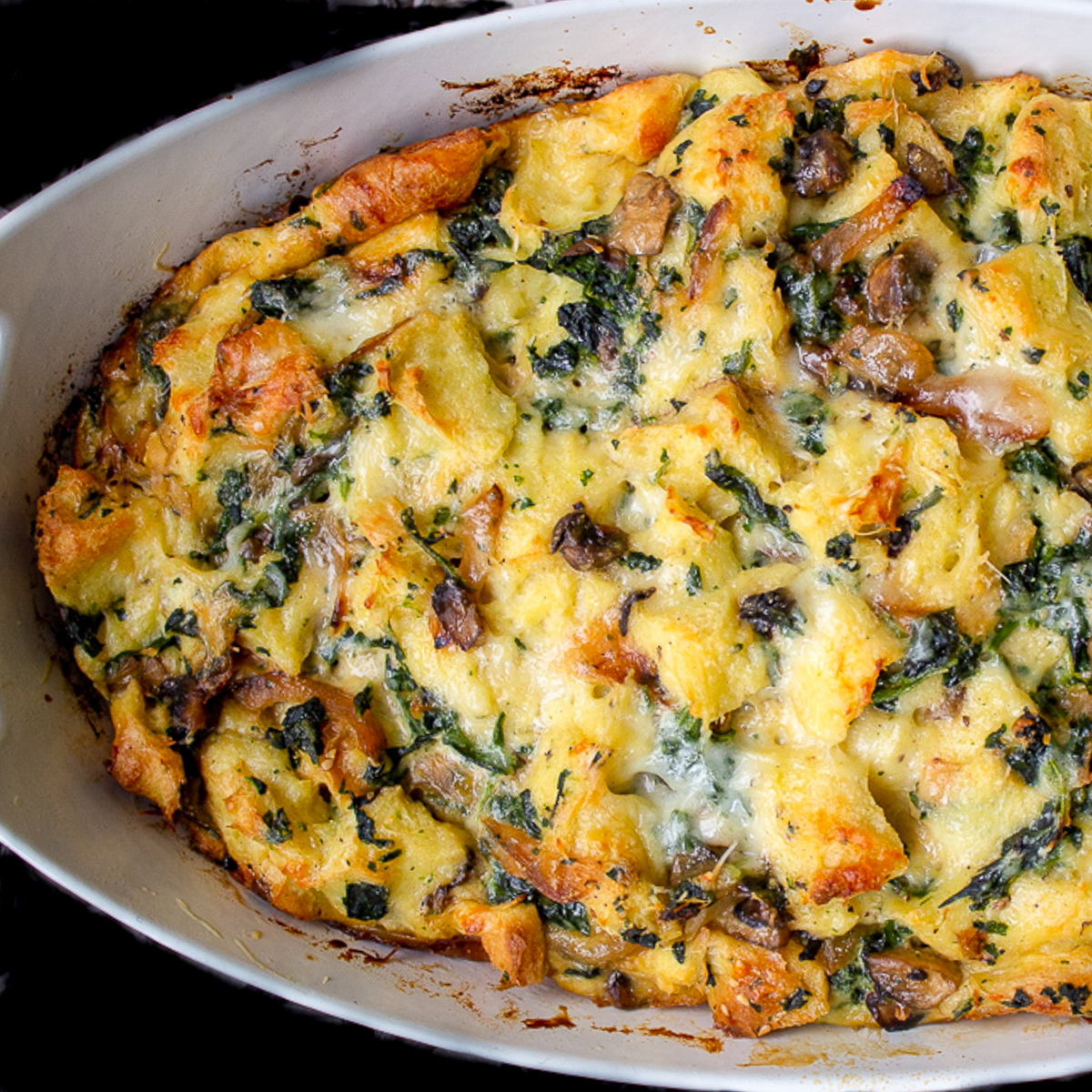 Print Recipe
Pin
Save Recipe
Recipe Saved!
Rate this recipe here
Breakfast Strata (with great fillings)
The essence of a breakfast strata is eggs, milk, cheese and bread. The personality comes from great fillings – choose the ones you like. Assemble the night before. Pop the casserole in the oven the next day for a great comfort food dish.
Ingredients
Core ingredients
8

cups

bread, any kind, cut into 1 inch cubes

(3/4 large loaf, 11-12 slices, 12 ounces)

8

-10 large eggs

(about 2 cups)

2 3/4

cups

(660ml) whole milk or half and half cream

(or any combination of the two)

1 1/2

cup

(125g) grated Gruyere cheese

(6 ounces) – cheddar cheese ok too.

1/2

cup

(41g) grated fresh Parmesan cheese
Seasonings
2

tablespoon

Dijon mustard

1

teaspoon

dried thyme

1 1/2

teaspoon

kosher salt

1/2

teaspoon

black pepper

1/4

teaspoon

nutmeg (optional)
Fillings (choose 2-3), Note 1
10 ounce package chopped frozen spinach; 1 large onion; 8 -10 breakfast sausage links; 8 slices bacon; 2 cups diced cooked ham; 16 ounces mushrooms chopped; 1/2 cup green onion chopped. Other veggies like red peppers or sweet potatoes.
Instructions
PREPARE PANS: Butter or spray with oil one 9×13 inch (3 quart) dish or two 8×8 (2 quart) pans.

PREPARE FILLINGS: Choose 2-3 options. For vegetarian strata, I use spinach, onions, mushrooms. For meat-based, I use sausage, onions, spinach. Spinach: Defrost and squeeze water out using hands or paper towels. Get as much water out as possible. Onions: Dice a medium onion or chop in food processor. Sauté in large skillet in 2 teaspoons olive oil on medium heat until translucent (or cook 25-30 minutes, stirring, to caramelize, adding 1/2 teaspoon sugar to speed up caramelization). Sprinkle with a pinch of salt. Mushroooms: Sauté in butter or olive oil for 5-7 minutes on medium-high heat. Sprinkle with salt and garlic powder. Sausage: Pan fry or grill until no longer pink on medium-high heat. Cut into small pieces. Or remove from casings and sauté ground sausage until cooked. Bacon: Fry or microwave. Or bake at 400F for 18-20 minutes. Crumble. Green Onions or Ham: Chop. No need to cook.

PREPARE CORE INGREDIENTS: Cut bread (with or without crusts) into 1 inch cubes. Measure 8 cups packed. Place in large bowl. In separate bowl, whisk together eggs, milk and all seasonings. Grate cheeses.

ASSEMBLE AND REFRIGERATE: Add to large bowl with bread: egg mixture; the vegetable filling; and cheeses (reserving 1/2 cup cheese to sprinkle on top). Mix lightly to combine well. Pour into prepared casserole dish or pan(s). Sprinkle on remaining cheese. Cover with plastic wrap and refrigerate or aluminum foil for at least 30 minutes (1 hour is better) or overnight.

BAKE AND SERVE: Heat oven to 350F/176.7C. Remove strata from fridge. Uncover and bake for 40-50 minutes until puffed and golden brown on top – and just until the center doesn't jiggle when you shake the pan. Toothpick inserted in center should come out clean. If using a slightly bigger pan, bake 5-10 minutes less as strata will be thinner. Don't overbake as the strata will become dry. Serve warm. Garnish with sour cream if desired.
Recipe Notes
Fillings: Other filling options include bell peppers, cherry tomatoes, cooked ham, asparagus. All fillings should be cooked except asparagus (which will have enough time to cook in the oven if not too thick) and green onions. Crumbled goat cheese can be added as well (about 1/2 cup).
Make Ahead: Baked breakfast strata can be kept in the fridge for 3-4 days. Strata can be frozen, covered, for up to 3 months. Defrost on the counter before baking the next day or overnight in the fridge. 
Nutrition Value estimates are for the basic strata without the fillings. The nutrition values for the fillings will depend on which you choose. 
Nutrition
Calories:
387
kcal
|
Carbohydrates:
33
g
|
Protein:
24
g
|
Fat:
18
g
|
Saturated Fat:
9
g
|
Cholesterol:
203
mg
|
Sodium:
1049
mg
|
Potassium:
309
mg
|
Fiber:
3
g
|
Sugar:
8
g
|
Vitamin A:
609
IU
|
Vitamin C:
1
mg
|
Calcium:
523
mg
|
Iron:
3
mg
Tried this recipe?
We'd love you to rate it above under 'rate this recipe' or in the comment section below. Thanks!
This recipe was inspired by Epicurious, Once Upon a Chef and The Chunky Chef.