A dollop of yogurt and drizzle of maple syrup make these healthy Baked Carrot Cake Oatmeal Breakfast Squares crazy good. Make ahead for a 1-minute warm-up breakfast.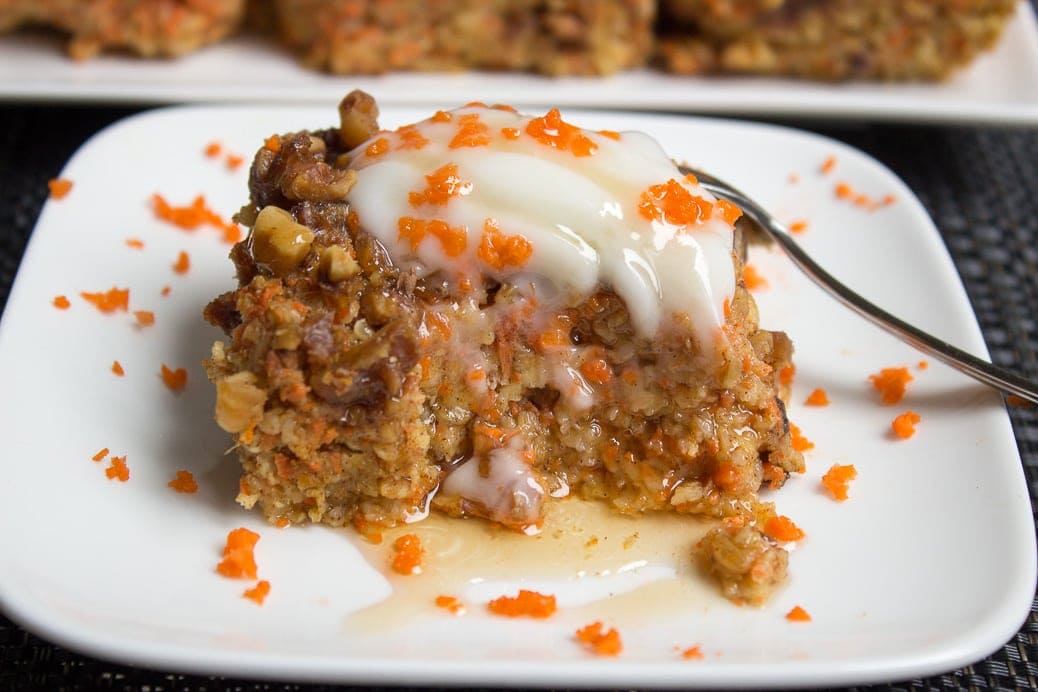 My friend Judi makes this recipe all the time and passed it on to me. The recipe is from Oh She Glows and it's a great one.  Tastes just like carrot cake but guilt free – packed with whole grain oats, carrots, nuts and dates (or raisins) and only 150 calories per square (ok, not including the drizzle of syrup).
The recipe is easy to make and I love that I can portion it, refrigerate or freeze the squares and pop them into the microwave whenever I want. To be honest, I eat them more for snacks or dessert than I do for breakfast. Judi serves them often for brunch.
The squares hold together well, but are nice and moist with an oatmeal-y texture. I've listed several variations and shortcuts below, including some of Judi's tips that she's learned with experience over the years. The recipe can easily be made gluten free with certified gluten free oats and dairy free with almond milk or another non-dairy milk. You can also leave out the nuts for a nut free option as well.
Tailor To Your Taste (and needs)
Use any chopped nuts you like.
Use chopped dates, raisins or dried cranberries.
Substitute milk with a dairy free substitute.
If you prefer less sweet, use 1/4 cup maple syrup instead of 1/3 cup.
Add a grated or finely chopped apple.
Use any yogurt you like for a topping or none at all. I use zero fat vanilla yogurt.
For a bit of decadence, try topping the squares with coconut whipped cream from Oh She Glows.
To add extra protein, beat 2-3 eggs in a measuring cup then add enough milk to measure 2 1/2 cups in total. This results in a more cake-like texture.
Shortcuts
Instead of shredding the carrots with a grater, use the grater on your processor or simply grind the carrots finely in the processor (that's what I did).
Ditch the carrot grating altogether and buy matchstick carrots.
Make Ahead
The whole recipe can be made ahead, cut into squares and refrigerated or frozen. You can freeze all the squares, then pop them into a ziploc.  Or just wrap individually or two per bag, then freeze.
You can also prepare the 'batter', pour it into your casserole dish, then place covered overnight in the fridge. Bake the next morning.
Other make ahead breakfast treats you might enjoy:
Make Ahead Baked Apple & Pear French Toast get the recipe
Easy Chocolate Orange Cinnamon Buns get the recipe
The Ultimate Baked French Toast get the recipe