Crusted Goat Cheese Salad
This simple goat cheese salad stars a round of goat cheese, breaded and fried to a golden brown, then nested on some dressed greens. Pretty, creamy, tangy and crunchy.
The goat cheese salad takes less than 30 minutes including 15 minutes of refrigeration time (which I usually skip). It makes a great first course or brunch addition. And, it always gets rave reviews from goat cheese lovers.
Goat cheese has a distinctive flavor – tangy, earthy and salty. The goat cheese in this salad is slightly warmed and softened with a bit of crunch on the exterior. It sits on a simple salad of mixed red and green lettuce, garnished with garnish of your choice I like to use a simple vinaigrette dressing, but if you have a similar favorite, go ahead and use that.
Some people are put off by the taste of goat cheese. Food & Wine talks about some mistakes to avoid when purchasing it for the best and freshest flavor and texture.
Tailor To Your Taste
Use any kind of goat cheese – plain, herb, honey.
If you don't like goat cheese, you can substitute feta, a fairly strong cheese, or the much milder ricotta cheese.
Garnish the salad with whatever you like such as julienne beets or carrots, dried fruit, chopped toasted nuts or sun-dried tomato slivers.
Try other dressings for the salad including your favorite store bought dressing. I don't suggest a creamy dressing, though, as it might prevent the beautiful colors from shining through.
Make Ahead Goat Cheese Salad
The goat cheese can be breaded, fried and set aside a few hours ahead. It will be fine at room temperature. If you prefer it warm, reheat it in a medium pan for a few minutes or in the microwave for 8 seconds. The dressing can also be made ahead, but toss it with the greens just before serving so they don't get soggy.
Print Recipe
Pin
Save Recipe
Recipe Saved!
Rate this recipe here
Crusted Goat Cheese Salad
This simple goat cheese salad stars a round of goat cheese, breaded and fried to a golden brown, then nested on some dressed greens. Pretty, creamy, tangy and crunchy.
Ingredients
4

slices of goat cheese (1/2-3/4 inches each)

total 200-250g

2

tablespoon

flour

1

egg, beaten with 1 tbsp milk

1/4

cup

panko or regular bread crumbs

2

tablespoon

olive oil

4

cup

spring or mesclun salad mix

Garnish options: thinly sliced sun dried tomatoes, toasted chopped nuts, dried cranberries, julienne beets or carrots
Vinaigrette Dressing
1

shallot, minced (optional)

1 1/2

tablespoon

red wine vinegar

1/2

teaspoon

dijon mustard

1/2

teaspoon

salt

1/4

teaspoon

pepper

1/4

cup

olive oil
Instructions
BREAD THE GOAT CHEESE: Dredge the goat cheese slices in flour, dip in egg mixture then in crumbs. Refrigerate for 15 minutes (or up to 4 hours). This helps the bread crumbs adhere.

MAKE THE VINAIGRETTE: Mix the first 5 vinaigrette dressing ingredients in a small bowl. Whisk in olive oil. Set aside.

FRY THE GOAT CHEESE: Heat olive oil in a frying pan over medium high heat. Fry the goat cheese slices about 2 minutes on each side until golden brown. Remove from pan and place on paper towel to drain. Set aside.

ASSEMBLE THE SALAD: In a large bowl, toss the salad with 3-4 tablespoons of the vinaigrette dressing. Divide among 4 plates. Place a crusted goat cheese slice on top of each salad. Sprinkle on garnishes of your choice and serve.
Recipe Notes
Nutrition values are estimates and do not include optional garnishes.
Nutrition
Calories:
366
kcal
|
Carbohydrates:
7
g
|
Protein:
12
g
|
Fat:
32
g
|
Saturated Fat:
11
g
|
Trans Fat:
1
g
|
Cholesterol:
64
mg
|
Sodium:
536
mg
|
Potassium:
113
mg
|
Fiber:
1
g
|
Sugar:
1
g
|
Vitamin A:
1031
IU
|
Vitamin C:
9
mg
|
Calcium:
90
mg
|
Iron:
2
mg
Tried this recipe?
We'd love you to rate it above under 'rate this recipe' or in the comment section below. Thanks!
Adapted from a recipe by Chef Leanne Rabinowitz at Maplehern Cooking School in Toronto.
Here are a few other recipes with goat cheese you might enjoy:
Vegetable Strudel in Puff Pastry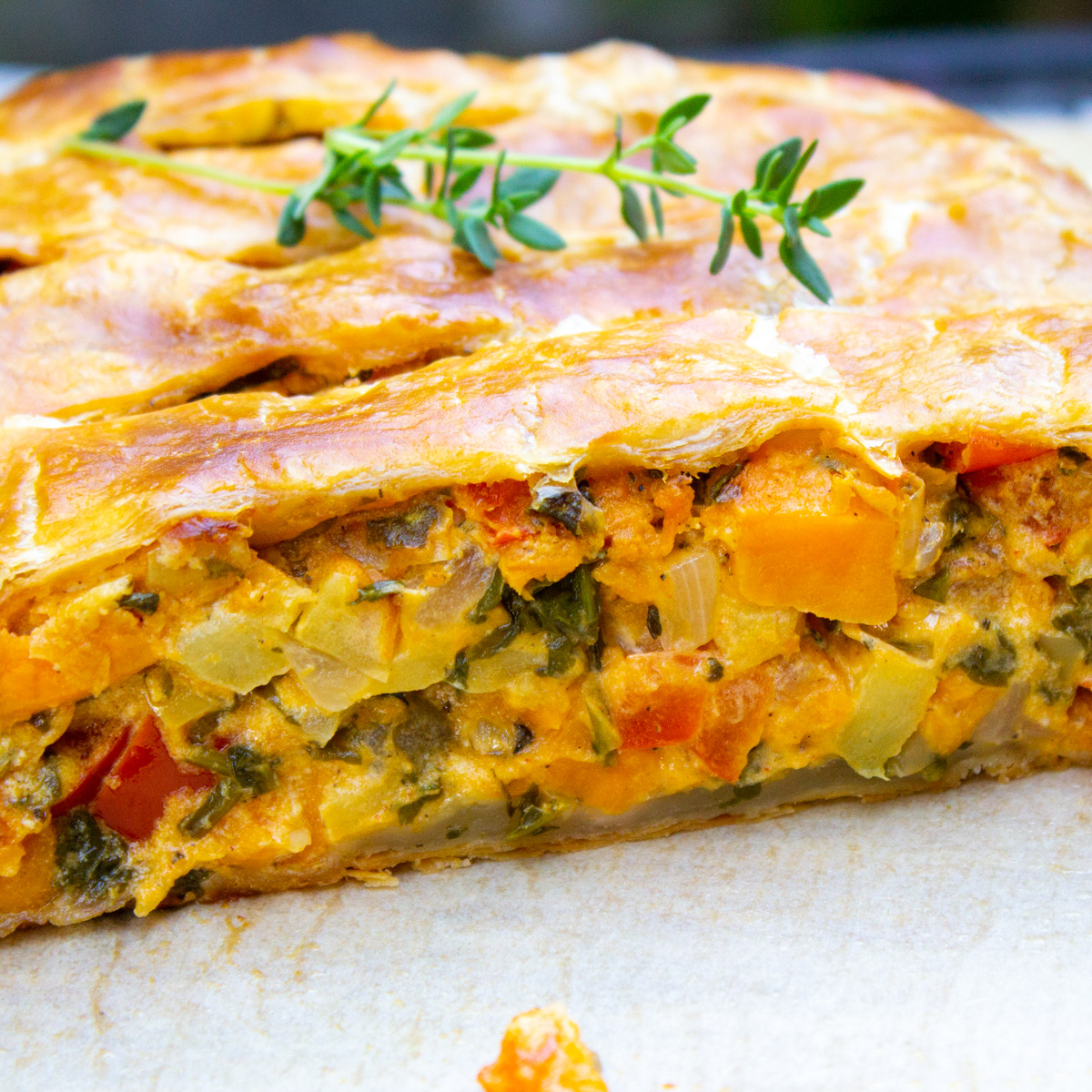 This vegetable strudel wraps a savory filling of sweet potatoes, onion, peppers, apple, spinach & goat cheese in a flaky puff pastry. It's a wonderful make-ahead main or side dish for a special occasion. And easy a store-bought puff pastry.
Get the recipe
Beet and Goat Cheese Appetizer Recipe
If you like roasted beets and goat cheese, Beet and Goat Cheese Appetizer is for you. It's a simple, pretty and make-ahead puff pastry tart.
Get the recipe
Beetroot Salad With Oranges
Beetroot salad with oranges is a quick and easy recipe and looks beautiful on the table. Fresh, vibrant and tasty. I make the salad with earthy beets, sweet oranges and an orange vinaigrette drizzle, then pretty it up with tangy goat cheese, nuts and pea sprouts.
Get the recipe