This moist, flaky, flavorful maple balsamic rainbow trout is a perfect weeknight meal, ready in 20 minutes.  Just six ingredients.  One of our top 3 most popular recipes – simple and delicious.
This recipe has been updated with some new pictures and small recipe tweaks to increase the amount of sauce and thicken it slightly. The original amounts can also be found in the recipe notes section below.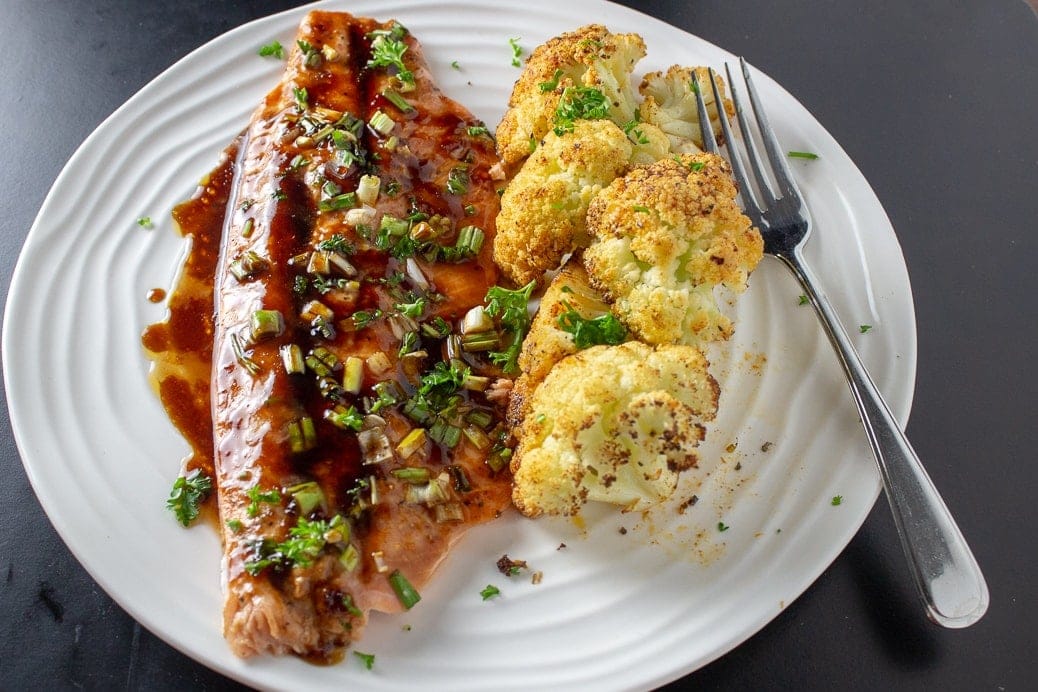 Rainbow trout is one of my go-to recipes for weeknights.  I can have it on the table from start to finish – with sides – in about 20-30 minutes. Clean up is also easy. Wrap up the tin foil or parchment the trout laid on, toss it in the garbage and put the pan back in the cupboard.
And how does it taste?  Good!  The sweetness and depth of the maple and balsamic flavors work really well together.
Tailor To Your Taste
Use lime instead of lemon and add some lime or lemon zest when serving.
Substitute the maple syrup with honey.
Vary the heat with as much sriracha (or chili flakes) as you like.
Tips for Rainbow Trout
The only tricks to this recipe are to buy fresh trout fillets and figure out portion size.

My husband eats a lot, so I buy 1 1/4 to 1 1/2 pounds for the two of us.
For "normal" eaters, 1 1/2 pounds should serve 3 people (figure 1/2 pound or 8 ounces per person).  Of course portion size will also depend how substantial your side dishes are.

A question I get a lot is how long to cook the trout. The general rule of thumb for fish is 10 minutes per inch of thickness. Start checking a minute or two earlier  Peek in the center. If the flesh is just turning opaque, it's done. It should be moist and warm pink, not dry, pale and flaky.
To make a complete meal in one pan, roast the trout in the same pan with bok choy and broccoli (or other quick roasting vegetables. Here's our Roasted Bok Choy and Broccoli recipe that will work perfectly. Just use an oven temperature to 425F and roast for 8-10 minutes or just until the rainbow trout is opaque.
Other great sides for the maple balsamic rainbow trout are Vegetarian Sweet Potato Hash, Parmesan Roasted Cauliflower,  Grilled Corn Salad (which you can make with frozen niblets) or Roasted Veggies on Spiced Rice.
salt, pepper, green onions
make glaze
drizzle on half the glaze
trout roasted, then add rest of glaze

old picture from ORIGINAL recipe
Maple Balsamic Rainbow Trout
This moist, flaky, flavorful maple balsamic rainbow trout is a perfect weeknight meal, ready in 20 minutes. Just six ingredients. Simple and delicious.
Servings:
3
(or 4 smaller portions)
Ingredients
1.5

lb

rainbow trout fillets (2 large or 3-4 smaller)

salt and pepper

2

green onions, finely chopped

2

tbsp

chopped fresh parsley for garnish (optional)
Maple Balsamic Sauce/Glaze
1 1/2

tbsp

good balsamic vinegar

1 1/2

tbsp

maple syrup

1 1/2

tbsp

fresh lemon juice

1/2

tsp

sriracha or more (optional)

2

tsp

olive oil

1

tsp

cornstarch (optional)
Instructions
Preheat oven to 400F.

MAKE SAUCE/GLAZE: Whisk together all ingredients in a small glass measuring cup or bowl. If using cornstarch to thicken the glaze, microwave sauce for 45-60 seconds to thicken.

PREPARE TROUT: Line a pan, large enough to fit the trout, with tin foil and spray it with oil. Generously sprinkle trout with salt and pepper. Sprinkle chopped green onions over fish. Drizzle on HALF the sauce/glaze, reserving the rest for serving.

ROAST TROUT: Roast trout for 8-11 minutes depending on the thickness of the fish. Remove from oven and cut into portions. Slip a spatula between the bottom of the fish and the skin if you want to slip off the skin. Plate the fish with any side dishes you choose. Drizzle on the remaining sauce and garnish with chopped parsley if desired.
3
Notes
This recipe has been updated as of Feb 2019 to increase the amount of sauce  and thicken the glaze so that it stays on the fish better. The original recipe from 2016 also included too much oil by mistake (2 tbsp instead of 2 tsp). Thick or thin sauce? If you prefer a thin sauce, do not use the cornstarch.  Original Sauce/Glaze (2016): 1 tablespoon each: good balsamic vinegar, maple syrup, lemon juice; 1/2 teaspoon sriracha; 2 teaspoons oil. 
Nutrition
Nutrition Facts
Maple Balsamic Rainbow Trout
Amount Per Serving (3 g)
Calories 335
Calories from Fat 99
% Daily Value*
Fat 11g17%
Cholesterol 134mg45%
Sodium 94mg4%
Potassium 1150mg33%
Carbohydrates 10g3%
Protein 47g94%
Vitamin A 445IU9%
Vitamin C 14mg17%
Calcium 172mg17%
Iron 2mg11%
* Percent Daily Values are based on a 2000 calorie diet.
Tried this recipe?
We'd love you to rate it above under 'rate this recipe' or in the comment section below. Thanks!
3
g
Here are a few other fish recipes you might like:
Canadian Maple Cedar Plank Salmon Recipe
This rich, mildly smoky Canadian Maple Cedar Plank Salmon is glazed with maple syrup, balsamic, grainy mustard, butter & garlic.  Easy and mouthwatering!
Get the recipe
Print
Pecan Crusted Salmon
Get mouth watering maple balsamic Pecan Crusted Salmon on the table in 20 minutes and enjoy the nutty texture on a rich coating of maple syrup, balsamic vinegar, Dijon mustard and parsley. Simple, good, fast and pretty.
Get the recipe
Print
Salmon Stuffed With Lemon Ricotta Recipe
Salmon Stuffed With Lemon Ricotta combines tender salmon with a creamy lemony filling and a spicy sweet chili sauce drizzle. Comfort food with a kick. I love the contrasts in colour and taste. And the simplicity of the recipe doesn't hurt either. Dinner on the table in less than 30 minutes.
Get the recipe
Print
Coconut Curry Salmon
Salmon gets an Asian flare in this Coconut Curry Salmon recipe. It makes a simple weeknight meal for 2 with leftover sauce for another use.
Get the recipe
Print
Roasted Halibut with Tomatoes and Capers Recipe
Serve guests to impress or an easy weeknight dinner with this simple but scrumptious Roasted Halibut with Tomatoes and Capers - in less than 20 minutes.
Get the recipe
Print
Maple-Ginger Salmon with Peach Salsa Recipe
Mouthwatering maple-ginger salmon with peach salsa is a light, healthy very flavourful company-worthy meal. Loving peach season!
Get the recipe
Print
Sous Vide Salmon with Lemon Caper Sauce
The extra time this sous vide salmon takes to cook is worth it. Guaranteed cooked-to-perfection with a lemony-tangy caper sauce to top it off.
Get the recipe
Print