Rich, creamy Curried Lentil Soup is a delicious vegan meal in a bowl. Lentils, curry, tomato sauce, coconut milk, garlic, ginger and cilantro are the stars of this instant pot soup.
Lentils are seeds in the legume family. They come in different colors – brown, black, green, red, yellow and orange. We're using red, yellow or orange lentils because they are split and break down quickly.
Lentils are highly nutritious with 19 grams of protein and almost 16 grams of fiber per cooked cup. They are also low in calories and fat (but high in carbs) and packed with B vitamins, magnesium, zinc and potassium. No wonder they are considered an excellent meat substitute for vegetarians or those of us trying to cut back on meat. Also keep in mind that the recipe is both dairy free and gluten free.
This curried lentil soup is a cross between Indian and Thai flavors that include coconut milk, cilantro, curry powder and red curry paste. OK, that may sound a bit odd, but it works. You can make it as spicy or as mellow as you like. In fact, there are many variations you can try. I've listed a few below.
You can serve the soup as a starter or make it a complete meal in a bowl. It's delicious served with warm Naan or any fresh bread.
If you like lentils, also try our very popular Red Lentil Vegetable Soup. Or how about our Vegetarian Split Pea Soup which uses a different variety of legume.
Tailor To Your Taste
Here's a few variations you could try:
Add vegetables: Diced carrots and celery would be great to add during the initial saute phase. I also add baby spinach for color and nutrition at the end.
Liquid ratios: I use tomato sauce, water (or broth) and coconut milk. About 6 cups in total. Feel free to vary the ratios. For example, if you like your soup less creamy and mellow, reduce the coconut milk and increase the tomato sauce. If you want a thinner soup (this one is quite thick), add more broth or water at the end.
Spiciness: : I used red curry paste (my brand was not too spicy) and red chili flakes. Start with less and add more as you like.
Seasonings: I love cilantro but I know many people hate it. So leave it out if you prefer or serve it just as a garnish for those who like it. You can also try adding a pinch of garam masala, cumin and/or turmeric. Now you may have an Indian-Thai-Middle Eastern mix!
Texture: The lentils in the recipe break down fairly quickly. You can cook them a little less to maintain more body to the lentils.  I like them mushy. Alternatively, if you prefer a smooth soup, puree it (adding the spinach, if using, after).
Garnishes: Try chopped cilantro, lemon, lime or chopped green onion.
No Instant Pot? No problem. Use the same instructions for the stovetop. Simmer the soup covered, instead of pressure cook, for 30-40 minutes to get the texture and thickness you like.
Make Ahead Curried Lentil Soup
Keep the soup in the fridge for 3-4 days or freeze it for up to 6 months.
ingredients (not including broth or water, salt and pepper)
saute onions, garlic, curry powder, red curry paste, ginger
roughly chop fresh baby spinach and cilantro to add after cooking
curried lentil soup before final ingredients added
add spinach, coconut milk, cilantror
stir to complete soup


Curried Lentil Soup
Rich, creamy Curried Lentil Soup is a delicious vegan meal in a bowl. Lentils, curry, tomato sauce, coconut milk, garlic, ginger and cilantro are the stars of this instant pot soup.
Equipment
Instant Pot (I use a 6 quart)
Ingredients
1

tbsp

olive oil

1

medium-large onion, finely chopped

(about 2 cups)

3

cloves garlic, finely chopped

(3 tsp)

1

tsp

grated fresh ginger

(or more to taste)

1

tbsp

yellow curry powder

(mild or medium)

1

tbsp

Thai red curry paste

(or sub extra chili flakes)

1/2

tsp

red chili flakes

3/4

cup

red, yellow or orange split lentils, rinsed

1

tsp

kosher salt

(or more if using low salt broth or water)

1/2

tsp

ground pepper

2

cups

tomato sauce e.g. marinara

1 1/2

cups

water or broth (chicken or vegetable)

PLUS another 1-1.5 cups to thin it out at the end as needed

1

13-14 ounce can unsweetened coconut milk

Note 1
Optional but good
4

cups

fresh baby spinach, roughly chopped

1/3

cup

chopped fresh cilantro
Garnish options
lemon or lime wedges, additional chopped cilantro, chopped green onion
Instructions
PRESS SAUTE BUTTON ON INSTANT POT: and heat to "HOT". Chop veggies while heating. (See Note 2 for stove top version)

SAUTE VEGGIES AND SEASONINGS: Add oil, then onions. Saute for 3 minutes, stirring until translucent. Add garlic, ginger, curry paste, curry, chili flakes, salt and pepper. Saute, stirring for another 3 minutes. Press CANCEL button on instant pot.

ADD LENTILS AND LIQUID. COOK: Stir in lentils, tomato sauce and water (or broth). Close Instant Pot lid and set valve to 'SEALING', then set PRESSURE OR MANUAL button on High for 15 minutes - or 12 minutes if you prefer lentils less soft (use + or - buttons). The Instant Pot will take about 5-7 minutes to come to pressure depending on size of pot before it starts the 15 minute cooking process. When finished (it will beep), do quick pressure release by turning valve to VENT. When button drops, you can open the lid. Turn Instant Pot to OFF.

FINISH LENTIL SOUP: Add coconut milk and, if using, spinach and cilantro. Stir 1 minute until combined and spinach is wilted. If soup is too thick, add more water or broth. If too thin, press SAUTE and cook for a few minutes until soup is the consistency you like. Taste and adjust seasonings. Ladle into bowls and add garnishes as desired.
Notes
Coconut Milk: Use less coconut milk if you want a lower calorie soup or if you prefer a more tomato-y base. You can also use light coconut milk which is less rich.
Stovetop version: Use the same instructions as above, but simmer the soup for 30-40 minutes in a pot (instead of pressure cooking in the instant pot) until you get the texture and thickness you like.
Make Ahead: Keep soup in the fridge in a sealed container for 3-4 days or freeze it for up to 6 months.
Nutrition
Nutrition Facts
Curried Lentil Soup
Amount Per Serving
Calories 454
Calories from Fat 261
% Daily Value*
Fat 29g45%
Sodium 1298mg56%
Potassium 1305mg37%
Carbohydrates 39g13%
Protein 16g32%
Vitamin A 4126IU83%
Vitamin C 25mg30%
Calcium 107mg11%
Iron 7mg39%
* Percent Daily Values are based on a 2000 calorie diet.
Tried this recipe?
We'd love you to rate it above under 'rate this recipe' or in the comment section below. Thanks!
This soup was inspired by an old recipe from Epicurious. 
Other vegetarian or vegan meal-in-a-bowl soups you might like: 
Thai-Inspired Butternut Squash Soup Recipe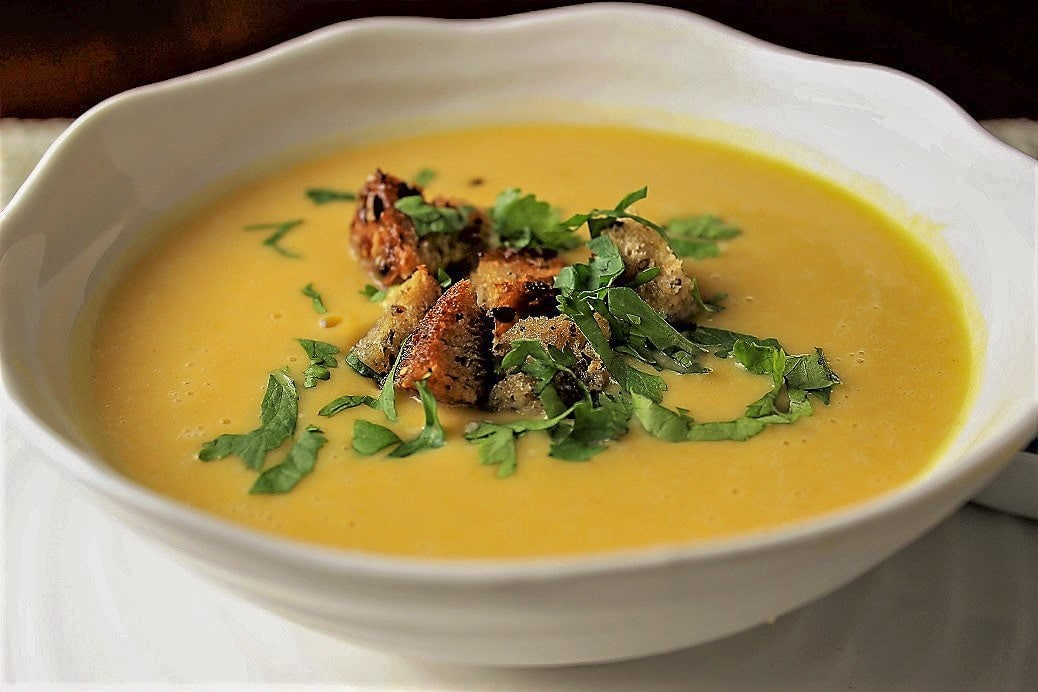 Just a few simple ingredients create this creamy, smooth, flavorful Thai-inspired butternut squash soup with some nice heat. And it only takes about 30 minutes to make.
Get the recipe
Root Vegetable Soup with Barley
There's nothing like Fall soups to help ease the transition from summer. Root Vegetable Soup With Barley - loaded with squash, sweet potato, turnip, celeriac, carrots and onions - is the perfect segue into Fall. Nutrient-rich, low calorie and, most importantly, absolutely delicious. 
Get the recipe
Red Lentil Soup Recipe With Vegetables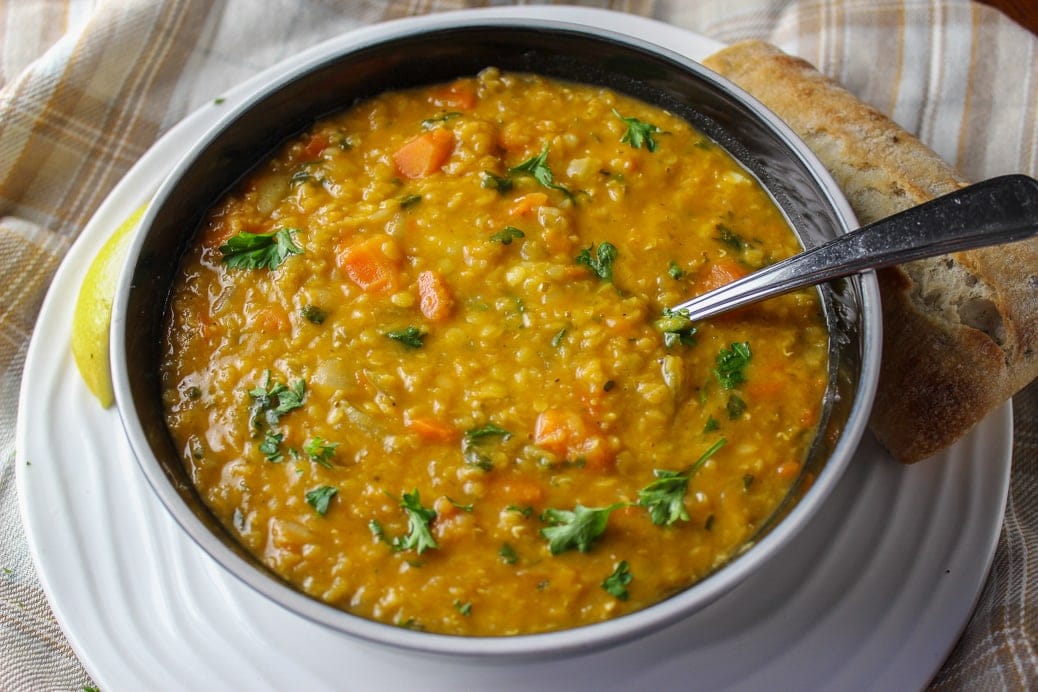 This red lentil soup recipe with vegetables is a healthy, hearty, satisfying meal in a bowl. Perfect for a weeknight meal served with crusty bread.
Get the recipe
Vegetable Barley Soup
You will not miss the meat in this hearty, healthy vegetable barley soup with fiber and protein-rich beans. I make a big batch and serve it as a meal-in-a-bowl for lunch all week. The best...
Get the recipe
Curried Sweet Potato Soup
Curried Sweet Potato Soup topped with Parmesan cheese makes a hearty, healthy satisfying starter or meal. Robust, rich and spicy.
Get the recipe
Vegetable Rice Soup Recipe
This versatile Vegetable Rice Soup is a hearty, healthy meal in a bowl. Roasted vegetables add a depth to this simple comfort soup.
Get the recipe