Chicken Meatball Recipe (sticky, sweet & spicy)
This tender, sticky, sweet, spicy saucy chicken meatball recipe is a perfect appetizer or easy weeknight meal over fluffy rice.
Impressive, but so quick and easy.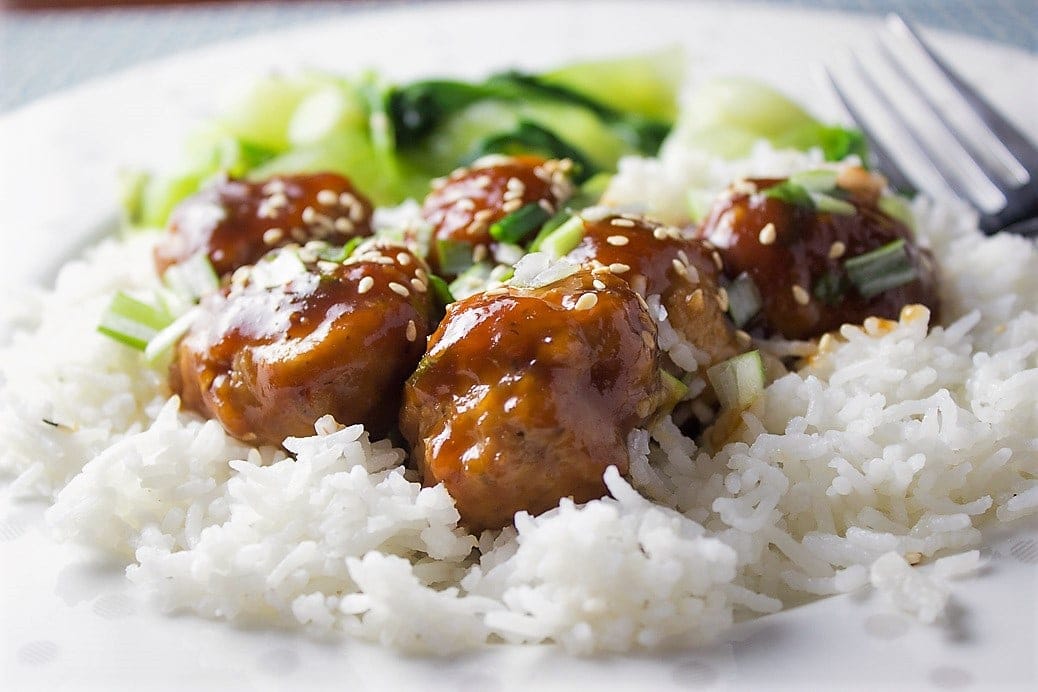 Seriously, this whole recipe takes about 25 minutes, it can be made ahead for a party or potluck and, most of all, it's very tasty (so said my tester husband).
It's actually a twist on our Bourbon Chicken recipe, using chicken meatballs instead of chicken pieces – and the same sauce.
The baked chicken meatballs are well seasoned and have a nice soft texture.  Kids would love them.  And, of course, they could be used in other dishes like spaghetti and meatballs as well.
They don't come out perfectly round as the mixture is on the wetter side.  If you add some breadcrumbs, however, you can probably get them to stay round while cooking if you prefer them that way.  Personally, I think the slightly odd shape gives them rustic charm and makes them look homemade, but hey, do what you have to do.
The sauce has bold flavors and can be made as spicy as you like or not at all.  The bourbon is optional.
What to serve with the meatballs
Serve as a main dish with rice or rice noodles.  I like it with plain basmati rice and curried rice with raisins. or over cauliflower rice if I'm going lower calorie.
Serve as an appetizer
right out of the pan,
in a serving bowl, or
on serving spoons or mini plates.
Tailor To Your Taste
Feel free to use beef, pork or veal (or a combination) for the meatballs. Or use you own favorite meatball recipe.
Vary the herbs in the meatballs. I used basil – parsley would be good too.
Use maple syrup in the sauce instead of the brown sugar. I did.
Step by step
Ingredients: ground chicken, bourbon, soy sauce, apple sauce, maple syrup, apple cider vinegar, ketchup, ginger, garlic, cornstarch.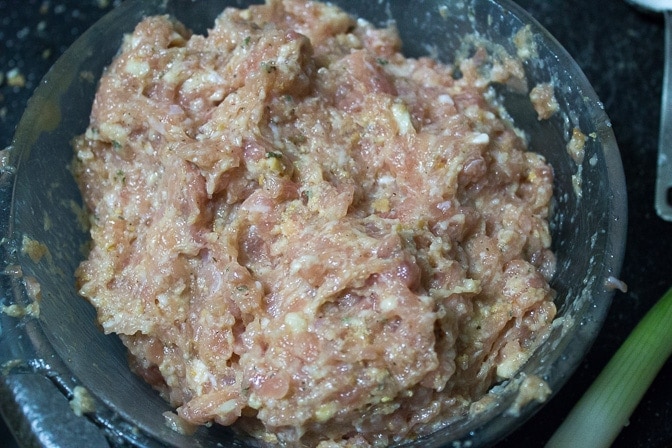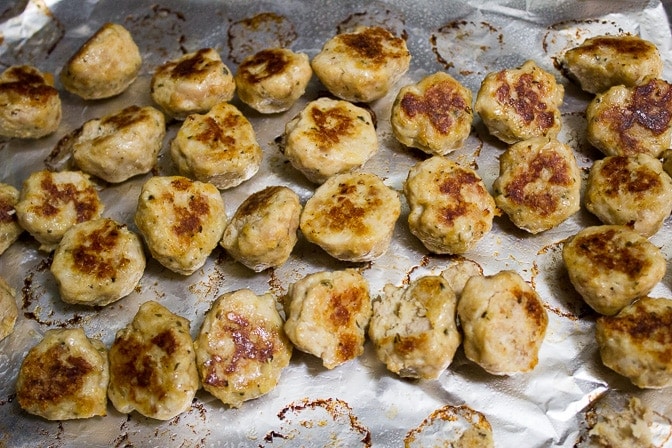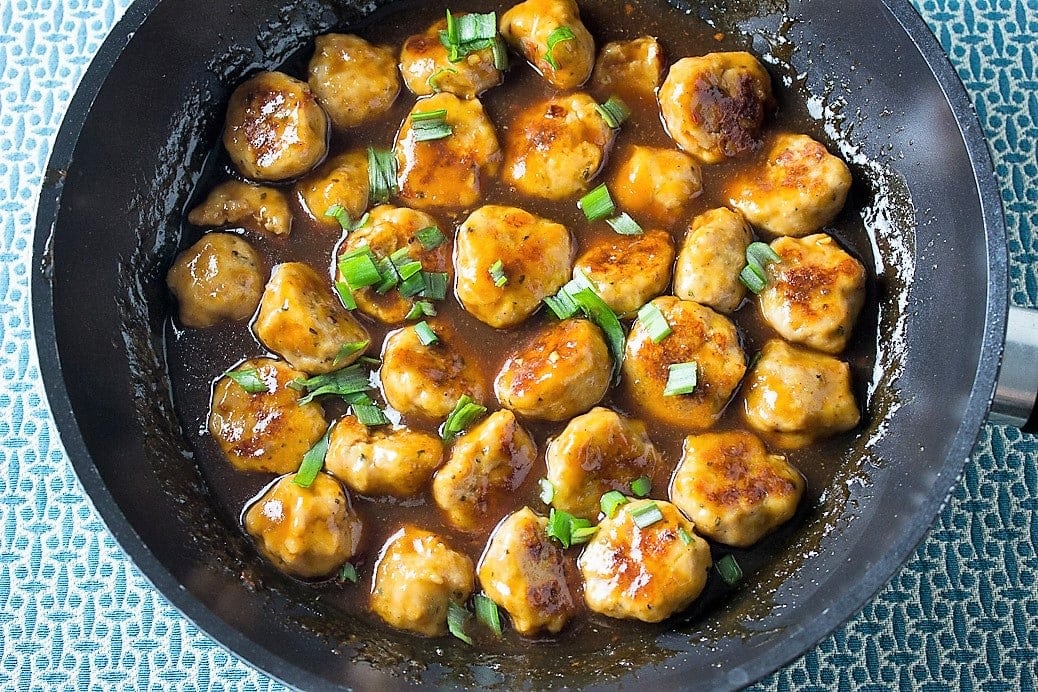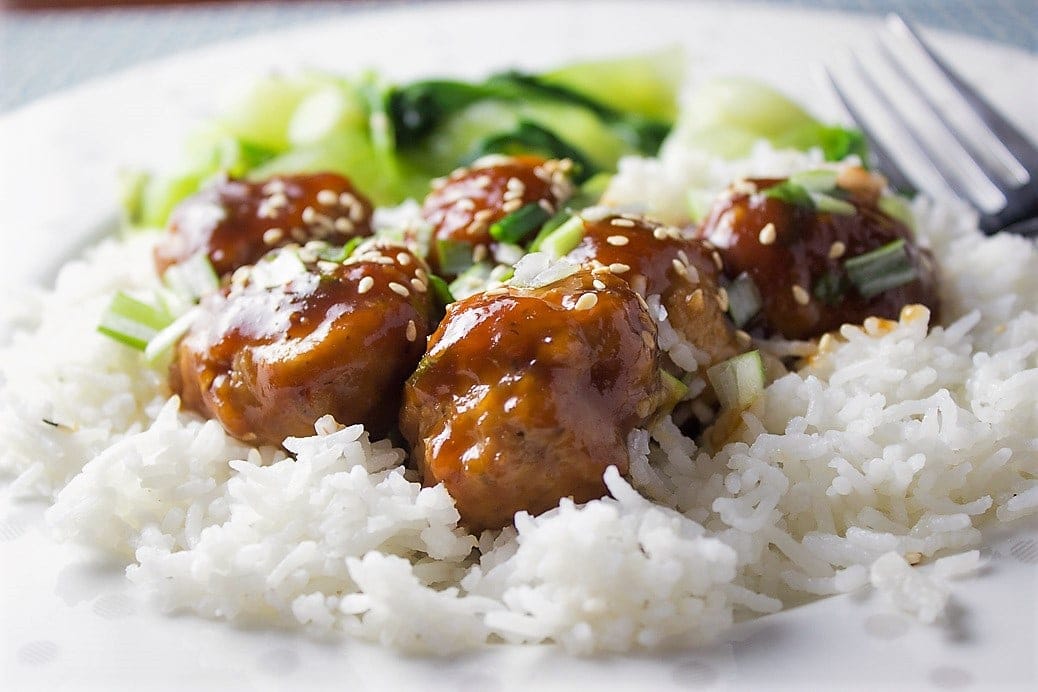 Shortcuts
Use frozen store-bought meatballs.
Substitute fresh garlic and ginger with frozen cubes or the powder version.
Make half as many meatballs by making them larger. Bake for an extra 8-12 minutes.
Make Ahead
One of the best features of this chicken meatball recipe is that either the meatballs or the sauce can be a day or two made ahead. Just reheat before serving.
The meatballs can also be made ahead (without the sauce) and frozen for up to a month. Make the sauce closer to the day of serving.
Other meatball recipes you might like
Print Recipe
Pin
Save Recipe
Recipe Saved!
Rate this recipe here
Chicken Meatball Recipe (sticky, sweet & spicy)
This tender, sticky, sweet, spicy saucy chicken meatball recipe is a perfect appetizer or easy weeknight meal over fluffy rice. Impressive, but so quick and easy.
Servings:
25
-30 meatballs
Ingredients
1

pound

minced chicken

(preferably dark meat, but white is fine too)

2

slices bread, torn into tiny little pieces

(about 1/3 cup breadcrumbs)

3

tablespoon

milk

1

tablespoon

grated onion

(or 1 tsp. onion powder)

1/4

teaspoon

garlic powder

1

tablespoon

Ketchup

1/4

cup

finely chopped parsley or basil

(or 2 teaspoons dried)

1/2

teaspoon

salt

1/4

teaspoon

pepper

Garnish: chopped green onions, toasted sesame seeds
Sauce/Glaze
1/3

cup

soy sauce

(light or low sodium is fine)

1/5

cup

water

1/4

cup

apple sauce

(or apple juice or cider)

1/4

cup

brown sugar

1

tablespoon

Bourbon (optional)

1/4

tablespoon

chili flakes

(for mildly spicy)

1

teaspoon

minced garlic – or 1 clove or frozen cube

(or 1/4 tsp garlic powder)

1

teaspoon

minced/grated ginger or 1 frozen cube

(or 1/4 tsp ginger powder)

1

tablespoon

cornstarch
Instructions
Preheat oven to 400F.

MAKE CHICKEN MEATBALL MIXTURE: In a medium bowl, add bread and milk. Let soak for a minute until liquid is absorbed. Add grated onion, ketchup, garlic, parsley, salt and pepper. Mix together. Add minced chicken and lightly mix all ingredients together. Mixture will be very moist. If too moist, add up to a few tablespoons breadcrumbs.

FORM AND BAKE MEATBALLS: Line a large sided pan with parchment or foil sprayed with oil. Wet your hands (do this periodically) and form meatballs into balls about 1 1/2 inches. (I don't worry about them being perfectly round). You should get about 25-30 balls. Place on pan and bake for 12 minutes or until cooked through. One side will be browned, the other pale. If desired, turn half way through (I don't bother).

MAKE SAUCE/GLAZE: While meatballs are baking, add all sauce/glaze ingredients to a small wok or skillet. Heat to medium high, stirring. Bring to boil, lower heat to medium and cook for 7-8 minutes to reduce and thicken sauce.

FINISH THE DISH: Add baked meatballs to sauce and stir to coat well. Serve. Note 1 for serving options.
Recipe Notes
 Serving Options: For dinner, serve over rice or noodles. For appetizers, transfer to serving bowl (or leave in pan) and serve with toothpicks. For a starter, serve 2-3 on mini plates. For all, garnish with green onions and toasted sesame seeds.
Make Ahead: Meatballs can be made ahead, cooled and refrigerated for a couple of days. Or frozen for 2-3 months.
Nutrition values are estimates per meatball. The values will actually be a little lower if all the glaze is not eaten. 
Nutrition
Calories:
49
kcal
|
Carbohydrates:
5
g
|
Protein:
4
g
|
Fat:
2
g
|
Saturated Fat:
1
g
|
Cholesterol:
16
mg
|
Sodium:
250
mg
|
Potassium:
121
mg
|
Fiber:
1
g
|
Sugar:
3
g
|
Vitamin A:
80
IU
|
Vitamin C:
1
mg
|
Calcium:
10
mg
|
Iron:
1
mg
Tried this recipe?
We'd love you to rate it above under 'rate this recipe' or in the comment section below. Thanks!