Chicken Meatloaf with Vegetables
Rest assured, this chicken meatloaf recipe with vegetables is NOT dry and boring. It's soft, super moist and tasty with lots of hidden nutrition thanks to the onions, carrots and spinach. Your family will love this one. And, if there are any leftovers, it makes great meatloaf sandwiches or pan-fried meatloaf the next day.
"This is delicious!" my husband announced after the first bite. "I'm glad you didn't change anything for your blog". Well… I kinda did. Years ago, I started adding vegetables to my meatloaves to make them more nutritious.
This time I took it one step further and used chicken to make an even healthier and lighter version – about 300 calories for a thick slice. The ground chicken meatloaf was so flavorful and tender that he didn't even notice. (Unfortunately he liked it so much that he ate four slices!) And, by the way, it's a meatloaf recipe without eggs if that's important to you.
Some excellent sides for chicken meatloaf are Butternut Squash With Warm Cinnamon Dressing, Grilled Coleslaw (or any coleslaw), Root Vegetable Mash, Basic Mashed Potatoes and Mashed Potato Pancakes (especially if you have leftover mashed potatoes hanging around).
If you love this chicken meatloaf recipe, you might might want to try our healthy meatloaf with mushroom gravy – also made with lots of veggies. Or check out one of our other best comfort food recipes.
Tailor To Your Taste
Vegetable options
Try mushrooms, zucchini, red peppers, broccoli, kale. Make sure the water evaporates when sauteing. Some chefs swear by mushrooms for increasing tenderness and adding flavor. The only vegetable I wouldn't leave out is the onions.
Glaze
I used a very simple balsamic-ketchup glaze, but here's how to make a classic meatloaf glaze if you prefer: Mix together 1/3 cup ketchup, 2 tbsp brown sugar, 1 tbsp mustard.
Substitutes
Instead of ketchup, use BBQ sauce.
Instead of milk, substitute broth, tomato juice or even wine.
If you don't have a good balsamic vinegar, you can use cider or red wine vinegar instead with a pinch of sugar. Some people use Worcestershire sauce instead of the Balsamic Vinegar.
Shortcuts
To speed things up, I use a processor to finely chop the onions, carrots, garlic and fresh spinach.
Making a flatter loaf about 2 inches tall cuts the baking time to only 30 minutes. [Because less breadcrumbs are used (for a less dense texture), the mixture is quite loose and doesn't lend itself to a taller loaf unless you use a loaf pan.]
Make Ahead
Lots of options here. The chicken meatloaf recipe can be made ahead and frozen raw, fully cooked then reheated in the next day or two, or frozen fully cooked then thawed and heated. Instructions are in the recipe.
How to make this ground chicken meatloaf recipe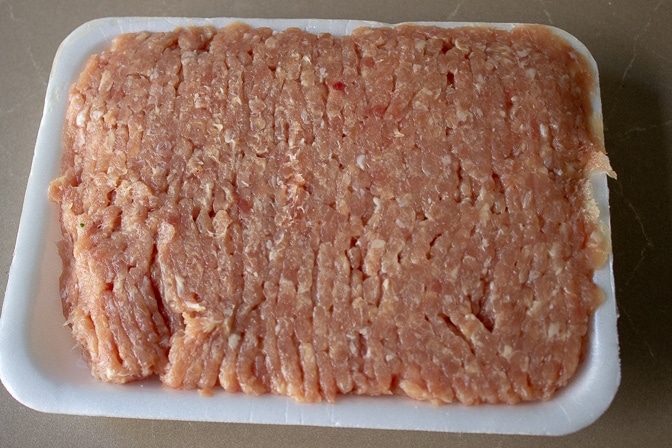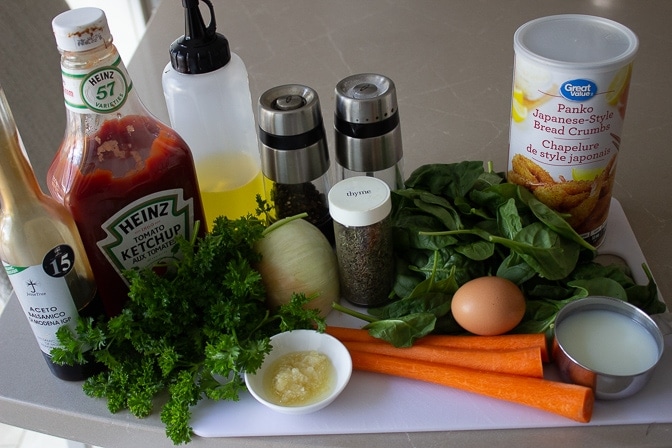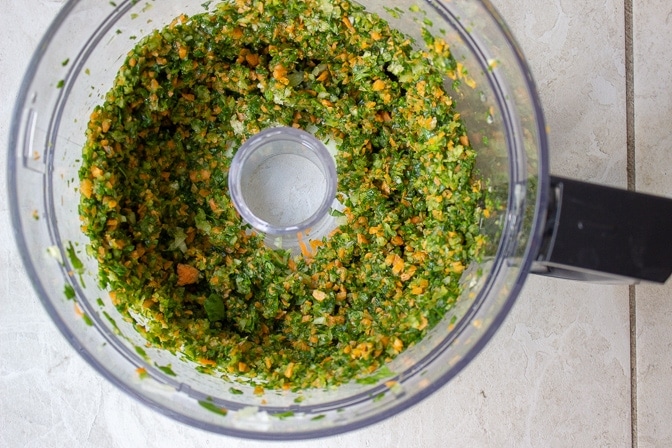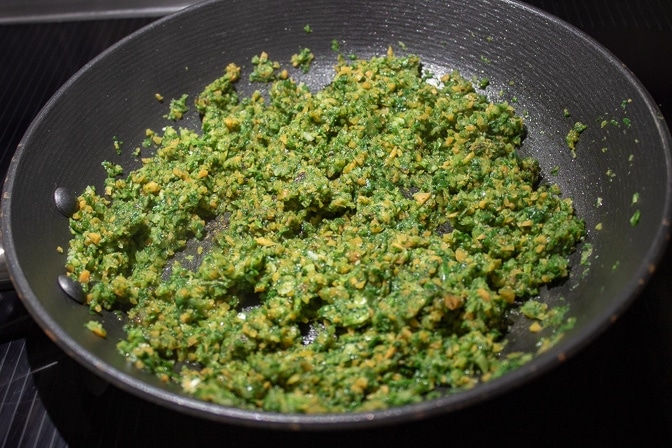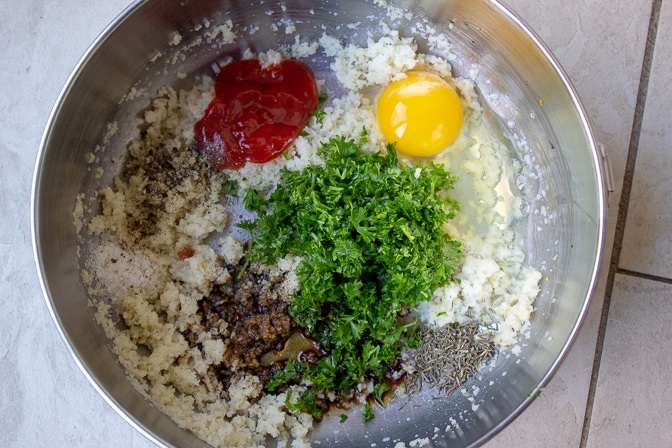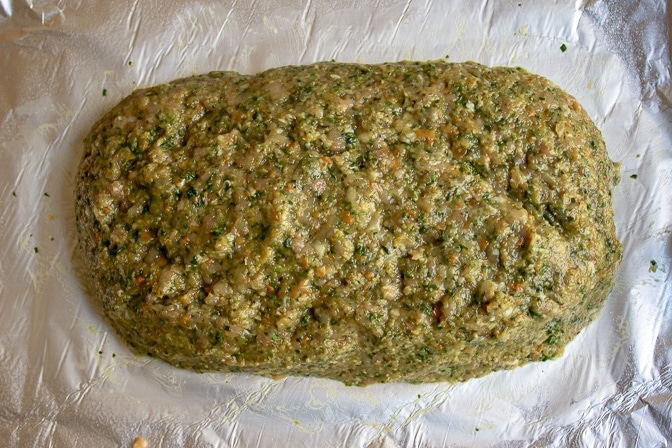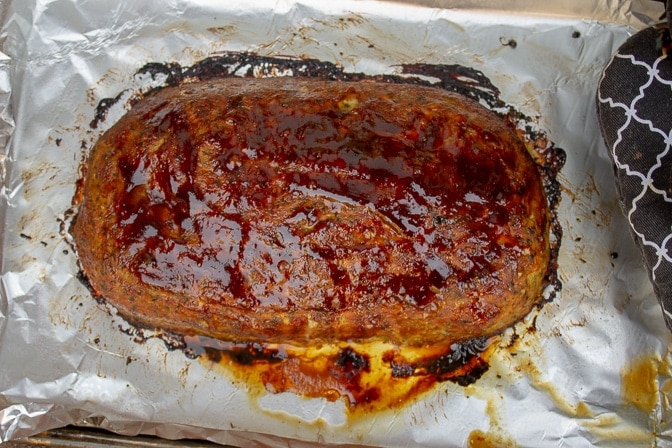 Looking for other low calorie dinners?
Check out our 31 delicious meals under 400 calories. Lots of variety. Light does not mean sacrifice.
Chicken Meatloaf and Vegetables
This chicken meatloaf recipe with vegetables is NOT dry and boring. It's soft, super moist and tasty with lots of hidden nutrition thanks to the onions, carrots and spinach. Your family will love this one. 
Ingredients
1 1/2

pounds

ground chicken (Note 1)
Vegetable Filling
1/4

large sweet onion

3

small carrots, peeled

(or 1 medium-large)

2

cups

packed fresh baby spinach

2

cloves garlic, minced

2

teaspoon

vegetable oil
Breadcrumb & Seasoning Mixture
1/2

cup

Panko breadcrumbs

(I use a bit less)

5

tablespoon

milk

(broth, tomato juice or wine can be used instead)

1

egg

1

tablespoon

Ketchup

1

tablespoon

Balsamic Vinegar

(good quality)

1/4

cup

finely chopped fresh parsley

1/2

teaspoon

dried thyme

(or 1 tbsp fresh)

1/2

teaspoon

kosher salt

(or more to taste unless breadcrumbs or chicken have salt in them)

1/4

teaspoon

ground pepper
Glaze
1/4

cup

ketchup

1 1/2

tablespoon

good quality Balsamic Vinegar
Instructions
Preheat oven to 400F. Line a pan (about 9 x 13 inch) with foil and spray with oil.

PREPARE VEGETABLE FILLING: Cut onion and carrots in 2 inch pieces. Place in food processor along with spinach and garlic. Process on high for a minute until finely minced. Alternatively, chop all vegetables finely. Heat oil in medium pan. Add vegetables and saute on medium high for 5 minutes, stirring occasionally, until tender and all liquid has evaporated. Set aside.

PREPARE BREADCRUMB AND SEASONING MIXTURE: In a large bowl, mix breadcrumbs and milk together. Let sit for a few minutes. Stir in remaining breadcrumb-seasoning mixture ingredients. Mixture will be pasty.

MAKE CHICKEN MEATLOAF: Add ground chicken and vegetable mixture to bowl. Using a clean hand formed into a 'claw', use a twisting motion to lightly mix chicken, vegetable and breadcrumb mixture together just until combined (don't over mix). Place mixture on pan and form it into a loaf shape approximately 10-12 x 5 inches and about 2 inches high.

BAKE: Mix together ketchup and balsamic vinegar in a small bowl. Brush glaze on top and sides of loaf. Bake for 30 minutes. Instant thermometer should read 160F. Let sit for 5-7 minutes to keep juices in and for easier slicing. Slice and serve.
Notes
Which kind of chicken to use: I used ground dark chicken meat, but a blend of white and dark or even all white would work too. If you do decide to use the lower fat white meat, add another teaspoon or two of oil when you are sauteing the vegetables to help avoid a dry meatloaf.
To store: Cover leftovers will with foil or plastic wrap and keep in fridge for up to 3 days. 
To freeze raw: Prepare loaf. Wrap raw loaf in foil and then in ziploc bag. Freeze up to 6 months. Thaw in fridge the night before baking. 
To freeze cooked: Cool loaf, then wrap well in foil and ziploc bag. Freeze for up to 3 months. Thaw in fridge.
To reheat cooked loaf: Set oven for 300F, place thawed loaf in shallow pan with a couple tablespoons broth or water (to keep it moist), cover pan tightly with foil and warm for 20-30 minutes. 
Nutrition values include the glaze topping. 
Nutrition
Nutrition Facts
Chicken Meatloaf and Vegetables
Amount Per Serving
Calories 304
Calories from Fat 126
% Daily Value*
Fat 14g22%
Cholesterol 151mg50%
Sodium 553mg24%
Potassium 1022mg29%
Carbohydrates 16g5%
Protein 27g54%
Vitamin A 7641IU153%
Vitamin C 11mg13%
Calcium 75mg8%
Iron 2mg11%
* Percent Daily Values are based on a 2000 calorie diet.
Tried this recipe?
We'd love you to rate it above under 'rate this recipe' or in the comment section below. Thanks!