Tomato Basil Grilled Salmon with Mango bursts with rich flavour from tomato paste, garlic, olive oil, basil, thyme and lemon. The mango is a perfect garnish.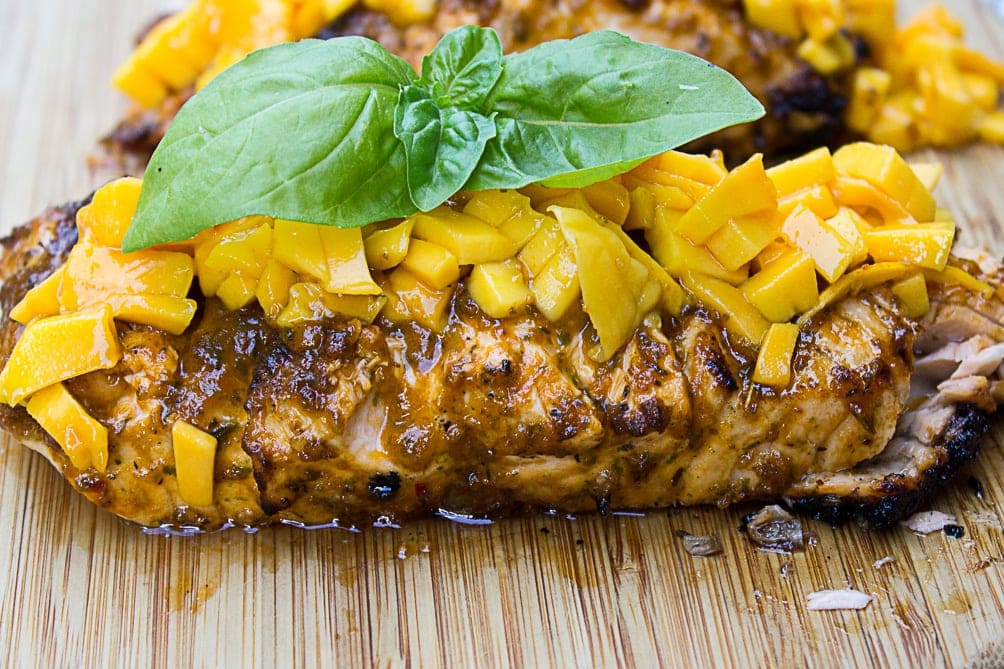 The sauce in this recipe is from Once Upon A Chef (with some tiny tweaks) and was originally used for grilled shrimp which I'm sure would be fantastic. In fact, I brought it to a potluck last weekend to use on steak and everyone loved it. And I think it would great on pasta too.  Nevertheless, it turns out this versatile sauce works beautifully with salmon too. Marinating is optional. I've tried it with and without marinating and didn't find a huge difference, especially if you have leftover sauce to serve with the salmon on the side.
I love the mango as a garnish, but I simply love the velvety richness of mango so I know I'm a biased.  Pineapple would be a great substitute or you can leave it out altogether.
This recipe can be made in 22 minutes which makes it a perfect weeknight meal.  Don't discount it for company though.  It has a lovely presentation with the mango and a sprinkle of chopped parsley or other herb. You can even make the sauce a day ahead if that works better for you.
Tailor It To Your Taste
Vary the "heat" by adding more or less red pepper flakes (or leaving them out).
The original sauce recipe used shallots. I used green onion as I didn't have any.
Use pineapple instead of mango.
Make a mango salsa instead of using plain mango.  Or add a splash of lime to the mango.
Instead of grilling, roast the salmon at 425F for about 10-12 minutes (or approximately 10 minutes per inch of thickness).
Make Ahead
The sauce can be made a day or two ahead or earlier in the day.  The salmon can be made ahead as well to be served cold or at room temperature.  I suggest dicing the mango closer to the time of serving.
Here are two other salmon recipes you might like:
Canadian Maple Planked Salmon get the recipe