Easy Mongolian Beef (sous vide or grill)
Serve your next steak dinner with an Asian flare. This appealing and easy Mongolian beef is bathed in the typical sweet and salty sauce, but skips the frying by cooking the steak sous vide or on the grill.
By they way, Mongolian beef is actually from Taiwan.
Cooking Methods for the Beef
The most common way to cook Mongolian beef is to coat the beef in cornstarch and stir fry it in oil. You may have tasted the PF Chang version. With the right technique, this method creates a crispy brown surface instead of the medium rare beef you see in the pictures.
If done well, it's delicious. But the downside is a lot more oil and frying (not my fave). And often chewier meat.
The sous vide or grill method in this recipe is a twist on the more typical dish. Easier and less smelly 🙂 The other big advantage is that you can pause for awhile if you need to before the final step.
Both methods work great and you'll find instructions for both in the recipe. There are some trade offs.
With the sous vide method, you plunge the steak into a water bath and walk away for an hour or more. No fuss, zero stress and a forgiving timetable. But longer cooking time and the extra optional step of browning the meat.
With the grill method, the steak only takes 2-5 minutes per side to cook and another 10 minutes to rest. So quick turnaround (dinner can be ready in 20 minutes). And no fry smell!
Whatever version you choose, it's the sauce that makes the dish. The core ingredients of any sauce you'll find for Mongolian beef include soy, water, brown sugar, ginger and garlic. I also add a pinch of cornstarch to give the sauce more body. And orange zest and toasted sesame seeds to amp up the flavors.
Serve this easy Mongolian beef over rice, quinoa or, for a lower calorie option, lemon herb cauliflower rice.
Tailor To Your Taste
Steak options
Most recipes use flank steak. Rib eye, tenderloin or New York Strip are my preferred choices.
Instead of beef, try chicken or shrimp. To sous vide a chicken breast, check out one of our sous vide chicken recipes.
Flavor additions
Try adding a tablespoon or two of hoisin or oyster sauce for extra flavor.
Vary the heat with chili flakes or sriracha if you like spicy.
For a more complex flavor profile, I love to add orange zest and toasted sesame seeds as garnish. Lime or lemon zest would be great too.
Stretch the dish or add nutrition
Stir fry vegetables such as broccoli, red pepper, mushrooms, snow peas,.
Add sliced water chestnuts for crunch.
Another serving option
Use the sauce on a whole steak or chicken breast instead of slicing it up.
Shortcut
Frozen cubes of garlic and ginger are easy substitutes for fresh. And no chopping or grating.
Make Ahead
This dish is best made the same day to maintain its medium rare temperature. However, if you need to, cook the steak and mix the sauce ingredients up to a day or two ahead, Keep the sauce and steak separate. The instructions to cook the steak ahead with the sous vide and grilling methods are in the recipe notes.
If you love sous vide cooking, try our best sous vide recipes. With lots of beginner tips.
How to make Mongolian Beef (sous vide)
Gather ingredients: steak, green onions, maple syrup, soy sauce, ginger, garlic, cornstarch, water.
Easy Mongolian Beef (Sous Vide or Grill)
Serve your next steak dinner with an Asian flare. This appealing and easy Mongolian beef is bathed in the typical sweet and salty sauce, but skips the frying by cooking the steak sous vide or on the grill.
Servings:
3
(or 2 large portions)
Equipment
Sous Vide Equipment (or Grill)
Ingredients
3/4

pound

steak (Note 1)

seasoning: salt, pepper, garlic powder

1

teaspoon

olive oil

3

green onions, sliced on diagonal

(1-2 inches pieces)

Garnish (optional): 1-2 tsp orange zest; 1 tbsp toasted sesame seeds (Note 2)
Mongolian Beef Sauce
1/4

cup

soy sauce, low sodium

1/4

cup

water

1/4

cup

brown sugar

(or maple syrup)

1

teaspoon

minced fresh ginger

(or 2 tsp if you like)

2

cloves garlic, minced (about 2 tsp)

(or 1 tsp pureed garlic)

1/2

teaspoon

chili flakes (optional)

2

teaspoon

cornstarch
Instructions
HEAT SOUS VIDE WATER BATH : Fill water bath and set temperature to 132F for medium rare (or according to your sous vide equipment guidelines). Heating can take 10-15 minutes.

SEASON STEAK AND PLACE IN BAG FOR SOUS VIDE: Brush steak with olive oil and sprinkle steak generously with salt and pepper (and lightly with garlic powder if desired) on both sides. Place steak in ziploc bag. Note 3 (to vacuum seal). See Note 4 to grill steak instead.

SOUS VIDE STEAK: Lower bag, unsealed, into water so that zip seal is just above the water line (air will be pushed out from water pressure). Seal bag. It will sink to the bottom. Cover pot/machine as per manufacturer instructions. Cook times: If steak is 1 inch thick, cook for 1-3 hours. If 1.5 inches thick, cook for 2-3 hours. If 2 inches thick, cook for 3-5 hours.

MAKE MONGOLIAN SAUCE: While steak is cooking sous vide, add all sauce ingredients to a skillet and heat on medium high, stirring occasionally, for about 5 minutes until thickened. Sauce should coat back of spoon. Taste and adjust seasonings. Add sliced green onions. Set aside.

SEAR STEAK (OPTIONAL): For this dish, browning is not really necessary since steak will be mixed with a sauce. If preferred for presentation, remove steak from water and bag. Pat dry well with paper towels. Spray or brush steak with oil. Heat pan on very high heat. Turn on fan. Sear one or both sides of steak, pressing down, to brown/caramelize for 90 seconds total.

FINISH DISH: Slice steak thinly. Heat up sauce if it's cooled down. Toss steak into sauce to warm for 1 minute. Garnish with orange zest and toasted sesame seeds if desired. Serve immediately over rice, quinoa or cauliflower rice.
Recipe Notes
Type of steak to use: I like to use AAA, certified angus beef or prime choice beef for this recipe as it will be the most tender. My preference is boneless rib eye. Other great choices are New York striploin, tenderloin (very expensive though) or flank steak. 
To toast sesame seeds: Dry fry, shaking often over burner, in small pan over medium heat for about 5 minutes until toasted golden brown. Careful they don't burn. 
To vacuum seal sous vide bag (instead of using zipper sealed bag): Fold over a flap on a vacuum seal bag. Place steak inside bag and unfold the flap. Using a vaccum sealer, seal the bag and vacuum out the air as per machine instructions. 
To grill steak (instead of sous vide method): Oil or spray grill with oil and heat grill to medium high/high (450-500F). Grill seasoned steak 2-4 minutes per side depending on thickness. Steak will read 130F on an instant thermometer (poke probe through side of steak). Let steak rest for 8-10 minutes before slicing. 
Make Ahead:  This dish is best made the same day to maintain it's medium rare temperature. However, steak and sauce can be made up to a day or two ahead separately. Don't combine them. For sous vide method: plunge cooked steak in bag into an ice bath for 20 minutes to cool down. Refrigerate. Bring to room temperature before using, remove from bag, slice and warm briefly in pan with sauce before using. For grilled steak, grill steak , cool and refrigerate in sealed container. Bring to room temperature. Slice and warm briefly in pan with sauce before using. 
Nutrition values are estimates and do not include optional garnishes. 
Nutrition
Calories:
362
kcal
|
Carbohydrates:
23
g
|
Protein:
25
g
|
Fat:
19
g
|
Saturated Fat:
7
g
|
Cholesterol:
91
mg
|
Sodium:
781
mg
|
Potassium:
451
mg
|
Fiber:
1
g
|
Sugar:
18
g
|
Vitamin A:
218
IU
|
Vitamin C:
3
mg
|
Calcium:
57
mg
|
Iron:
2
mg
Tried this recipe?
We'd love you to rate it above under 'rate this recipe' or in the comment section below. Thanks!
Other sous vide recipes you might enjoy:
Sous Vide Chicken Breast (Citrus Glazed)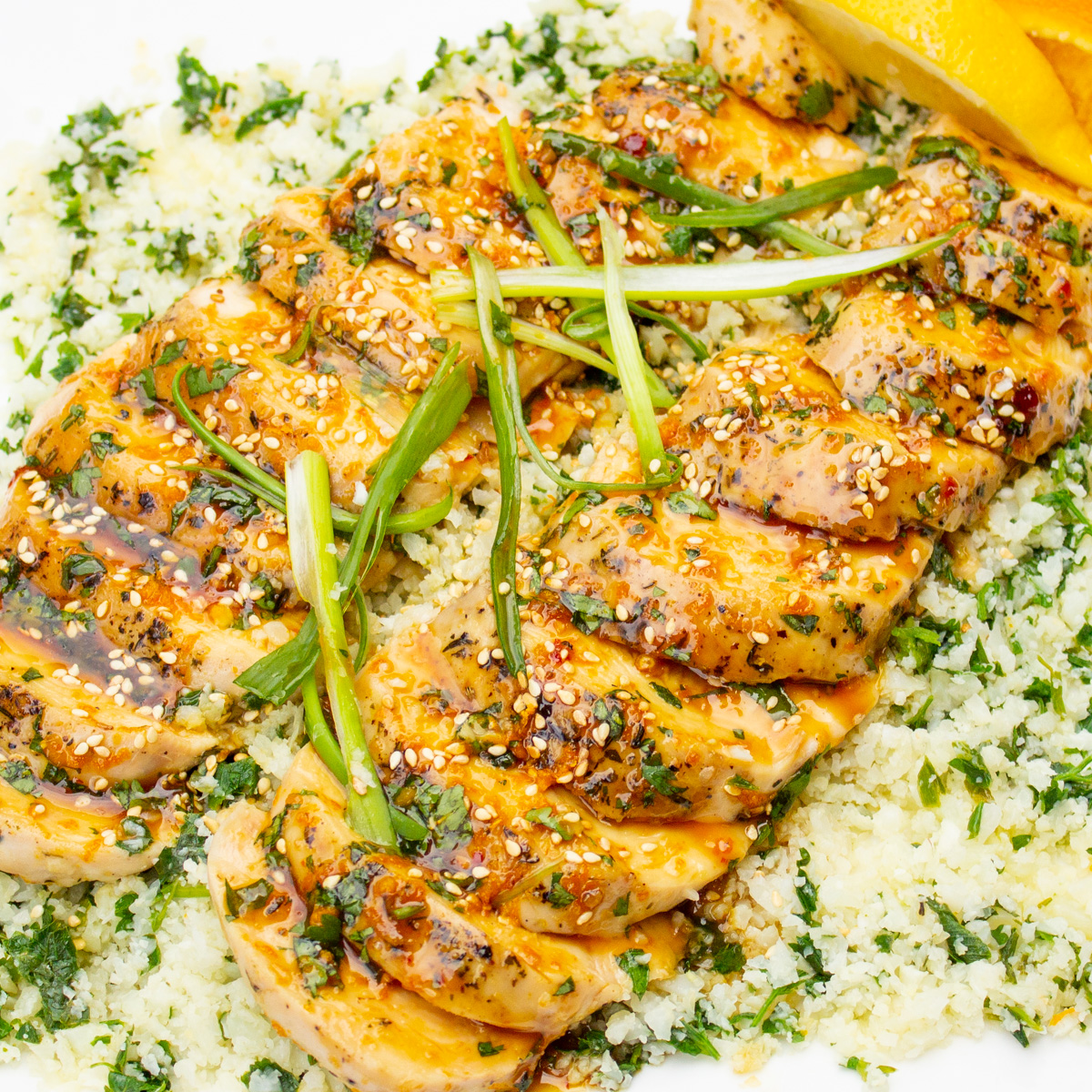 This tender, juicy citrus glazed sous vide chicken breast is bursting with flavor from a sweet, tangy glaze of maple syrup, orange, lemon and lime. Company worthy.
Get the recipe
Sous Vide Pork Chops (Vietnamese-style)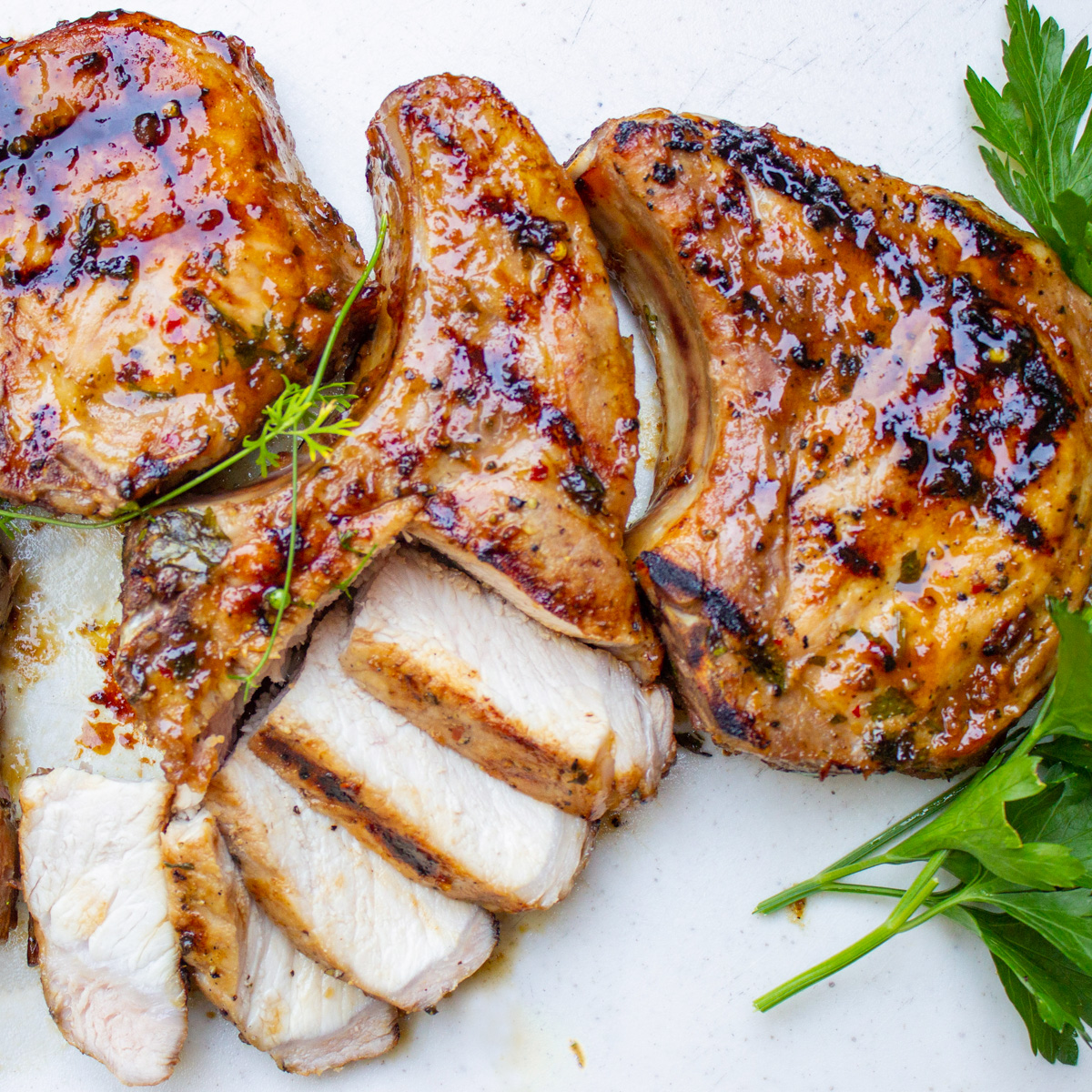 The sous vide cooking method is simply fantastic for pork chops. It keeps them moist and juicy and tender. The Vietnamese marinade and glaze takes them over the top with umami, sweet, salty flavors. So good.
Get the recipe
Sous Vide Pork Chops with apple chutney
You will not believe how moist and tender these sous vide pork chops are. Pair them with tangy-sweet apple chutney for amazing flavor and a knock-out presentation.
Get the recipe
Indian Butter Chicken (Sous Vide or Regular)
The star of this scrumptious Indian Butter Chicken is a rich, creamy, Indian-spiced sauce with tomatoes, onions, garlic, cream and butter. You can cook the chicken with any method including Sous Vide.
Get the recipe
Sous Vide Flank Steak
Tender, succulent, flavourful meat cooked to perfection and drizzled with a rich, velvety sauce is guaranteed with Sous Vided Flank Steak. Impress your guests!
Get the recipe
Sous Vide Salmon with Caper Sauce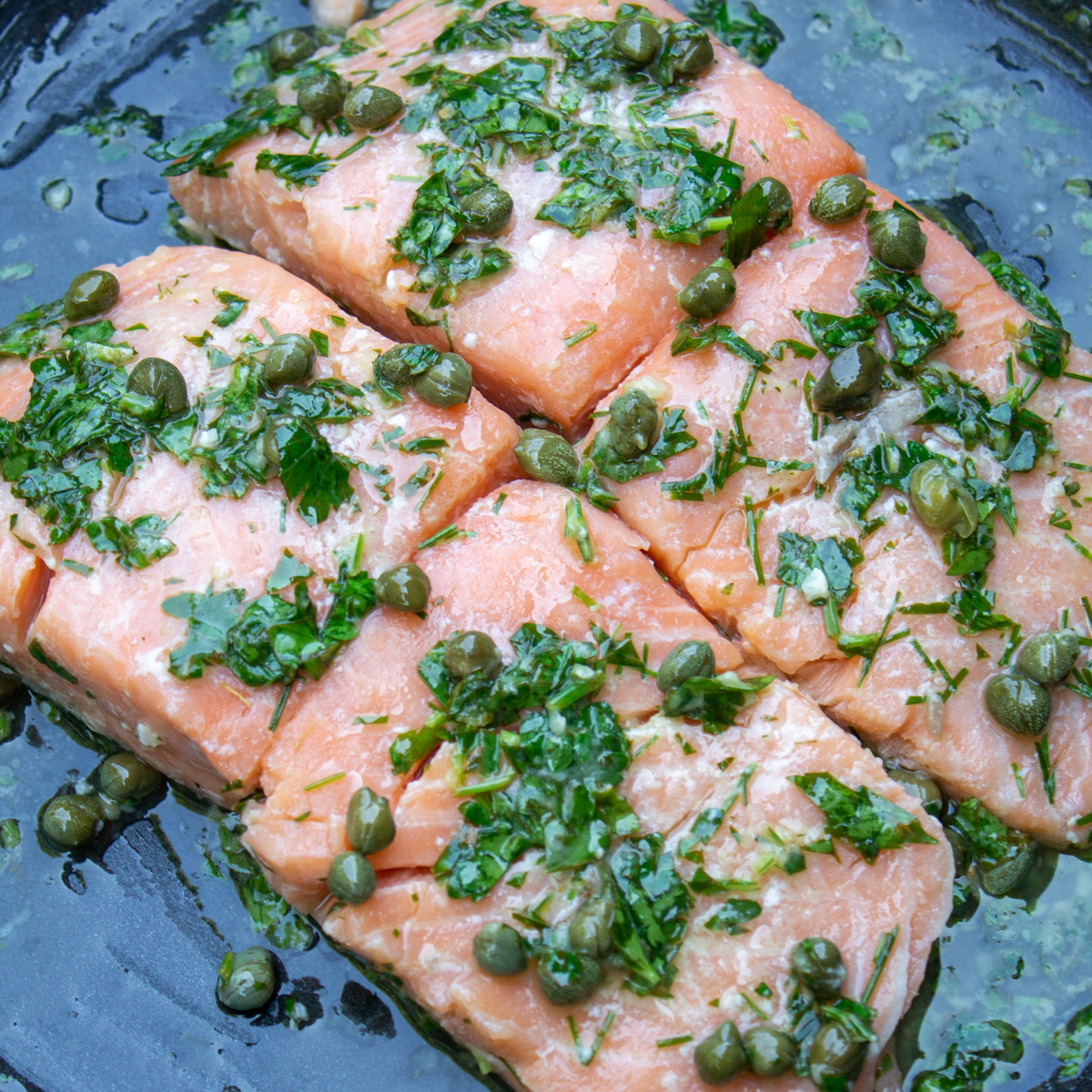 Sous vide salmon is cooked to perfection and finished off with a zesty caper sauce that adds a burst of flavor to the moist tender mild salmon.
Get the recipe