The star of this scrumptious Indian Butter Chicken is a rich, colourful, creamy, Indian-spiced sauce with tomatoes, onions, garlic, cream and butter. You can use chicken cooked Sous Vide or with any other method. And you can also make a dairy free version.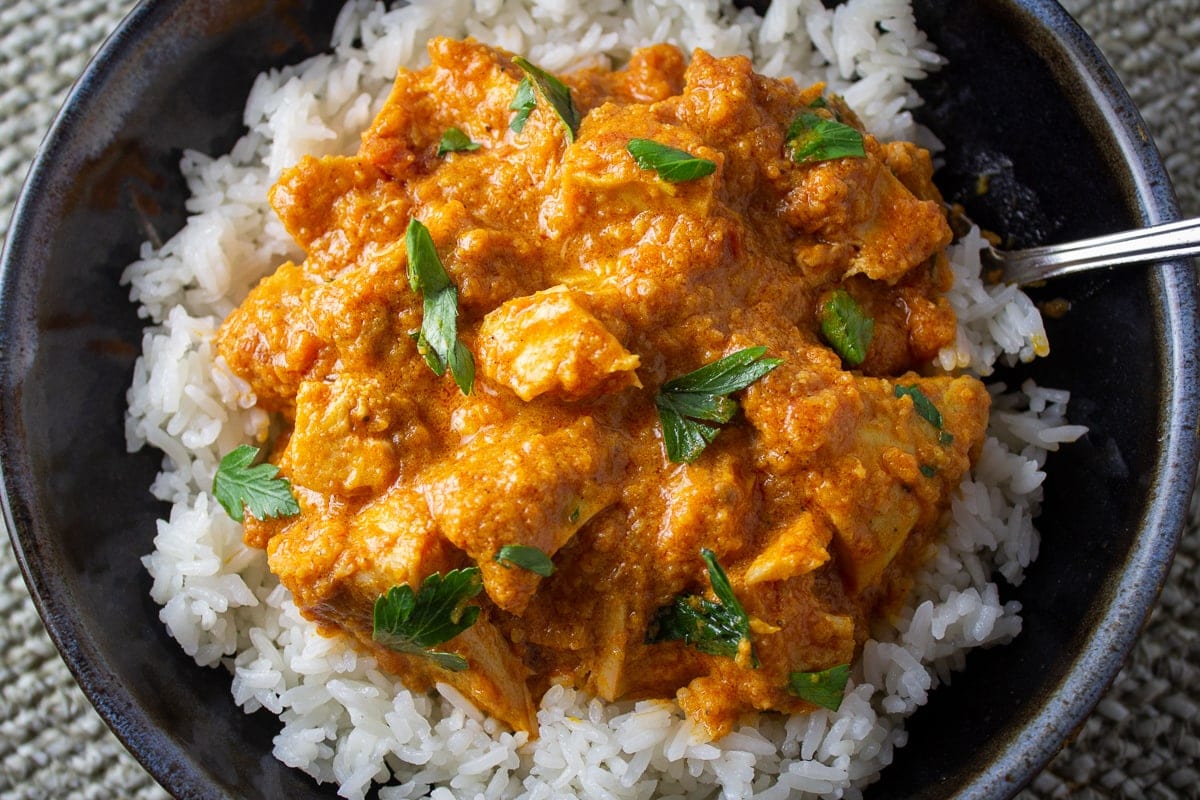 I created the recipe after lots of research and testing.  It's loosely based on an allrecipes recipe for butter chicken with the butter and cream cut way down as well as a few process changes. The creaminess and flavors still come through in spades though.
I suggest getting good Indian spices for this dish. I bought small quantities at our local Bulk Barn. Both Tandoori and Garam Masala create the special flavors, but in a pinch, you can substitute curry powder.  You can also blend your own spices to create Garam Masala (see Substitutes below) if you have trouble finding it.
I started out thinking this would make a great Sous Vide recipe and it does. The chicken is tender and juicy and wonderful bathed in the creamy sauce. The cooking method for the chicken, however, is flexible since the star of the dish is the sauce. Baked and grilled work well or feel free to use store-bought rotisserie chicken for a shortcut.  Several options for the chicken are provided in the recipe.
This dish can be made ahead and warmed gently on the stove.  Serve over hot Basmati rice with Naan (Indian bread) for dunking.
Tailor To Your Taste
Add a 1/2 tablespoon of fresh grated ginger while cooking the onions (several recipes used ginger)
If you like some sweetness in your butter chicken, add a tablespoon of brown sugar.
Add 2-3 cups roughly chopped fresh baby spinach for great color and extra veggies
Increase the cayenne pepper or add chili flakes if you like more heat
The sauce looks a bit grainy because of the minced onion (texture is not affected). If you don't like the look, you can

chop the onion instead of mincing it,
blend the sauce with a handheld immersion stick blender before adding the cream, or
quarter the onion, boil in water until soft, then puree in a blender or processor.
Substitutes for Indian Butter Chicken (sous vide or regular)
Use 1/2-1 cup coconut milk instead of half and half cream – and margarine – to make a dairy-free version
Use curry powder instead of Tandoori or Garam Masala
To make 1 teaspoon of garam masala, combine: 1/4 teaspoon cumin, 1/4 teaspoon paprika, 1/8 teaspoon cinnamon, 1/8 teaspoon cayenne pepper, 1/8 teaspoon crumbled bay leaves.
Use a chicken substitute, vegetables or tofu for a vegetarian version
Shortcuts
Mince onions by pulsing them in a food processor
Use store bought chicken, boned and cut into pieces, instead of cooking your own.
Ingredients
Ready for Sous Vide
Sous Vide chicken done
Sauce in the making
Cream added
Chicken added, ready to serve


Print Recipe
Pin
Rate this recipe
Indian Butter Chicken (Sous Vide or Regular) Recipe
The star of this scrumptious Indian Butter Chicken is a rich, creamy, Indian-spiced sauce with tomatoes, onions, garlic, cream and butter. Use chicken cooked sous vide or any other method.
Ingredients
1 1/2

lb

chicken breasts, boneless skinless

1

tbsp

olive oil

1/2

tsp

salt + 1/4 teaspoon pepper

1

tsp

curry powder
Sauce
3

tbsp

butter

1

onion, minced

(or pulse until very fine in processor; drain liquid if needed)

1

tbsp

garlic, minced

(3 cloves)

1 3/4

cup

tomato sauce (15 oz)

(or Marinara sauce)

1

cup

half and half cream

OPTIONAL: 2-3 cups fresh baby spinach, roughly chopped
Seasonings for Sauce
1/2

tsp

cayenne pepper or more to taste

1

tsp

garam masala

1

tbsp

Tandoori Masala

(or curry powder)

GARNISH: chopped parsley or cilantro
Instructions
MAKE CHICKEN: Mix together - and coat chicken with - olive oil, salt, pepper and curry powder. SOUS VIDE: Heat water in sous vide machine to 145F. Vacuum seal the chicken breasts. Or place in a ziploc bag, submerge into water until just the top edge of bag is above water, then seal the bag. Cook sous vide for 1 hour (max 2-3 hours). BAKE: Preheat oven to 400F. Bake chicken for 10-15 minutes or until instant thermometer reads 160F. To GRILL: Heat grill to medium high. Grill for 3-5 minutes per side depending on thickness. SHORTCUT: Buy a cooked rotisserie chicken, remove from bones and cut into bite size pieces. If chicken has just been cooked, let it rest for 10 minutes, then cut into bite size pieces.

MAKE SAUCE: While chicken is cooking, melt butter in skillet on Medium. Add onions and garlic and cook 5-7 minutes until onions are soft. Add tomato sauce, cream and seasonings for sauce. Mix to combine. Lower heat and simmer for 10-15 minutes, stirring occasionally.

FINISH DISH: Stir chicken into sauce. Taste and adjust seasonings. Garnish with chopped parsley or cilantro if desired. Serve over hot basmati rice with Naan bread for dipping.
Notes
Cook Methods and Timing: The recipe shows 3 methods to cook the chicken - Sous Vide, Baking and Shortcut (buying a pre-cooked chicken). The timing for the recipe is under 30 minutes if you bake or use a pre-cooked chicken. Sous Vide will take longer (but the chicken is deliciously moist and tender). 
Here's a saucy Hungarian-style dish you might like: