Crispy smashed potatoes with gremolata is potato heaven with an added burst of flavors from the parsley-garlic-lemon gremolata. Delish!
I was at a reunion recently where I sampled a pasta with tomatoes and gremolata. That fresh, bright citrus-y garlic-y, herb-y gremolata inspired me to try it out on some crispy smashed potatoes.
These potatoes are seriously delicious – soft of the inside with crispy edges, garnished with Gremolata, a mixture of fresh zesty parsley, lemon and garlic.
I used the the classic Italian version of Gremolata (by Dana Velden from Kitchn) but the herbs and even the citrus can be tweaked to your preferences. Typically, Gremolata is used as a garnish on meat, pasta, chicken, fish or roasted vegetables, adding real zip to whatever you sprinkle it on. I think I'm going to try it as a garnish for my next stir fry. (My husband is probably groaning – he thinks I use lemon on everything. Mind you, he did love these potatoes).
These crispy smashed potatoes with would be a great side for Grilled Pork Chops,  Chicken Meatloaf with Vegetables or Cedar Planked Grilled Whole Chicken. OK, who am I kidding? They're great with anything:)
Tailor To Your Taste
Here's a few adjustments you can consider:
I use curly leaf parsley (as per our Herbs: The Bare Essentials post), but flat leaf would work as well. Or, you can try basil or thyme.
For extra decadence,

use half melted butter and half oil when roasting the potatoes
serve the potatoes with dollops of fresh sour cream. (My friend Viv would love that).

Substitute Yukon Gold potatoes if you like After boiling, cut them in half or quarters before smashing them, depending on their size.
Make Ahead Crispy Smashed Potatoes With Gremolata
You can make the Gremolata ahead and the potatoes up to the point where they go into the oven to roast.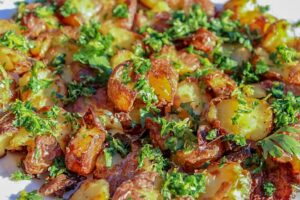 Print Recipe
Pin
Rate this recipe here
Crispy Smashed Potatoes with Gremolata Recipe
Crispy smashed potatoes with gremolata is potato heaven with an added burst of flavor from the parsley-garlic-lemon gremolata. Delish!
Ingredients
1.5

-2 pounds baby potatoes

(red or white)

2

tbsp

olive oil

salt and pepper, to taste
Gremolata
1

cup

loosely packed parsley, washed and dried

1

clove fresh garlic

(or half if you don't like strong garlic)

2

lemons (for zest)

salt and pepper to taste
Instructions
Preheat oven to 450F

BOIL POTATOES: Place washed potatoes in boiling water with 2 teaspoons salt added. Boil on medium heat for 10-15 minutes, depending on the size of the potatoes. Potatoes should be soft and easily pierced with a knife. Drain, place back in pot and shake pot lightly over heat for a minute to remove moisture from potatoes.

SMASH AND ROAST POTATOES: Line a rimmed baking pan with foil. Drizzle about 1/2 tablespoon of olive olive on foil and spread around to cover pan. Place potatoes on pan. Using the flat bottom of a mug or measuring cup, gently press down on each potato until it splits. Keep pressing until potatoes are about 1/2 inch thick. Don't worry if a few fall apart (they still taste great!). Brush remaining oil on potatoes and sprinkle with salt and pepper. Roast in oven for about 22-30 minutes or until potatoes are golden brown and edges are crispy.

MAKE THE GREMOLATA: While potatoes are roasting, finely chop the parsley. Grate garlic using a microplane if you have one. Otherwise mince finely with a knife. Finely grate the lemon peels (yellow part only). Mix parsley, lemon and garlic together until well combined. Add salt and pepper to taste.

SERVE: Place crispy smashed potatoes on a serving platter. Sprinkle with gremolata and serve.
Other potato recipes you might like:
Vegetarian Sweet Potato Hash get the recipe
Grilled Hasselback Sweet Potatoes (shortcut) get the recipe
Grilled Potato and Vegetable Hash get the recipe