A perfect side for Rosh Hashanah, Passover or any feast, Roasted Glazed Carrot Tzimmes fuses the delicious, rich flavors of balsamic, maple, orange and cinnamon.
Tzimmes (or Tsimmes) is a Jewish sweetened vegetable and fruit concoction, typically made with carrots, sweet potatoes, honey and prunes or raisins.  Sometimes pineapple, dried fruits, apricots, butternut squash, nuts or oranges are used as well. Tzimmes is often served alongside meat on Rosh Hashanah, the Jewish New Year, to help usher in a sweet year. There are countless recipes out there for Tzimmes, most of them braised on the stovetop for about an hour to create a something like a stew. 
I decided to try a roasted carrot tzimmes version with a sweet full-bodied fruity orange-y, cinnamon-y, maple-balsamic glaze.   I also wanted to show off the multi-colored carrots I bought at a farmers market on the way home from my sister's cottage and thought roasting would maintain the colors and texture better.
First I roasted the carrots in a hot oven (450F) until they were just turning tender, but still had a bite.  While the carrots were roasting, I made the glaze which was then to the roasted carrots to continue to roast for another 15-20 minutes until the glaze was well baked on and the carrots were tender. I garnished this dish with toasted chopped pistachios and parsley.
Boy, was it good!  Amazing with turkey, beef, pork, chicken or lamb.  And perhaps tofu?  I'll have to ask Jenna, the other kook (and my vegetarian daughter) to try that.
Tailor to your Taste
Consider doubling the glaze/sauce if you want it to soak into mashed potatoes or quinoa on your plate, for example.
Add a tablespoon of butter to the glaze after it's thickened to make it even silkier and glossy.
Use dried prunes, cranberries or apricots instead of raisins.
Squeeze on a splash or two of lemon juice or add a teaspoon of lemon zest before serving to add brightness and balance the sweetness.
Substitute toasted chopped walnuts or almonds for the pistachios.
Make Ahead
You can pre-roast the carrots and make the sauce ahead of time.  Then finish the glazing and final roasting (last step) before serving; or
Make the entire dish, under-cooking the carrots a bit.  Then rewarm it in the oven at 350-375F for 10 minutes or so. Add garnish.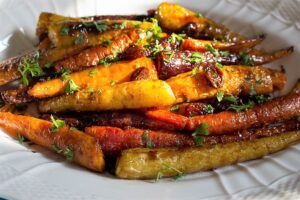 Print Recipe
Pin
Rate this recipe
Roasted Glazed Carrot Tzimmes Recipe
A perfect side for Rosh Hashanah or any feast, Roasted Glazed Carrot Tzimmes fuses the delicious, rich flavours of balsamic, maple, orange & cinnamon.
Ingredients
2

lb

whole carrots

(I used fresh multi-colored from farmer's market)

1

tbsp

oil

1/4

tsp

each, salt and pepper

GARNISH: chopped parsley, chopped pistachios or other nuts
Glaze/sauce
2

tsp

orange zest

1/2

cup

fresh orange juice

(about 1 1/2 oranges)

1

tbsp

maple syrup

2

tbsp

good Balsamic vinegar

1/2

tsp

cinnamon powder

1/2

tsp

cornstarch

1/4

cup

raisins
Instructions
Heat oven to 450F

PREPARE CARROTS: If carrots are farm fresh, no need to peel them. Just give them a scrub. Otherwise, peel carrots. Cut thicker carrots in half lengthwise so that all carrots are about the same thickness (to cook evenly).

ROAST CARROTS: Line a small pan with foil and spray with oil. Lay out carrots. Drizzle oil and sprinkle with salt and pepper. Toss around to coat evenly then lay out carrots so they don't overlap. Roast 15-20 minutes - turning once with a spatula halfway through - until partially (not fully) soft and starting to caramelize.

MAKE GLAZE/SAUCE: While carrots are roasting, in a small sauce pan, stir all glaze/sauce ingredients together. Bring to boil, reduce to medium and cook for 5 minutes until somewhat thickened and reduced a bit.

GLAZE CARROTS AND FINISH ROASTING: Remove carrots from oven. Pour glaze/sauce carrots and mix to coat evenly. Return to oven and roast for 10-20 more minutes until carrots are tender, but not mushy. NOTE 1). Transfer to platter or bowl. Garnish with chopped parsley and pistachios or other nuts. Serve immediately.
Notes
Final step and serving. Instead of finishing carrots on a sheet pan, transfer to a shallow oven proof serving dish and complete the final glazing step. No need to transfer to a new serving dish.
If you prefer a simpler carrot side dish, try:
Roasted Honey-Thyme Carrots Get the recipe