Simple Roast Chicken and Potatoes
The ultimate in Friday night or Sunday dinner comfort food – roast chicken and potatoes. The chicken is moist and flavorful, but it's the potatoes that are outstanding. They absorb the juices from the chicken, lemon, onion and garlic – and taste sublime. You do not want to miss them.
This one pan chicken and potatoes recipe is simple and rustic. Nothing fancy. Just delish.
Start with a butterflied chicken (yes, there are options here). Add potatoes, seasoning, garlic, onions and lemon to the pan and roast everything together. While the chicken is resting, continue roasting the potatoes until nicely browned, slightly crispy on the outside and creamy on the inside. That's it.
The prep is easy and the hands on time is minimal. As always, there are lots of variations and substitutes you can try. I'm not going to lie. I make this a lot because of the delicious potatoes.
All you need to complete this one pan chicken and potatoes meal is a salad and/or vegetable. Some good options that will share the oven in the final step are: roasted baby cauliflower or easy roasted bok choy and broccoli. Or try roasted honey glazed carrots, peach salad with walnut dressing or a green salad with mango salad dressing.
Good to Know – FAQ
What is a spatchcock chicken?
Spatchcocking a chicken means removing the back bone and pressing the chicken flat. You will also see other names for a spatchcock chicken like flattened or butterflied chicken. The advantages are that the chicken cooks much faster (about 30-50% faster) and more evenly. And the skin gets crispier because it's more exposed to the heat. The chicken is also much easier to cut for serving.
Should I brine the chicken before roasting it?
If you have the time, it's a great idea to brine a chicken because it will make the chicken more moist and flavorful. You can use a wet brine or dry brine. Kosher chickens are already brined, so if you can snag one where you live, you can skip the brining. Bon Appetit has a good article on types of brines and how to do it including 31 brine recipes . I keep it super simple with instructions in the recipe notes.
Will there be drippings to make a gravy?
No, most of the drippings will be soaked into the potatoes which is why they taste so darn good. You can, however, make a quick 5 minute gravy found in this roast chicken breast and gravy recipe.
Tailor To Your Taste
Chicken
I prefer using a flattened or spatchcock chicken as it cooks quicker and I find it stays juicier than chicken pieces. You can, however, use a whole chicken or pieces if you like. Just adjust the cooking time.
Brining the chicken before roasting will make it moister and juicier. If you have the time, I think it's worth it. Instructions are in the recipe notes. Alternatively, buy a kosher chicken which is already brined.
Potatoes
Yukon gold, red potatoes or baby potatoes will all work well. Just cut them about the same thickness for more even cooking.
Vegetables
Add peeled and sliced carrots (1/2 inch/1.27cm thick) to the potatoes and onions.
Use any onions you like – green onions, sweet onions or red onions.
Seasoning
Use whatever seasoning blend you like best.
Try Moroccan flavors with curry powder, cumin and cinnamon for example.
If you don't like lemon, feel free to skip it.
Shortcuts
Buy a pre-seasoned chicken or a pre-mixed chicken rub.
Ask a butcher to spatchcock/flatten the chicken for you. Or buy a flattened chicken, available in most larger grocery chains. It will be a bit more expensive but save you the trouble of doing it yourself. (It's pretty easy though)
Buy kosher chicken, already brined, so you don't have to bother.
Make Ahead
The roast chicken and potatoes can be prepared several hours ahead and roasted when you need them.
Keep leftovers in the fridge up to 3-4 days.
To rewarm, see instructions in the recipe notes.
Other oven roasted chicken recipes you might like
How to make roast chicken with potatoes in one pan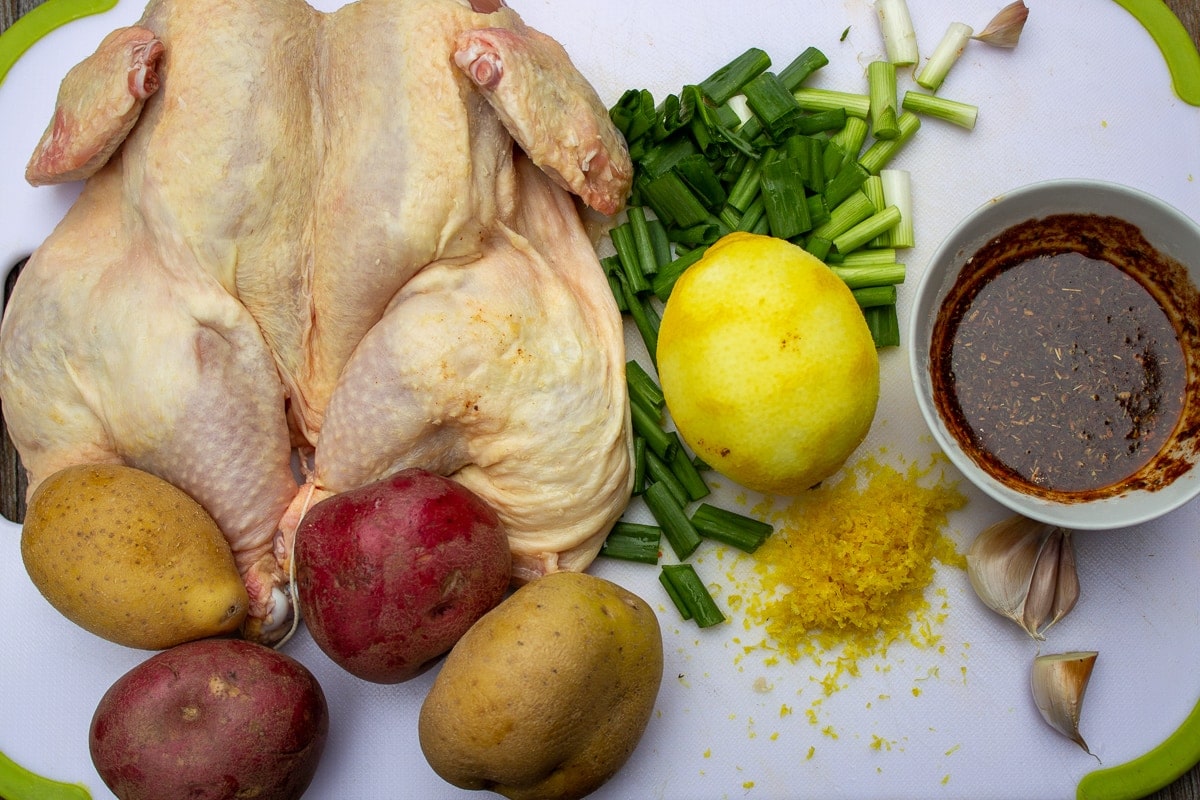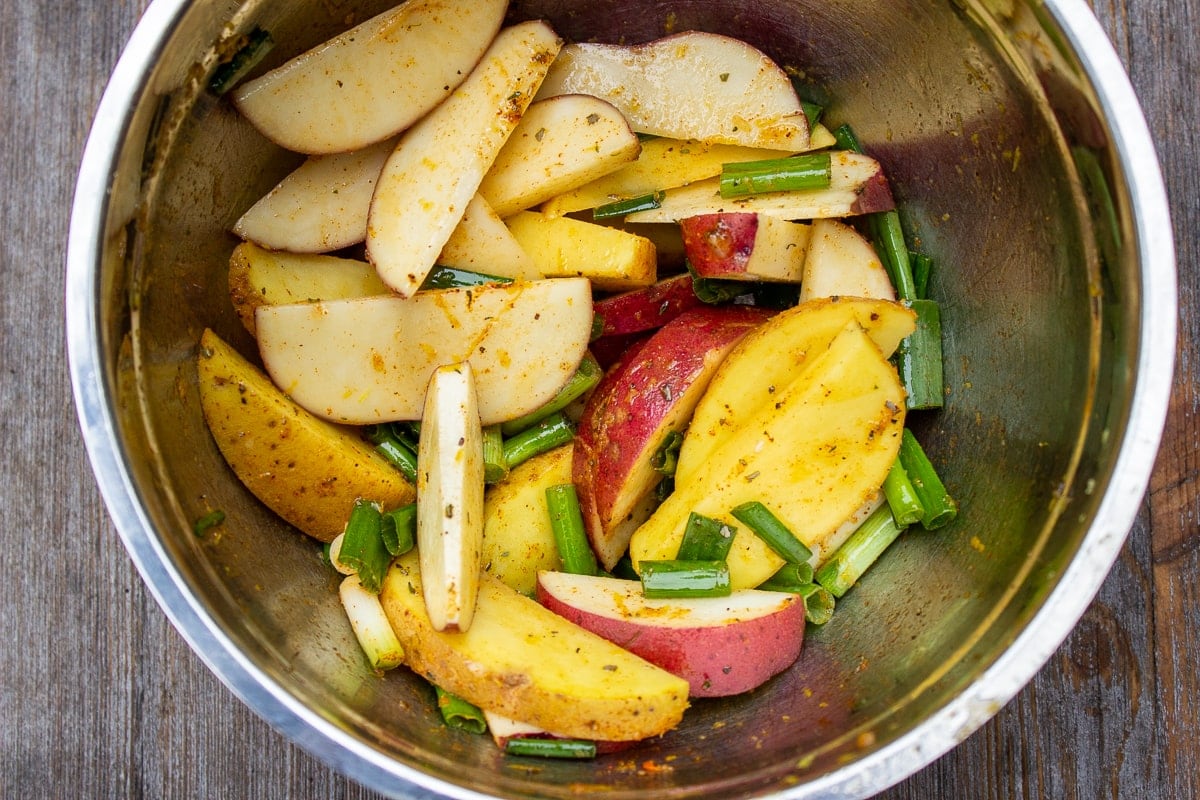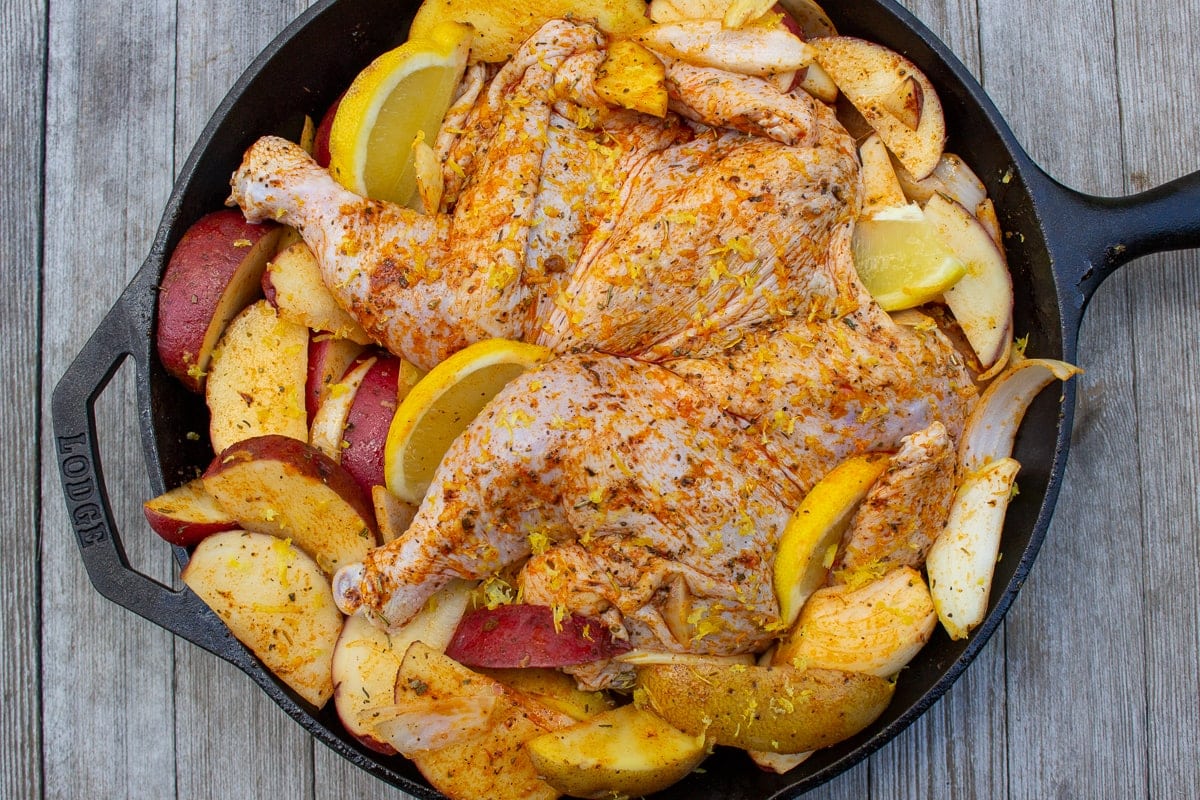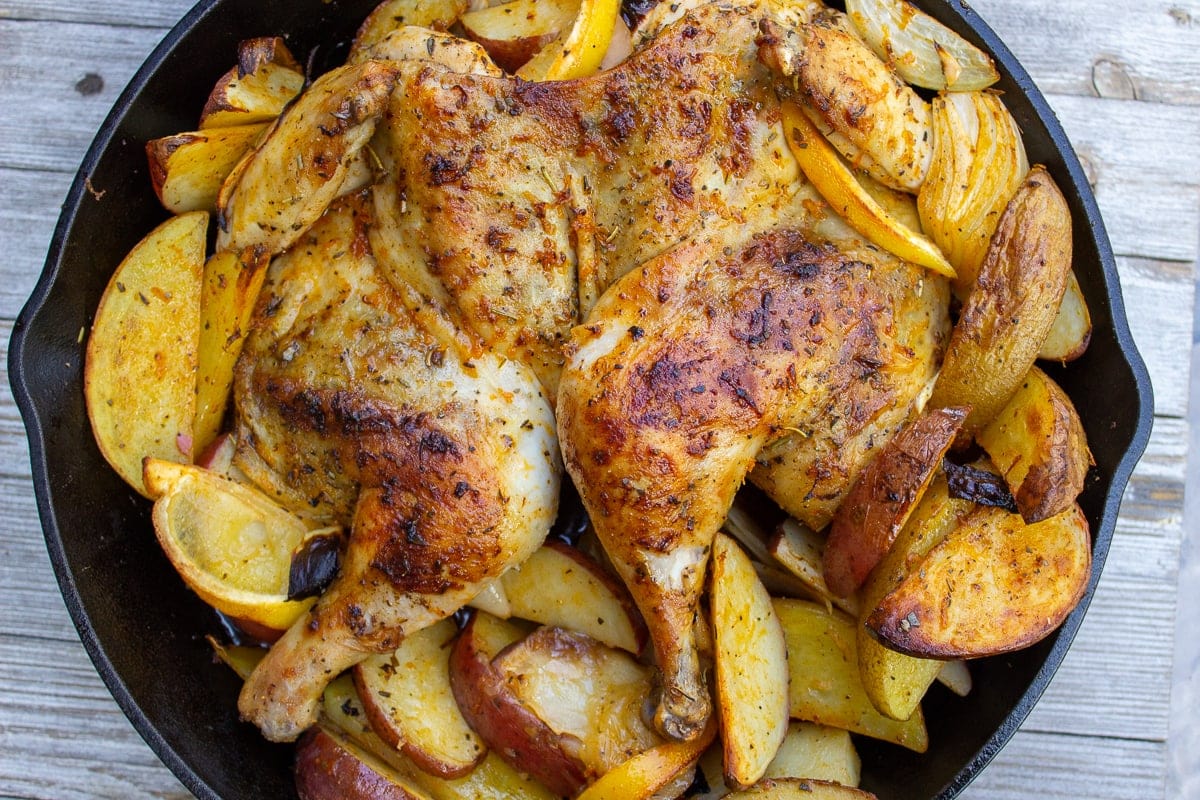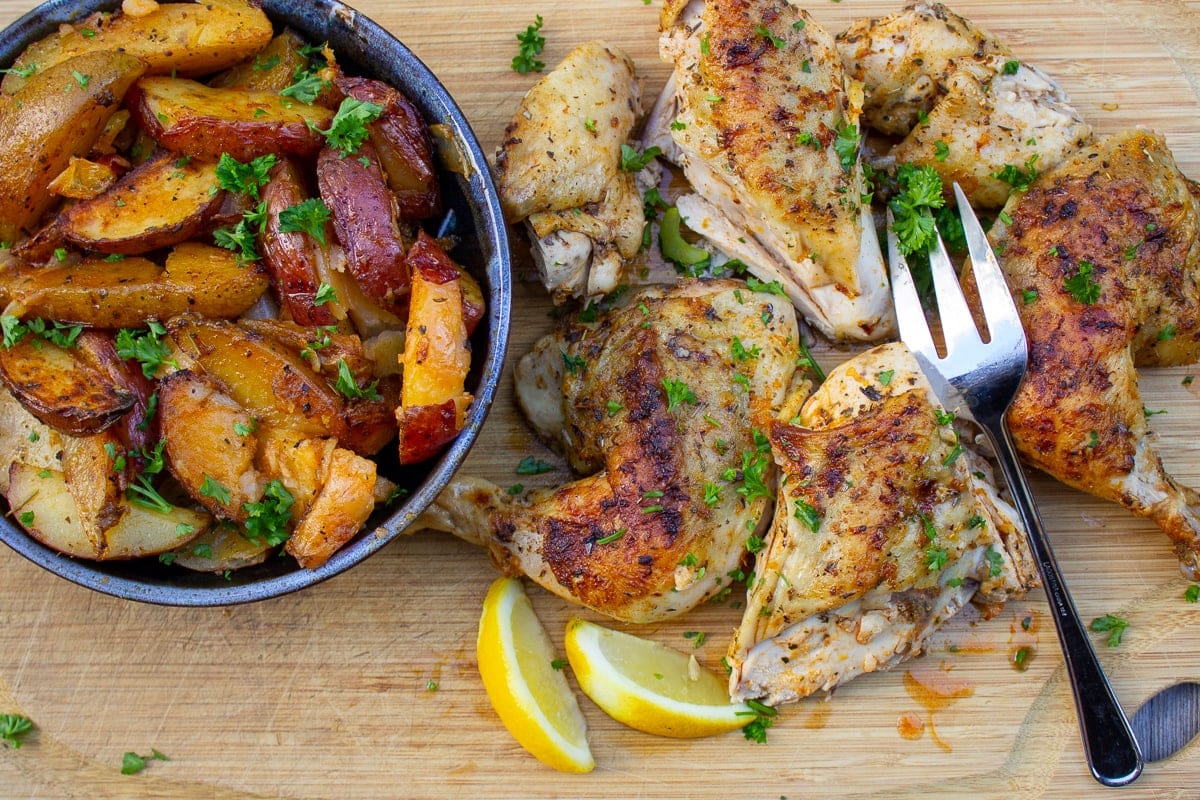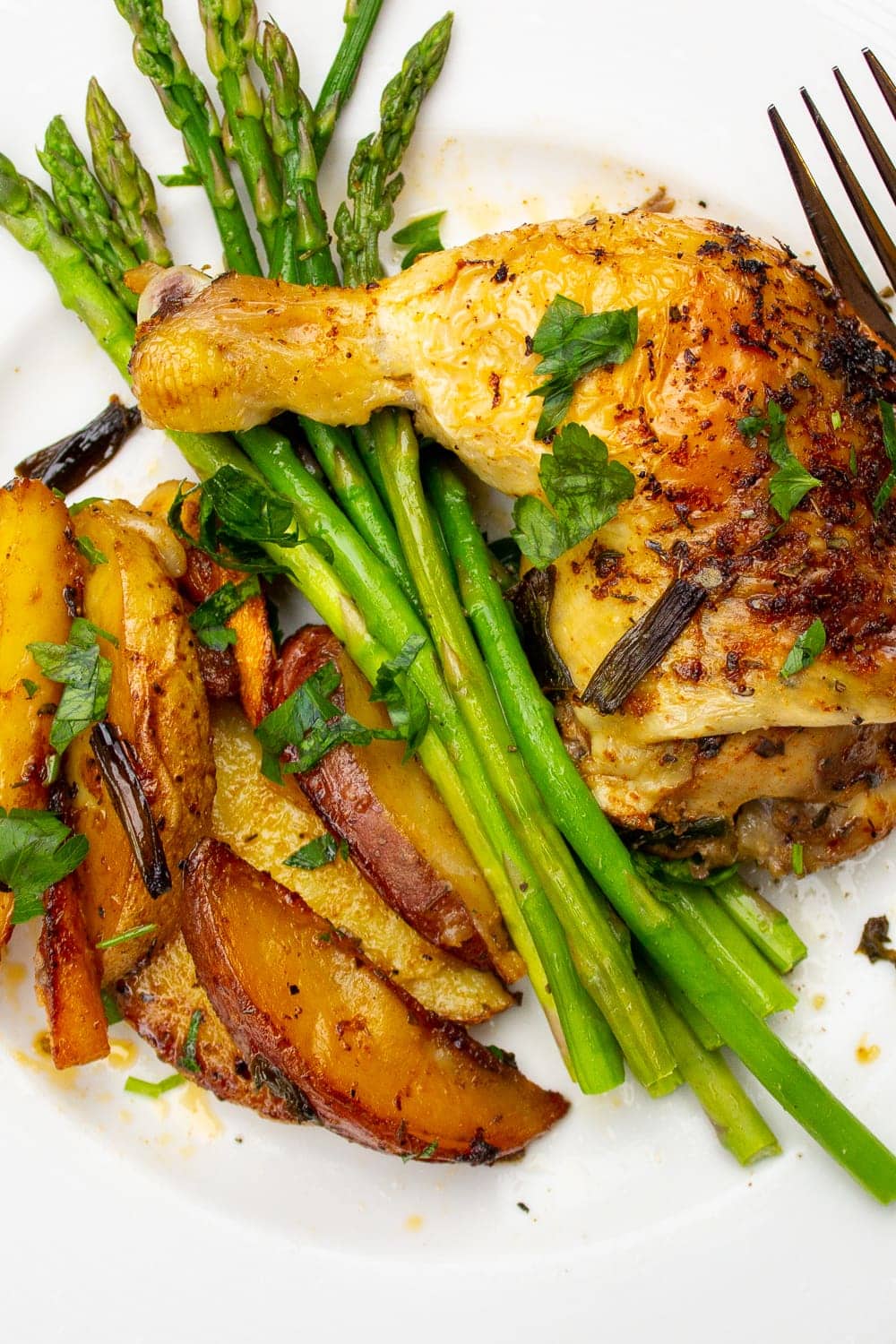 Simple Roast Chicken and Potatoes
The ultimate in Friday night or Sunday dinner comfort food – roast chicken and potatoes. The chicken is moist and flavorful, but it's the potatoes that are outstanding. They absorb the juices from the chicken, lemon, onion and garlic – and taste sublime.
Servings:
4
(or 3 if small chicken)
Equipment
large cast iron skillet or roasting pan
Ingredients
1

spatchcock (flattened) chicken, Note 1

(about 3-4 lbs/1.36-1.8kg)

1/2

onion, peeled, sliced, about 1 cup/52g

(or 1/2 cup/50g chopped green onions)

1.25

lbs

(0.6kg) potatoes, cut into wedges, Note 2

3/4-1 inch thick (2-2.5cm)

1

lemon, zested

(you need lemon and zest)

4

cloves garlic, peeled and cut in half

1/2

cup

(118ml) water
Seasoning
1/4

cup

olive oil

1

tsp

EACH, garlic powder, dried thyme and kosher salt

2

tsp

smoked or regular paprika

1/4

tsp

ground pepper
Brine (optional)
4 cups cool water; 3 tablespoons kosher salt; 1 tablespoon sugar; 5 peppercorns; 1 garlic clove; and 1 teaspoon of dried herbs of your choice

(simpler version: use just the water and salt)
Instructions
HEAT OVEN to 425F/218C. Spray skillet or roasting pan with oil.

BRINE CHICKEN (OPTIONAL): Note 3

PREPARE CHICKEN AND POTATOES: In a small bowl, mix all seasoning ingredients. Rub 3/4 of mixture over chicken, including under the skin (gently separate skin from meat). Place chicken, skin side up, in centre of skillet (or roasting pan). Sprinkle lemon zest over chicken.

Tuck onions, potatoes and garlic around the chicken. Use clean hands to toss with remaining seasoning mixture. Tuck slices of lemon among vegetables. Add water to bottom of pan.

ROAST: Roast chicken in oven for 35-45 minutes, depending on size, or until instant thermometer reads 155F-160F/71C (it will rise to 165F/73.8C with resting). Remove chicken from oven, transfer to plate and loosely cover with foil to keep warm and rest for 15-20 minutes to keep juices in chicken.

FINISH POTATOES: While chicken is resting, stir potatoes gently, sprinkle with salt if needed, then place skillet of potatoes back into oven for 15 minutes to brown and crisp up further. If desired, make a quick gravy, Note 4.

SLICE AND SERVE: Cut chicken into quarters or eighths. Serve with potatoes (remove lemon slices) and optional gravy if you like. Garnish with fresh thyme or parsley.
Notes
How to spatchcock a chicken: Cut along both sides of the backbone. Remove it. Then turn over the chicken and press down firmly on the breast to flatten it. Here is a video on how to spatchcock a chicken.
Potatoes: Use Yukon gold, red potatoes, cut into wedges. You can also use new potatoes cut in half or quarters depending on size.  
To Brine Chicken (optional): Put all brine ingredients (or just salt, sugar and water) in a ziploc sealed bag or container. Mix well to dissolve. Submerge chicken fully in liquid. Let brine in fridge for 2-5 hours in fridge. Then rinse and pat chicken dry. Bring chicken to room temperature for more even cooking. 
How to make an easy gravy: I like to use full strength broth (like Campbell's) which means you add your own water. This way I control the depth of flavor. Low salt broth is fine. If you are using homemade broth or ready-to-use broth in a box, omit the water in recipe and add an extra 1/2 cup of broth. You can also substitute broth for the sherry/wine. Instructions:

Put 2-3 tablespoons of oil into a small saucepan. Heat to medium high. Add 2 tbsp chopped green onions and cook for 1-2 minutes. Stir in 3 tbsp flour, reduce heat to medium and cook for 2 minutes. (It should be a loose paste. If too dry, add a bit more oil). Add sherry (optional) and cook another 2 minutes, stirring. Add 2 cups broth (or combination broth/water) and whisk until smooth. Add 1 tsp dried thyme (or 1 tbsp fresh) and salt and pepper to taste.

Tip

: If you like your gravy darker, add a teaspoon of light soy sauce.

Make Ahead

The chicken and potatoes can be prepared several hours ahead and roasted when you need them. 
Keep leftovers in the fridge up to 3-4 days.
To rewarm, leave chicken on at room temperature for 30 minutes if possible. Then add a tablespoon or so or water or broth to the dish and either:

Microwave: Rewarm the chicken in the microwave, covered, for 2-3 minutes on high (or more if needed).
Oven: Rewarm in a 350F/176C oven, well covered with foil until heated through, about 20 minutes. 

The chicken will not have a crispy skin, but should still be moist. 
Potatoes can be reheated separately, uncovered, in the oven for about 10-15 minutes until heated through.
Nutrition values include chicken, potatoes and onions, but do not include brining the chicken before roasting. Brining will not add calories, but it will increase the sodium value. 
Nutrition
Nutrition Facts
Simple Roast Chicken and Potatoes
Amount Per Serving
Calories 649
Calories from Fat 387
% Daily Value*
Fat 43g66%
Cholesterol 143mg48%
Sodium 743mg32%
Potassium 1099mg31%
Carbohydrates 28g9%
Protein 39g78%
Vitamin A 776IU16%
Vitamin C 32mg39%
Calcium 54mg5%
Iron 3mg17%
* Percent Daily Values are based on a 2000 calorie diet.
Tried this recipe?
We'd love you to rate it above under 'rate this recipe' or in the comment section below. Thanks!