Butterflied Chicken with Teriyaki Glaze
If you like sweet, spicy, orange, garlic, ginger and soy flavors, you'll love this deliciously saucy butterflied chicken with teriyaki glaze. It makes a lovely weekend or holiday dinner.
The tender juicy chicken roasts in almost half the time of a regular whole chicken. The homemade teriyaki sauce gives it the perfect balance of sweet, savory with just a bit of a spicy kick. Be sure to check out the great short cuts.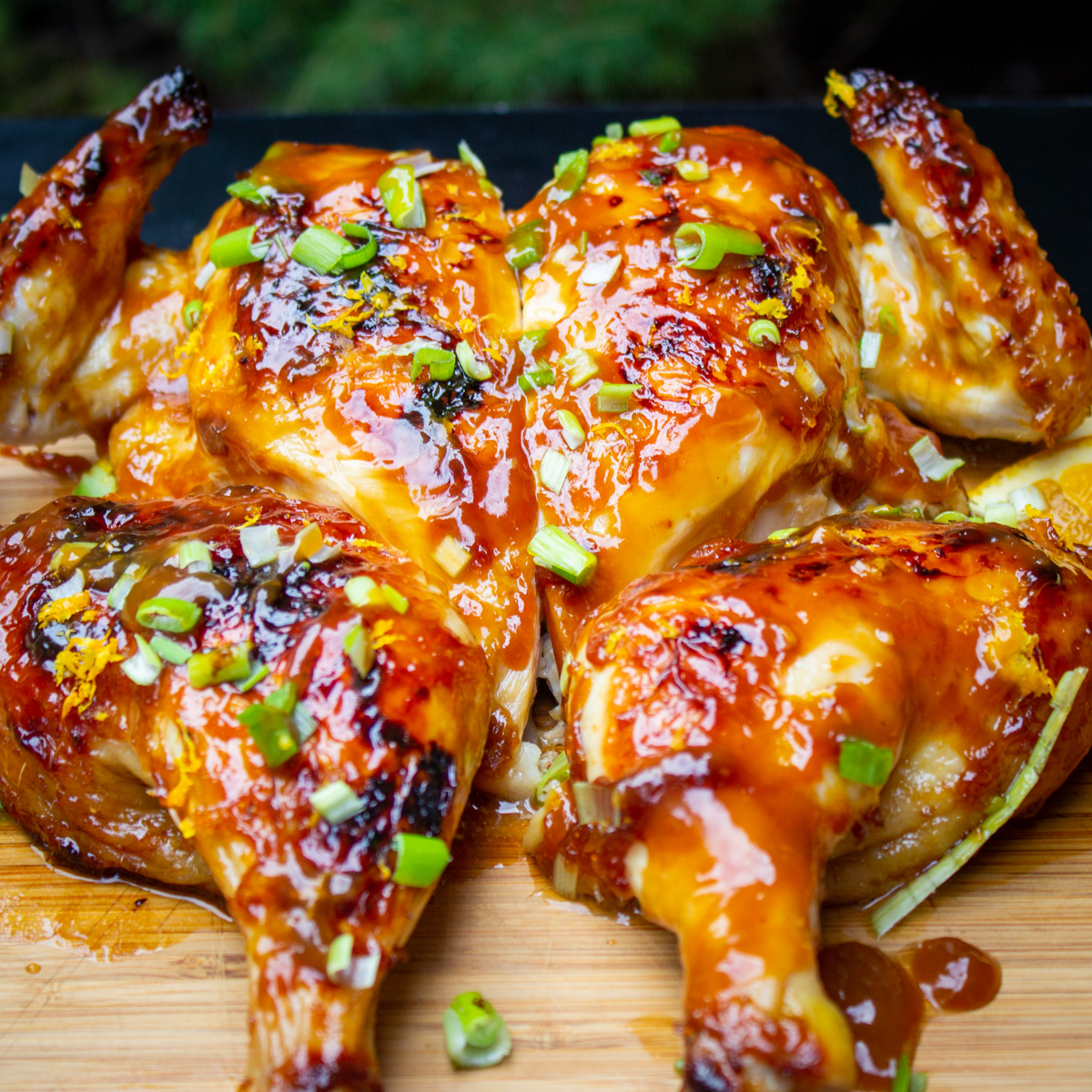 If butterflying a chicken sounds a little intimidating, you're going to be surprised at how easy it is.
Once you see how evenly it cooks and easy it is to cut, a butterflied whole chicken may become your new favorite way to roast chicken.
Bottom line: There's a lot to like about this recipe – bold flavorful chicken, the generous amount of teriyaki glaze for extra drizzling and the attractive presentation.
What is a butterflied chicken?
A butterflied chicken – also called spatchcocked chicken or flattened chicken – is an entire chicken with its backbone removed, opened like a book and flattened out.
It's pretty easy to do on your own with good poultry shears or a sharp knife. Instructions are in the recipe card. And here is a video on how to butterfly chicken.
Why bother with butterflying?
Why not just make a whole bird? Here's why butterflying (spatchcocking) is better:
More even cooking. The dark meat and breasts will be done at the same time with this cooking method. Much harder to do with a whole chicken.
Much shorter cooking time. Spatchcocked chicken cooks in 30-40% less time. 
Much easier to cut up Butterflied roast chicken is really easy to cut into four or eight pieces when cooked. 
Ingredients – tailored to your taste
Chicken: I love to use kosher chicken which is already brined. It's more flavorful and juicy, especially with the added marinade. But any roasting chicken will do fine. Buy a flattened chicken if you don't want to butterfly it yourself.
Teriyaki glaze: We're using an orange teriyaki glaze made with ginger, garlic orange, soy sauce, brown sugar, sriracha, honey and cornstarch (to thicken it), The recipe makes a lot. You'll have plenty extra for drizzling on the chicken or your sides. Or save any leftovers for a stir fry. Here are a few sauce variations to try:
Substitute the orange juice with pineapple juice if you're not an orange fan.
Skip the orange zest if you don't want the orange flavor as intense.
Substitute honey or maple syrup for the brown sugar.
Step by step instructions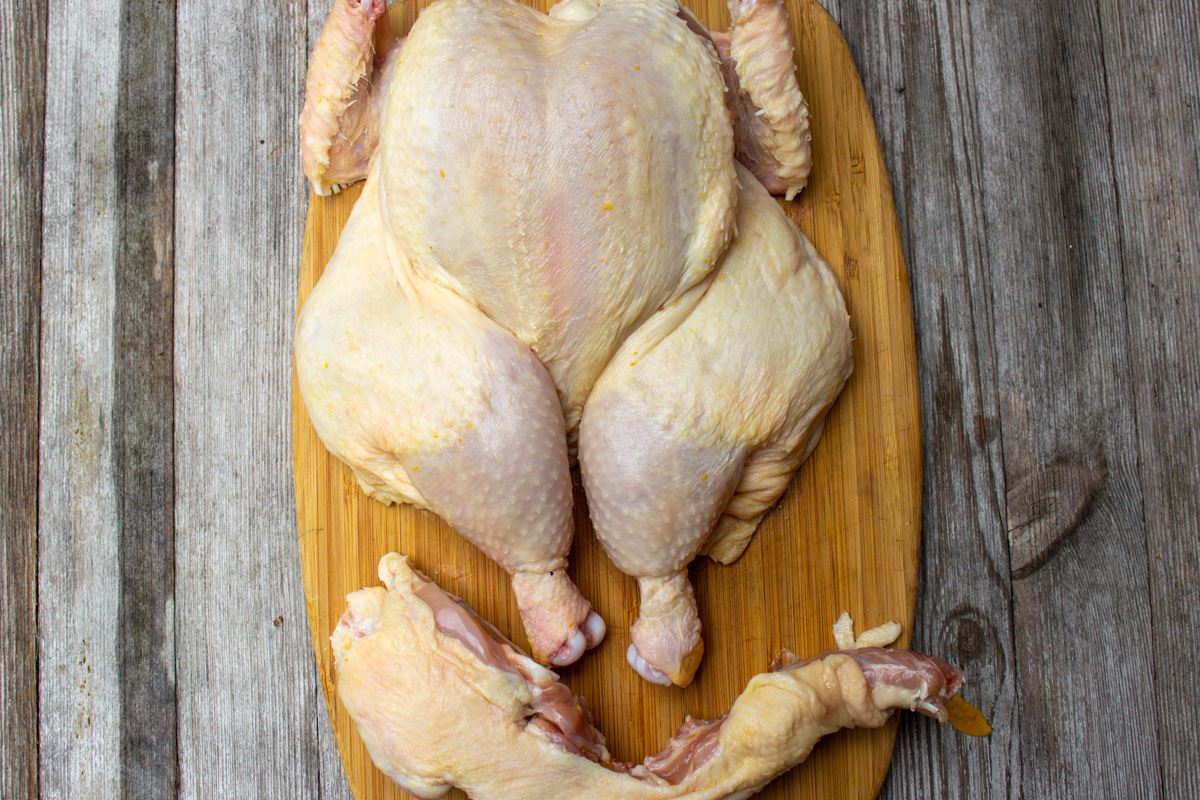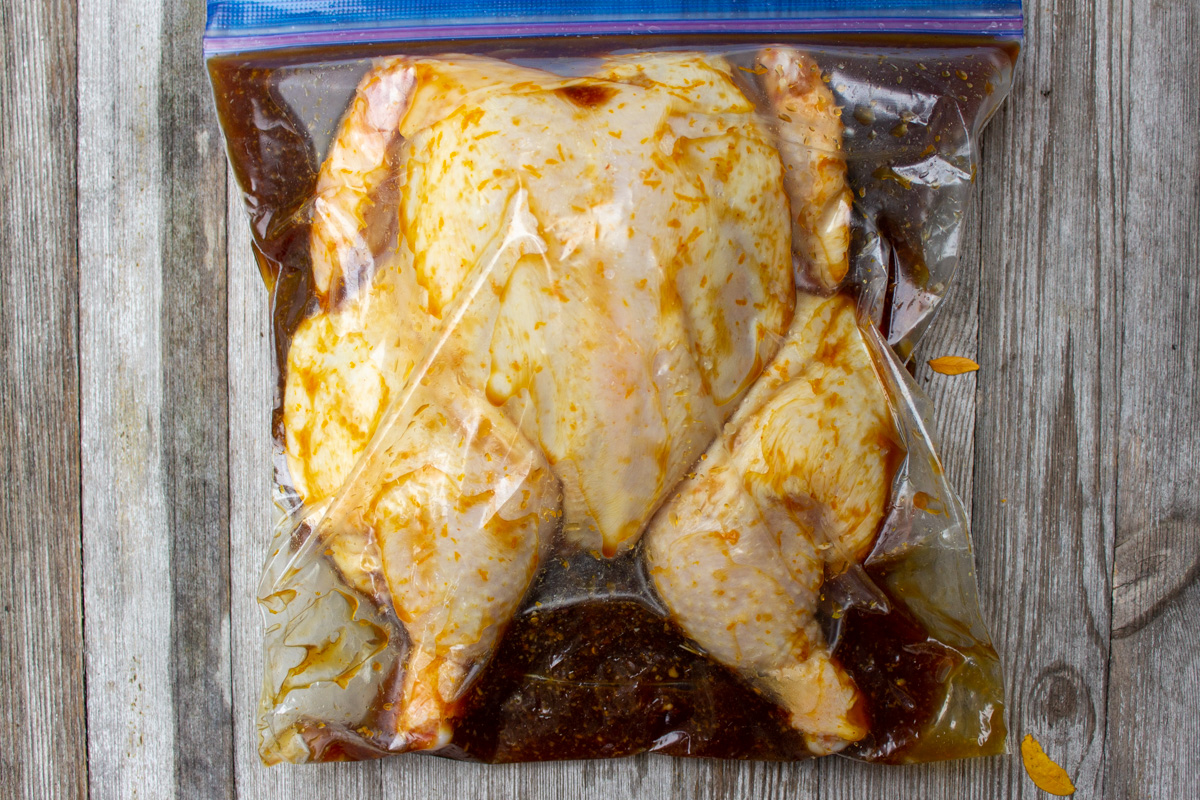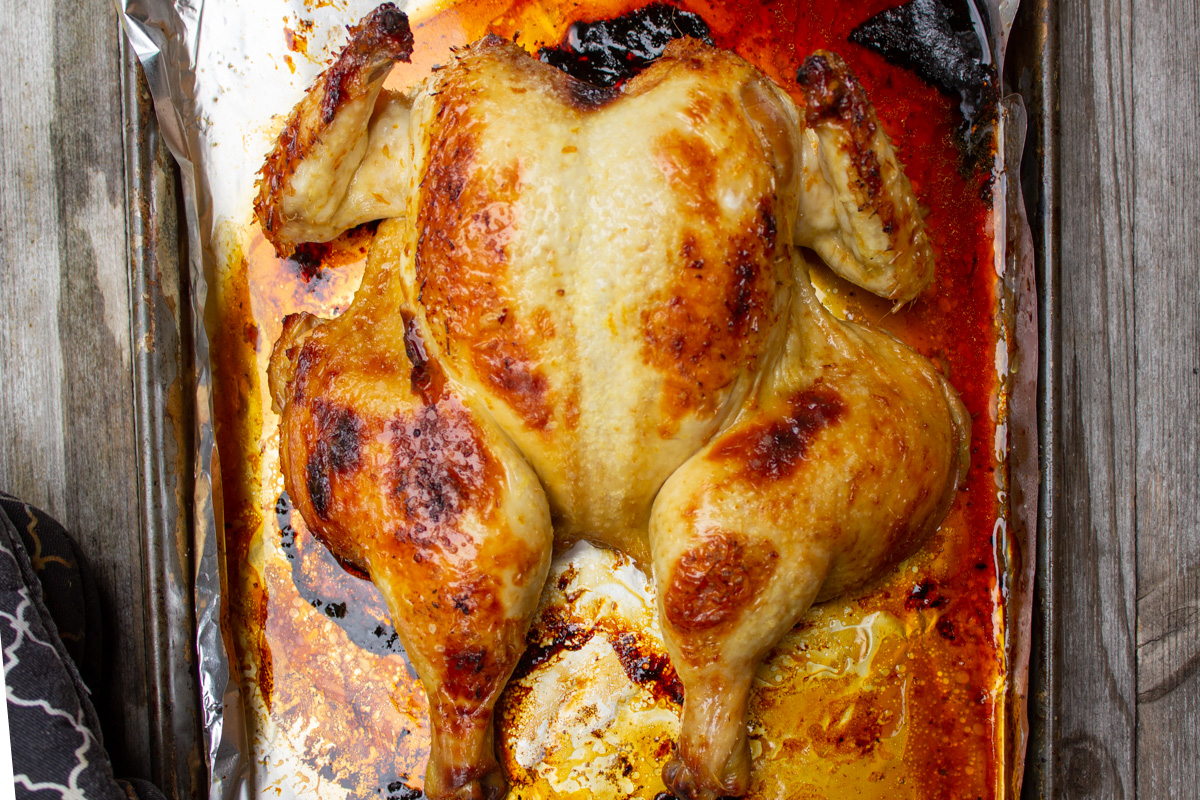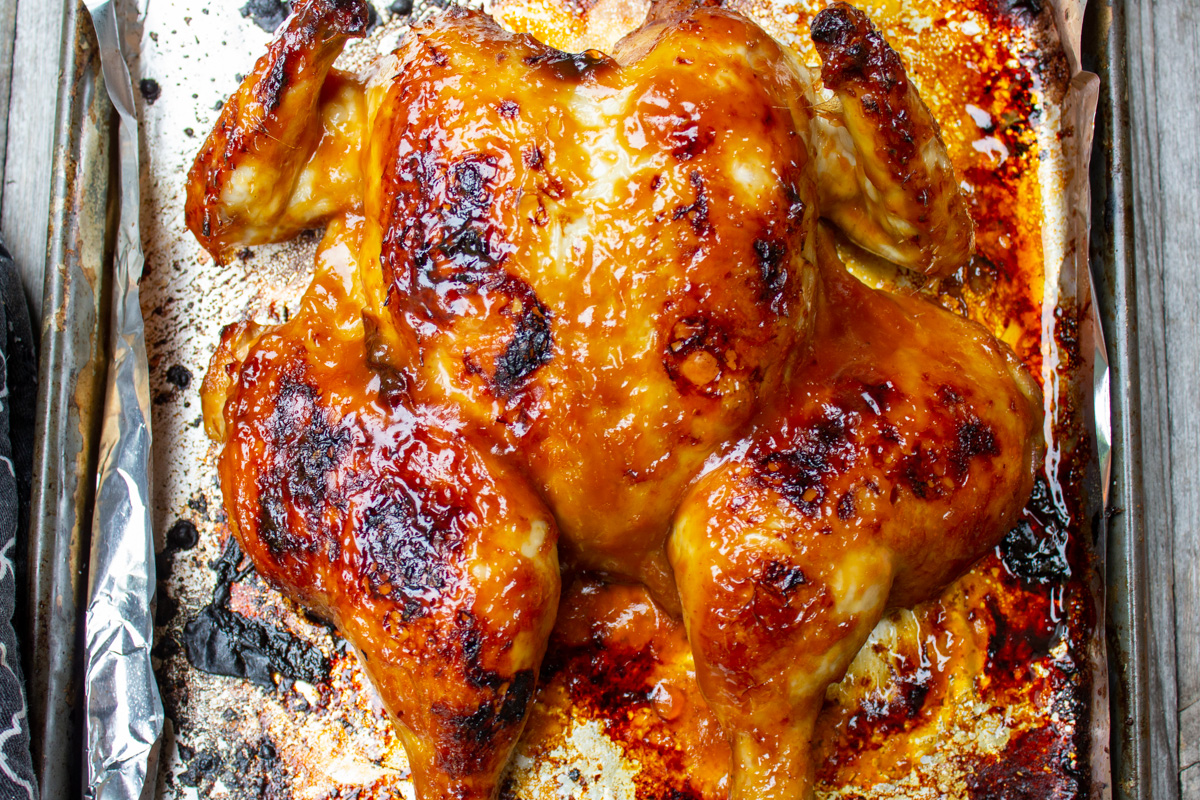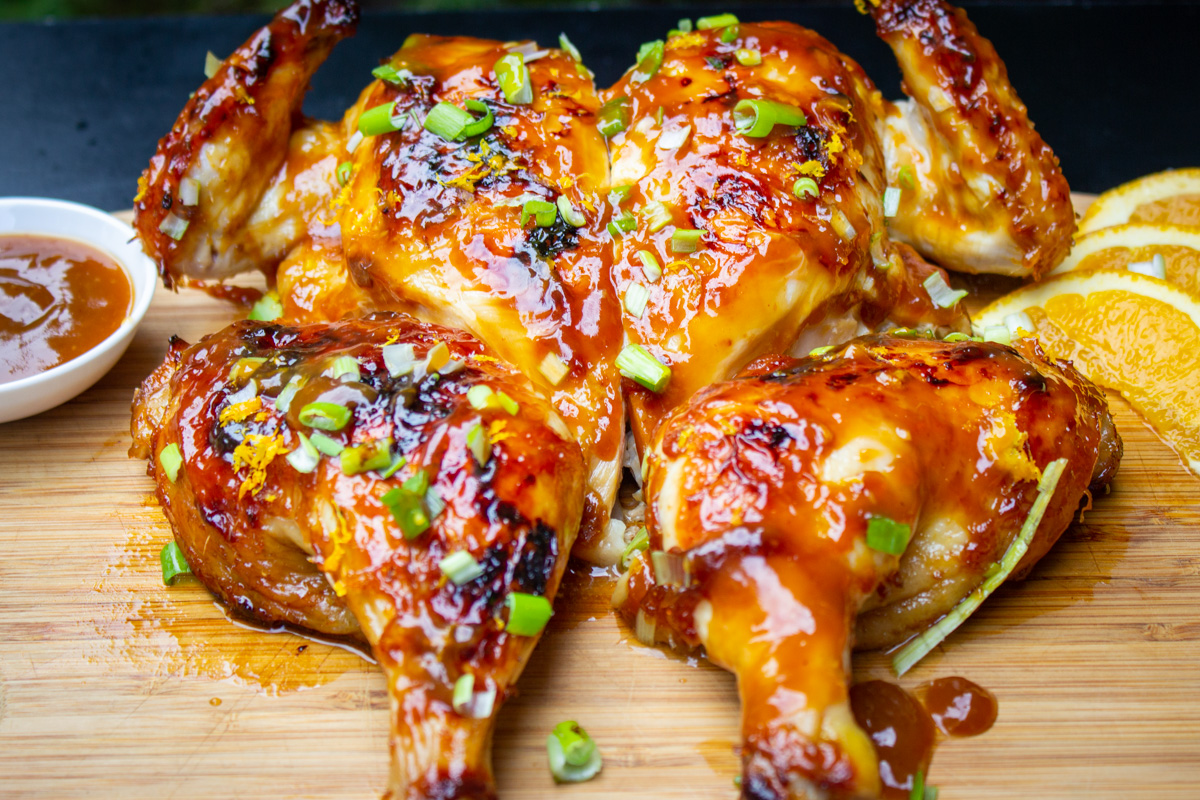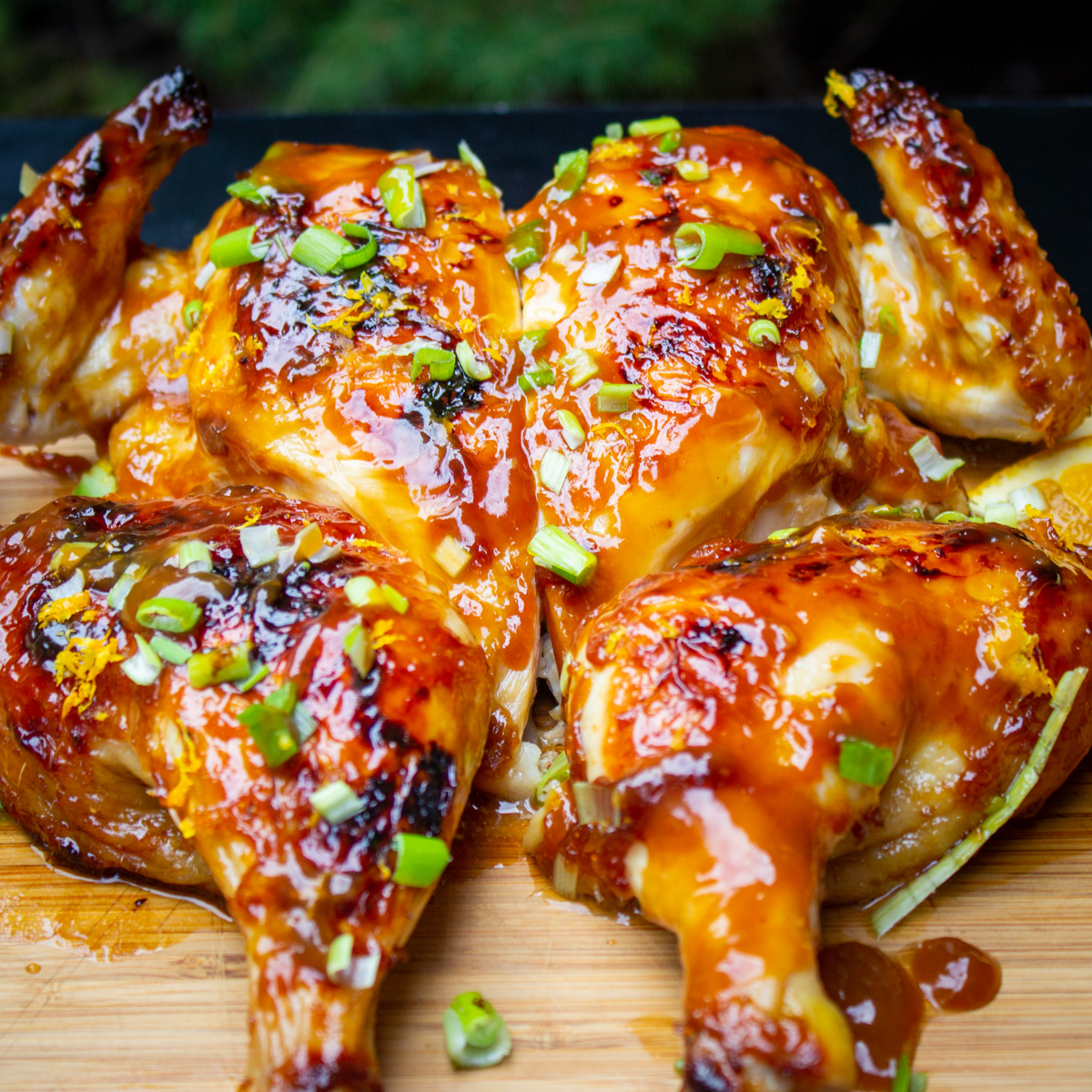 Tips
1. Save the backbone of the chicken to use for making chicken stock.
2. Dry chicken with paper towels for better browning of the skin.
Recipe FAQs
Do you flip spatchcock chicken when cooking?
When roasting the chicken in the oven, there is no need to flip it. If you're grilling spatchcock chicken, over indirect heat, you'll want to start with the chicken breast-side down, then flip it halfway through the recommended grilling time.
Should you brine before or after spatchcocking the chicken?
Brining or marinating the chicken after you have butterflied it is best. When you're ready to cook it, you just transfer it from the bag onto a roasting pan, and it's ready to go into your hot oven.
Shortcuts
For the chicken:
If you are intimidated by spatchcocking a chicken or can't be bothered, you can buy one in most supermarkets now (it will cost a bit more). Or ask the butcher to butterfly it for you.
Use chicken pieces instead – breasts, wings, legs and/or thighs.
For the marinade/glaze:
The marinating deepens the flavors, but it you're short on time, just skip it.
Or, a trick I use a lot is to marinate at room temperature for 30 minutes.
For the aromatics:
Instead of mincing garlic and grating fresh ginger, you can use frozen cubes or buy them in jars.
You can even use 1/2 teaspoon garlic powder instead of the two teaspoons minced garlic.
Make Ahead
Marinate the chicken up to a day ahead.
You can also roast the chicken an hour ahead and cover it with foil to keep warm. Then just before serving, brush on the teriyaki glaze and broil for a few minutes. 
Leftover chicken can be stored in an airtight container for 2-3 days or frozen for 2-3 months. Defrost in the fridge and reheat, covered, in the microwave for a couple of minutes.
More spatchcock chicken recipes 
If you like this recipe, please leave a 5 star rating 🌟🌟🌟🌟🌟in the recipe card below. And if you REALLY like it, consider a review in the comments. Thanks very much!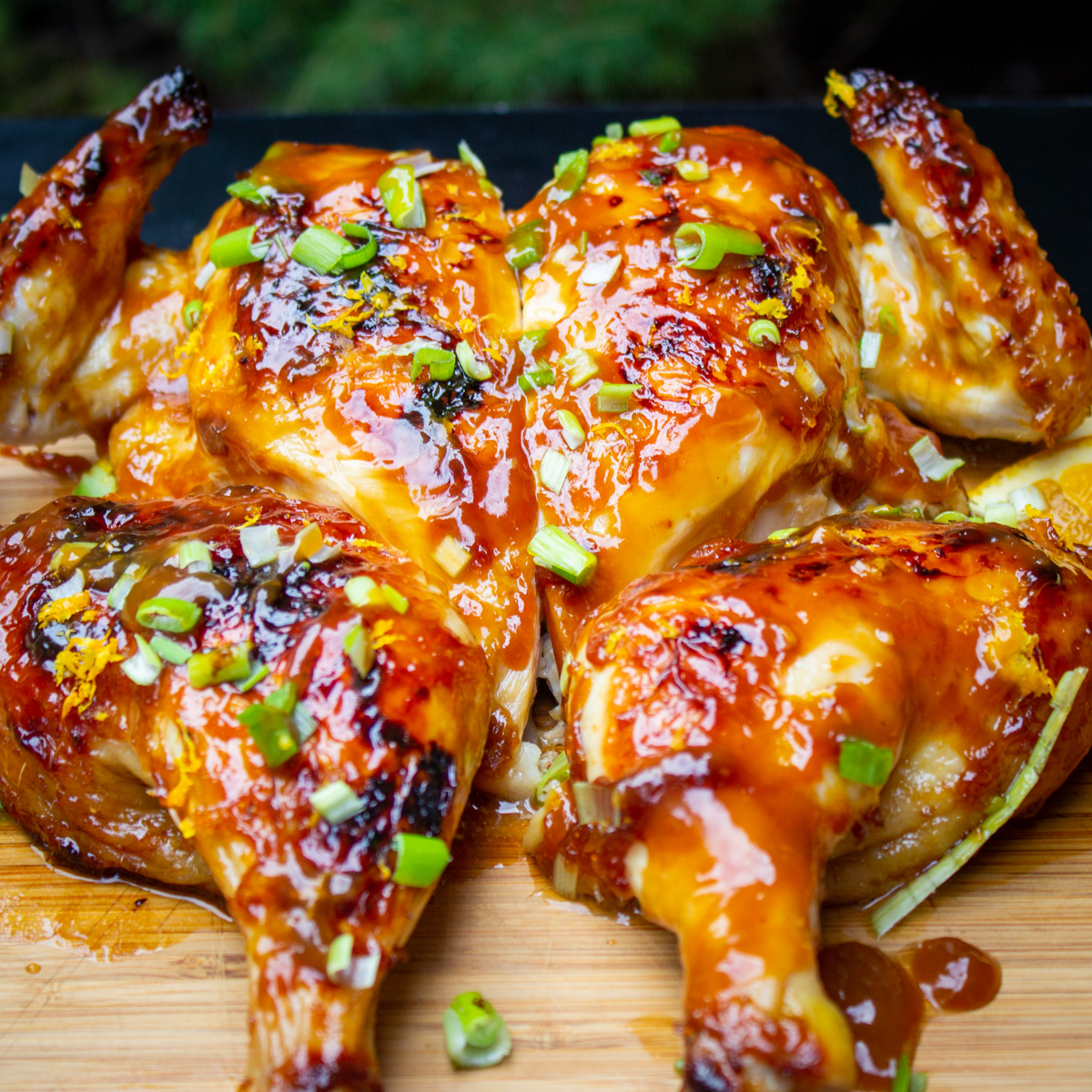 Print Recipe
Pin
Save Recipe
Recipe Saved!
Rate this recipe here
Butterflied Chicken with Teriyaki Glaze
If you like sweet, spicy, orange, garlic, ginger and soy flavors, you will love this deliciously saucy butterflied chicken with teriyaki glaze. It makes a lovely weekend or holiday dinner. Check out the good shortcuts.
Ingredients
1

whole chicken 3-4 lbs (1.36-1.81 kg), spatchcocked/butterflied Note 1

(I like to use kosher chicken, but any roasting chicken will work fine)

2

tablespoon

cornstarch

Garnish: chopped parsley, green onion or pea shoots and grated orange zest if desired
Teriyaki Glaze and Marinade
1/3

cup

soy

1/2

cup

water

2

oranges, juice (1/2 cup) and zest (2 teaspoons) Note 2

1 tsp zest for marinade; reserve other tsp for garnish

1/2

cup

brown sugar, Note 3

1

tablespoon

honey

2

teaspoon

grated fresh ginger

2

teaspoon

minced garlic

1 1/2

teaspoon

sriracha hot sauce (for mild spice)

or more to taste

salt and black pepper to taste
Instructions
HEAT OVEN TO 400F/204C. Line a rimmed baking sheet with aluminum foil and spray with olive oil or other cooking spray (for easy clean up)

MARINATE CHICKEN: Place all marinade ingredients (except 1 teaspoon of orange zest) in a large ziploc bag and squish to combine. Add spatchcocked chicken, seal bag and massage to coat well. Marinate for 4-6 hours or overnight in fridge or, quicker, at room temperature for 30 minutes. If you don't have time, skip the marinating.

ROAST CHICKEN: Remove chicken from marinade, pat dry with paper towels and place on roasting pan. Pour marinade into a small saucepan and set aside. Lightly sprinkle the chicken with salt. Roast chicken skin side up for 30-40 minutes, depending on size of chicken. Internal temperature on an instant read meat thermometer should read 150F/66C in thickest part of breast meat. You will finish cooking in broiler. Remove chicken from oven. Pour off grease from pan. (At this point, you can make the glaze and do the final steps just before you're ready to serve.)

MAKE TERIYAKI GLAZE/SAUCE: While chicken is roasting, whisk cornstarch into marinade in saucepan. Bring marinade to a boil and boil for 2 minutes until sauce is thickened. Lower heat and cook for another 2 minutes. If glaze is too thick, add a bit of water. Brush some of glaze over roasted chicken. Reserve remaining 1/2-3/4 cup to pass with the chicken later.

BROIL CHICKEN WITH GLAZE FOR 4-6 MINUTES: Turn oven to Broil. Place oven grill 10-12 inches from broiler (top of the oven). Return glazed chicken to oven. Broil for 4-6 minutes until browned on top (be careful not to let it burn). Chicken should read 155F/68C in the breast or 165F/74C in the thigh with instant thermometer when done.

CUT AND SERVE: The best way to cut it is to transfer chicken to cutting board. Brush with more glaze. Let chicken rest 5-7 minutes. Cut into quarters or eighths. Garnish with remaining orange zest and chopped green onions or parsley and serve. Drizzle on extra sauce or pass it on the side. Serve from cutting board or move to a platter.
Recipe Notes
To spatchcock (butterfly or flatten) a chicken: Turn chicken breast side down. Use kitchen shears or a sharp knife to remove the backbone by cutting along one side of the backbone, then the other side. Turn chicken breast-side up and using the palm of your hand press down firmly on the top of the breastbone to flatten so that the chicken lies flat with breasts and legs all on one level. Discard backbone or use to make soup/broth. Here's a video on how to spatchcock a chicken. Shortcut: Buy a chicken already flattened or ask the butcher to do it.  
Instead of orange juice: use pineapple or apple juice. Skip the zest.
Brown sugar substitute: You can use 6 tbsp honey or maple syrup instead.
Make Ahead:

The chicken can be prepared and marinated a day ahead.
You can also roast the chicken an hour ahead and cover it with foil to keep warm. Then just before serving, brush on the teriyaki glaze and broil for a few minutes. 
Store leftover chicken in for 2-3 days or frozen for 2-3 months in an airtight container or sealed bag (try to get as much air out as possible). Thaw in the fridge overnight and reheat on medium in the microwave or in a medium-heat oven. 
Nutrition values are estimates based on 1/4 chicken of a 3.5 lbs/1.6 kg. 
Nutrition
Calories:
588
kcal
|
Carbohydrates:
44
g
|
Protein:
37
g
|
Fat:
29
g
|
Saturated Fat:
8
g
|
Cholesterol:
143
mg
|
Sodium:
375
mg
|
Potassium:
543
mg
|
Fiber:
2
g
|
Sugar:
38
g
|
Vitamin A:
491
IU
|
Vitamin C:
41
mg
|
Calcium:
100
mg
|
Iron:
2
mg
Tried this recipe?
We'd love you to rate it above under 'rate this recipe' or in the comment section below. Thanks!