Baked Chicken Leg Quarters With Sweet Tangy Glaze
The no-cook glaze is the crowning glory on these baked chicken leg quarters – sweet and tangy with big flavors. A nice step up from a basic seasoning rub.
The glaze is baked on to get an appealing finish and taste. It's made with simple ingredients – ketchup, brown sugar, lemon, applesauce and seasonings. Cinnamon adds a subtle unique flavor.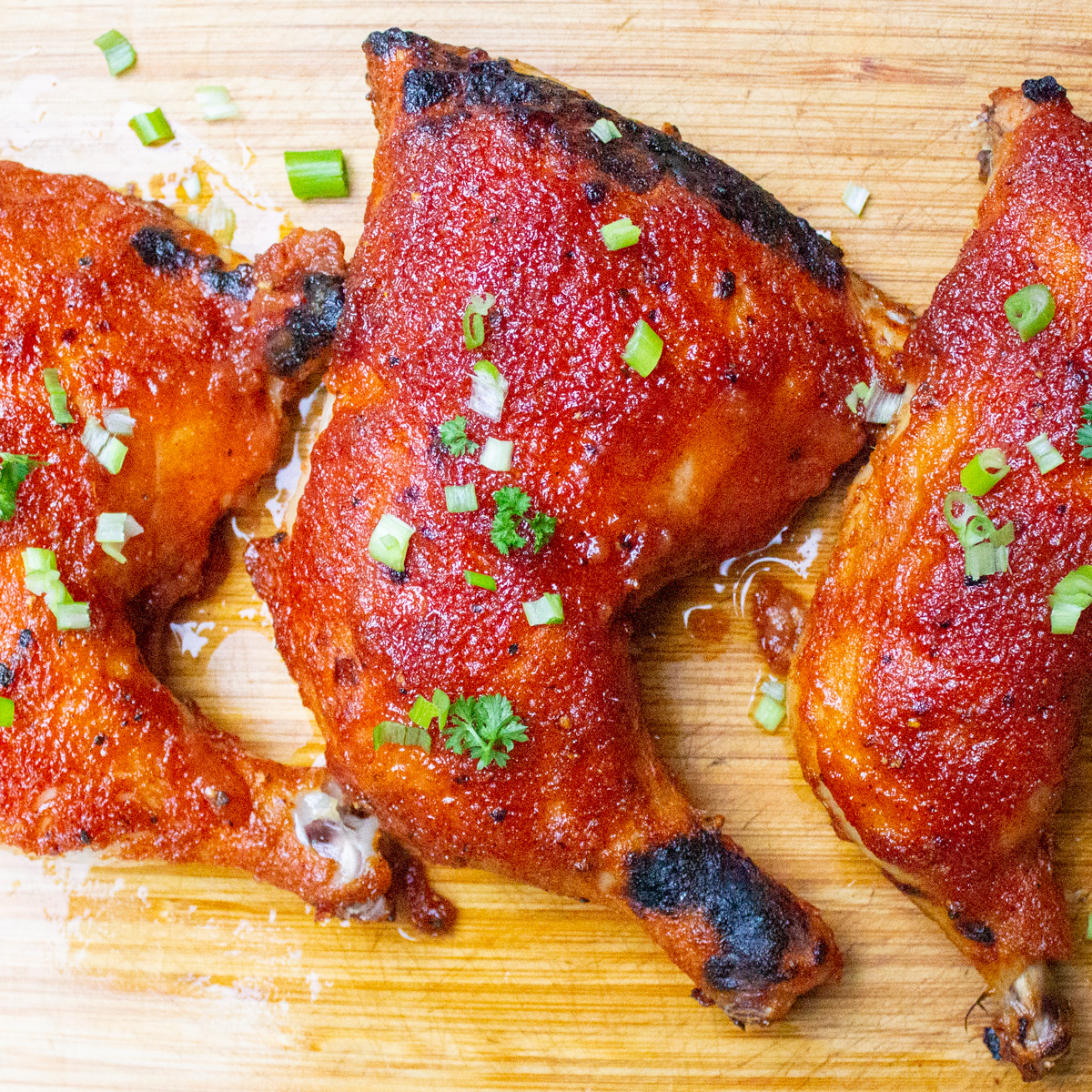 You can use any chicken pieces you want with this recipe. But I urge you to try chicken legs since dark meat is more forgiving than the white meat of a chicken breast. They don't dry out easily and have more flavorful juicy meat. Plus, chicken legs tend to be less expensive than other cuts of poultry and meat.
What to expect
If you googled a chicken leg quarters recipe, you will notice that almost all the recipes that pop up are simply seasoned with some type of dry rub and baked, similar to a roast chicken. Nothing wrong with that, BUT…
This recipe is different. We are using a quick and delicious glaze that ramps up your chicken game for an easy weeknight dinner in 40-45 minutes.
It's an easy recipe with short prep time that makes dinner feel a little more special. Simple and delicious, but beware – the chicken does not have crispy skin.
Ingredients – tailored to your taste
Chicken: What are chicken leg quarters? They are whole chicken legs with the drumstick and thigh attached. You can buy them with or without the back removed. In the pictures, the back is still attached. Either is fine. I recommend getting larger quarters to give the glaze time to bake on in layers while still staying moist. Feel free to use any other chicken pieces you prefer, even skinless chicken or just chicken drumsticks without the thighs.
Glaze: There are two somewhat unusual ingredients in this glaze – cinnamon and applesauce. The cinnamon adds a delicious flavor. The other ingredients include ketchup, brown sugar, lemon juice, garlic powder, paprika, salt and black pepper. If you only have sweetened apple sauce, reduce the brown sugar a bit.
Variations: There are two you can experiment with.
First, adjust the balance of sweet and tart to your liking with more or less brown sugar and lemon.
The second is to add some heat with a pinch of cayenne pepper, sriracha or other hot sauce.
Step by step instructions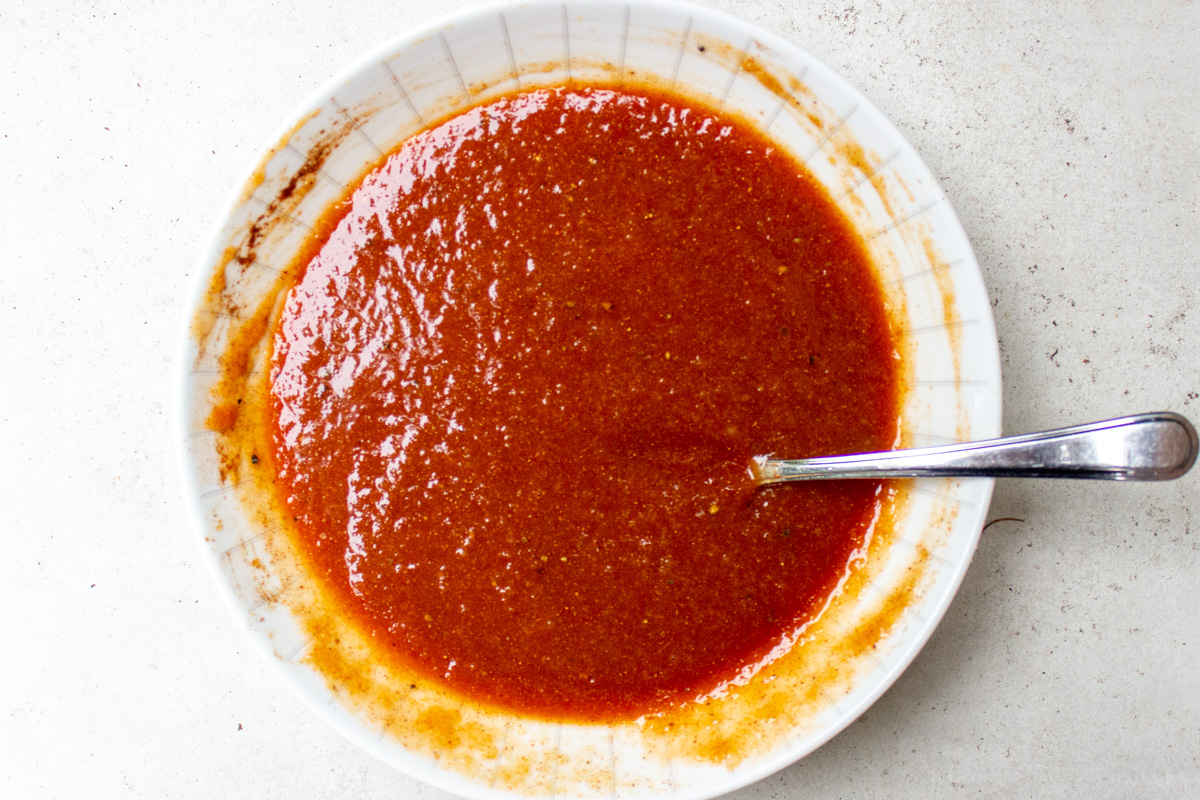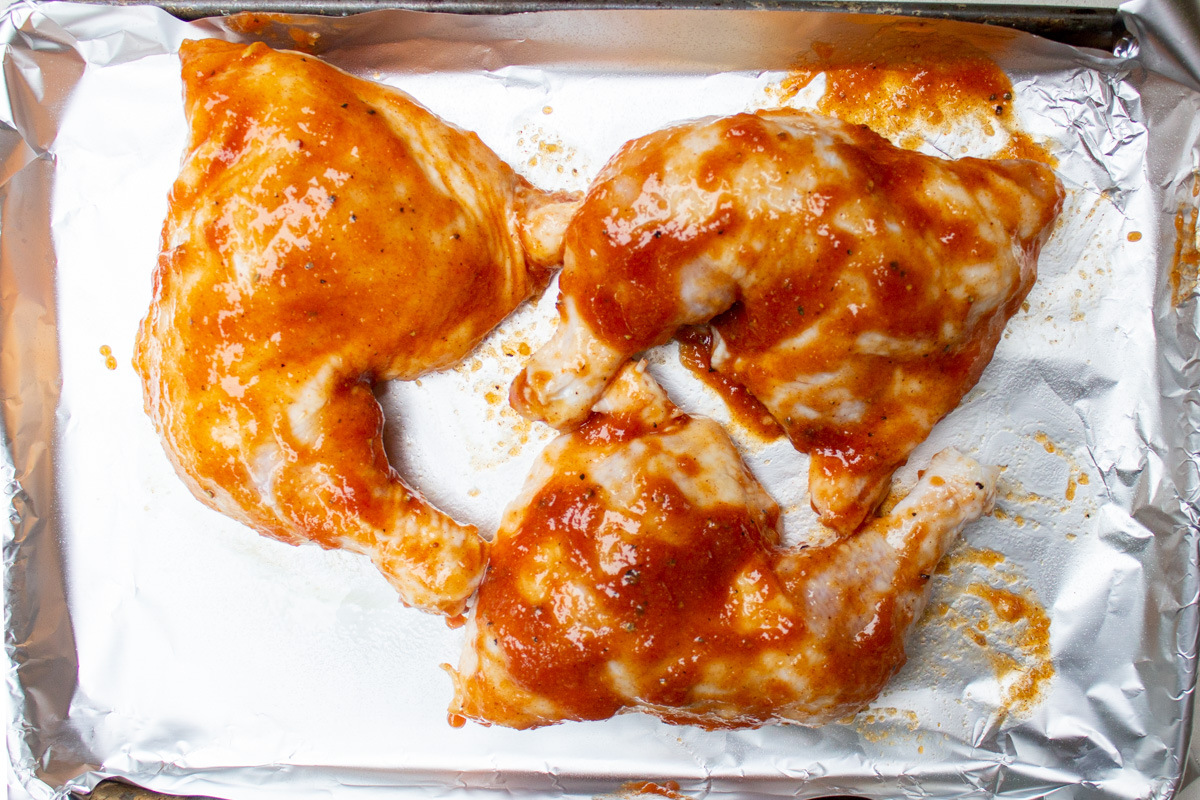 Tips
Layer the glaze for best results: I add 3 layers of glaze to build the flavors and the finish. Glaze, bake, glaze, bake, glaze, broil. (Sure, you can cut out one step!). The layers add maximum flavor.
Garnish: The lemon zest garnish is optional but adds a bright extra zing.
Double the glaze: to use again on chicken or on these mouthwatering back ribs.
Recipe FAQs
What is the best temperature to bake chicken?
For chicken legs, bake the chicken between 375F and 425F (190-218C). I prefer 400F (204C) for this recipe – the chicken stays moist, the cooking time is fairly quick and the glaze bakes on nicely.

For chicken breasts that can dry out more easily, bake chicken between 350F and 375F (177-190C).
How long to bake chicken leg quarters at 400?
At 400F/204C, it takes about 30-40 minutes to bake chicken leg quarters, depending on the size of the chicken pieces. At 375F/190C, it will take about 40-50 minutes. Regardless, bake the chicken until it reaches an internal temperature of 165F (74C) as measured by an instant-read meat thermometer.
What is the proper safe internal temperature for baked chicken?
The USDA recommends cooking chicken to an internal temperature of 165F (74C). It is best to use an instant-read thermometer or probe to check the temperature. You can take the chicken out of the oven at 160F/71C if you are letting is rest – the temperature will rise by 5 degrees f while resting.
Can I grill the chicken instead of baking it?
You can grill the chicken instead of baking it but only brush on the glaze in the last 5-7 minutes or it will burn due to the sugar content in the glaze. Season the chicken first. Grill the chicken over medium heat until almost cooked. Brush on the glaze a few times in the final cooking stage to finish it off.
What to serve with chicken leg quarters
This chicken recipe is practically a blank slate for side dishes – so many options. Keeping it simple, here are a few favorites:
Or try one of these more substantial salads:
Shortcuts
The chicken is glazed several times in the recipe. You can skip the glazing step partway through the baking or skip the glazing/broiling step. If you do, I recommend adding more glaze just before serving or passing it on the size.
Make ahead
See the recipe notes for how to store leftovers for 3-4 days in the fridge, what you can make ahead, how to freeze the chicken for up to 3 months and instructions for reheating.
More baked chicken recipes
If you're a chicken lover like me, check out our full list of our chicken recipes made with various cooking methods – sous vide, instant pot, grilled, stovetop and oven.
If you like this recipe, please leave a 5 star rating 🌟🌟🌟🌟🌟in the recipe card below. And if you REALLY like it, consider a review in the comments. Thanks very much!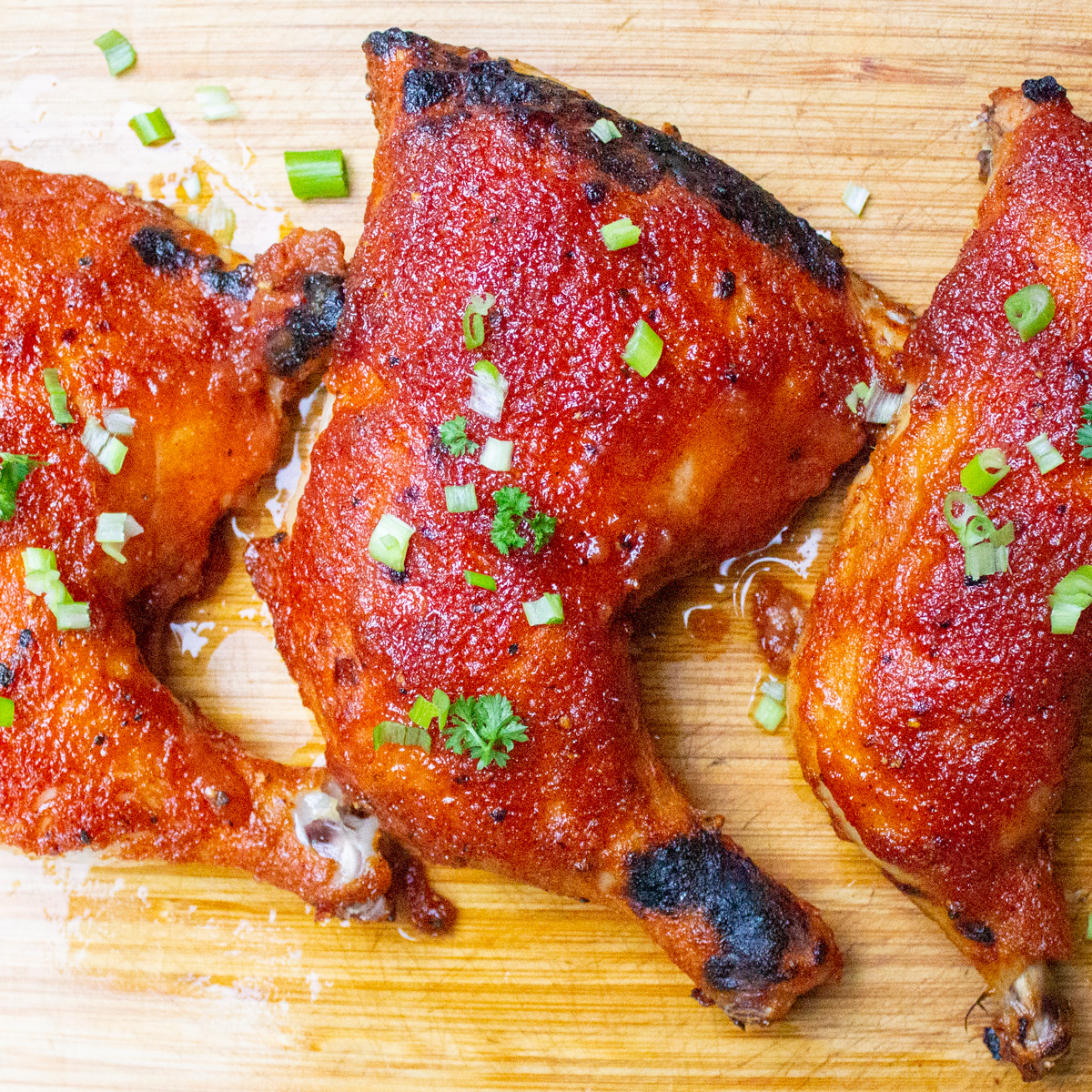 Print Recipe
Pin
Save Recipe
Recipe Saved!
Rate this recipe here
Baked Chicken Leg Quarters With Sweet Tangy Glaze
The no-cook glaze is the crowning glory on these baked chicken leg quarters – sweet and tangy with big flavors. A nice step up from a basic seasoning rub.
Ingredients
2 1/4

pounds

chicken leg quarters, thigh and leg attached, bone in, skin on (3-4 legs)

or any chicken pieces
Glaze
1/2

cup

ketchup

1/2

cup

applesauce

I use unsweetened applesauce

1/2

cup

brown sugar

1

small lemon

(2 tablespoons lemon juice plus optional zest for garnish)

1/2

teaspoon

EACH: salt, black pepper, garlic powder, paprika, cinnamon

1/8

teaspoon

cayenne (optional)

or more to taste
Instructions
HEAT OVEN TO 400F/204C: Line a baking sheet with aluminum foil and spray with oil.

MAKE SAUCE/GLAZE: In a medium bowl, mix all glaze ingredients well with fork or whisk. No need to cook the glaze.

PREPARE AND BAKE CHICKEN QUARTERS: Trim chicken legs of excess fat in needed. Pat dry with a paper towel. Brush sauce on chicken – front and back – then place chicken in the bottom of the pan in a single layer, skin side up in the preheated oven. Timing will depend on size of chicken legs. Larger legs will take more cooking time.Bake: Bake chicken for 15-20 minutes in center rack. Brush more glaze on top of the chicken legs, then bake 10-15 minutes longer or until instant meat thermometer reads 160F/71C. Broil: Turn oven setting to Broil and set rack to ~6 inches/15 cm from the top of the oven (the heat source). Broil for about 3 minutes until sauce is bubbling and some char begins to form. Watch carefully as the glaze can burn easily because of its sugar content. Note 1.

FINISH AND SERVE: Remove chicken from oven. Let it rest for 5 minutes to seal in chicken juices. Garnish with chopped green onions, parsley or lemon zest (good!) if desired.
Recipe Notes
To skip the broiling step: Make sure internal temperature of chicken is at 160-165F (71-74C). Let chicken rest 5 minutes. Brush on more glaze and serve or pass extra glaze on the side. The chicken will not have as 'finished' a look, but it will still taste great. 
Variations:

Adjust the balance of sweet and tart

to your liking with more or less brown sugar and lemon.

Add some heat

with a pinch of cayenne pepper, sriracha or other hot sauce.

Make ahead: 

Store leftover chicken in an airtight container for up to 3-4 days. 
Glaze can be made several days ahead. It can also be frozen to use on chicken or ribs for another time.  
Freeze cooked chicken in a sealed container for up to 3 months. Defrost overnight in fridge when ready to use.
Reheat chicken in microwave for 2-3 minutes or in a 350 f oven (177C) for 10-15 minutes or until warmed through. 
Nutrition value estimates include

skin on bone-in chicken legs with all the glaze used as per the recipe. 
Nutrition
Calories:
535
kcal
|
Carbohydrates:
42
g
|
Protein:
29
g
|
Fat:
29
g
|
Saturated Fat:
8
g
|
Polyunsaturated Fat:
6
g
|
Monounsaturated Fat:
12
g
|
Trans Fat:
0.1
g
|
Cholesterol:
170
mg
|
Sodium:
705
mg
|
Potassium:
536
mg
|
Fiber:
1
g
|
Sugar:
37
g
|
Vitamin A:
304
IU
|
Vitamin C:
16
mg
|
Calcium:
50
mg
|
Iron:
2
mg
Tried this recipe?
We'd love you to rate it above under 'rate this recipe' or in the comment section below. Thanks!