Summer ripe peaches, oranges, lemons and sugar are boiled (without pectin) to make this sweet and citrusy peach marmalade. Great jam, little effort (4 simple ingredients).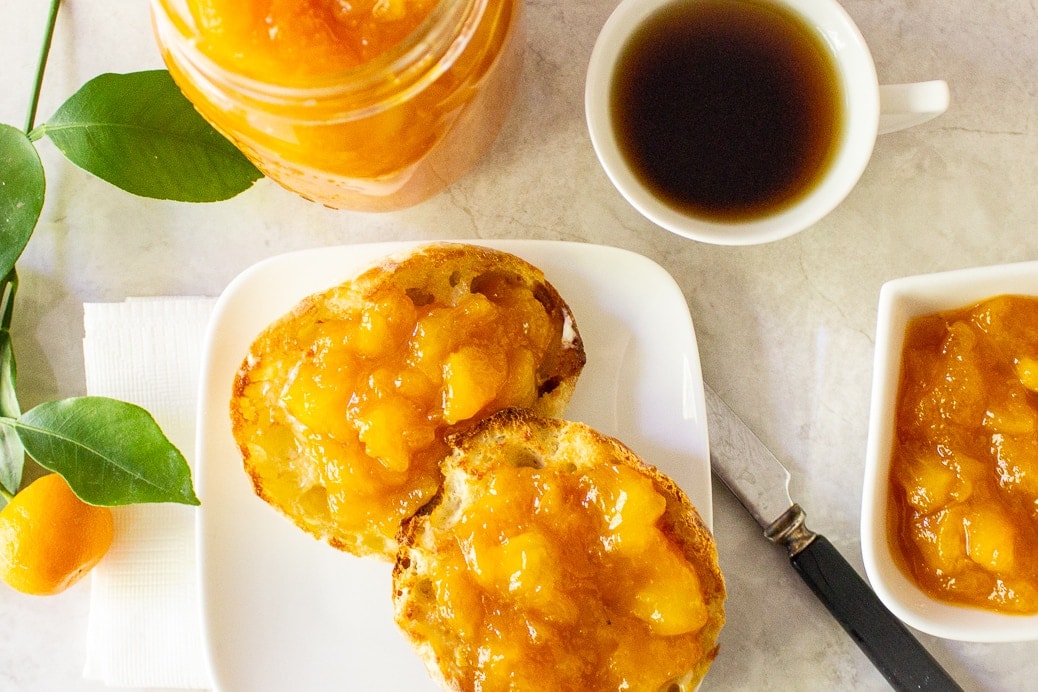 I just can't get enough of peaches during the short peach season we have in Toronto so I try to use them every way I can – for breakfast, main dishes, sides, appetizers and dessert.
This peach marmalade is an old recipe from my mother. She made it when the strawberry jam was starting to run out and peaches were available locally.
Back in the day, I wasn't crazy about the tartness of marmalade. Now I love it. I find the orange and lemon citrus notes tone down the sweetness of the sugar and add depth to the peaches. It tastes like peach jam with a bit of tang.
To be fair, this recipe is really a cross between peach marmalade and peach jam. The process is similar, but a marmalade typically has a citrus base with whole or cut oranges. So it would contain more oranges and much less peaches. This recipe is the opposite with peaches as the star. We add orange and lemon juice to give it that marmalade taste.
Whatever you want to call it, this easy marmalade recipe is wickedly good.
How to make peach marmalade
Prepare the peaches: The process for making the no pectin marmalade is similar to our Homemade Strawberry Jam.  You do have to peel and slice the peaches, but don't be intimidated.  It's a snap when you plunge them into a pot of boiling water for 60-90 seconds, then let cold water from the tap run over them. The skin literally falls off, leaving you with smooth, silky peaches ready to slice.
Cook for 20-30 minutes: Boil the peaches, orange zest, orange sections, lemon juice and sugar.
Store: Spoon the peach marmalade into jars that have been run through the dishwasher or under boiling water, then refrigerate for up to 2-3 months.
Tailor To Your Taste
Vary the amount of orange zest and lemon.  Just keep tasting and adjusting until you're happy with the balance.
If you prefer a sweeter jam, add the full amount of sugar suggested.  I tend to add the lower amount.
For chunkier marmalade (my fave), don't squish the peaches as much.
You can also add a few sprinkles of cinnamon or a few drops of vanilla if you like when the jam is almost finished cooking.
If you prefer peach jam, just leave out the orange zest and oranges. Adjust the sweet and tartness to your liking with lemon and sugar.
Shortcut
Use frozen, peeled, sliced peaches – thawed. Use the same amount in the recipe, including most of the juice.
Ways to Enjoy Peach Marmalade
In addition to using it as a condiment for toast and scones, try using it on ice cream, grilled chicken or pork tenderloin.
Make Ahead/Storing
This peach marmalade recipe has no pectin and doesn't use a canning process, so it's not the kind you store in your basement for a year or two.
It will, however, keep in the fridge for 2-3 months.
Other peach recipes you might like
Peach Marmalade (no pectin)
Summer ripe peaches, oranges, lemons and sugar are boiled (without pectin) to make this sweet and tangy peach marmalade. Great jam, little effort.
Servings:
48
tbsp (or 3 cups)
Ingredients
4

lb

peaches

(about 12 medium peaches)

2

medium oranges

(or one large)

2 1/2

cups

sugar

(or use 3 cups if you like it sweeter)

2

tbsp

lemon juice
Instructions
PREPARE JARS FOR STORAGE: Run 2-3 jars (depending on size) through the dishwasher or washed in very hot water. You will make about 3 cups of marmalade.

PEEL AND SLICE PEACHES: For easy peeling, carefully drop peaches into a pot of boiling water. Boil for 60-90 seconds. Drain water and run cold water over peaches in pot. Slip skins off the peaches. Use small knife to peel stubborn spots if needed. Cut peaches in half and remove pits. Slice or chop into smaller pieces. Note 1.

PREPARE ORANGES: Zest an orange and set aside. Peel orange(s) and cut inside flesh into small pieces. Remove large pieces of whitish fibrous layers. You should have about 1 cup.

PREPARE MIXTURE TO COOK: Place peaches, zest, oranges, sugar and lemon juice in a large pot (mixture should only take up about 1/3 of pot). Squish the mixture with a potato masher or your hands. (I use my hands). It's ok to leave some chunks of peaches.

COOK MARMALADE: Heat mixture to medium high and bring to a boil. Lower heat to about medium (6 on my dial) and boil on a medium rolling boil for 20-30 minutes (depending on how loose or thick you like your marmalade), stirring occasionally to prevent scorching on the bottom. The amount of time will depend on speed of boil and size of pot. (Note 2 - how to tell marmalade is done.) Taste and adjust flavors as needed e.g. add a bit more lemon juice or sugar as you like.

STORE THE MARMALADE: Pour marmalade into jars. Cool, then cover tightly and store in the fridge.
Notes
To cut peaches easily and remove pits: I make 8-10 slices around the peach from end to end. Then slip the slices off the pit.  
How to tell if marmalade is done: If you have a candy/fry thermometer, look for a temperature of 210-220F. If you don't, scoop up some marmalade with a spoon and let it drip off the spoon. If it drips off very quickly, cook some more. If it drips slowly and coats the spoon, it's done. 
Make Ahead: This peach marmalade recipe has no pectin and doesn't use a canning process, so it's not the kind you store in your basement for a year or two. It will, however, keep in the fridge in well sealed containers for 2-3 months. 
Nutrition values are estimates for approximately 1 tablespoon of peach marmalade. 
Nutrition
Nutrition Facts
Peach Marmalade (no pectin)
Amount Per Serving
Calories 58
Calories from Fat 9
% Daily Value*
Fat 1g2%
Sodium 1mg0%
Potassium 82mg2%
Carbohydrates 15g5%
Protein 1g2%
Vitamin A 136IU3%
Vitamin C 6mg7%
Calcium 4mg0%
Iron 1mg6%
* Percent Daily Values are based on a 2000 calorie diet.
Tried this recipe?
We'd love you to rate it above under 'rate this recipe' or in the comment section below. Thanks!
This easy peach marmalade recipe, initially published in 2017, has been updated with new pictures and information. Still so delicious!