Low Sugar Strawberry Jam (without pectin)
Make this no-fuss, 3-ingredient, low sugar strawberry jam without pectin this summer and you'll be enjoying it on toast, scones, crepes and ice cream long after.
Don't let the low sugar name fool you. It tastes like regular delicious homemade strawberry jam.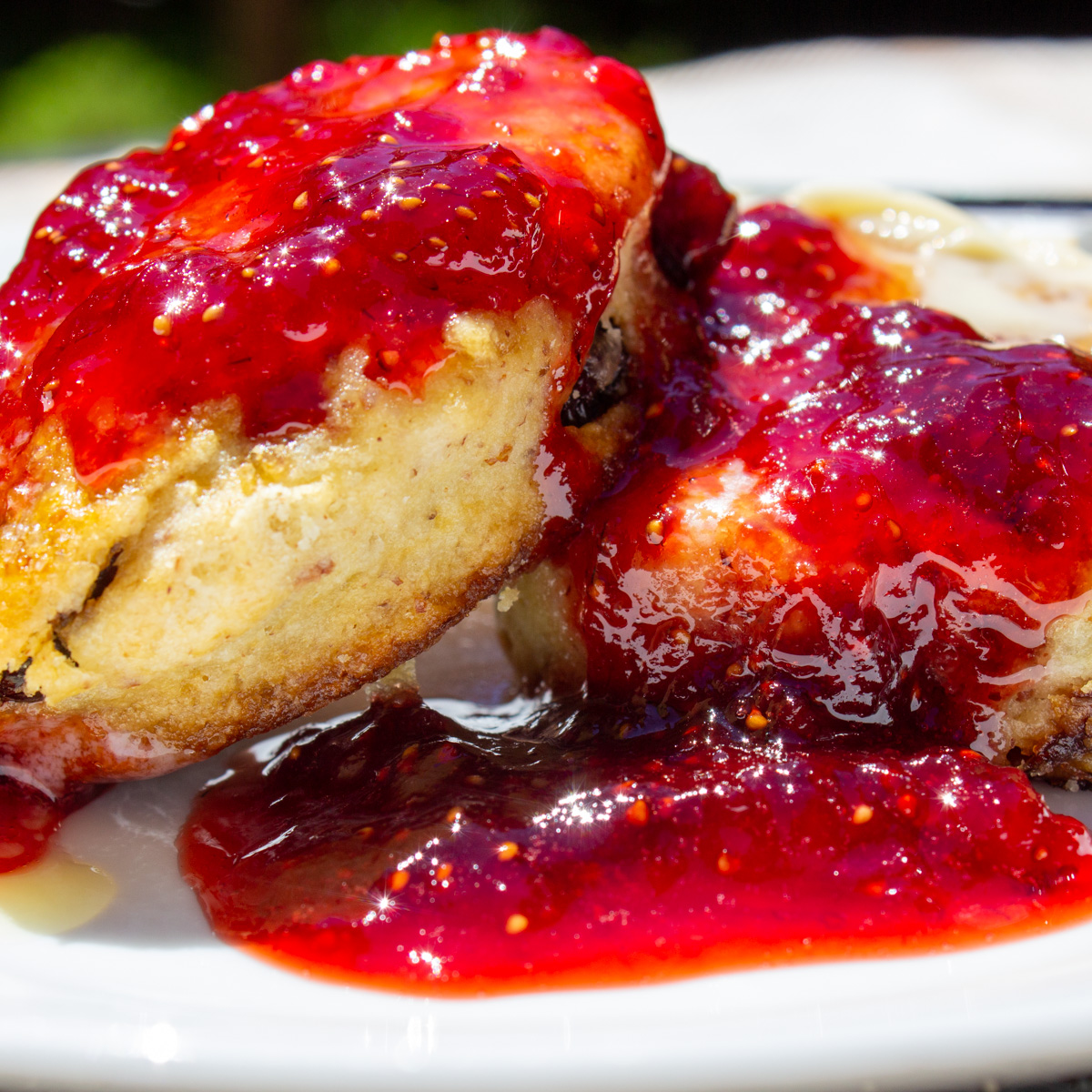 Here's why you will love to make your own homemade jam:
only 3 simple ingredients (easier than pectin jam)
much less sugar than traditional jam recipes (less than half) – and you will not miss it! Use as little or as much sugar as you like.
no need for added pectin
no fussing with sterilizing and canning needed
freezer friendly
it's a simple straightforward recipe
Every year, way back when, my mother went to the market during strawberry season in Montreal and brought home a flat of strawberries. She called on me and my sisters to help hull the berries and then proceeded to make our annual batch of exquisite strawberry jam. Heady aromas filled the house.
This recipe is considered a small batch strawberry jam recipe. This means you will not get a whole pantry full of jam, but you will be skipping all the complexities of the sterilizing/canning process that requires special equipment.
So no need to be intimidated – this is a very easy strawberry jam recipe. Just know that you will have to keep the fresh strawberry jam in the fridge or freezer.
The end result is a jar or two of jam bursting with fresh strawberry flavor.
If you want to try canning, here's a great video for a classic strawberry jam recipe by America's Test Kitchen. It uses a grated apple instead of pectin as a thickener and shows you how to test if your jam is done.
And if you love strawberries, don't miss our best biscuit strawberry shortcake (20 min).
Ways to use this jam
Enjoy it on scones, crepes, toast, homemade English muffins or on ice cream for dessert (my husband's fave). Or in a good old peanut butter and jam sandwich.
Needless to say, this easy jam makes a fabulous gift.
Tailor To Your Taste
There are two things you can do to adapt this jam recipe to your taste:
Vary the sweetness by adjusting the amount of sugar and lemon.
Adjust the cooking time to make the jam looser/saucier (less time) or thicker (more time).
How to make this low sugar strawberry jam recipe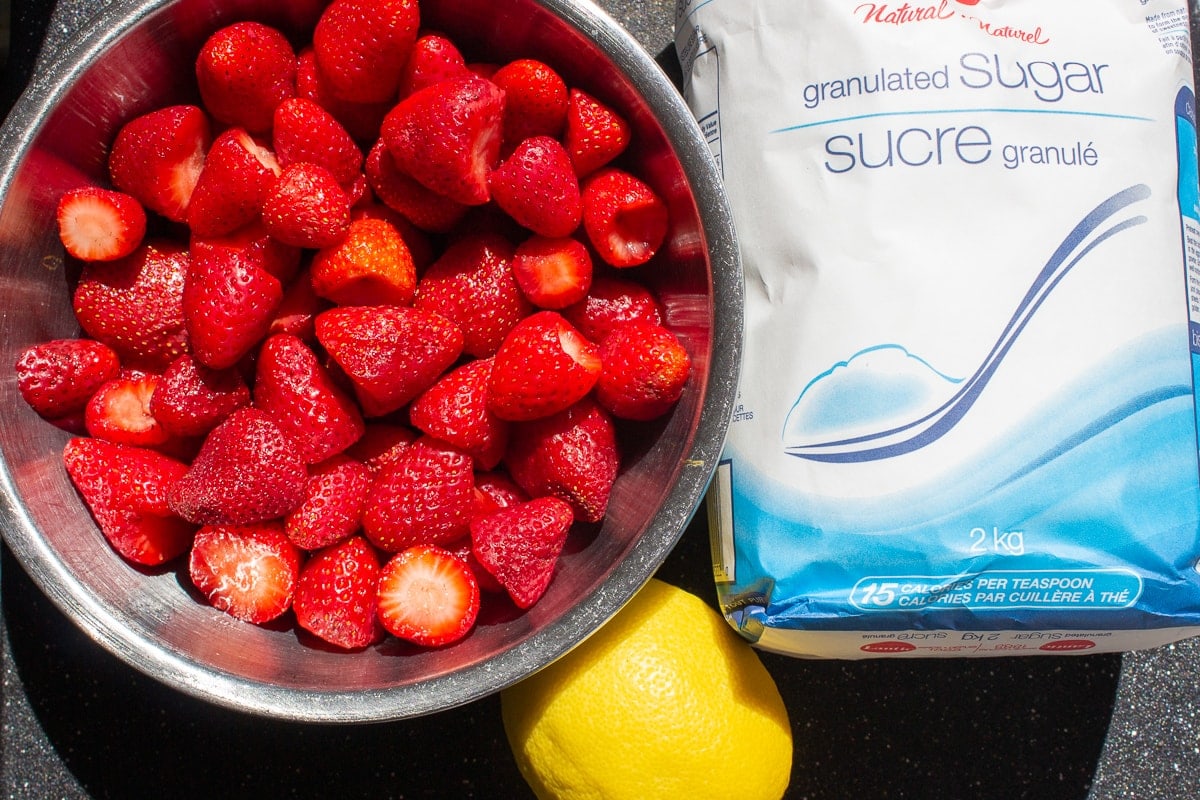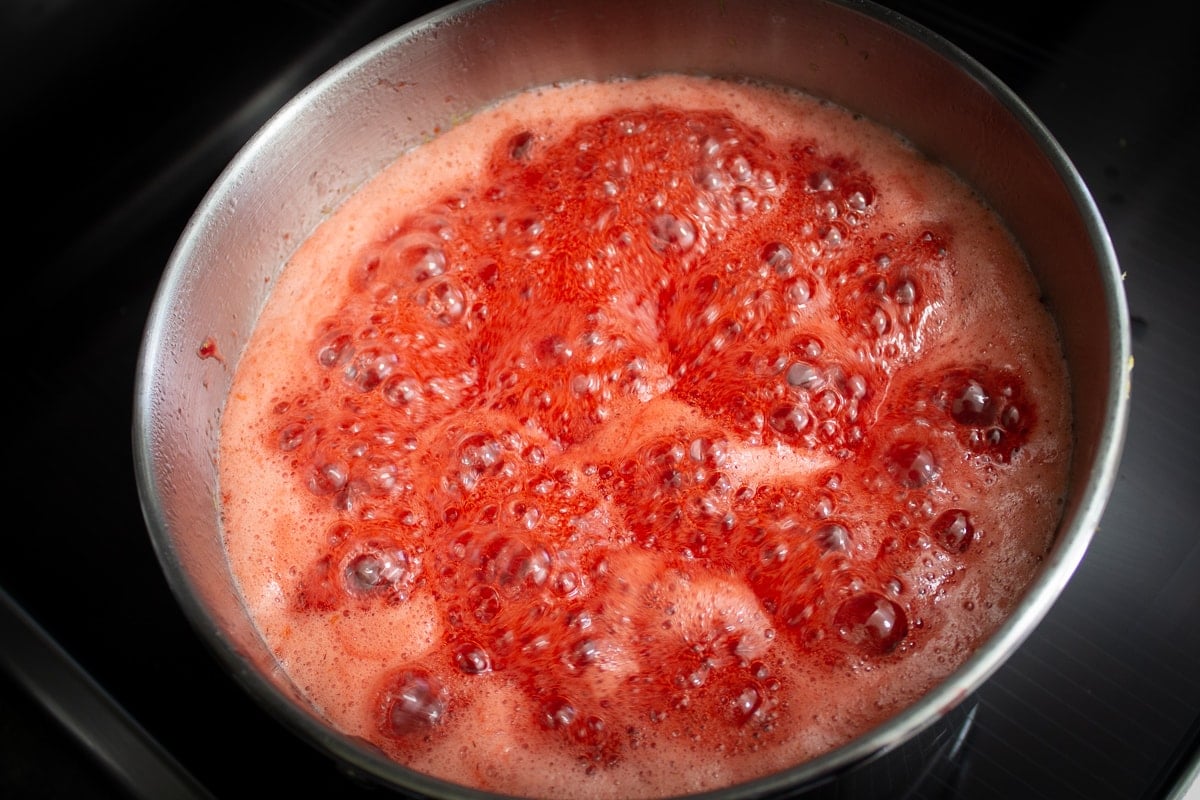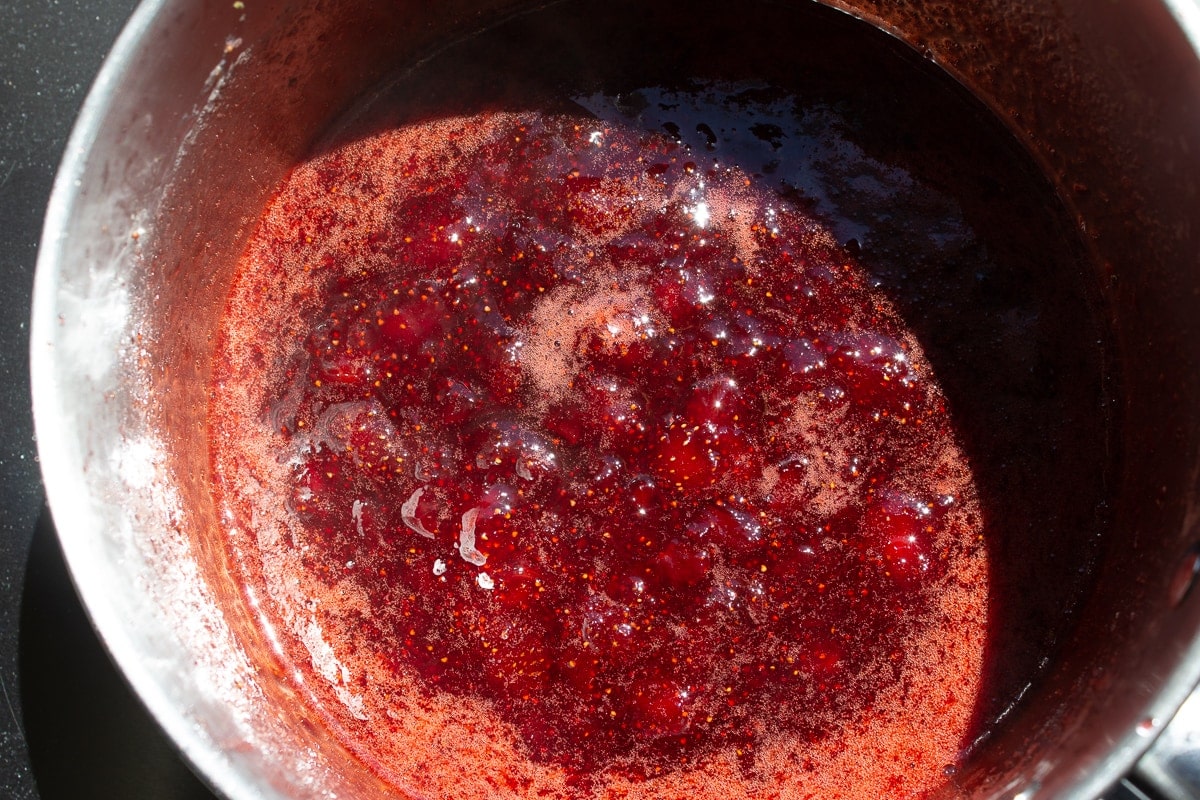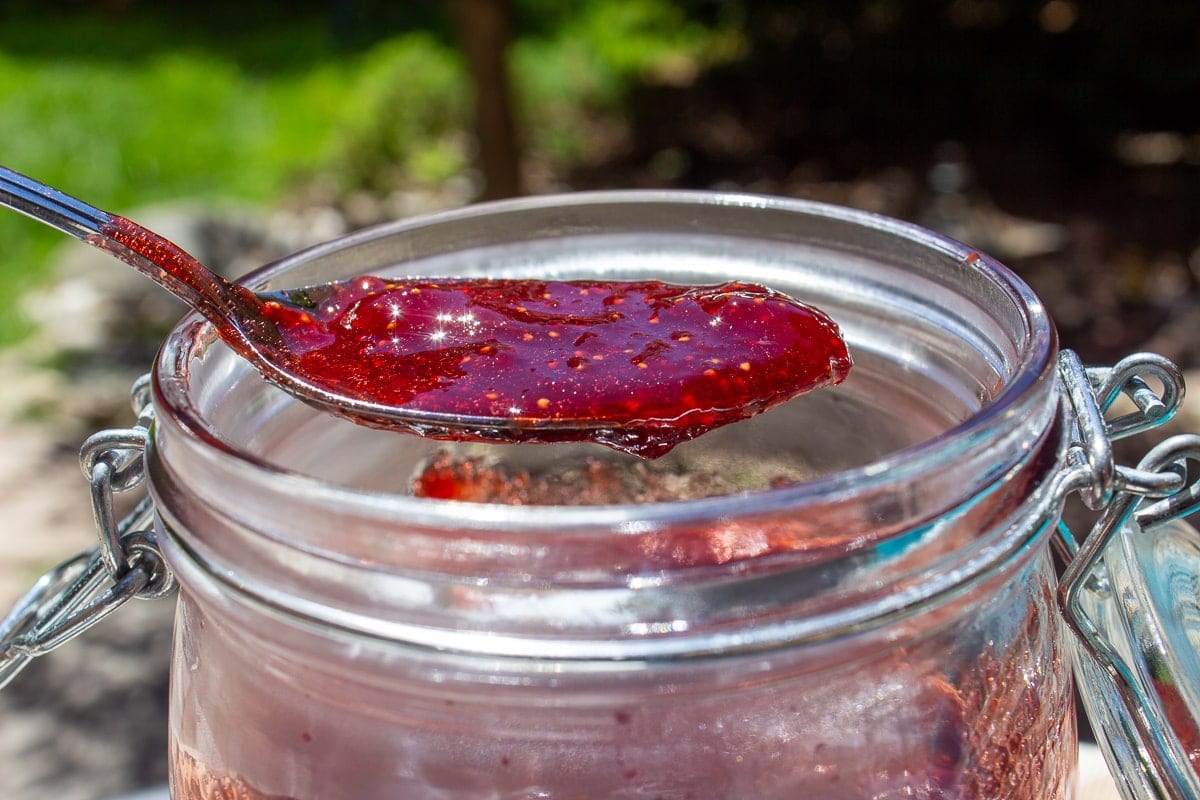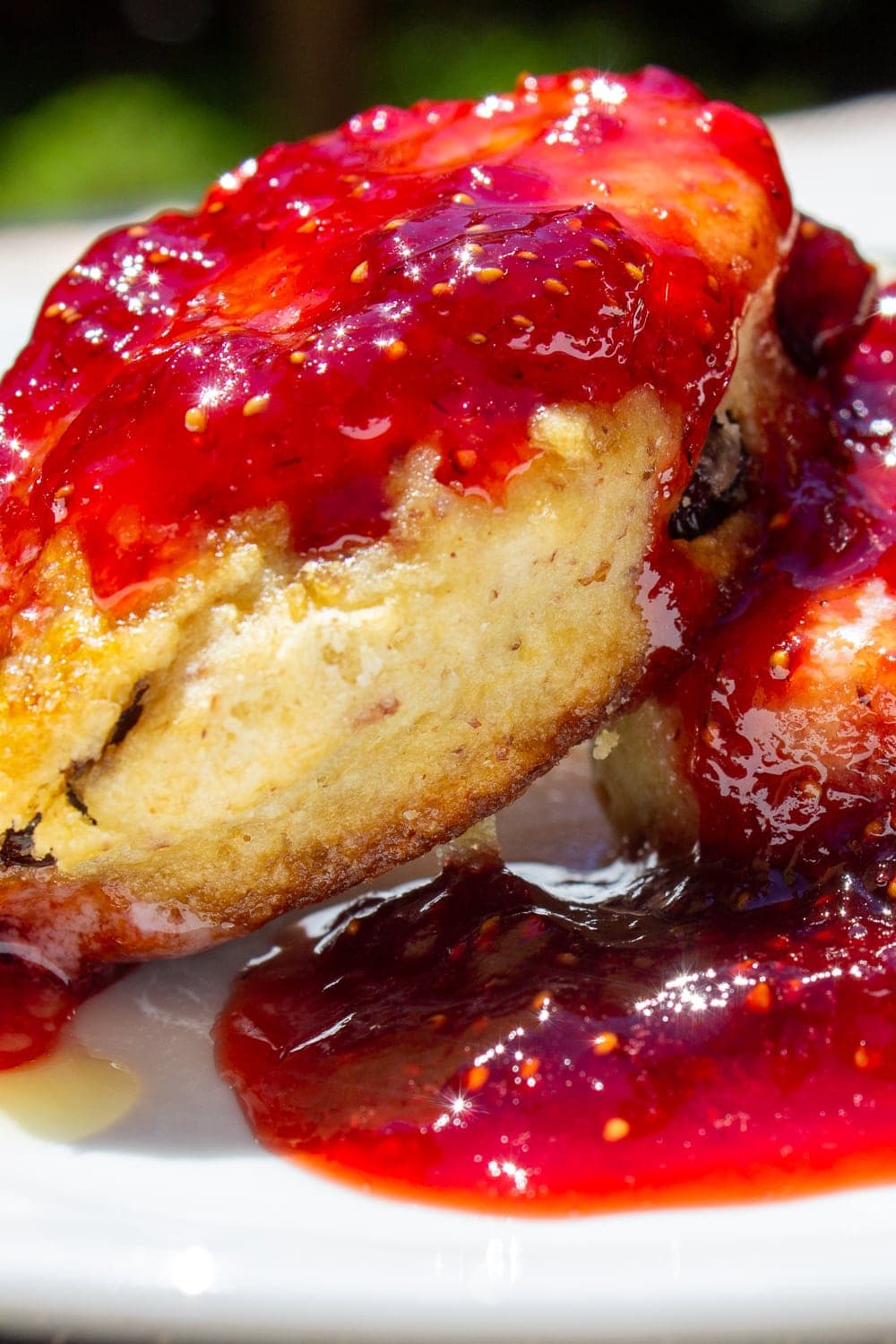 FAQ – Good to Know
Is this really a low sugar jam recipe?
Yes. Most traditional jam recipes use a 1:1 ratio of fruit to sugar. This low sugar recipe uses less than half of that. I would not suggest reducing the sugar further, though, as the jam will have trouble thickening. The sugar helps bind the fruit to make it less watery.
Can I skip the lemon?
No. The lemon is needed as a natural thickening agent since we're not using pectin. You can skip the lemon zest. If you don't have a lemon, use a medium grated apple instead (you may have to cook the jam longer).
Can I use frozen strawberries?
You can, but you will need to cook the jam longer due to the additional water content in frozen strawberries. No need to defrost them first.
Can I make a double or triple batch of strawberry jam?
Yes, but it will take much longer to cook and you will need a very large pot to make sure it doesn't overflow when boiling. A better option is to use two pots and make two separate batches.
Handy Measurements* for Strawberry Jam
Strawberries
4 cups whole fresh strawberries = ~ 2 cups mashed

2.2 lbs/1kg whole fresh strawberries = ~ 8 1/4 cups

20 oz package whole frozen strawberries = 4 cups
Lemon
1 medium lemon = ~ 1 tablespoon zest plus 2-3 tablespoons juice
Strawberry-sugar ratio
Regular jam: ~1 cup sugar to 1 cup strawberries

Low sugar jam: ~ 1/2 cup sugar (or a bit less) to 1 cup strawberries
Yield
1 cup strawberries will make ~ 1/3-1/2 cup low sugar jam
Setting temperature
Jam is ready when candy thermometer reads 220F/105C (or a bit less if you like it looser). See recipe for instructions if you don't have a thermometer.
* measurements are approximate (~)
Storing/Freezing
The jam, once opened, will keep in the fridge a few weeks (but honestly, it won't last that long!). Or freeze the jam for 2-3 months.
3 more easy fruit jam/sauce recipes you might like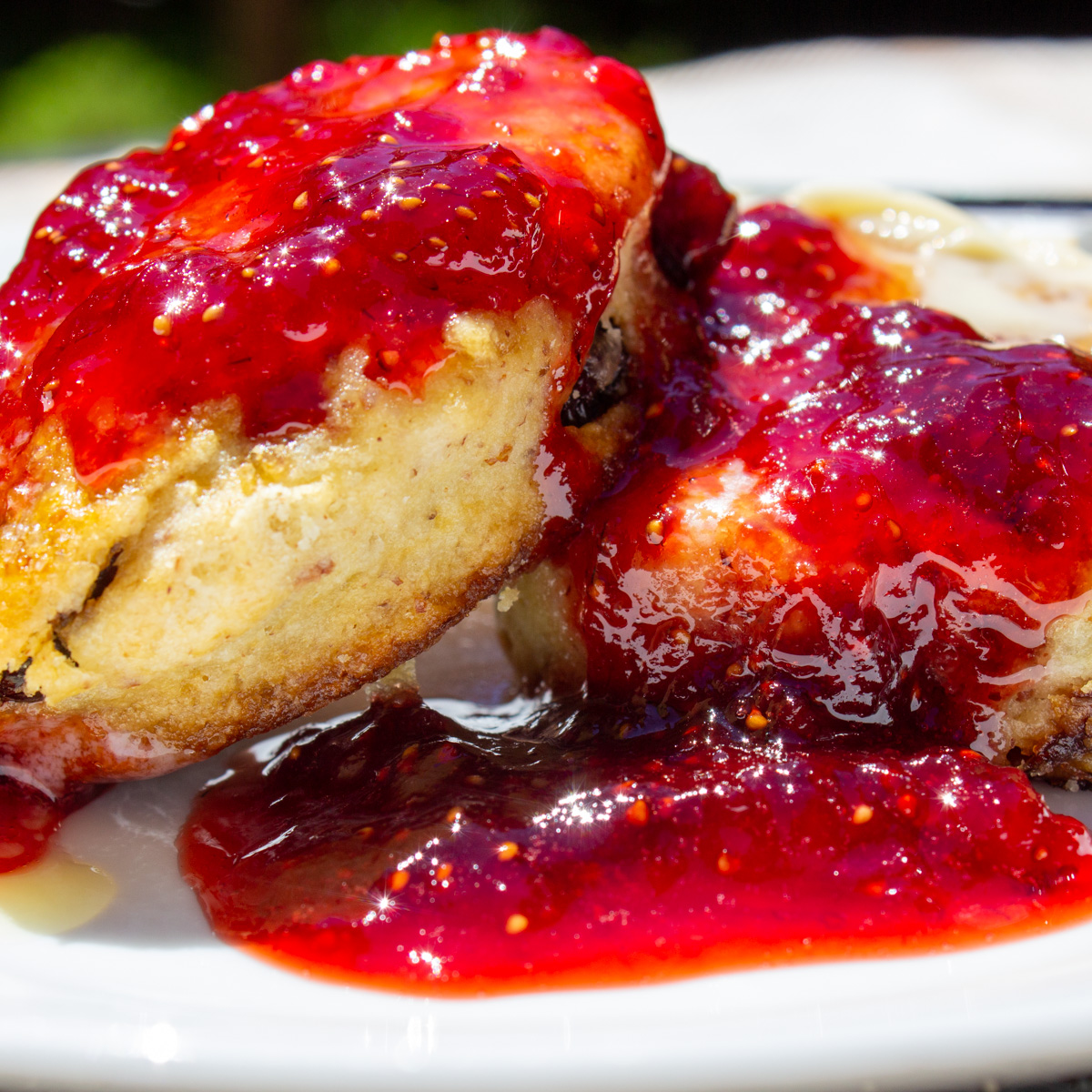 Print Recipe
Pin
Save Recipe
Recipe Saved!
Rate this recipe here
Low Sugar Strawberry Jam (without pectin)
Make this no-fuss homemade low sugar strawberry jam without pectin this summer and you'll be enjoying it on toast, scones and ice cream long after. Just 3 ingredients, no pectin, no canning process, freezer friendly and half the sugar of traditional jams.
Servings:
32
tbsp (2 cups of jam
Ingredients
4

cups

ripe strawberries, washed, stems cut off

(about 1 lb/0.5kg)

1 1/2

cups

(300g) regular granulated white sugar

(more added sugar if strawberries aren't very sweet)

1

lemon

(you need 2 tbsp lemon juice plus 1 tsp lemon zest – or more to taste)
Instructions
STERILIZE JAR(S): You will need 1 medium-large mason jar or other clean jars (2 small ones). Run your jars through the dishwasher. Or, pour boiling water over and into the jars and covers and set them on a clean tea towel to dry.

PREPARE THE MIXTURE TO COOK: Place strawberries, sugar, lemon juice and zest in a medium-large pot (mixture should only take up about 1/3 of pot). Squish the strawberry mixture with a potato masher or your hands. (I use my hands). It's ok to leave some chunks of strawberries.

MAKE THE JAM: Heat stove to medium-high heat. Bring mixture to a boil. Lower to about medium heat (6 on my dial) – you want a medium rolling boil – for 15-22 minutes (depending on how loose or thick you like your jam). Stir occasionally to prevent scorching on the bottom and to prevent to foam from boiling over. Amount of cooking time will depend on speed of boil and size of pot. The jam is cooked when it reaches 217-220F/103-105C on a candy or instant read thermometer. Note 1 for another way to test doneness. Skim off the foam with a spoon. Taste and add a bit more lemon juice if you like.

STORE JAM: Pour jam into mason jars (or just one if larger). Cool to room temperature, then cover tightly and keep in the fridge. Or freezer. Note 2.
Recipe Notes
How to tell if the jam is done: If you have a candy or instant read  thermometer, look for a temperature of 217-220F/103-105C. If you don't, scoop up some jam with a spoon and let it drip off the spoon. If it drips off very quickly, cook it some more. If it drips slowly, falls off in clumps and coats the spoon, it's done. 
Storing/freezing: The jam, once opened, will keep in the fridge a few weeks (if it lasts that long!). Or freeze the jam for 2-3 months once it's completely cooled. Make sure to leave a 1/2 inch/1cm space at the top of the jar to allow for expansion. 
Substitutes:

Use a 20 oz. package of frozen strawberries (no need to thaw). Fresh fruit is better, but frozen will work if you cook it longer due to the higher water content. 
If you don't have fresh lemon, use bottled lemon juice. Or a grated apple (another natural pectin source. Again, you may need to cook the jam a bit longer). 

To double the batch – Use a large heavy pot. May need to cook longer to reach the right consistency. If you triple the batch, cook in two separate pots. 
Nutrition values are estimates.
Nutrition
Calories:
42
kcal
|
Carbohydrates:
11
g
|
Protein:
1
g
|
Fat:
1
g
|
Saturated Fat:
1
g
|
Polyunsaturated Fat:
1
g
|
Monounsaturated Fat:
1
g
|
Sodium:
1
mg
|
Potassium:
29
mg
|
Fiber:
1
g
|
Sugar:
10
g
|
Vitamin A:
2
IU
|
Vitamin C:
11
mg
|
Calcium:
3
mg
|
Iron:
1
mg
Tried this recipe?
We'd love you to rate it above under 'rate this recipe' or in the comment section below. Thanks!