Our DIY Farmer's Market Baby Shower – Tips & Tricks
Another Kook is on the way and we are so excited! On June 10th, we celebrated the upcoming addition to our family with a "Farmer's Market" themed baby shower put together by the Two Kooks (+the best friend of the mom-to-be). It's Jenna here – one of the Kooks – sharing some tips, tricks and friendly advice for hosting a shower, particularly a farmer's market themed party. We decided to primarily use a DIY (do-it-yourself) approach to lower the cost and raise the personal touches.
Narrow Down the Theme, Then Run With It
Early on – about 4 months prior to the event – we began the discussions on who, what, when and where for my baby shower. We settled on Farmer's Market theme to encompass some of my favourites – picnic, farm and vintage. It seemed perfect as I love local farmers' markets and of course all things food related. Make sure when you are planning a shower (any kind really) to capture what the person of honour enjoys (in this case, me). After all it is her special day!
Executing a theme does take some effort, so if you feel that finding decor will be difficult or too expensive, perhaps go with something simple like a colour (i.e. blue shower if you are having a boy or perhaps rainbow colours if you want to keep it neutral, bright and colourful).
Find the Right Venue
We decided to host the party in my condo party room since we were inviting over 40 women. The guest list would have made it too cramped for any of my family to host. I strongly suggest renting a space early on to ensure you get the date and time of your choice. If you plan on having an outdoor event, you will need a Plan B available in case of poor weather. Renting a tent is also a possibility.
Food And Presentation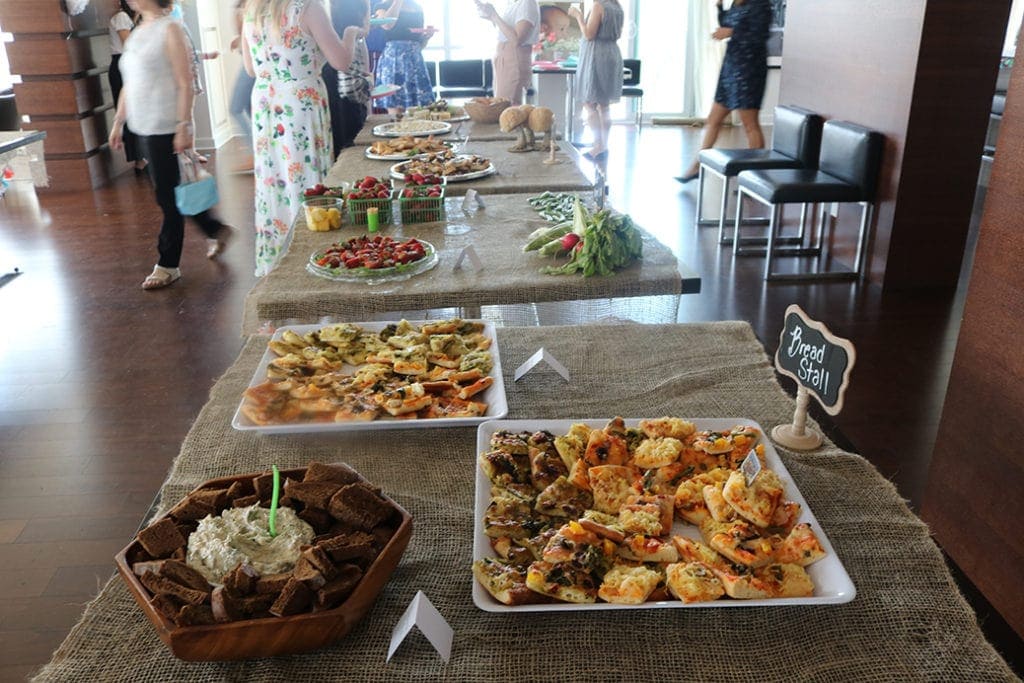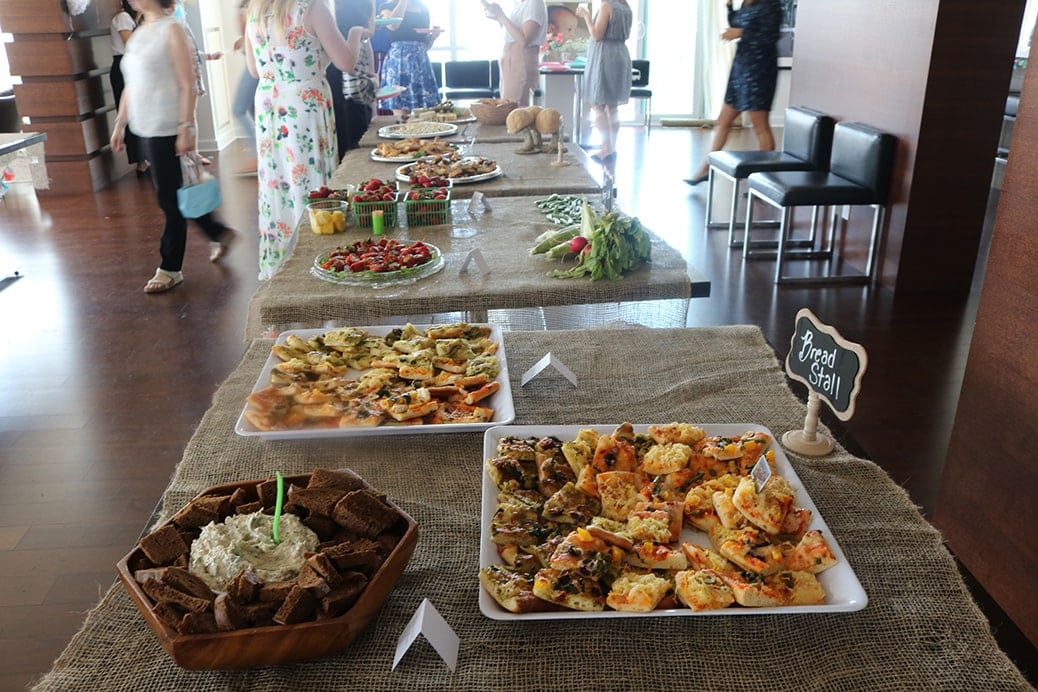 To really capture our theme, we decided to create food 'stalls' just like a farmers market would have. We bought a chalk pen along with inexpensive chalkboard signs at the dollar store to identify the stalls and we dressed each table with cheap burlap that was purchased at a garden center (use to cover plants in winter). It went perfectly with our theme and the simple decorations really added to the space.
As far as the menu was concerned we felt it was important to not only serve finger foods, but foods that could be served at room temperature. Last thing you want to be doing when hosting a shower is spending the whole time in the kitchen heating things up. Not to mention that by using finger foods you can reduce the amount of forks, knives and spoons you need (saving costs!). We created a…
Bread Stall – two kinds of pizza; & spinach dip with pumpernickle bread
Savory Stall – mini puff pastry mushroom, caramelized onion and gryuere cheese tarts; & spanikopita
Fruit & Vegetable Stall – farm fresh strawberries; cut up pineapple; & roasted pepper roll ups with walnut pesto
Cheese Stall – cheese platter with grapes and crackers; & caprese bites
Everything was vegetarian (since I am) and the vast majority was homemade by various family and friends. Each food was also labelled to help guests navigate a bit easier and we did provide a few gluten free options as we knew some of our guests had that as a dietary restriction.
I suggest you try to recruit friends and family to contribute food items to help with the workload. Most people are happy to bring something.
Decorations Are Key
I must admit, I was adamant on having lots of decorations to tie the theme together. Despite my mom's (the other kook's) initial hesitancy about spending money on this portion of the event, she definitely agreed afterwards that it helped to set the scene and tone of the day!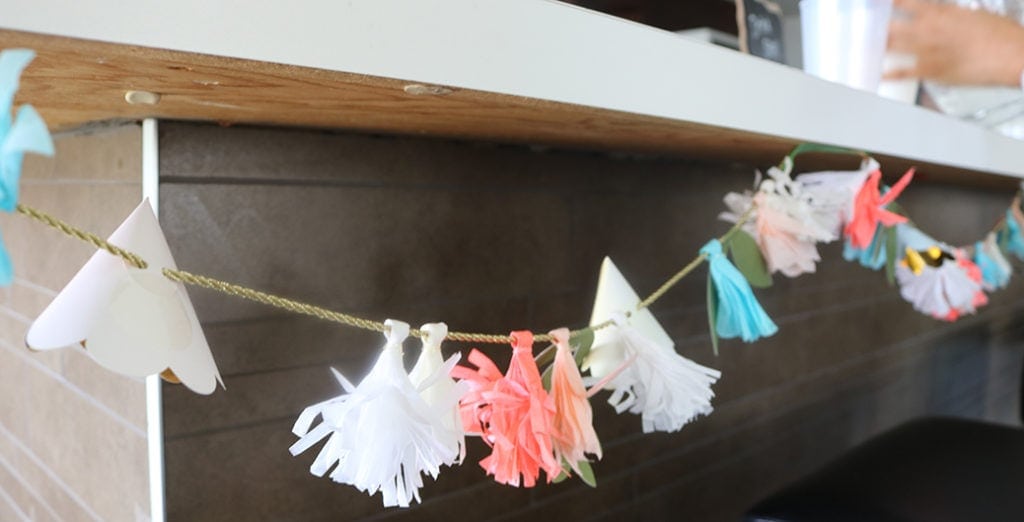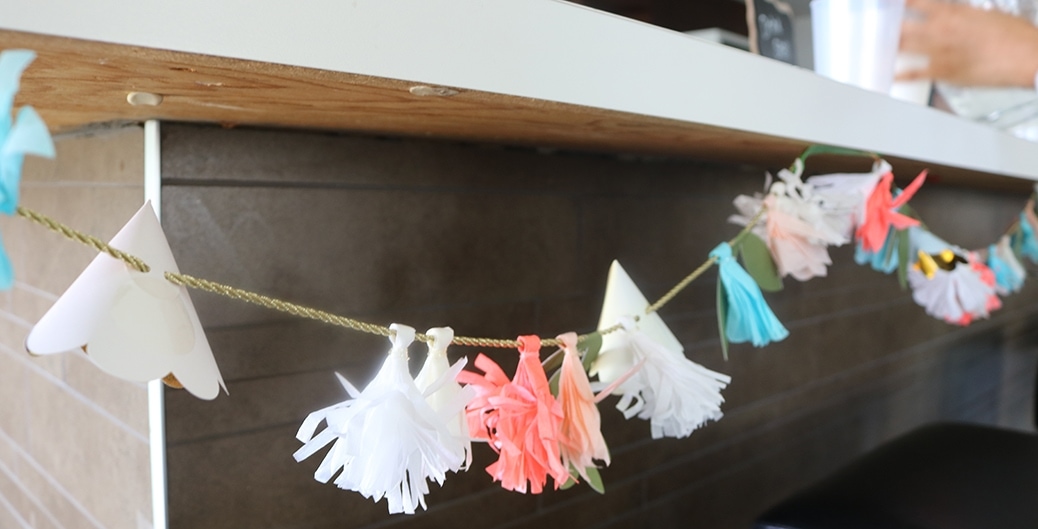 It is a good idea to stick with a colour pallet and searching for decorations earlier rather than later will help ensure you find good deals and prices. Flowers are great, but don't last very long so we went with a combination of beautiful handmade paper flowers (that I got for a bargain at a store basement event) and baby's breath (set in little planters that came with the herbs my mom bought for her garden). We also decorated with produce from the farmers market like corn and radishes as well as a few chocolate hens and chicks that I found on sale right after Easter. These extras all helped set the scene at the food stalls.
Oh, balloons were an absolute must for me. I got 3 groupings of 4 balloons in my colours which added height to the decor and made a statement. TIP: Splurge and get the treatment for the helium balloons that makes them last longer. We were able to get them the day before and they are still floating high almost a week later. Much easier than having to deal with balloon pick-up the day of the party!
Activities with No Pressure
There are typically three types of guests with respect the shower games – guests who love games; guests who don't love them, but will reluctantly participate to be good sports; and guests that HATE games and might avoid showers for this very reason.
We wanted to accommodate all types of guests by making the games completely optional. We set up game stalls across from the food stalls and had a few close friends running them. Guests could come up to one or more of our game stalls and play on an individual level with a chance to win prizes. Those who didn't want to play games could avoid them all together. Since the games weren't 'forced' or played as a group, we felt more people tried their luck.
Voluntary Games we included were:
Price Is Right (with a twist)– guess the total dollar value of the 8 childrens' toys from "Back In The Day" (when they first came out) and the same toys from "Today" (see picture below).
Guess My Belly Size – Cut a piece of yarn to the size you think matched my pregnant belly.
What's For Dinner – guess what was in the 4 unidentified baby food jars.
What's In Mommy's Purse – tick off on a item sheet how many of the items you had in your purse – and add up the points.
For prizes, we opted for lottery scratch&wins and Starbucks gift cards to keep things simple. People loved winning the prizes and hearing the results of the games.
In addition to the games we also set up a photobooth, which turned out to be a big hit. A few simple background decorations and some inexpensive props purchased off Amazon.ca, the photobooth was busy throughout the shower. We also had a Instamax (polaroid) camera where guest could see their pictures instantly and place them in a small book with a special note to the baby. It turned out to be a lovely keepsake for me and, I think, great fun for the guests.
Finally, we sold Raffle tickets with all proceeds going to a charity for a mom in need. The winner of the Raffle won two movie tickets and a bottle of wine. Being a parent these days is expensive and I wanted to give a little something to someone who could use a hand.
Show Stopper
We were lucky that my best friend, Jodi Bernstein, happens to be a fantastic baker. She she not only created a DELICIOUS strawberry buttercream cake, but one that was real show stopper. It tied into the farmers market theme perfectly and was much enjoyed by our guests. It's great to have something special like this, but unless you have a "hookup" like we did, it can be costly. There are tons of great DIY ideas on Pinterest, however, that can fit any budget.
Guest Favours
Your guests not only gave up a good chunk of a day to celebrate with you, but also probably put out some cash on a gift. It is always nice to thank them with a little something for coming. Over the years I have been to many weddings and showers where guest favours are handed out and I have found that edibles are usually the best.
Again, sticking to the theme, we decided to create "popcorn on the cob". Not only were they inexpensive (we bought a massive bag of popcorn from Kernels for around $32), but also really cute and tasty. We piled them into a big steel ice bucket to, once again, match the theme.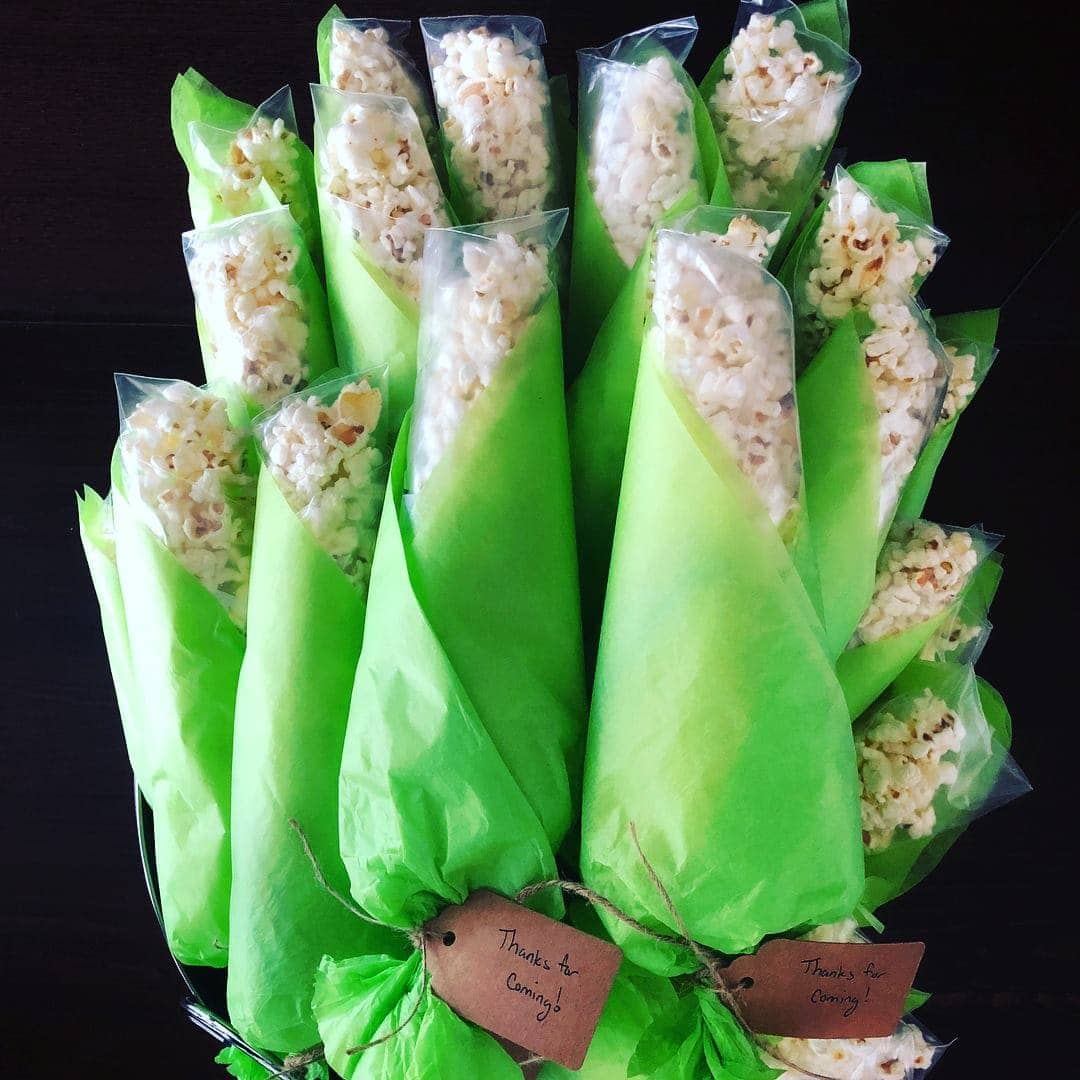 In Conclusion…
No matter what type of event you are throwing, be sure to plan ahead, make lots of lists to help you keep track, think of your guests and the person of honour and recruit help from family and friends wherever you can. We had a lovely time at our shower and we think our guests did too 😀