Panko Crusted Tofu Steamed Buns
Looking for a fun new way to serve tofu? Try our Chinese Panko Crusted Tofu Steamed Buns with your favorite filling for a yummy snack, appetizer or meal.
I love bao (Chinese bread-like dumpling-like steamed buns) and thought I would try my own vegetarian creation with tofu. This is a fun and playful dish that can be served as part of a main Asian-inspired meal, or perhaps a fun appetizer at a cocktail party.
For this recipe, I bought the steamed buns at a Chinese grocer, but I've also make my own using David Chang's Momofuku cookbook recipe for steamed buns. It's helpful to have a "sous" chef manage the buns while you look after the tofu.
Try serving this dish with Vegetable Wonton Soup or Egg Drop Soup with Vegetables.
Tailor To Your Taste
Feel free to add your own fillings – a pickled cucumber or other pickled vegetables would add a good bite/freshness.
Add coriander or green onions
Add heat with sriracha sauce
For a non vegetarian version, add chicken or pork.
Shortcut for Tofu Steamed Buns
The biggest shortcut is to buy the steamed buns if you have them available near you.
Panko Crusted Tofu Steam Buns
Looking for a fun new way to serve tofu? Try our Chinese Panko Crusted Tofu Steamed Buns with your favorite filling for a yummy snack, appetizer or meal.
Ingredients
1

package

Medium Firm Organic Tofu

1

cup

All Purpose Flour

(plus more if needed)

1

Egg, beaten

1

tablespoon

Milk

2

cup

Panko Crumbs

1

cup

Vegetable Oil

(or enough to cover the bottom of your frying pan)

3

tablespoon

Your Favourite Seasoning (optional)

1

pinch

Salt

Store Bought or Homemade Kimchi

(if you are vegetarian make sure it has no fish sauce)

8

Store Bought or Homemade Steamed Buns

Sriracha Sauce (or other favourite sauce)
Instructions
PREPARE TOFU: Start by wrapping your tofu in paper towel and placing it on a plate with a weight on top (I usually use an empty pot). This is to help get out extra liquid from the tofu so it doesn't end up soggy. Leave for 5 mins. Cut your tofu in half height wise and then make 4 strips out of each half so you are left with 8 tofu strips. If your steam buns are smaller cut the strips in half so you are left with 16 (and then you will just need 16 buns instead).

COAT TOFU: Assemble your coating ingredients in a line by putting the flour on a plate, followed by a bowl with your beaten egg and the milk mixed in and finally a plate with your panko crumbs, seasoning and salt mixed together. Start by coating a tofu strip with the flour (be sure to tap the excess flour off). Then dip the tofu into the egg/milk mixture making sure it is completely covered. Finally cover the egg drenched tofu strip with the panko crumb mixture again evenly coating the outside. Repeat for the remaining tofu strips and set them aside on a plate.

FRY TOFU: In a large frying pan, heat your vegetable oil on med-high heat. I usually toss a tiny bit of panko crumb into the oil to check if it's ready. If it sizzles, then you are good to go! In batches fry the tofu strips making sure to turn them on all sides so you get a nice crisp coating all around. Transfer them onto a plate covered in a paper towel to let the excess oil drain. Its easy to burn when you are frying, so try and keep a close eye on it. Usually when I start my 2nd batch of tofu, I get my steam buns going. Cook them according to package instructions.

ASSEMBLE: Warmed the buns for a few seconds in the microwave. Open them up and place a generous helping of Kimchi inside. Next place one tofu strip in bun (you can add more Kimchi on top if you want). Add Sriracha sauce on top to kick up the heat if desired. If you are serving to guests, probably best to have the hot sauce on the side so people can control their own level of spice.
Recipe Notes
For homemade buns, I follow David Chang's Momofuku cookbook recipe. Using a steamer I purchased in China Town, I steamed the buns for approx. 5 mins. I try to time it so that when the tofu is done the buns just finish too.
Tried this recipe?
We'd love you to rate it above under 'rate this recipe' or in the comment section below. Thanks!
Here are a few other Chinese or Asian dishes you might like:
Chinese Stir Fry Green Beans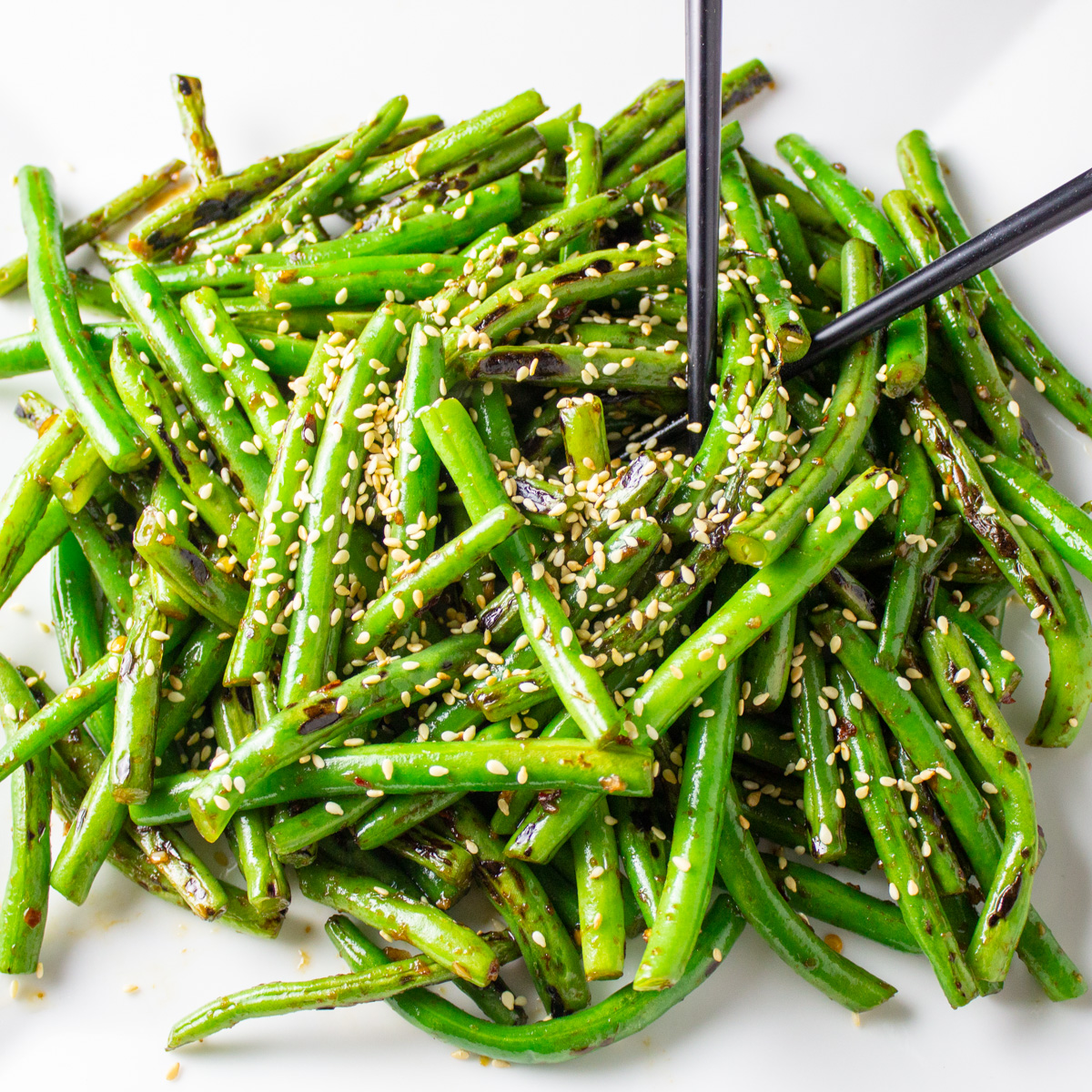 Vegetarian Chinese Stir Fry Green Beans are a wickedly good addition to any meal. Healthy, quick, easy, tasty, spicy (or not) and much better than take-out.
Get the recipe
Rice Paper Rolls (With A Twist)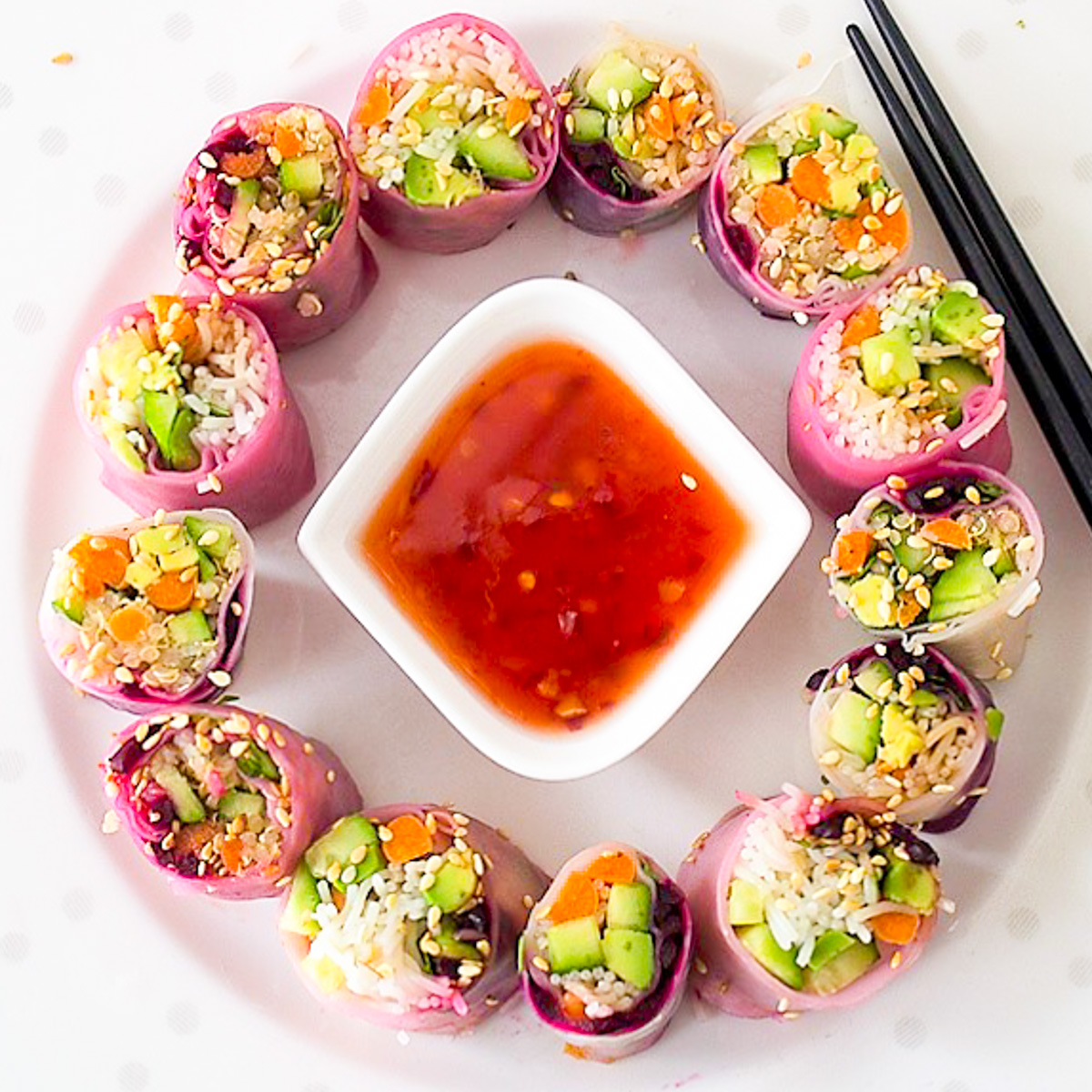 Bursting with freshness, color and textures, these rice paper rolls are a perfect light appetizer before any meal. Check out the pink wrappers! Serve with your choice of dipping sauces. 
Get the recipe
Easy Egg Drop Soup With Vegetables
This easy Egg Drop Soup is loaded with vegetables and fluffy egg ribbons making it a healthy, low cal and delicious version of the popular Chinese restaurant soup.
Get the recipe