Change it up a bit with this savory Spiced Herb Popcorn. Herb-y, lemon-y, garlic-y, smoky and a bit of heat. Great as a snack or appetizer. Addictive!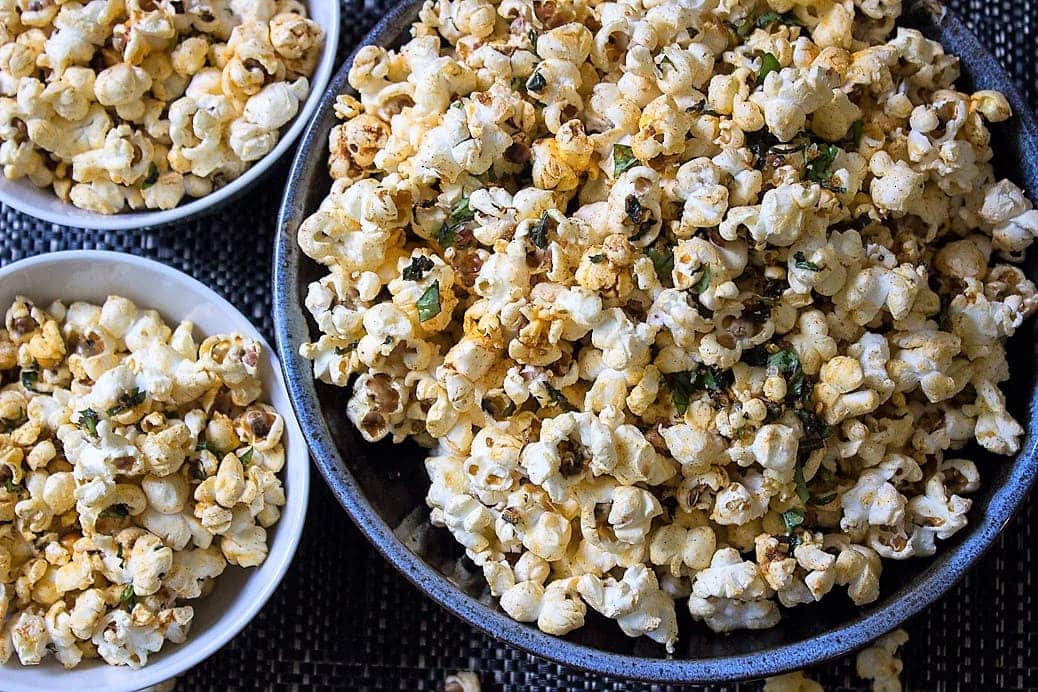 I recently went to a wedding in Santa Barbara and attended a rehearsal dinner at The Lark Santa Barbara (fabulous food by the way). Sitting on the long tables as we entered the private room were bowls of popcorn.  I didn't want to spoil my dinner, but I couldn't stop eating it. And I couldn't get that popcorn out of my head for weeks.  So I decided to give it a whirl.  It seems another blog beat me to it (no big surprise), so I used the recipe as a rough guide and experimented from there.
Pretty close.  A hint of lemon, a bit of smokiness from the paprika and a taste of herbs which I had to increase each time I tested the recipe. Needless to say, once you've mixed it all together, it's easy to add more of this or that to your taste.  I prefer butter, but you can substitute olive oil if you like.  You could also add a pinch of cumin.
Shortcuts for Herb Popcorn
(these shortcuts will reduce total time to less than 5 minutes)
Instead of popping the popcorn kernels yourself, use a microwave bag of plain popcorn.  Or, buy plain popcorn at a kiosk at a mall if you have one nearby.
Use dried herbs and garlic powder instead of fresh garlic – then just heat/melt the topping for 30 seconds in the microwave.
Tailor To Your Taste
Play around with the herbs and spices you like.
Make Ahead
This herb popcorn is best fresh, but is will last for a couple of days in an airtight container or ziploc bag. I suggest using dried herbs and garlic powder if you're making it ahead.
If you have a sweet craving, try our Best Ever Caramel Popcorn (pictured at the end of this post).
adapted from the Dirty Gourmet
Here's another popcorn recipe you will love!