Best Salted Caramel Popcorn With Nuts
No, you can't just eat a handful of this homemade salted caramel popcorn. It's addictive! Crunchy popcorn and nuts with a mouth-watering buttery salted caramel coating.
The recipe is easy to make and a great sweet treat for gifts, snacks, loot bags and holidays.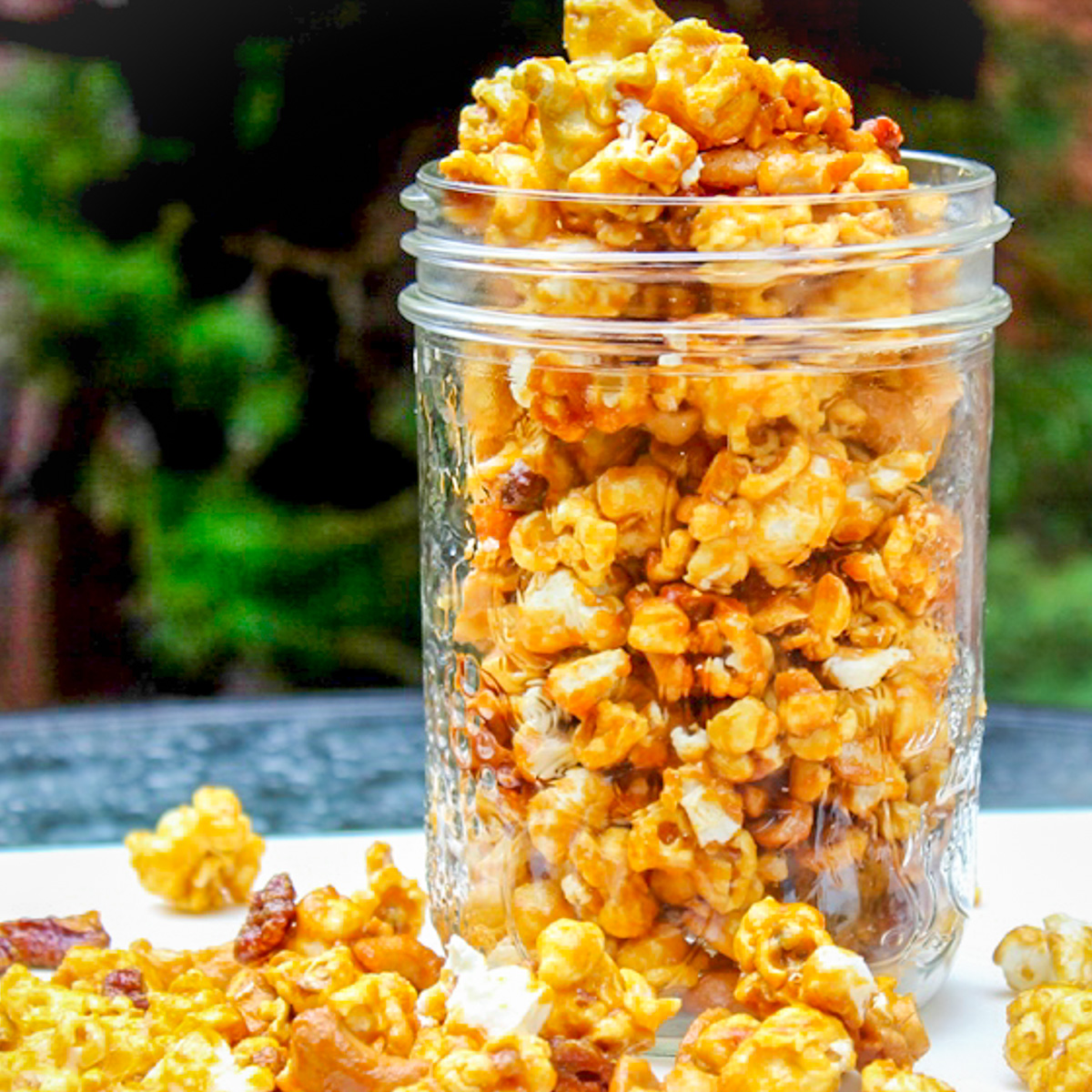 I'm not kidding about this popcorn. It's a scrumptious classic treat that's guaranteed to make you weak in the knees.
I got the recipe from my cousin Cindy who brings it regularly to family events. Never is a kernel left behind.
It starts with plain old popcorn and ends up as a delicious, salted, caramel-nut gourmet popcorn treat that's simply unbeatable.
What you can expect
Easy recipe: When people hear homemade caramel popcorn, they immediately think of an overly complicated candy making process. I promise this is a simple recipe to make. Just 6 ingredients plus salt.
Perfect for any occasion: This popcorn is a decadent treat anytime, anywhere – whether you're just wanting a tasty snack for home movie night, looking for a homemade gift during the holiday season, or serving it at parties, baby showers or another occasion.
Ingredients – tailored to your taste
Popcorn: You'll want to buy good quality popping kernels for the best results. For a substitute/shortcut, buy pre-popped plain, non-GMO popcorn (as plain as you can find). Pre-popped is easier of course as it saves an extra step and a pot, but it is more expensive.
Butter: Use unsalted butter or salted. If using salted, sprinkle on a bit less salt before baking.
Brown Sugar: Use light or dark. Dark brown sugar has a more intense flavor.
Baking soda: This helps to add a light airy texture and a smoother consistency to the caramel coating.
Corn syrup: Ensures the proper texture of the caramel coating. I use light corn syrup, but you can use dark corn syrup if that's what you have on hand.
Nuts: Use whatever nuts or combination of nuts you like such as almonds, pecans, macadamia, cashew or peanuts. You can, of course, leave out the nuts altogether.
Salt: Use a finishing sea salt if you have one. If not, use Kosher salt. Table or iodized salt would make it much saltier so, if that's all you have, use much less.
Topping variations: Drizzle white or dark chocolate over the popcorn when it has completely cooled in the pan. If making the caramel popcorn during the holidays, you can add festive sprinkles or colorful holiday M&Ms over the top of the popcorn before it completely dries.
Step by step instructions
Scroll down for full instructions in the recipe card.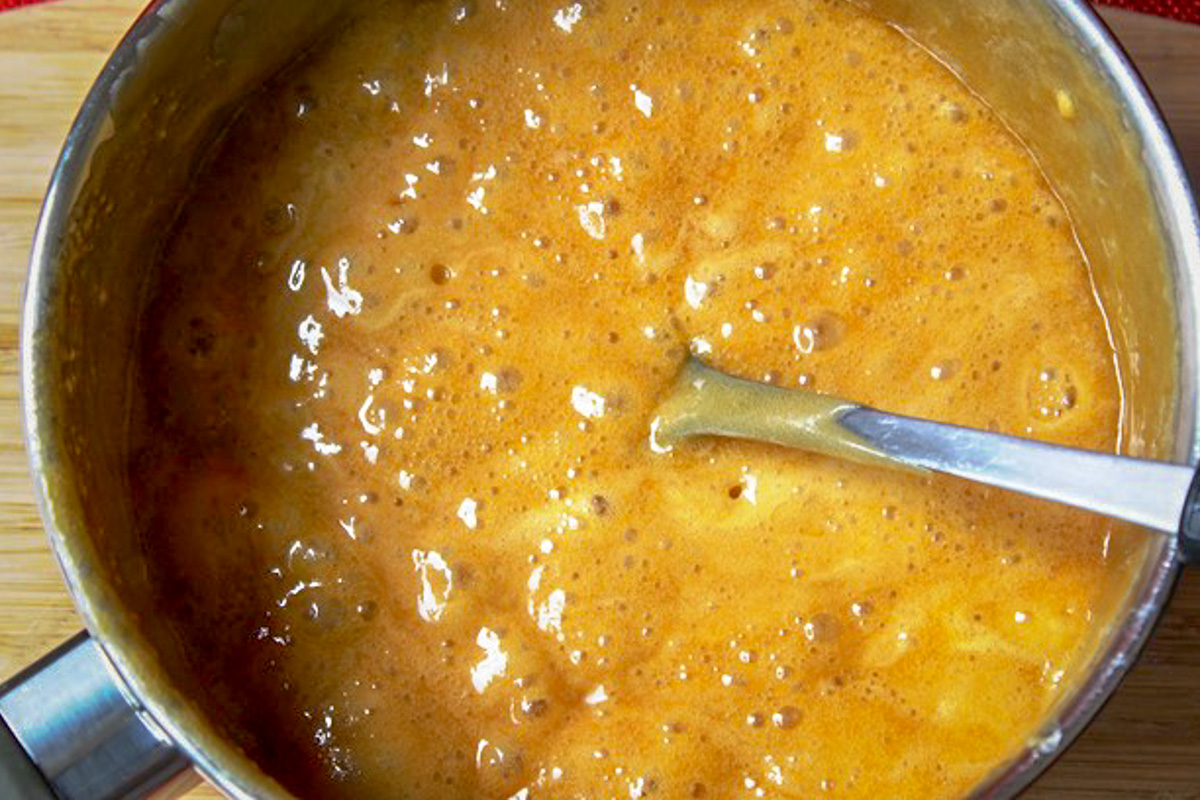 Recipe Tips
Always make sure that the popcorn has cooled completely before sealing it up into bags or other containers. Otherwise, condensation will form inside the container causing it to become soggy.
If the cooled popcorn turns out to be a little chewy, you can just put it back in the oven for a few more minutes.
No one likes to bite into an unpopped kernel. To help separate them, before coating the popcorn with the caramel, put the popcorn in a large bowl and give it a good shake. The heavier kernels will drop to the bottom.
Recipe FAQs
What is the best way to pop popcorn?
The Kitchn tested 8 ways to pop popcorn showing cook time, rating and a discussion of each. The best [and most common] methods were stovetop method, air popper and wok-popped popcorn.
How do I prevent the caramel coating from becoming too hard?
According to Serious Eats, baking soda added to the caramel coating will help to neutralize the acidity and prevent it from becoming too brittle.
How can I make my caramel popcorn less sweet with a lighter coverage of caramel?
You can adjust how much caramel coating covers your popcorn by using more or less popcorn. For full coverage coated with a lot of caramel, use less popcorn. For a lighter coverage (and less calories and sugar), add more popcorn.
How to serve caramel popcorn
Try serving the popcorn in fun paper cups or cartons. For gifts, I fill up small cellophane bags from the dollar or bulk store and tie them with a bow for any occasion:
baby showers
birthday parties
special milestone events
picnics
holiday cocktail parties
gifts
Shortcut
You can pop your own popcorn the old-fashioned way or with an air popper. Or, you can go to your local popcorn kiosk in the mall or grocery store and buy plain popcorn to save the extra step. I do. It saves an extra step, time and pot.
Make Ahead
This homemade caramel popcorn recipe can be made up to 2 weeks ahead. Store it in an airtight container or ziploc bags. It cannot be frozen.
Other tasty snacks
Perhaps you're in the mood for a savory popcorn instead like our spiced herbed popcorn. Or you can check out these other homemade sweet snacks with quick prep.
If you like this recipe, please leave a 5 star rating 🌟🌟🌟🌟🌟in the recipe card below. And if you REALLY like it, consider a review in the comments. Thanks very much!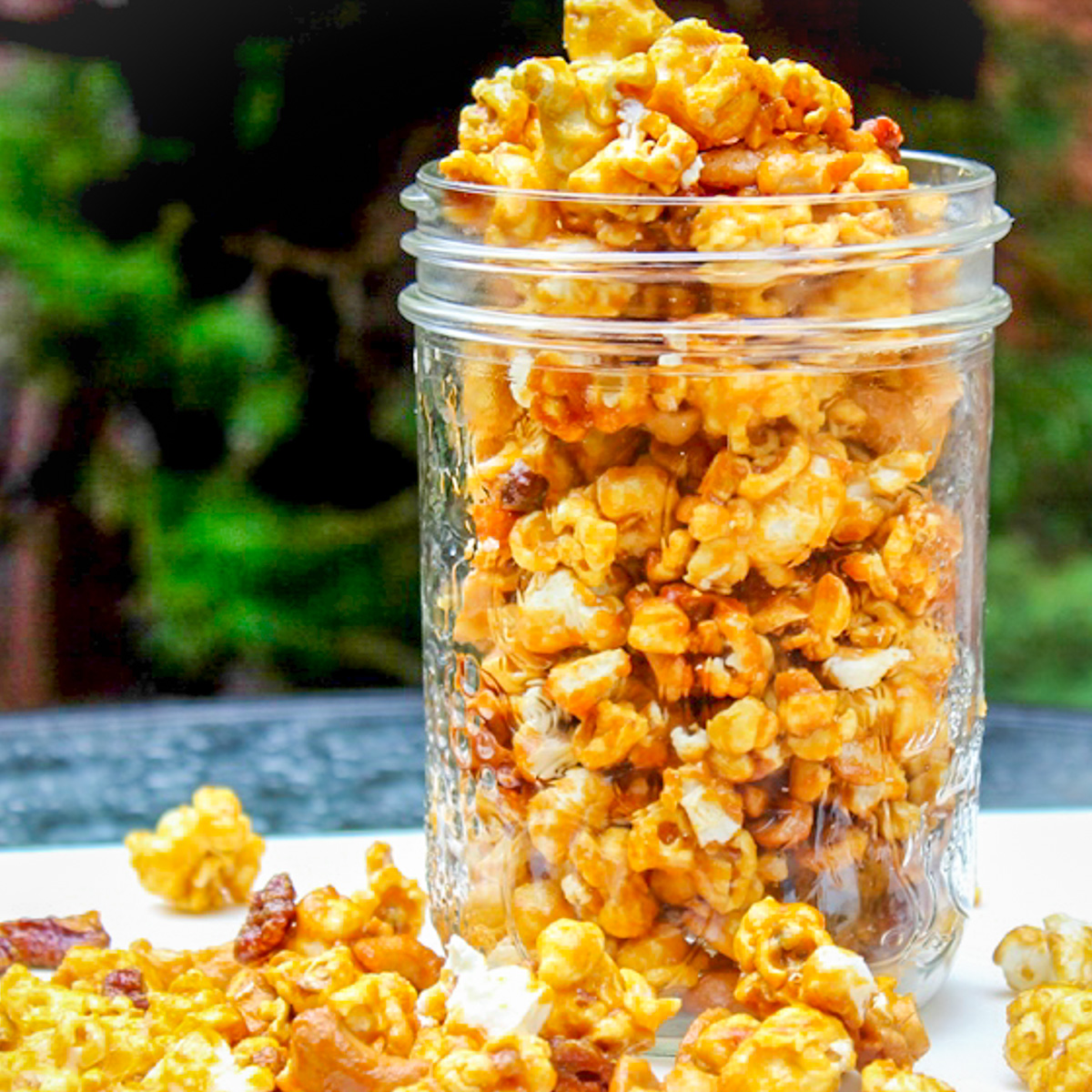 Print Recipe
Pin
Save Recipe
Recipe Saved!
Rate this recipe here
Best Salted Caramel Popcorn
No, you can't just eat a handful of this homemade salted caramel popcorn. It's addictive! Crunchy popcorn and nuts with a mouth-watering buttery salted caramel coating.
Ingredients
1/3

cup

popcorn kernels, Note 1 for shortcut

(to make about 8 cups popcorn))

1

tablespoon

vegetable or canola oil

2

cups

pecans, macadamia, cashews, peanuts and/or almonds
Caramel Coating
1

cup

brown sugar

1/2

cup

light corn syrup

1/2

cup

unsalted butter (1 stick)

or salted butter

1/2

teaspoon

kosher salt

1

tablespoon

baking soda

1

teaspoon

vanilla extract

1/2

teaspoon

sea salt (or less if you use salted butter)

(or sub Kosher salt)
Instructions
Preheat oven to 250F/121C. Prepare two baking pans lined with parchment paper.

MAKE STOVETOP POPCORN: Put 3 kernels and 1 tablespoon of oil in a large pot with a lid on medium heat When kernels pop, add rest of the kernels. Shake to cover them in oil. Cover pot and let kernels pop. When popping slows, remove from heat and empty popcorn into a large bowl, removing any unpopped kernels. You should have 8-9 cups. Add nuts. Note 1 for shortcut.

MAKE CARAMEL SAUCE: Bring sugar, corn syrup, butter and salt to a boil over medium-high heat, stirring to blend. Leave mixture to boil for 5 more minutes without stirring. Remove from heat. Add baking soda and vanilla (be careful, it will foam and bubble up). Stir until well blended.

STIR AND BAKE: Pour caramel sauce over popcorn and mix well until popcorn is evenly coated. Divide popcorn onto two baking pans. Spread it out as evenly as you can on the baking sheet. Sprinkle with sea salt. Bake for 1 hour, stirring 2-3 times to break up clumps and coat popcorn well with caramel. Remove from oven and let popcorn cool completely. If desired, form tennis-size balls while the popcorn is slightly warm. 
Recipe Notes
Shortcut for popcorn: I do this all the time. You can buy plain non-GMO popcorn (as little as possible added) at your local popcorn kiosk or grocery store. You will need about 8-9 cups. I don't suggest you use microwave popcorn because of the additives, but you can in a pinch. The Kitchn tested 8 ways to pop popcorn if you're interested. 
Variation: Drizzle white or dark chocolate over the popcorn when it has completely cooled in the pan. This makes it messier to eat, though, if the chocolate melts in your hand
To store popcorn: When popcorn is completely cooled, store it at room temperature in an airtight container or ziploc freezer bags for up to 2 weeks.
Nutrition values are estimates for 1 cup of caramel popcorn. 
Nutrition
Calories:
413
kcal
|
Carbohydrates:
46
g
|
Protein:
3
g
|
Fat:
26
g
|
Saturated Fat:
8
g
|
Polyunsaturated Fat:
5
g
|
Monounsaturated Fat:
12
g
|
Trans Fat:
1
g
|
Cholesterol:
27
mg
|
Sodium:
644
mg
|
Potassium:
143
mg
|
Fiber:
3
g
|
Sugar:
39
g
|
Vitamin A:
327
IU
|
Vitamin C:
1
mg
|
Calcium:
42
mg
|
Iron:
1
mg
Tried this recipe?
We'd love you to rate it above under 'rate this recipe' or in the comment section below. Thanks!