Beet and Goat Cheese Appetizer
If you like roasted beets and goat cheese, Beet and Goat Cheese Appetizer is for you. It's a simple, pretty and make-ahead puff pastry tart.

I was recently looking for an easy appetizer with beets as I find myself acquiring more and more of a taste for them. I came across one by Jessica Merchant from How Sweet It Is and decided to try it out. My Beet and Goat Cheese Appetizer recipe is pretty much a replication (I always do that first time making a recipe). It was easy to make, it helped me overcome my ignorance about working with beets and worth the effort.
Of course you have to like beets. On second thought, maybe even non-beet lovers would find this appetizer appealing. Beets have a bit of an earthy taste, but they are mild and pleasantly sweet and smooth. Paired with the tang of goat cheese, the sweetness of honey and the crunch of the puff pastry, they make a statement, but they are not overwhelming.
One final note. Don't be intimidated by cooking beets (as I was). In this recipe, you roast them which brings out the sweetness and a gorgeous deep red-purple colour. Just be sure to wash your hands right after handling!
Tailor To Your Taste
One tweak I would make in the recipe is to add the goat cheese topping after the tart is baked, not before.
I would also consider adding some finely diced fresh peaches or pears on top. Some people may even prefer to leave out the goat cheese altogether.
Shortcut
Buy roasted beets which often come vacuum packed at Costco or your local grocery store. This will save a lot of time and messy hands.
Make Ahead Beet and Goat Cheese Appetizer
This tart can be made ahead and served at room temperature. If you like, you can reheat it for 5 minutes in a 375F oven. Add garnishes after reheating.
Beet and Goat Cheese Appetizer Recipe
If you like roasted beets and goat cheese, Beet and Goat Cheese Appetizer is for you. It's a simple, pretty and make-ahead puff pastry tart.
Ingredients
2

medium beets

(red, golden or striped)

1

teaspoon

oil

1

sheet puff pastry, defrosted

1

egg (plus 1 tsp water) for egg wash

4

ounce

goat cheese

salt and pepper to taste

honey, for drizzling

Garnish: basil leaves, diced peaches or pears, goat cheese, pea shoots, etc)
Instructions
Preheat oven to 425F

ROAST THE BEETS: Cut off the green stems of the beets. Scrub the beets under running water to remove dirt and sand. Oil the beets, then wrap tightly in tin foil. Place them on a foil-lined pan (in case they drip) and roast for about an hour or until tender. Remove from oven and let cool a bit. Over the sink, slide off the skins. Wash your hands right away to avoid stains from the beet juice. Slice thinly - about 1/16 to1/8 inch - using a sharp knife. See Note 1 for shortcut.

PREPARE PUFF PASTRY: Unroll the sheet of puff pastry and lay it on a parchment- or foil-lined baking pan. Blend water and egg to create an egg wash. Lightly brush puff pastry with egg wash. Cut pastry in half to make two pieces (this is optional for easier handling).

ASSEMBLE, BAKE, SERVE: Crumble half the goat cheese on the puff pastry leaving a 1/2 inch edge all around. Cover with the beet slices, overlapping a bit. Sprinkle with salt and pepper. Sprinkle more goat cheese on top. Alternatively, wait until tarts are baked and sprinkle fresh goat cheese on top. Bake for about 20-25 minutes or until puff pastry is golden and crispy. Drizzle honey over the tarts. Add garnish if desired. Cut each rectangle into 8 pieces for a total of 16 appetizers. Serve immediately or at room temperature.
Tried this recipe?
We'd love you to rate it above under 'rate this recipe' or in the comment section below. Thanks!
Other recipes with beets you might like:
Beetroot Salad With Oranges
Beetroot salad with oranges is a quick and easy recipe and looks beautiful on the table. Fresh, vibrant and tasty. I make the salad with earthy beets, sweet oranges and an orange vinaigrette drizzle, then pretty it up with tangy goat cheese, nuts and pea sprouts.
Get the recipe
Spinach Quinoa Salad With Beets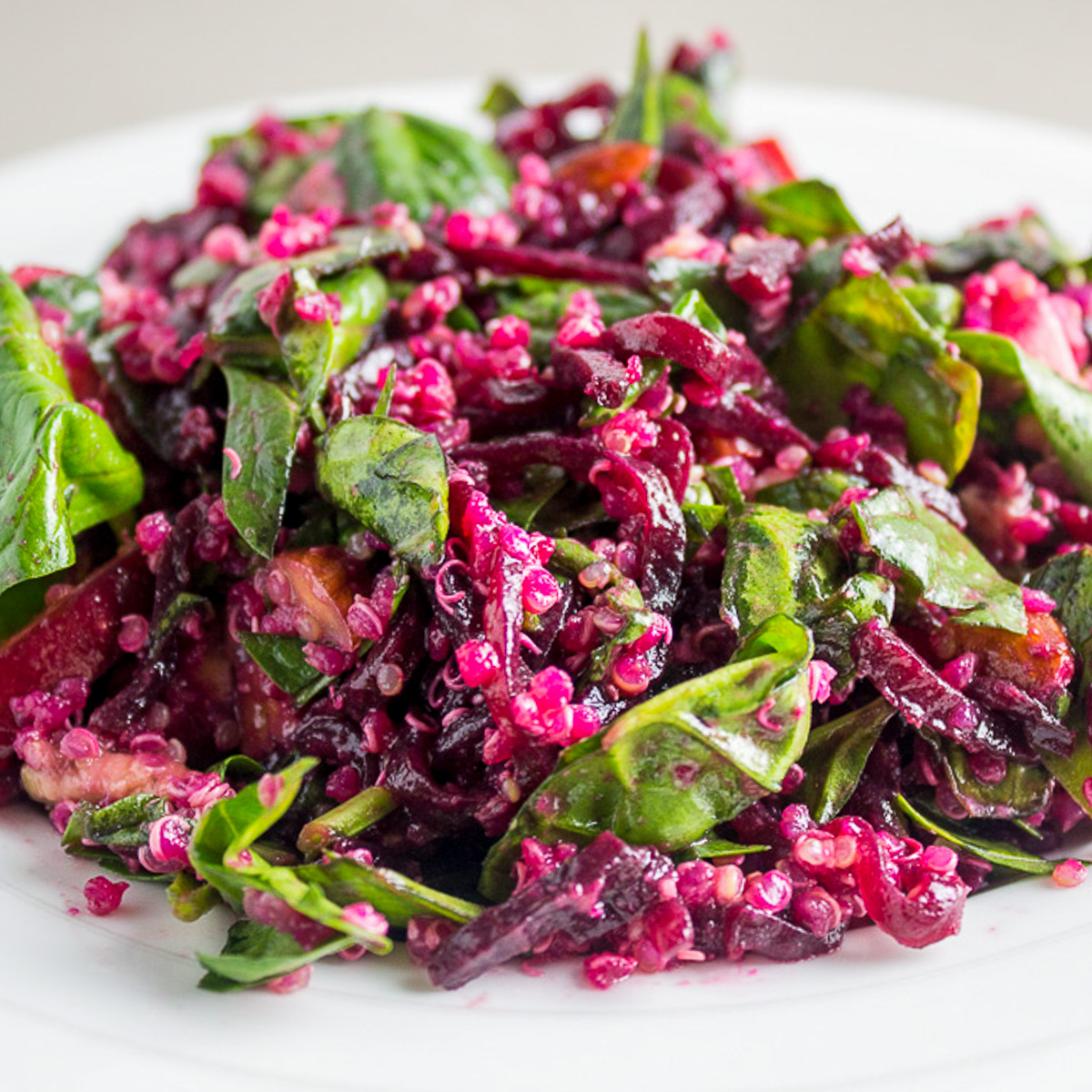 If you're looking for a bold, colorful, earthy, nutritious, textured side dish, this Spinach Quinoa Salad with beets might just fit the bill. It's mixed with apple and avocado, then dressed with a light honey Dijon dressing for great flavors and a beautiful presentation. 
Get the recipe