SousVide Thai Mixed Vegetables & Tofu
This SousVide Thai Mixed Vegetable & Tofu dish allows you time with your guests and ensures a delicious meal. The SousVide method delivers a perfect cook every time.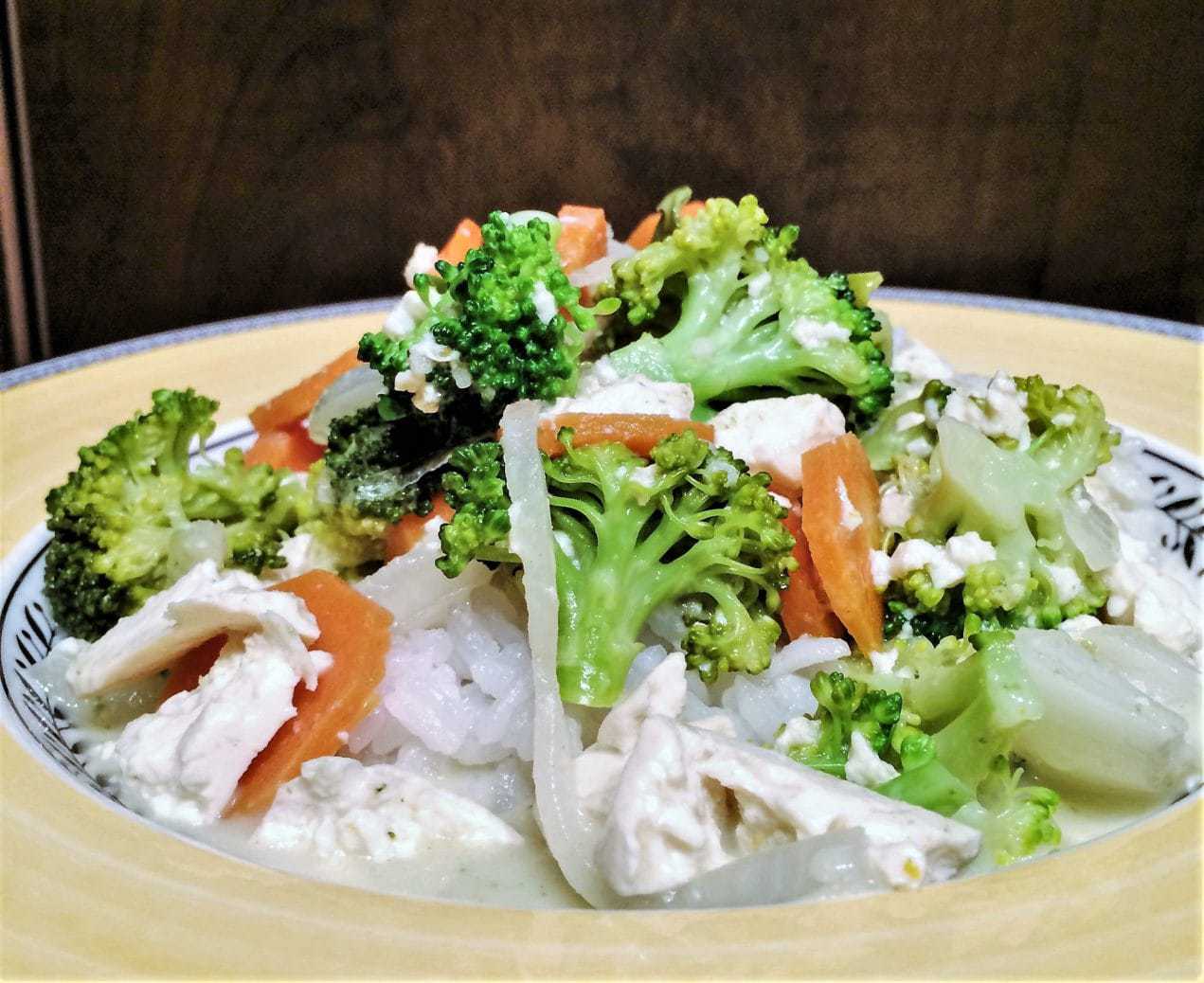 I am falling in love with my Sous Vide machine and enjoying how easy it is to make new delicious meals with this awesome kitchen device. As a vegetarian (it's Jenna here), I try my best to come up with balanced meals to nourish me and my husband. I decided to test how well my new machine would cook sous vide vegetables by creating a vegan recipe. I used a variety of vegetables and tofu in a delicious Thai inspired curry broth.
I am happy to report that the Sous Vide method did not disappoint. My vegetables came out bright and textured with a bit of bite – just how I like them. After the preparation on the vegetables was done, I tossed pretty much all the ingredients in the bag, sealed it and let the Sous Vide work its magic. Within 30 minutes, my husband and I were sitting down to a delicious and nutritious meal. The best part for me was that after a long hard day at work, I didn't spend my evening standing over a pot watching to make sure the vegetables didn't over cook or adding ingredients at different times. And I loved how the colors of the vegetables stayed so bright.
If you are interested in learning more about Sous Vide machines, be sure to visit https://www.cedarlaneculinary.ca/.
Tips for Sous Vide Vegetables
There are many delicious vegetables you can add, but you have to keep the bag size in mind. Next time I plan to add baby corn and reduce the quantities of the other vegetables accordingly.
Sous Vide Thai Mixed Vegetable & Tofu Recipe
This SousVide Thai Mixed Vegetable & Tofu dish allows you time with your guests and ensures a delicious meal. The SousVide method delivers a perfect cook every time.
Ingredients
1

Can of Coconut Milk (I used light)

1/2

Broccoli Head, cut into florets

1/2

Onion, sliced

1

Carrot, sliced

3

Thai Green Chilies, diced

1

Lemongrass Stalk

1/2

package

Firm Tofu, cut into 2"x1" strips

(can use medium-firm, but will fall apart more)

2

Garlic Cloves, minced

1

Basil Handful, minced

2 1/2

tablespoon

Green Curry Paste

1

Lime, wedged (garnish)

1

cup

Cooked Rice (or enough for 2 people)
Instructions
PREHEAT SousVide machine or circulator to 183 degrees F

PREPARE VEGETABLES: Prep all your vegetables by slicing, dicing and mincing according to the ingredient list. Hit the lemongrass stalk with a blunt object a few times (this releases the flavor). Put all the ingredients into a SousVide bag except for the lime and rice. Don't worry too much about mixing it up at this point as once the bag is sealed it will be easier to do.

SEAL VEGETABLES IN BAG: If using a vacuum sealer: Place pouch in the vacuum sealer making sure the liquid and ingredients are at the bottom of the pouch and that there are no food particles where the bag will be sealed. Start by pressing the vacuum seal button and once the liquid begins to move to the top of the bag, switch to seal only (you don't want the liquid spilling out). Give the bag a shake to make sure all vegetables are coated. (Note 1 for alternative seal)

COOK and SERVE: Place bag in SousVide, ensuring it is fully submerged in the water, and let it cook for 30 mins. Slice open bag and pour out vegetable Thai mixture over cooked rice and serve with lime wedges on side.
Recipe Notes
To seal in ziploc: Instead of using a vacuum seal, place ingredients in ziploc bag. Lower bag into water just until seal for bag is above water line. Air will be pushed out. Then seal bag. 
Tried this recipe?
We'd love you to rate it above under 'rate this recipe' or in the comment section below. Thanks!
Other sous vide recipes you might like:
Sous Vide Pork Chops With Apple Chutney get the recipe
Sous Vide Steak with Balsamic – Two Ways get the recipe