Plump tender morsels of veal in a rich sauce of wine, tomatoes, thyme, garlic, carrots and onions, brightened with lemon zest and freshly chopped parsley.  That pretty much describes Veal Stew with Wine, Zest and Thyme.  Except for the deliciousness part.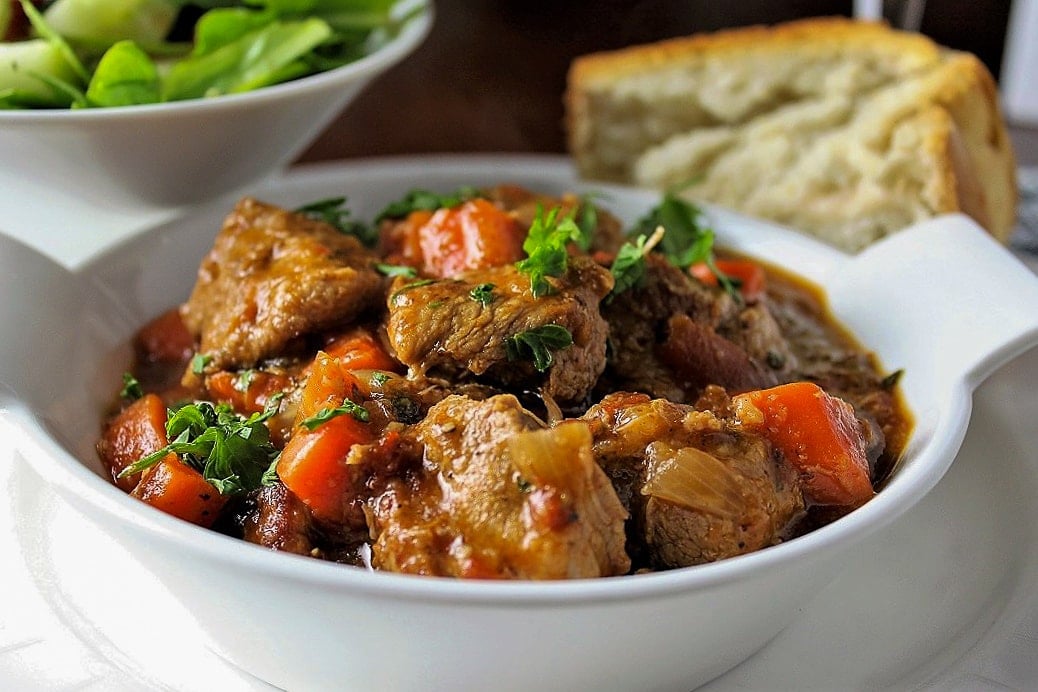 The method to cook this full bodied veal stew recipe is similar to most stews: brown the meat; saute your vegetables until tender; add the liquids and seasonings; simmer until the meat and vegetables are  tender and the broth thickens. This is the old fashioned way. The aromas, the flavors, the memories should not be underestimated.
If you're an instant pot convert, though, feel free to check out our Instant Pot veal stew version. Also yum and you can save yourself a half hour or so.
I've been making this stew for years and it always comes out great. I've also served it a couple of times at dinner parties and got several recipe requests (a good sign).  I don't use exact measurements anymore, but instead, taste and adjust the flavors at the end. A pinch more salt, a bit more thyme, a pinch of sugar, etc.
I love how the lemon zest and capers give the stew a whole new flavor profile – a lift and zing – but you can always leave them and make a more traditional tasting stew. 
Keep it simple and serve the veal stew with some warm crusty bread (for dipping). It's also delicious over mashed potatoes or polenta with a nice fig salad. For dessert, try an easy no-bake Berry Crumble or step it up with Orange Polenta Cake.
Tailor To Your Taste
Substitute rosemary for the thyme.
Add mushrooms or baby potatoes when you add the diced tomatoes.
Add a 1/2 cup heavy cream at the end for a creamier, less intense flavor.
Just before serving, add 2 cups of roughly chopped baby spinach for color and extra nutrition.
Make Ahead Veal Stew
The stew can be made several days ahead, stored in a sealed container and warmed up gently on the stove. The taste is just as good or better, making it a great potluck recipe.
saute veggies
Add wine, broth and seasonings. Simmer

Veal Stew with Wine, Zest and Thyme
This veal stew, made with wine, lemon zest and thyme, is rich, flavourful and full-bodied. Perfect for a weeknight meal, company, potluck or leftovers.
Ingredients
1 1/2

lb

veal stew meat, cut into cubes

2

tbsp

flour

1/4

tsp

salt and pepper

3

tbsp

olive oil, divided

1/2

spanish onion, chopped

2

large carrots, peeled and diced

2

cloves garlic, minced

3/4

cup

dry white wine

1

cup

(rounded) diced canned tomatoes with little to no juice

1

tbsp

fresh chopped thyme

(or 1 teaspoon dried)

1

tbsp

capers, rinsed (optional)

zest, grated from 1 lemon

(about 1 teaspoon)

3

tbsp

chopped fresh parsley

salt and pepper to taste

(and pinch of sugar if needed)
Instructions
SAUTE VEAL: Put flour, salt and pepper into a plastic bag. Add veal and shake to coat. Heat 2 tablespoons of oil in saucepan to medium high. Add veal and brown on all sides, about 6-8 minutes. Remove veal to a plate.

SAUTE VEGETABLES: Add another tablespoon of oil to pan. Add onions and carrots. Saute until softened and fragrant, about 8-10 minutes. Add garlic. Saute for another 1-2 minutes.

COOK STEW: Add wine and boil until almost completely evaporated. Add diced canned tomatoes, thyme and capers (if using). Make sure the liquid reaches just to the top of the meat and vegetables. (add a bit more tomatoes, water or chicken broth if necessary). Bring to a boil, then cover and reduce heat to low. Simmer for about 1 hour and 15 minutes until veal is very tender.

FINISH STEW AND SERVE: Stir in lemon zest and parsley. Taste and adjust seasonings, adding salt, pepper and extra thyme as needed. Add a pinch of sugar if needed as well. Ladle into serving bowls and serve with crusty bread and a salad on the side. Or serve over noodles, rice, polenta or mashed potatoes.
Notes
Make Ahead: The stew can be made 4-5 days ahead, stored in a sealed container and warmed up gently on the stove.
Nutrition values are for 3 generous servings. They will be less if you serve 4 people. 
Nutrition
Nutrition Facts
Veal Stew with Wine, Zest and Thyme
Amount Per Serving
Calories 563
Calories from Fat 270
% Daily Value*
Fat 30g46%
Cholesterol 186mg62%
Sodium 603mg26%
Potassium 1101mg31%
Carbohydrates 16g5%
Protein 46g92%
Vitamin A 7335IU147%
Vitamin C 21mg25%
Calcium 100mg10%
Iron 4mg22%
* Percent Daily Values are based on a 2000 calorie diet.
Tried this recipe?
We'd love you to rate it above under 'rate this recipe' or in the comment section below. Thanks!
Here's a similar veal stew make in an instant pot:
Instant Pot Veal Stew
The Instant Pot creates a tender flavorful veal stew with tomatoes, carrots, celery, garlic, onions, spinach and potatoes, bathed in a rich sauce.
Get the recipe
And a couple of other hearty meals in a bowl:
Beef Barley Soup Recipe
This hearty beef barley soup recipe is the ultimate comfort meal-in-a-bowl. Thick, deep rich flavors and loaded with healthy grains, veggies and protein. Delish!
Get the recipe
Sausage and Bean Soup Recipe
This hearty spicy Sausage and Bean Soup is packed with nutrition, heat and fantastic flavors. A perfect meal in a bowl with some hot crusty bread.
Get the recipe
Shrimp Chowder Thai-Style Recipe
Shrimp Chowder Thai Style combines the heartiness of a chowder with Asian notes of [dairy free] coconut milk and curry paste. Creamy, spicy and fabulous
Get the recipe
This veal stew recipe, originally posted in Dec 2016, has been updated.