East Meets West Chowder combines the heartiness of a seafood chowder with Asian notes of [dairy free] coconut milk and curry. Creamy, spicy and flavourful.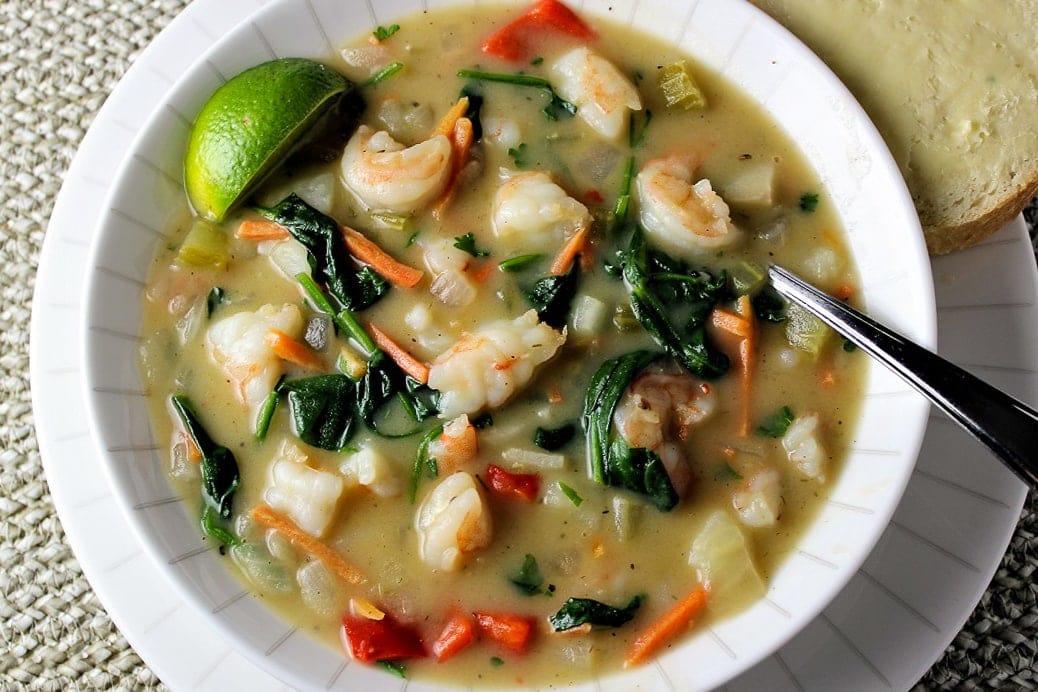 I made this chowder on Friday evening, set down a big steaming bowl with some crusty buttered bread on the desk where my husband was playing xbox with his friends from England (a regular Friday night stint) and went off to eat dinner with my parents (also a regular Friday night activity).  Half an hour later, I received a text "Delicious chowder! Don't change a thing!".  Smile 🙂
I wasn't sure if the east meets west marriage would work with a chowder, but it does.  You get the comfort of a typical chowder with creaminess, soft potatoes, onions, carrots, celery and thyme-marjoram-bay leaf seasonings…along with the Asian Thai flavours of curry paste and coconut milk.  I threw in some baby spinach and red pepper to add some beautiful colour (and some additional nutrition) and some sliced water chestnuts for crunchy texture.
I used shrimp for the seafood, but of course you can add other firm flesh fish or clams as well.  The trick is to add the seafood in the last few minutes of cooking to keep it tender and not rubbery.  Come to think of it, this soup would be a perfect dish for Christmas Eve for those who stick to a seafood menu.  It can be made ahead to the point where you just drop in the seafood at the last minute.
In any case, the end result is a creamy, hearty, spicy chowder loaded with vegetables and seafood.  Comfort food with a twist.   Serve it as a full meal with some good bread or as a starter.
Variations
vary the seafood you add.
substitute seafood with chicken.
substitute seafood with more vegetables or tofu for a vegetarian version.
use light coconut milk to reduce the calories.
Another soup you might like:
Thai-Inspired Butternut Squash Soup