Vegetarian Thai Green Curry Paste
It takes just 3 minutes to make this fresh, vibrant, bursting-with-flavor vegetarian Thai green curry paste recipe. Yes, you can use a store-bought paste, but this homemade version is so worth the extra small effort.
You can use it in a ton of recipes and it freezes well. So make extra.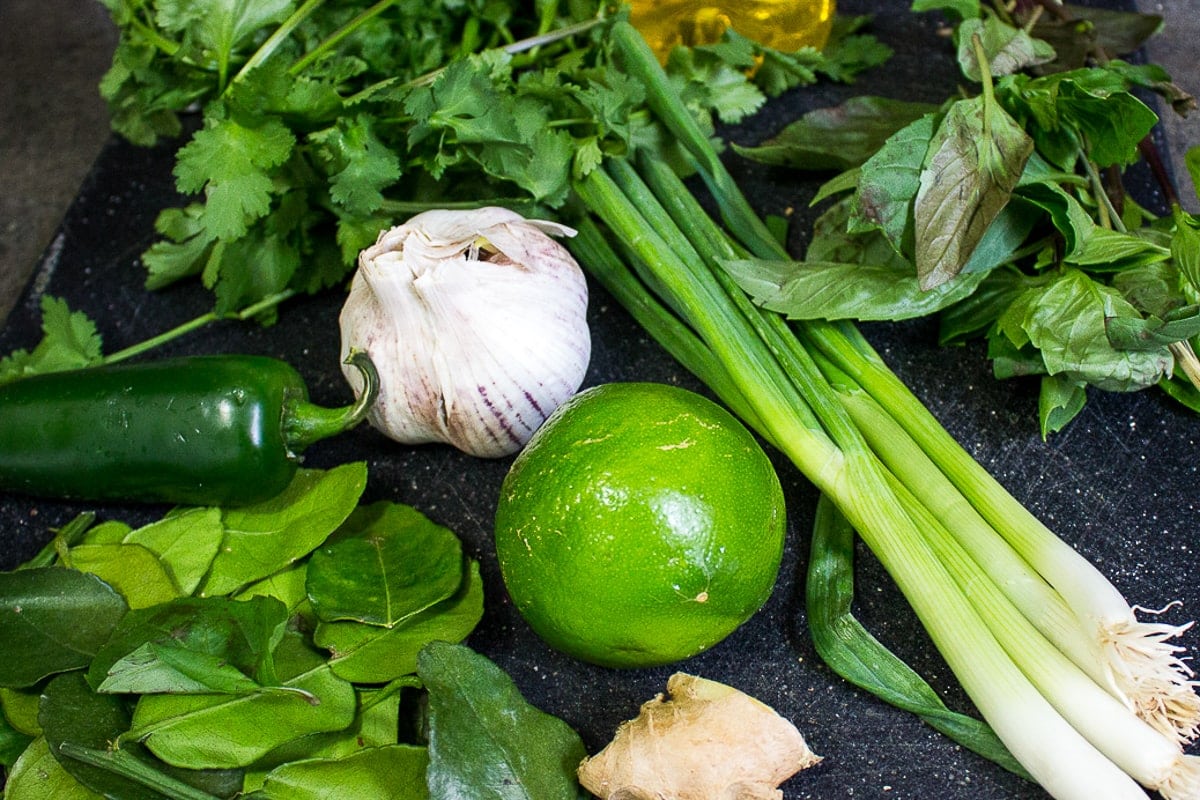 I learned to make this recipe – a vegetarian/vegan version – in a cooking class with Chef Leanne Rabinowitz at Maplehern Cooking School in Toronto. It's perfect for any Thai green curry recipe.
When I tasted our end product, I was hooked. I've been using it ever since. We made a vegetable curry that day and since then, I've made many successful variations.
Why you should make your own curry paste
Don't get me wrong, I use store-bought green curry paste too (Thai Kitchen Green Curry Paste is a popular one), but when I want to add that extra zing, I make my own green curry paste from scratch. It only takes a few minutes (not counting buying all the ingredients). Here's what you get with a homemade version:
super fresh flavour and vibrant green color
perfect balance of flavors as you can vary the ingredients according to your taste.
control over the amount of heat
vegetarian/vegan-friendly with this plant-based green curry paste
Tips
Make a double or triple batch and freeze what you don't need. This is useful since you'll likely have leftover ingredients. You can't buy 4 Makrut leaves* for example.
Be careful when removing the seeds for chili peppers. Wash your hands well and don't touch your face or eyes!
* Makrut leaves are often referred to as Kaffir lime leaves. We no longer use this term as it is offensive to people in South Africa and elsewhere.
Tailor To Your Taste
The best way to get the blend of flavors you prefer is to start with less of an ingredient and keep testing and adding until you're happy. Remember, though, the paste is always paired with other things like coconut milk which will mellow the flavors and heat considerably.
How to make this vegetarian Thai green curry paste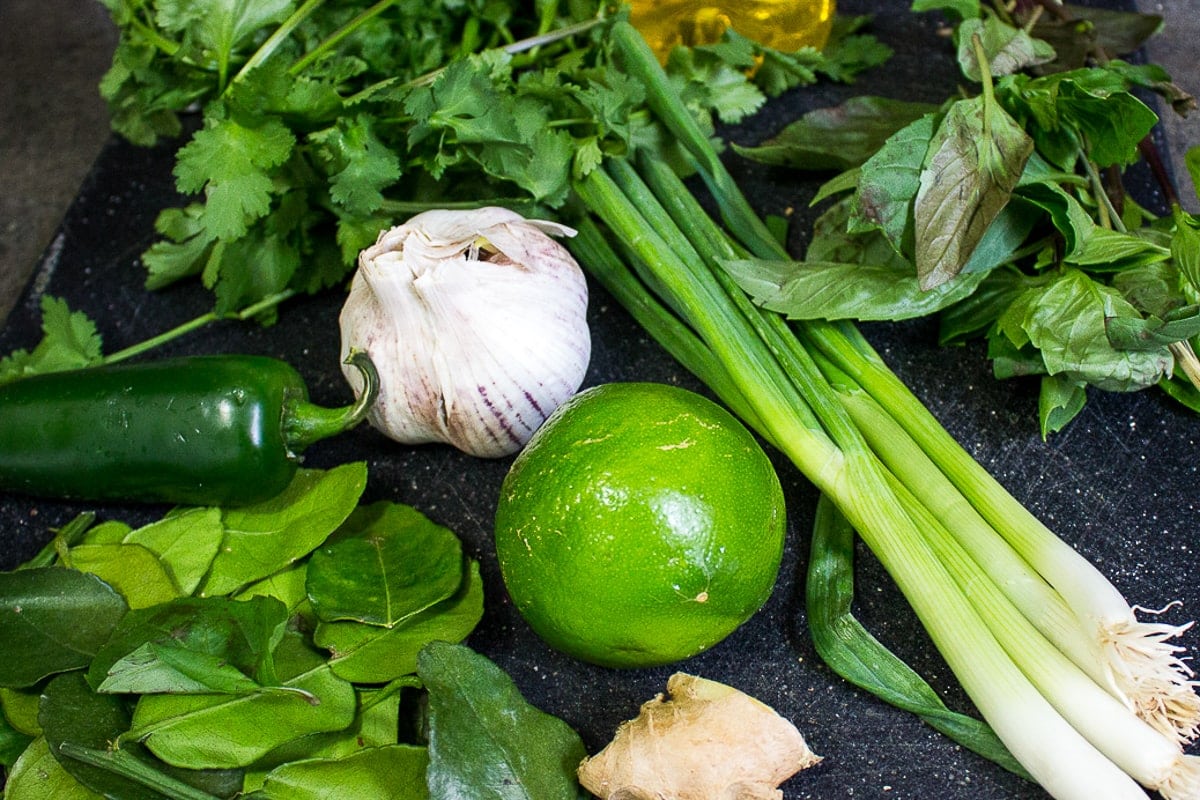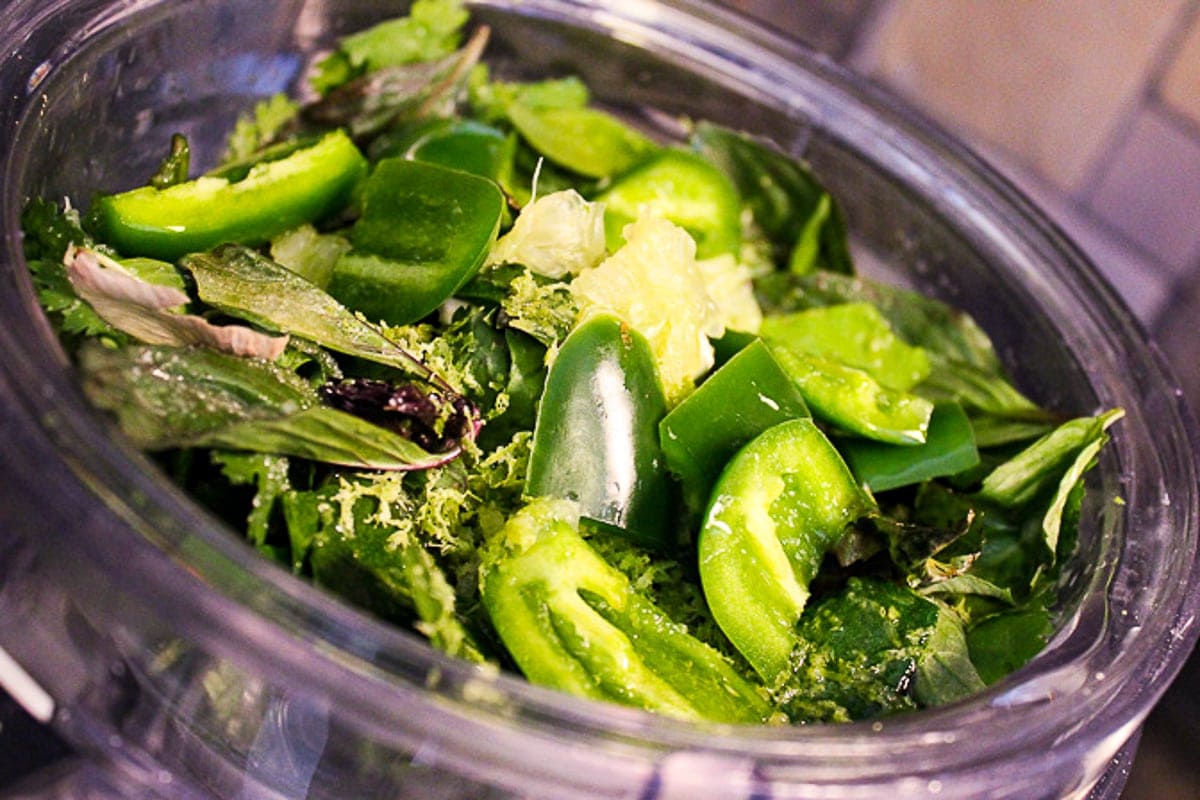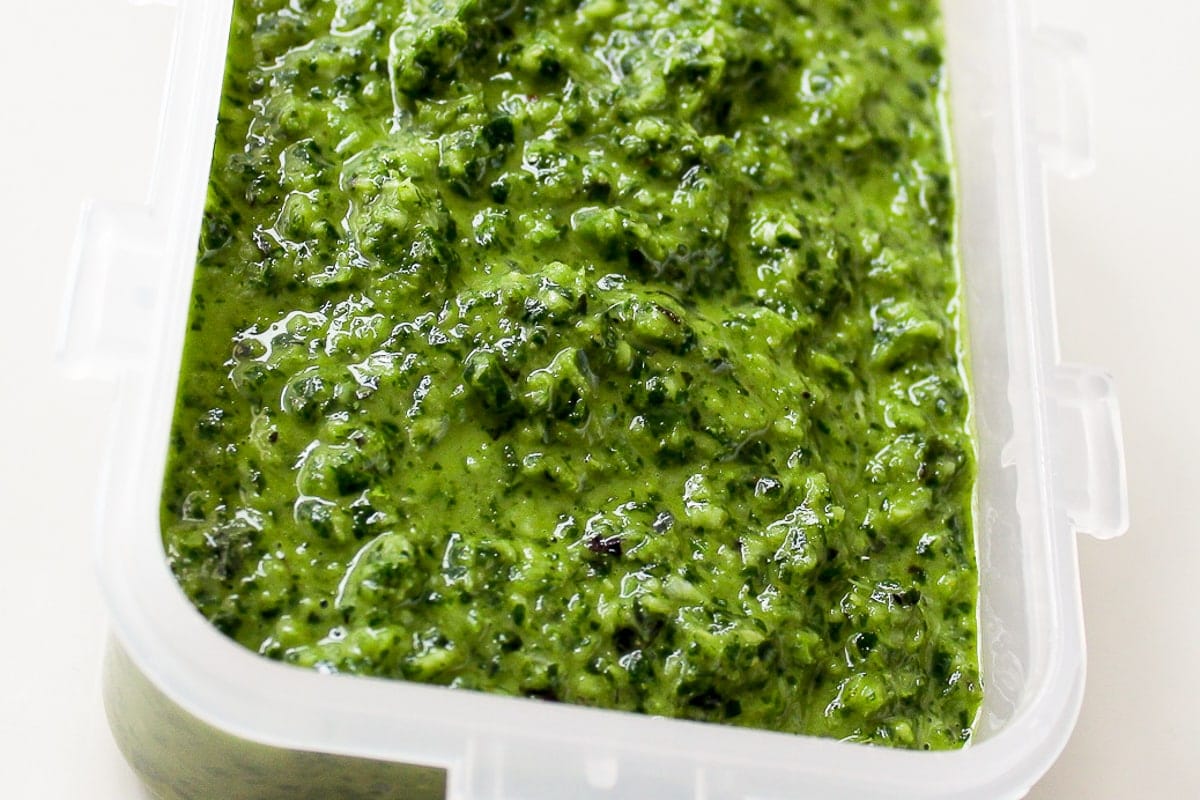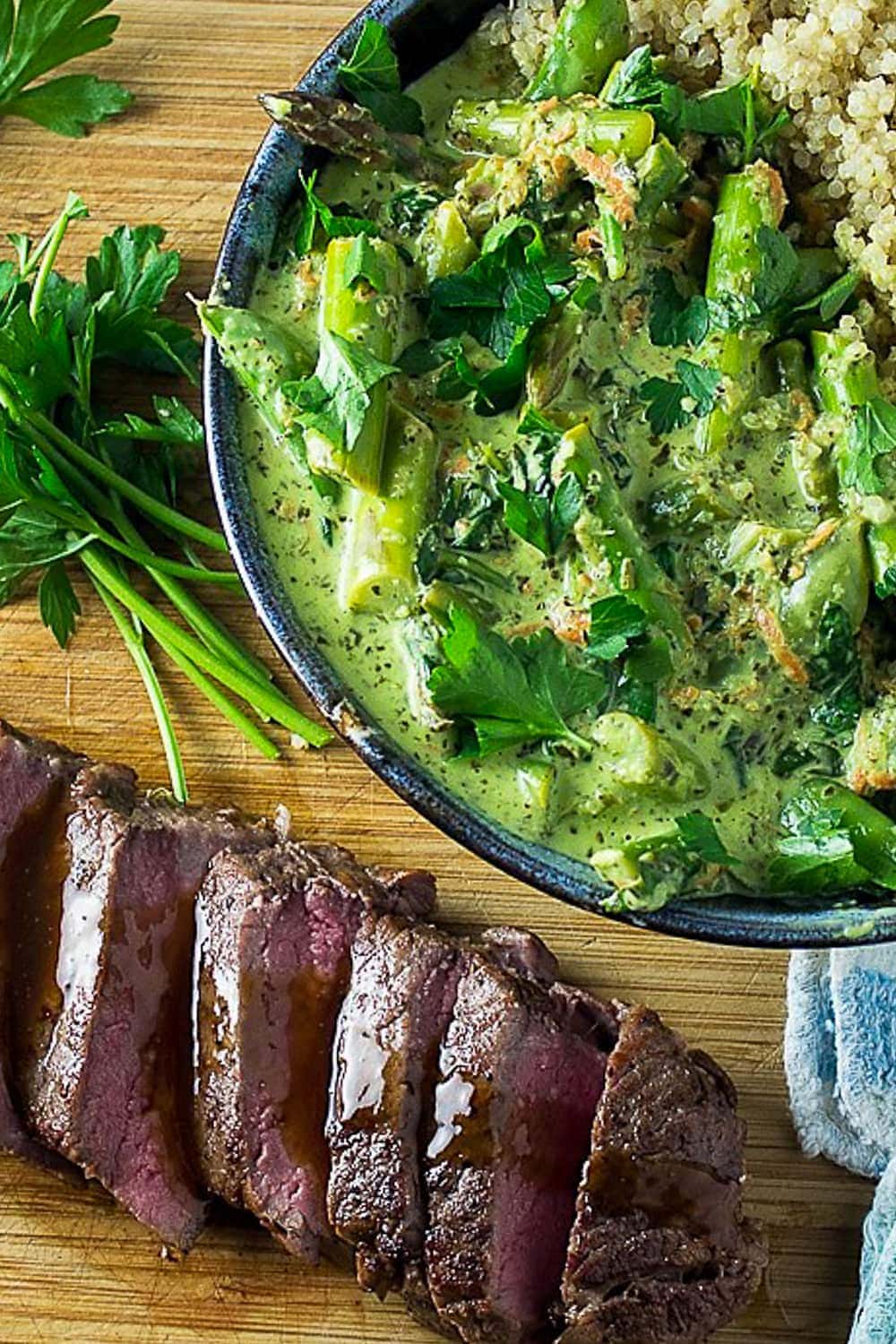 Recipe FAQ
Is this an authentic Thai recipe?
No. This green curry paste recipe is a vegan version. Traditional Thai curry pastes would include shrimp paste or dried shrimp. Some use fish sauce. But no worries – it will still make a delicious Thai curry.
What is the difference between green curry and red curry paste? 
Green curry paste uses green chillies (and cilantro and basil) and red curry paste uses red chiles (and sometimes tomato paste as well for added color and flavor). Typically, red curry paste is hotter, but the spiciness of all curry pastes can be modified to your taste.
How do you turn the green curry paste into a curry recipe? 
In a nutshell, saute some curry paste with oil (this recipe already has oil in it so no need to add more), then add coconut milk and vegetables. Cook until tender. Shrimp can be added in the last 3-4 minutes.
What can I substitute for Makrut lime leaves?
Makrut leaves (also called Kaffir leaves) are often found in Asian grocery stores. If you don't have one near you, replace them with lime zest, lemon zest or a lemongrass stalk. Or leave them out.
Ways to use your homemade curry paste in Thai cuisine recipes and more
Add green curry paste to Thai curries, cauliflower rice, scrambled eggs, guacamole and salad dressing. Or as a stir-fry seasoning or soup base. If you love Thai food, this aromatic paste will be a fabulous addition to your tool kit.
Scroll the Thai-style recipes below for ideas.
Make Ahead
Store the green curry paste in an airtight container in the fridge for up to 7-10 days.
Freeze in zipper lock bags or in smaller portions in ice cube trays for a month.
Thai Green Curry Paste Recipe (vegetarian)
It takes just 3 minutes to make this fresh, vibrant, bursting-with-flavor Thai green curry paste recipe. Yes, you can use a store-bought paste, but this homemade vegetarian version is so worth the extra small effort. You can use it in a ton of recipes and it freezes well. 
Servings:
8
if making a sauce with 1 can coconut milk
Equipment
food processor, immersion blender or blender
Ingredients
1

green chili – cored, seeds removed, Note 1

(e.g. jalapeno or serrano),

4

green onions, chopped in 3-4 pieces

3

garlic cloves, peeled

2

inch piece fresh ginger, peeled, roughly chopped, Note 2

(1 inch/2.5cm diameter)

2

teaspoon

ground coriander

4

Makrut lime leaves

(sub 2-3 teaspoons lime zest if you can't find them)

1

cup

(16g) cilantro or parsley leaves, loosely packed

1

cup

(16g) basil leaves, loosely packed

1

-2 limes, juice and zest

(start with 1, then add as needed)

1/4

cup

(60ml) olive oil

1

tablespoon

maple syrup or brown sugar

salt and black pepper to taste
Instructions
MAKE GREEN CURRY PASTE: Put all ingredients in a food processor. Process until smooth. Add a touch more oil if too thick. Taste and adjust seasonings as needed (more salt, sugar, lime, etc). This recipe makes a curry recipe for about 8 people using 1 can of coconut milk.
Recipe Notes
Caution about working with green chiles – be very careful when cutting and seeding chilis. Wash your hands well afterward and don't touch your eyes. 
Ginger measurements: 1 inch (2/5cm) fresh ginger root yield approximately 1 tbsp grated ginger (or 0.25 ounces). 
Make ahead/store/freeze: Store in a sealed container or ziploc bags in fridge for up to 7-10 days.  Or freeze in ice cube trays or ziploc freezer bags for up to a month (even 2 months should be fine).
Nutrition values are estimates. 
Nutrition
Calories:
78
kcal
|
Carbohydrates:
5
g
|
Protein:
1
g
|
Fat:
7
g
|
Saturated Fat:
1
g
|
Sodium:
167
mg
|
Potassium:
68
mg
|
Fiber:
1
g
|
Sugar:
2
g
|
Vitamin A:
357
IU
|
Vitamin C:
6
mg
|
Calcium:
22
mg
|
Iron:
1
mg
Tried this recipe?
We'd love you to rate it above under 'rate this recipe' or in the comment section below. Thanks!