Making things from scratch isn't for everyone, especially during the week when we all tend to be busier. I love trying out new pre-made sauces/packages and making it my own. Coconut Green Curry Vegetables – ready in 20 minutes.  Delish!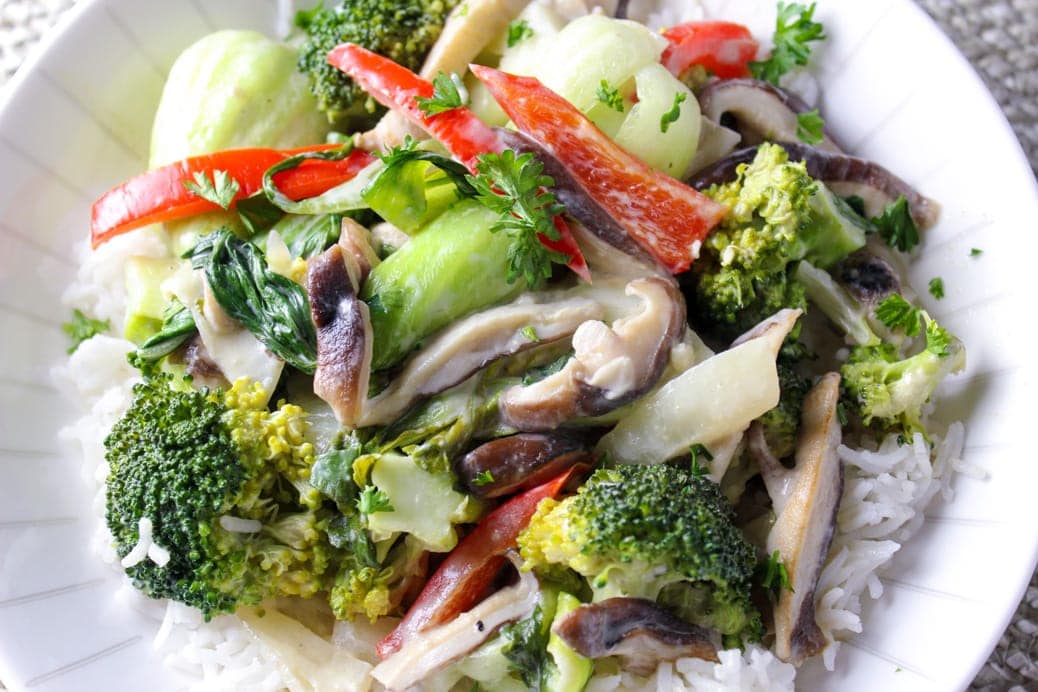 This recipe can be adapted with any vegetables you have in your fridge and can be served on its own, on top of noodles, quinoa or rice…whatever you have on hand.
I based this recipe very loosely on the recipe provided on the back of the package of the Kanokwan Green Curry Paste. For those of you who are wondering where you can purchase it, I bought mine from T&T Grocery Store (a predominatly Asian grocery store in Toronto/GTA). Nice product.
The dish was creamy, flavourful, spicy and filling.  The coconut milk, a non-dairy product, adds a subtle mellow (not overpowering) coconut flavour.
I added cayenne pepper as my husband and I love heat, but for those of you who don't want to pant while you eat, I highly recommend keeping that ingredient out as the curry paste already is quite spicy.
 Variations
You can turn this into a non-vegetarian dish by adding left over cooked chicken, shrimp or beef when you add the vegetables to the curry.
Alternatively if you are vegetarian and looking to add some protein, I would add some cubes of firm tofu when I am cooking my mushrooms and add that to the curry sauce.
And of course, this would make a great side dish too.
Substitute
Use any pre-made good quality green curry paste (or make your own).