Easy Shrimp Piccata (One Pan, 20 Minutes)
This lemony, garlicky, buttery and easy shrimp piccata recipe is on the table in 20 minutes. Serve it over rice or as an appetizer straight from the skillet.
It's an easy recipe with bright bold flavors that shrimp lovers will want to put on repeat.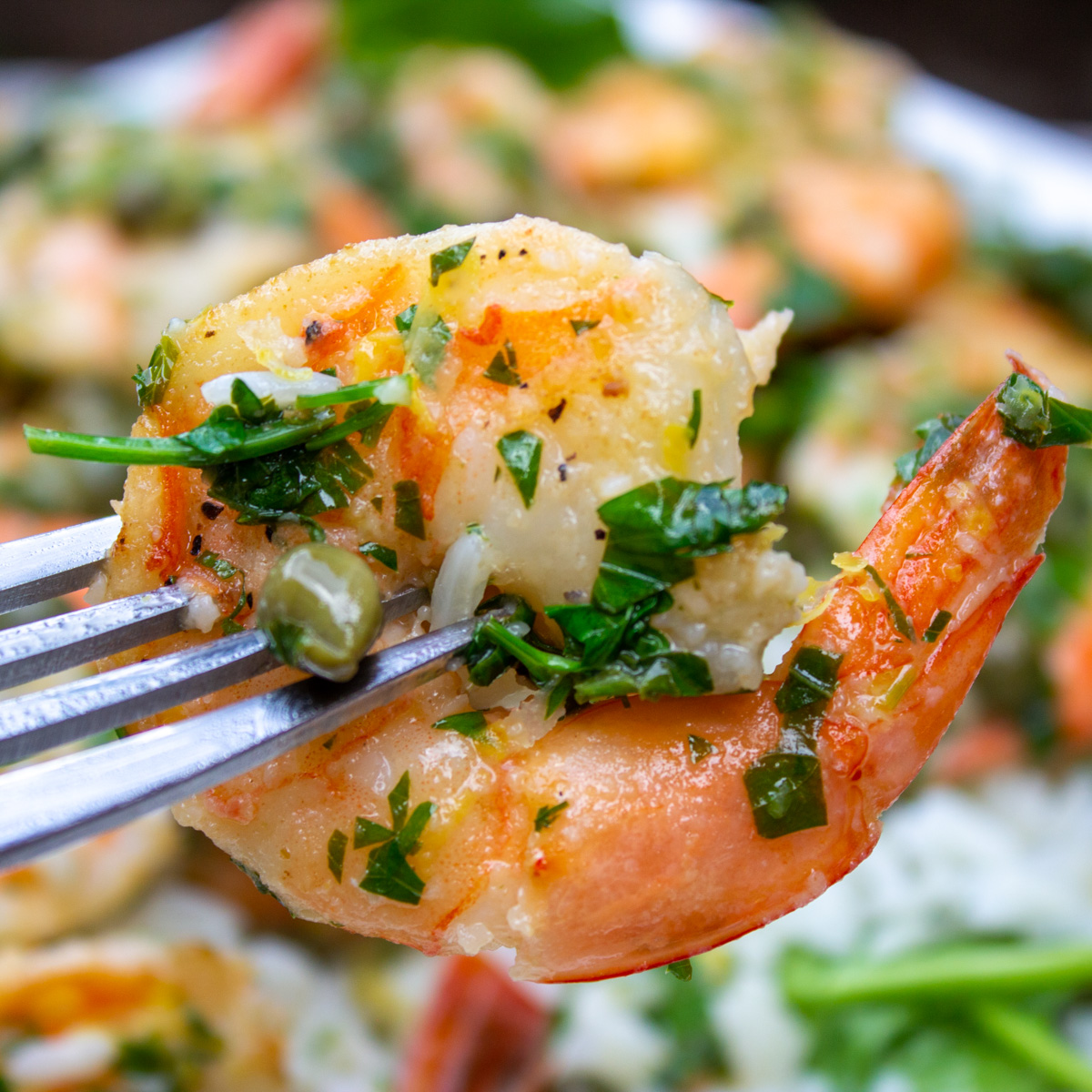 Lemon, capers, garlic, wine, broth, butter and parsley come together in flavorful tangy sauce that coats the plump, juicy shrimp.
Although you probably see the more classic chicken piccata or veal piccata on a menu, this recipe is pretty much the same except for the shrimp.
Some people – and you know who you are – would prefer to skip the extra butter in the final step. Try to restrain yourself. The butter creates a velvety smooth, slightly thickened sauce and adds a beautiful richness. If you are really wary of the butter, just add a bit less.
What to expect
Simple: This is a 20-minute recipe that makes a quick and easy weeknight meal but is elegant enough for last minute dinner guests.
Easy cleanup: A one pan meal means you'll be in and out of the kitchen without numerous pots and pans to wash up.
Velvety pan sauce: The buttery caper sauce is bright and flavorful with a punch of acidity from lemon juice, capers and white wine.
Ingredients -tailored to your taste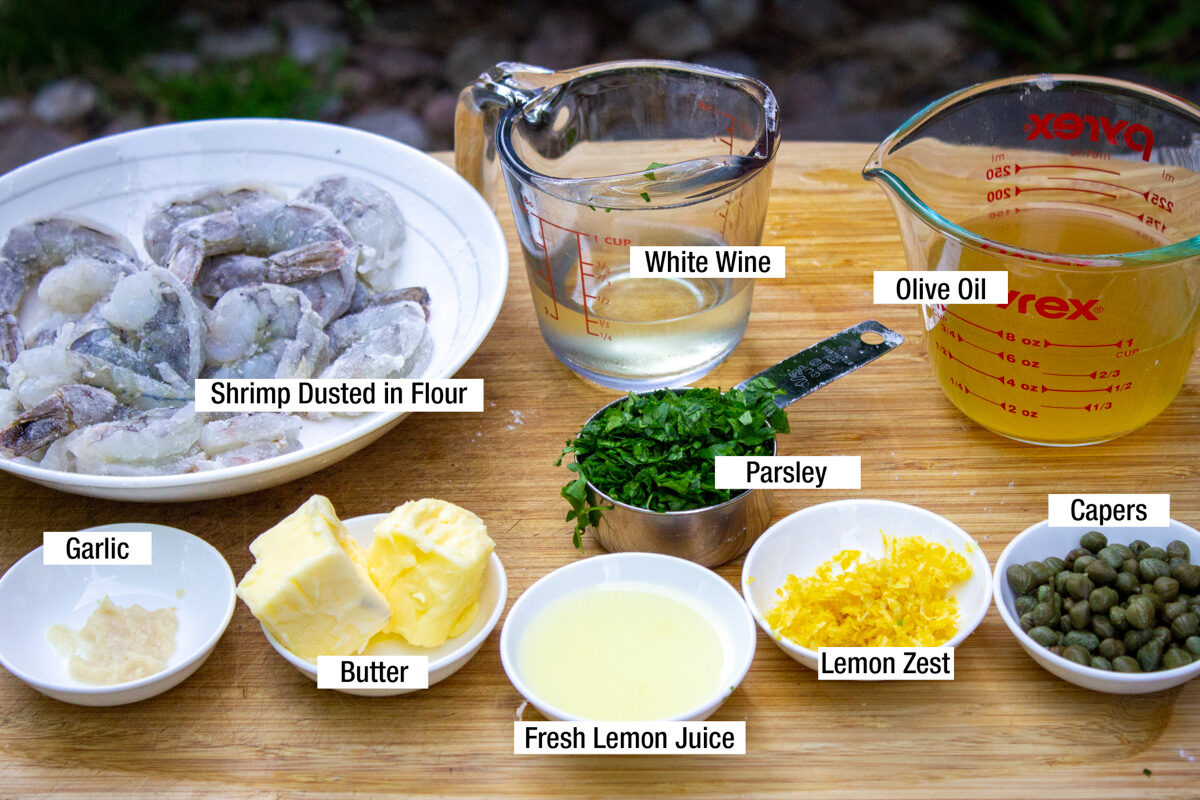 Shrimp: Use large shrimp (16-20/pound/450 grams) if possible – less likely to overcook. Here's a good article from Epicurious on how to buy shrimp. Spoiler: it's safest to buy frozen shrimp.
Variation: You can change up the size of shrimp. For medium or jumbo shrimp, just adjust the stir fry time accordingly.
Wine: You'll want to use a dry white wine, like a Sauvignon Blanc – or any other you like.
Substitutions: You can omit the wine and use chicken broth, chicken stock or vegetable broth if you prefer.
Butter: Adding butter at the end creates a delicious smooth, rich and slightly thicker sauce. Well worth the extra calories in my opinion.
Capers: are pickled flower buds with a sharp distinct taste that is great in sauces. They come in little jars in the condiment aisle (near the olives) in a grocery store.
Alternatives: If you can't find them or don't like them, try sundried tomatoes or chopped green olives to give the sauce the subtle briny flavor it needs.
Herbs: Fresh parsley is best. If you don't have any, use dried.
Substitutes and additions: You can substitute other fresh herbs if you prefer. Fresh cilantro, basil or chives also work well with in this sauce. And red pepper flakes are great for giving the sauce just a kick of heat.
Step by step instructions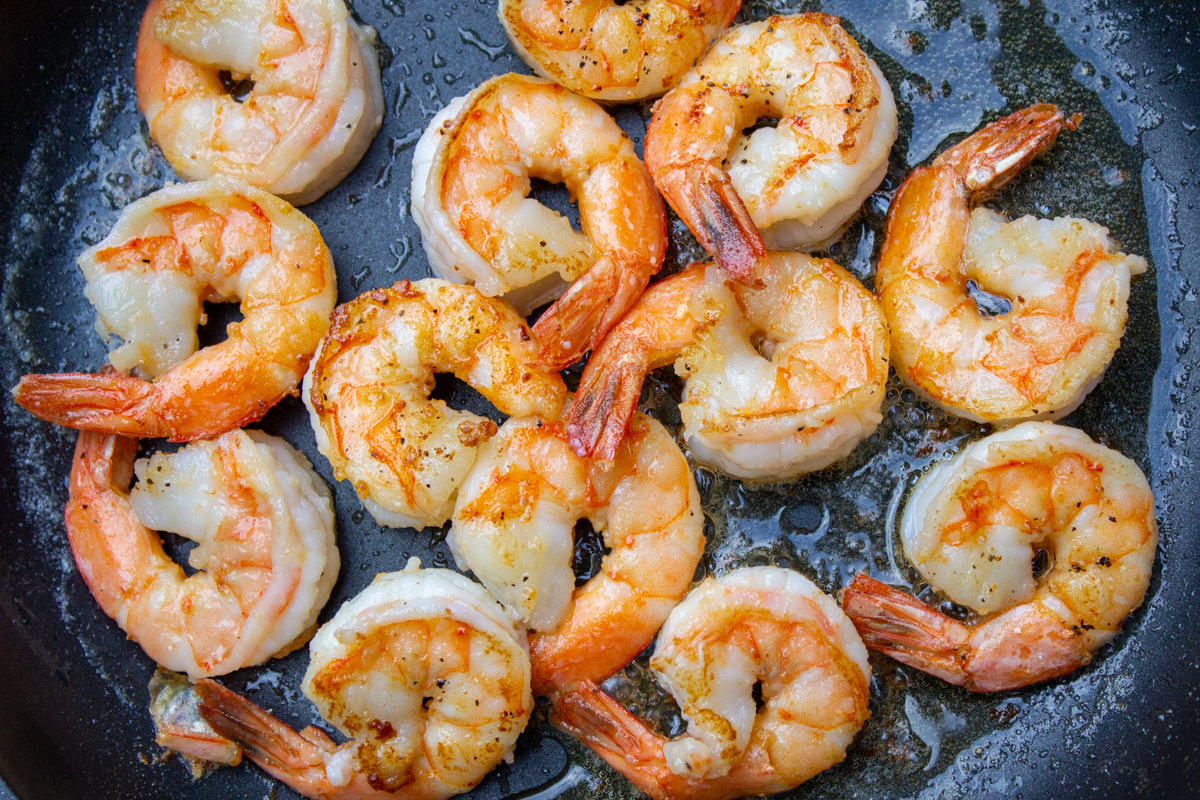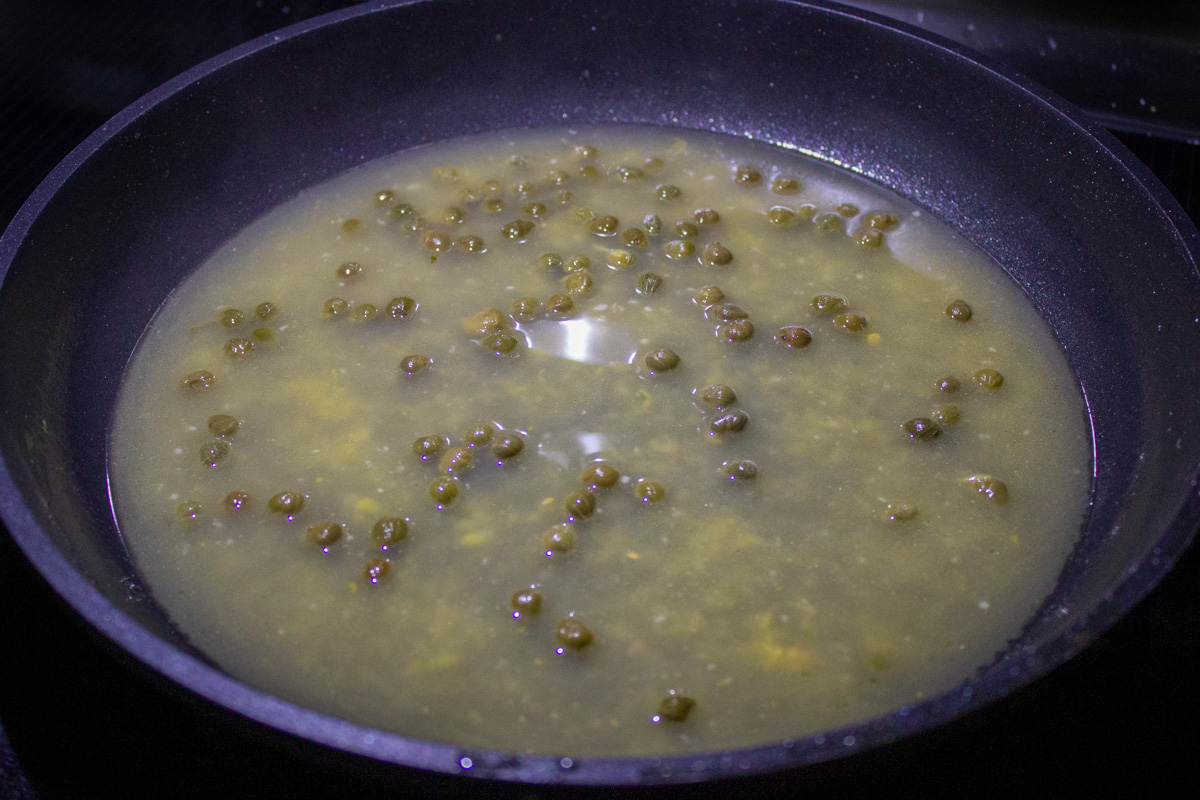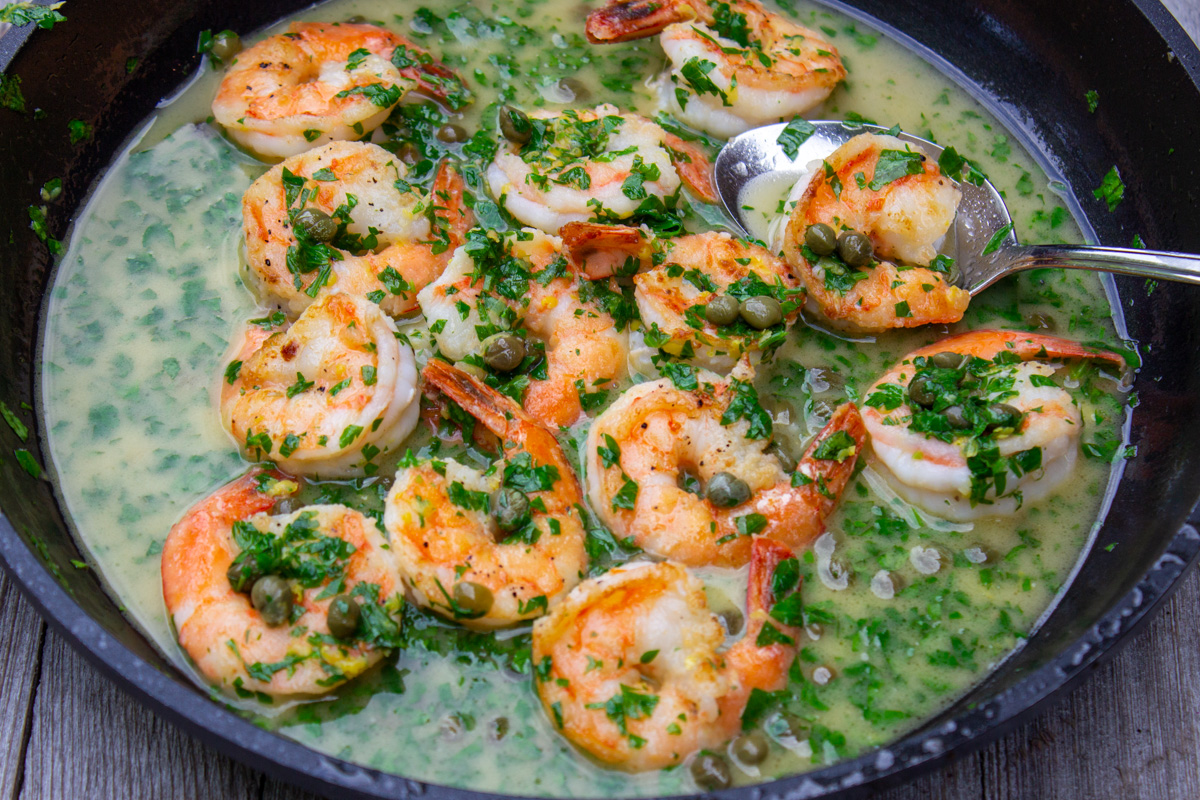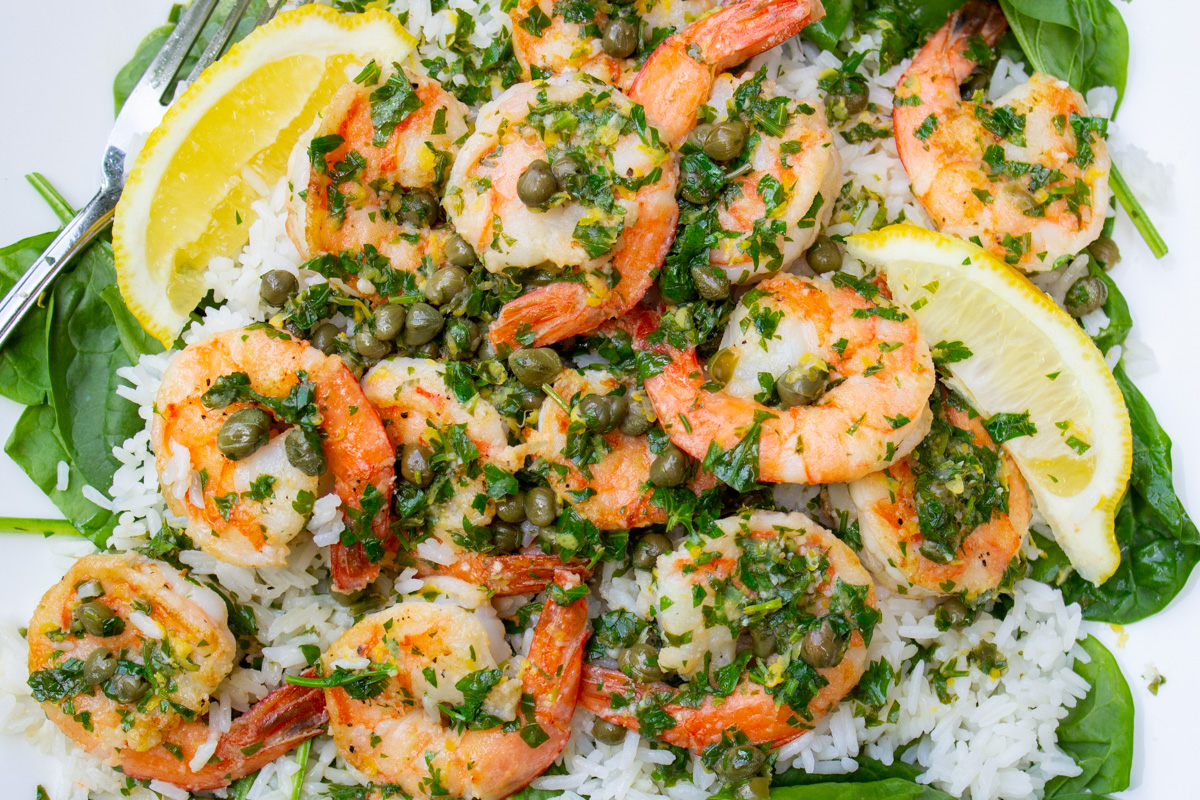 Recipe Tips
Have everything ready to go before you start cooking as the process is quick.
Use large shrimp so they don't overcook. I try to use 16-20 count which means 16-20 shrimp per pound.
Pat the shrimp dry and toss with a light coating of flour to avoid them steaming in the pan instead of frying.
Make sure the butter is cold when you whisk it into sauce at the end to avoid any greasiness.
Add the parsley just before serving to keep its vibrant green color.
You can vary the thickness of the sauce. For a thinner sauce, use less flour to dust the shrimp. For a thicker sauce mix 1 tsp of cornstarch into the broth before adding it.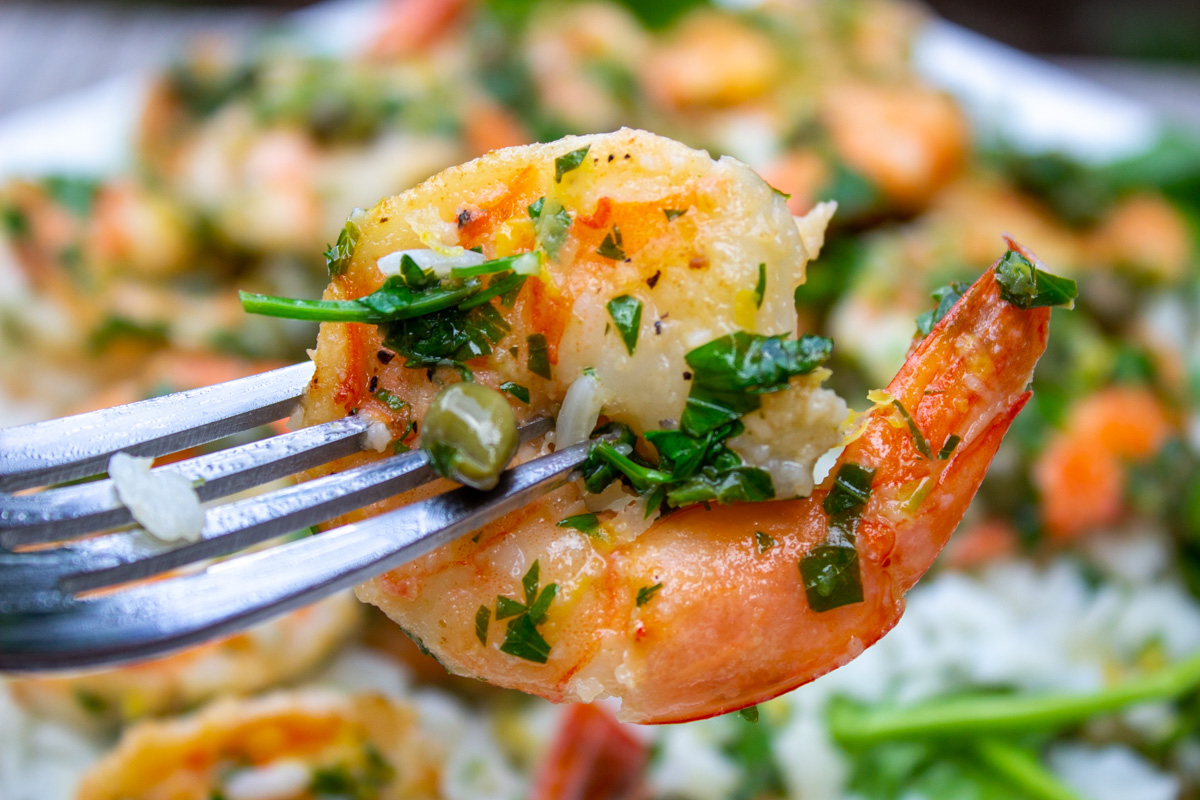 FAQs about shrimp
What is the best way to thaw frozen shrimp?
The best way to defrost shrimp is to put them in a colander and run cold water over them until they have thawed. This method is the fastest, taking only a few minutes. Alternatively, place them in a bowl of cold water to thaw- they will take a bit longer. Either way, make sure to thoroughly dry the shrimp.
Are shrimp healthy?
Yes, shrimp are considered healthy as they are low in calories and an excellent source of protein, omega-3 fatty acids, B12, and iron. They do contain higher cholesterol, but this is outweighed by the many other healthy benefits. Source: Healthline. One shrimp without sauce contains 7 calories, almost no fat and 1 gram of protein.
How much shrimp do you need per person?
For peeled shrimp, allow about 4-6 ounces per person. One pound will serve about 3 people. Figure a bit more or less depending on the appetites of the people you're serving and other add-ins in the dish. For example, if the dish includes pasta, rice or vegetables, you can get away with less shrimp per serving.
Serving Options
Serving the shrimp over rice is pretty classic. I like to plate a bed of fresh baby spinach, then rice then the shrimp as you see in the pictures. You can top it with a little parmesan cheese if you'd like.
If you're looking to cut the calories (notwithstanding the butter!), a great option is to serve the shrimp piccata over cauliflower rice stir fry or zucchini noodles.
Other options include serving the shrimp with a slice of crusty bread, soft warmed dinner rolls or cheddar biscuits to sop up the pan sauce or over pasta or quinoa.
And don't forget trying this dish as an appetizer served right out the pan. Guests inhale it and it's fine to serve it at room temperature.
Shortcut
Buy pre-peeled and deveined shrimp. More expensive but a very convenient time-saver.
Make Ahead
Shrimp Piccata is best made fresh. You can, however, have all the ingredients prepped which will cut the time by half. And, you can even get it down to just 5 minutes of cooking and assembly before serving by sautéing the shrimp ahead of time.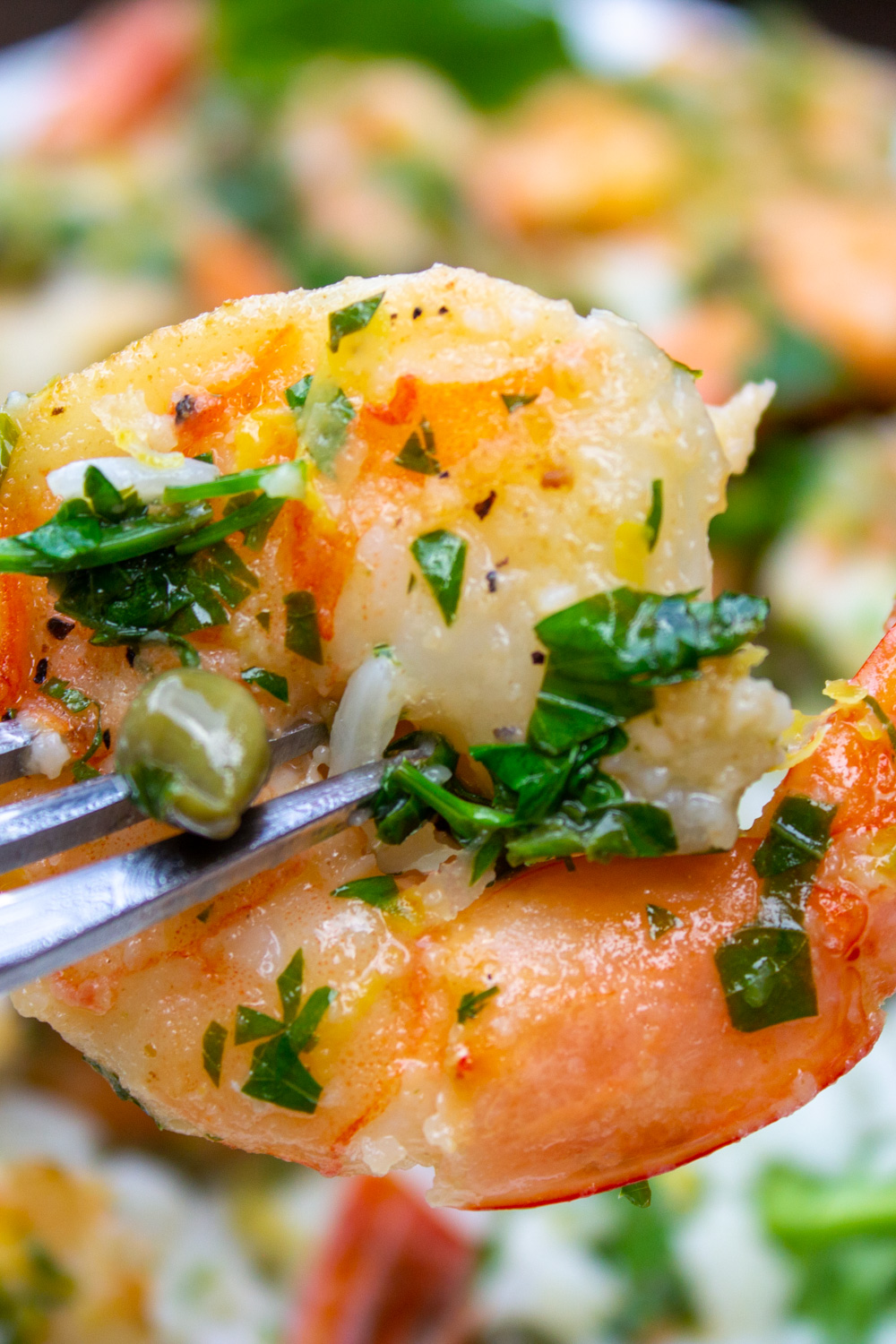 Quick and easy shrimp recipes you might like
If you like this recipe, please leave a 5 star rating 🌟🌟🌟🌟🌟in the recipe card below. And if you REALLY like it, consider a review in the comments. Thanks very much!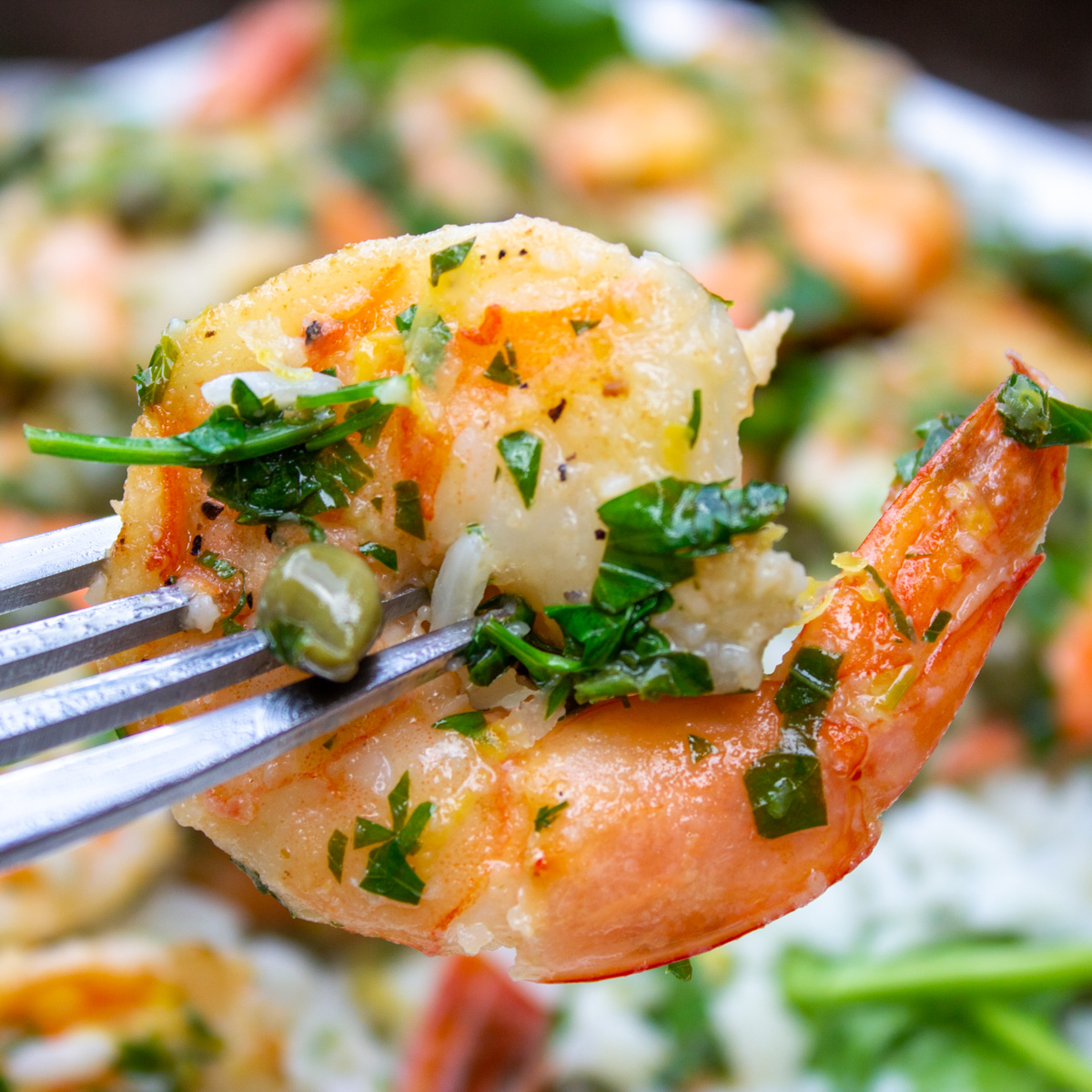 Print Recipe
Pin
Save Recipe
Recipe Saved!
Rate this recipe here
Easy Shrimp Piccata (One Pan, 20 Minutes)
Lemony, garlicky, buttery shrimp piccata is on the table in 20 minutes. Serve over rice or as an appetizer straight from the skillet. A simple and delicious classic.
Servings:
3
or 2 Mains (or 6 appetizers))
Ingredients
3/4

pound

large shrimp (e.g. 16-20/lb), peeled and deveined, Note 1

1

tablespoon

all purpose flour

or a bit less

2

tablespoons

butter

if using salted butter, use less salt

1

tablespoon

olive oil

pinch

salt and black pepper to taste
Sauce
2

teaspoons

minced garlic

(2 cloves)

zest from 1 large lemon

juice from half large lemon

2

tablespoons

capers, rinsed

1/4

cup

white wine

(use broth instead if you like)

3/4

cup

chicken or vegetable broth

2

tablespoons

cold butter, cut into pieces

1/3

cup

finely chopped fresh parsley
Instructions
GET READY: Have all ingredients measured and ready to go.

PREPARE AND SAUTE SHRIMP: Pat shrimp dry. Toss with flour, a pinch of salt and pepper. This will help prevent shrimp from steaming in the pan. Heat the 2 tablespoons of butter and oil over medium-high heat. Sauté shrimp for 1-2 minutes on each side (do 2 minutes/side if shrimp are very large). Shrimp will finish cooking later. Spoon onto a plate. Loosely cover with foil to keep warm.

MAKE SAUCE: Add garlic and sauté for 30 seconds. Stir in lemon zest, lemon juice, capers, white wine and broth. Cook on medium high until reduced and slightly thickened (4-5 minutes). If you prefer a thicker sauce, add a cornstarch slurry (2 teaspoons of cornstarch mixed into a tablespoon of water or broth).

FINISH AND SERVE: Whisk in cold butter a piece at a time until sauce is smooth and emulsified/thickened – about 30 seconds. Add cooked shrimp and parsley. Stir for 1 minute until heated through and the shrimp turn pink or opaque. Taste and adjust salt, pepper or more lemon as needed. Serve over rice or pasta if desired or with fresh bread to soak up the juices.
Recipe Notes
Shrimp: you can use medium shrimp instead of large – just cook them for less time. For a

shortcut

, buy shrimp that are peeled and deveined. 
Recipe variations

Wine: Replace with additional chicken broth or vegetable broth if you prefer.
Capers: Replace with sundried tomatoes or chopped green olives if you don't have or like capers.
Herbs

: Substitute parsley with cilantro, basil or chives if you like.

Add heat with a pinch of red pepper flakes.

Make Ahead

:

Shrimp Piccata is best made fresh. You can, however, have all the ingredients prepped which will cut the time by half.  And, you can even get it down to just 5 minutes of cooking and assembly before serving by sautéing the shrimp ahead of time.
Nutrition values are estimates and based on 1/3 of the shrimp per person. Truth be told, my husband and I polish the whole thing off between the two of us 🙂
Nutrition
Calories:
331
kcal
|
Carbohydrates:
4
g
|
Protein:
25
g
|
Fat:
22
g
|
Saturated Fat:
11
g
|
Cholesterol:
326
mg
|
Sodium:
1186
mg
|
Potassium:
193
mg
|
Fiber:
1
g
|
Sugar:
1
g
|
Vitamin A:
1031
IU
|
Vitamin C:
14
mg
|
Calcium:
177
mg
|
Iron:
3
mg
Tried this recipe?
We'd love you to rate it above under 'rate this recipe' or in the comment section below. Thanks!