Make ahead. Freezer friendly. Breakfast on-the-go. Brunch fare. However you use it, breakfast egg bake is a great low carb dish, packed with veggies and flexible to whatever you crave.
Versatility is really the name of the game here – which ingredients you use, how you bake them (muffins or pan) and how to use them (fresh, make ahead of freezer option).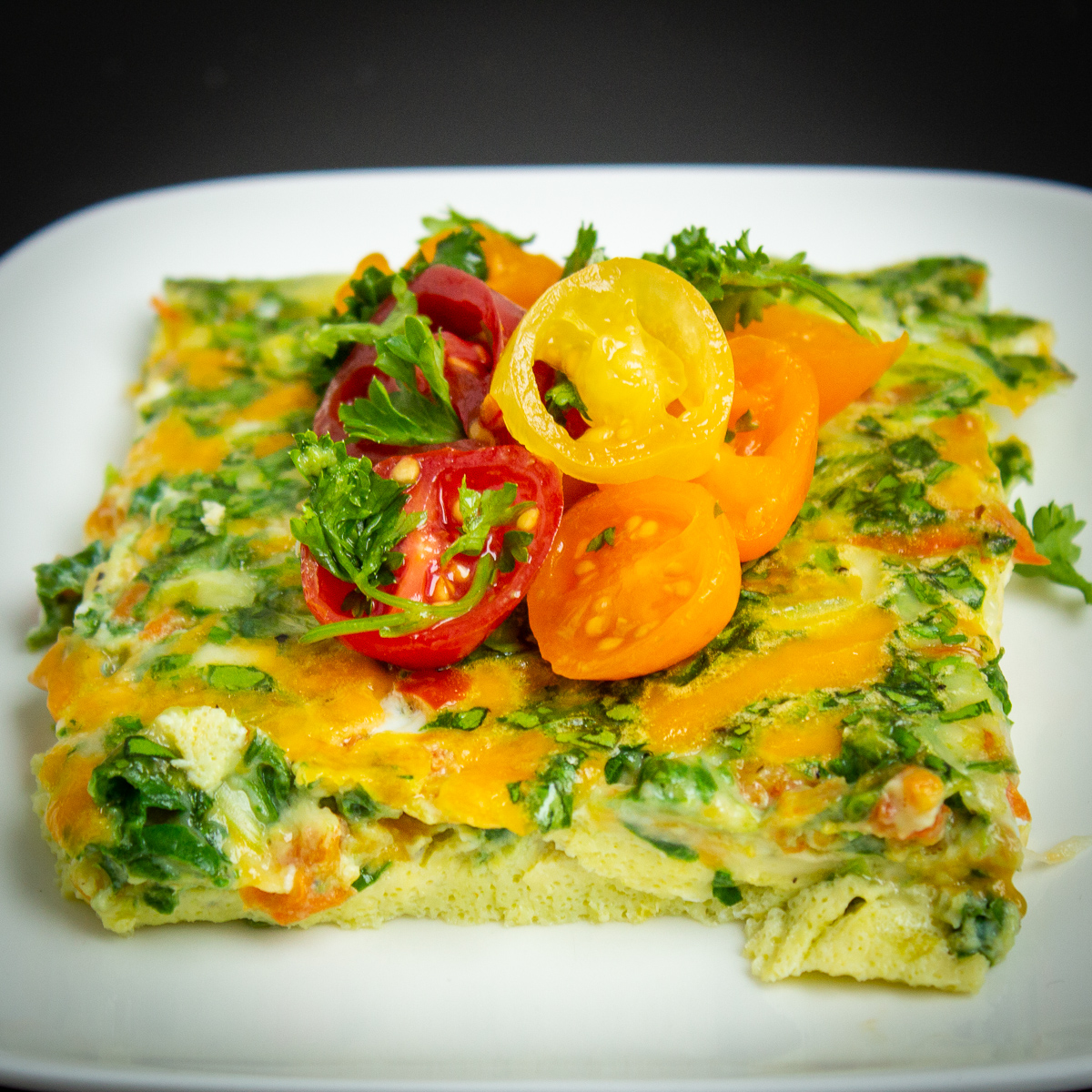 The egg casserole is similar to a fritatta without the frying part. The core ingredients are eggs and cheese. Other than that, the options are pretty much up to your imagination. I don't bother sauteing the vegetables before combining them with the egg mixture, but you can if you want. I just love the colors of the fresh veggies, especially the baby spinach.
How to make a breakfast egg casserole
(less than 30 minutes)
Whisk eggs and seasonings
Finely chop vegetables and cheese (I do that in the processor)
Combine everything (including other ingredients you like such as meat).
Pour into greased pan (or muffin cups). Bake.
You might be used to adding milk to your scrambled eggs, but it's not necessary. Milk doesn't make the eggs fluffier (as I always thought) and this way, the dish is dairy free. And gluten free for that matter. I usually make a vegetarian version except when my son in law comes over.
What to serve with a breakfast egg bake
For breakfast, I like to serve the squares with chopped tomatoes and avocado or some berries.
If you're serving this egg casserole as part of a brunch buffet, here are a few complementary recipes for your buffet table:
Tailor To Your Taste
Here's where you can pick and choose your faves or whatever you have on hand.
Vegetables: I use green onion, fresh baby spinach and red pepper because I love the color combination. Other good options are mushrooms, tomatoes, zucchini. I suggest sauteing the mushrooms and zucchini first, though, because they have such a high water content. If you like potatoes with your eggs, cook/microwave them first. Finely chop any vegetable you use.
Cheese: Use any combination of Cheddar, Monterey Jack, smoked Gouda, Swiss, Mozzarella. You can also try feta, goat cheese or ricotta.
Meat: Chopped cooked bacon, sausages and ham are all good options.
Herbs: Try fresh or dried basil, thyme, cilantro, oregano, parsley or dill.
Seasonings: You can add curry powder, garlic powder, taco seasoning, a pinch of smoked paprika, cayenne pepper, coriander or dried herbs. A tablespoon or so of olive tepanade would be amazing too if you like olives. I like to add 1/2 tsp of Dijon mustard to the egg mixture.
Format: The egg bake can be make in muffin tins or a casserole. Instructions for both are in the recipe. The muffins are super cute, but the casserole is easier I think, so you choose.
Shortcuts
Throw all the veggies you're using into the processor to chop finely.
Buy pre-shredded cheese.
Buy pre-washed (and dried) fresh baby spinach.
Make Ahead
The breakfast egg casserole can be prepped the day before and baked the following day. Or it can be fully cooked and kept in the fridge for up to 4-5 days. It can also be frozen for 2-3 months.
Instructions for all 3 options and reheating are in the recipe below.
Steps to make Breakfast Egg Bake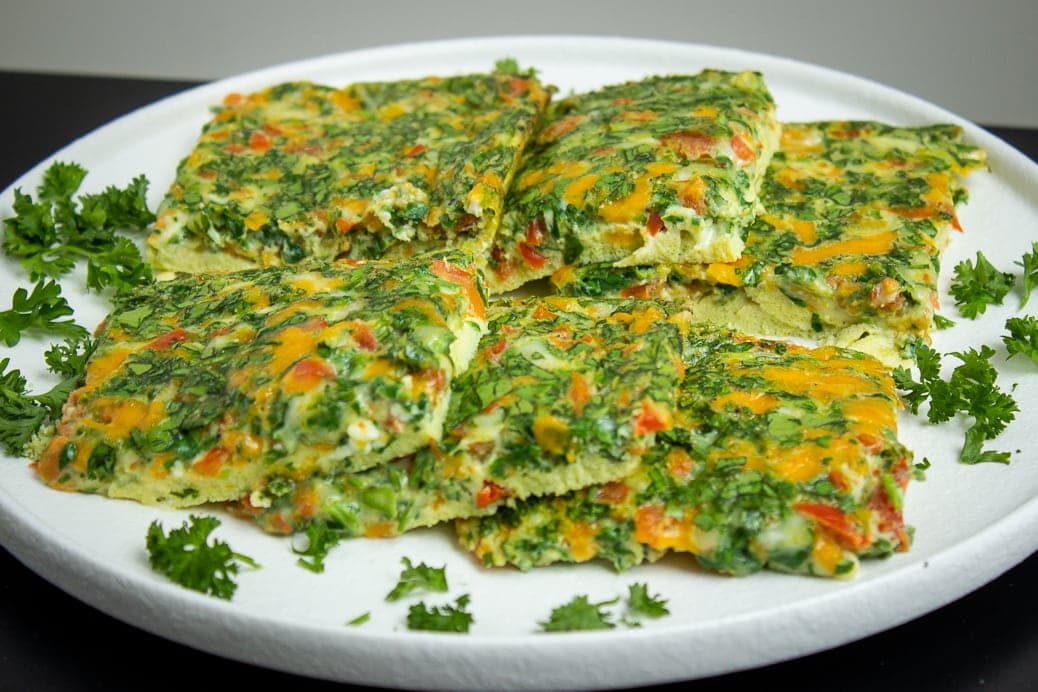 Love eggs?
Try our Gordon Ramsay scrambled eggs, sous vide poached eggs (with easy hollandaise). Or our classic egg salad recipe.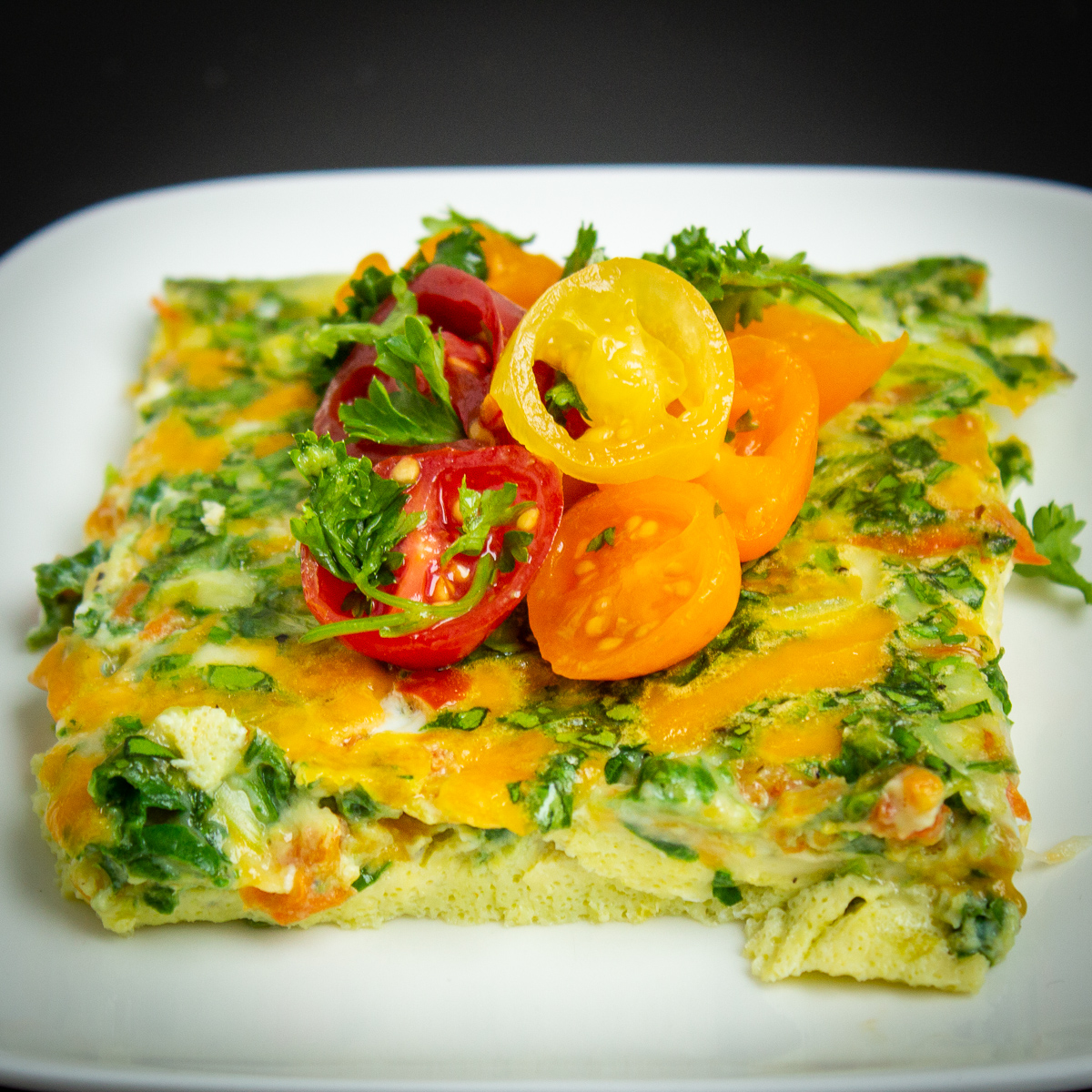 Print Recipe
Pin
Save Recipe
Recipe Saved!
Rate this recipe here
Breakfast Egg Bake
Make ahead. Freezer friendly. Breakfast on-the-go. Brunch fare. However you use it, breakfast egg bake is a great low carb dish, packed with veggies and flexible to whatever you crave.
Servings:
6
muffins or squares
Ingredients
6

eggs

1

cup

fresh baby spinach, packed

1

cup

shredded or grated cheese

I use half cheddar, half mozzarella

1

green onion

1/2

red pepper, cut into 3-4 pieces

2

tablespoon

chopped fresh parsley (or more)

leave out if you don't have any on hand

Optional: chopped mushrooms, tomatoes; cooked ham, bacon or sausage; feta, Parmesan or goat cheese.
seasonings
1/4

teaspoon

salt

(or more to taste)

1/8

teaspoon

garlic powder

1/8

teaspoon

ground pepper

Optional: dried basil, red pepper flakes, fresh or dried thyme, dill, cilantro, 1/4-1/2 tsp Dijon mustard or more
Instructions
HEAT OVEN TO 350F. Spray 7 x 11 pan or 8 x 8 pan with oil or line bottom with parchment for easy clean up. If doubling recipe, use 9 x 13 pan. Note 1 for muffins.

PREPARE EGGS: Crack eggs into a medium bowl. Add seasonings and whisk.

CHOP VEGETABLES: Add spinach, red pepper, green onion and parsley to food processor. Pulse until finely chopped. Add cheese and pulse 1-2 times to combine. Alternatively, finely chop vegetables. Add vegetable-cheese mixture to eggs.

FINISH CASSEROLE AND BAKE: Pour egg-vegetable mixture into prepared pan. If desired, sprinkle a little extra cheese on top. Place in oven and bake 17-19 minutes (for 7 x 11 pan) or just until center no longer jiggles. An instant read thermometer will be at 160F when cooked. If using a smaller pan e.g. 8 x 8, bake about 1-2 minutes longer. Let cool 5 minutes before cutting. Cut into 6 squares and serve. Note 2 to make ahead or freeze.
Notes
To make egg muffins (instead of casserole): The ideal baking container is silicone muffin cups, sprayed lightly as the egg muffins will pop right out. If you don't have those, use a non stick muffin pan, sprayed with oil. Instead of pouring the egg-vegetable mixture into a pan, divide it among the 6 muffin cups, filling no more than 3/4 full. Add a tsp extra cheese if desired on top of each cup. Bake 15-18 minutes or until set. Baking time will depend on the size of the muffin cups.
Make Ahead:

To bake next day

: Make casserole. Cover tightly and place in fridge. Bake the next day. If cold from, fridge, casserole will need an extra few minutes to bake. 

To store in fridge after baking

: Egg casserole can be stored in the fridge, covered, for 4-5 days. Slice and warm individual squares for 30 seconds in microwave. Or warm full casserole at 350F, covered, for 15 minutes or until heated through.

To freeze

, Cut casserole into squares and place them on flat pan in a single layer. Put in freezer to flash freeze for about 40 minutes. Transfer squares to a ziploc bag or sealed container to freeze for up to 2 months. To reheat, wrap individual square or muffin in paper towel and heat for 45 seconds. Check, then add more time as needed in 10 second intervals. Once you know what works for you, memorize it for next time!
Nutrition value estimates are for 1 square (1/6 of pan) or 1 muffin, not including optional  ingredients you might want to add. 
Nutrition
Calories:
144
kcal
|
Carbohydrates:
2
g
|
Protein:
11
g
|
Fat:
10
g
|
Saturated Fat:
5
g
|
Cholesterol:
183
mg
|
Sodium:
282
mg
|
Potassium:
135
mg
|
Fiber:
1
g
|
Sugar:
1
g
|
Vitamin A:
1338
IU
|
Vitamin C:
16
mg
|
Calcium:
167
mg
|
Iron:
1
mg
Tried this recipe?
We'd love you to rate it above under 'rate this recipe' or in the comment section below. Thanks!