Simple Dutch Pancake Recipe
Picture this. You enter the room with a beautiful golden puffed-up Dutch pancake in a skillet. The ooh's and ah's for this impressive Dutch pancake recipe ring in your ears. Your guests don't realize how simple it is.
You warn them to look quickly because the pancake collapses fast. But they are already busy adding fresh fruit and maple syrup on top, ready to dig in.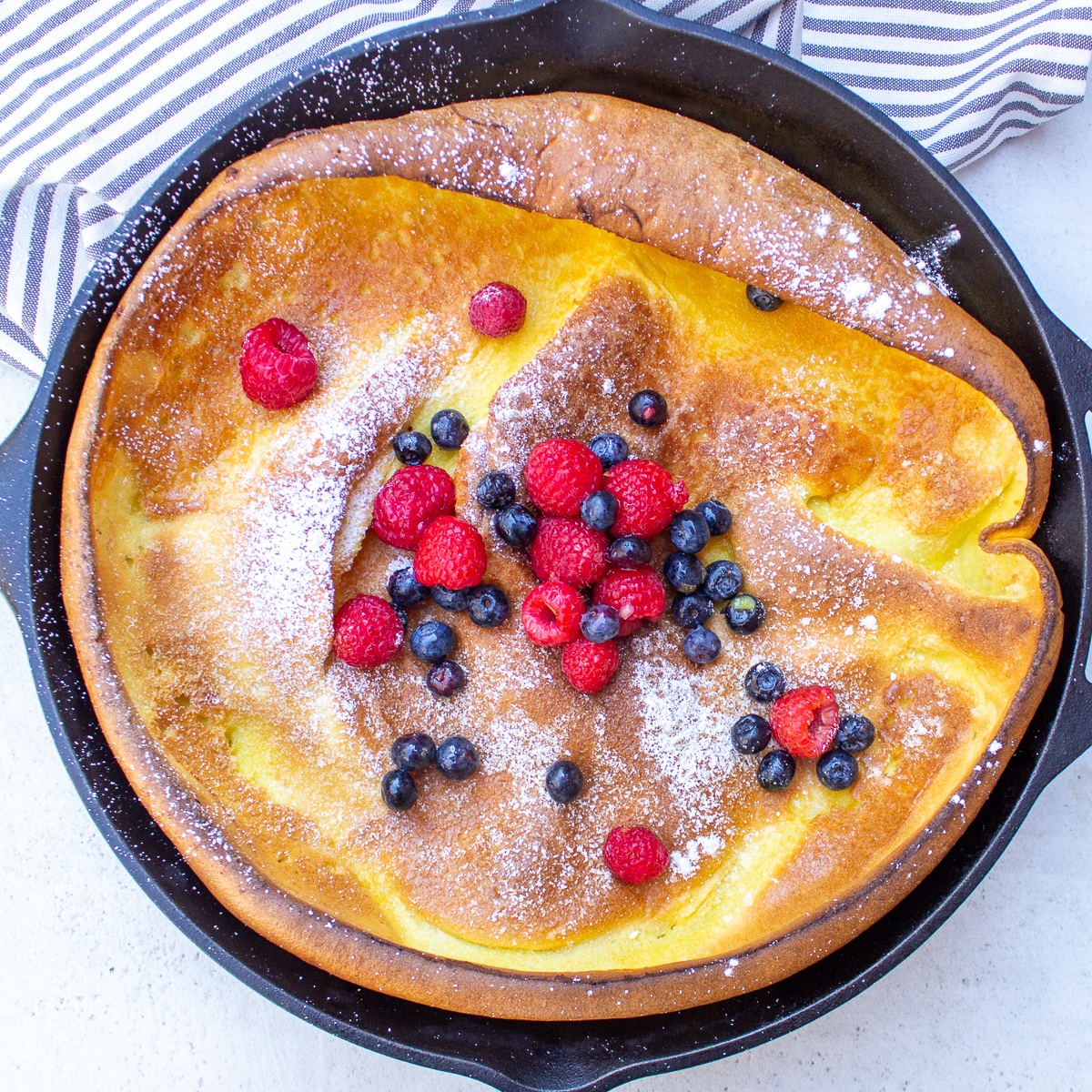 The Dutch pancake – also known as a German pancake, pannekoeken, Dutch baby, or Dutch puff – originated in Germany, not the Netherlands.
What to expect
A Dutch pancake is like a cross between a French crepe and a popover (or Yorkshire pudding). The whole thing takes about 30 minutes start to finish.
The pancake is made with regular pancake ingredients, poured into a buttered skillet, and baked for 20 minutes. The sides puff up and get a bit crispy and you get a thin, slightly custardy center.
While the center does collapse minutes after coming out of the oven, the pancake still holds a shallow bowl-like shape. It's a lovely showpiece.
We've done the research on technique and cooking methods and chose the easiest, most effective method which is dumping all the batter ingredients together and blending them. Check out more detail on methods below if you're interested.
Ingredients – tailored to your taste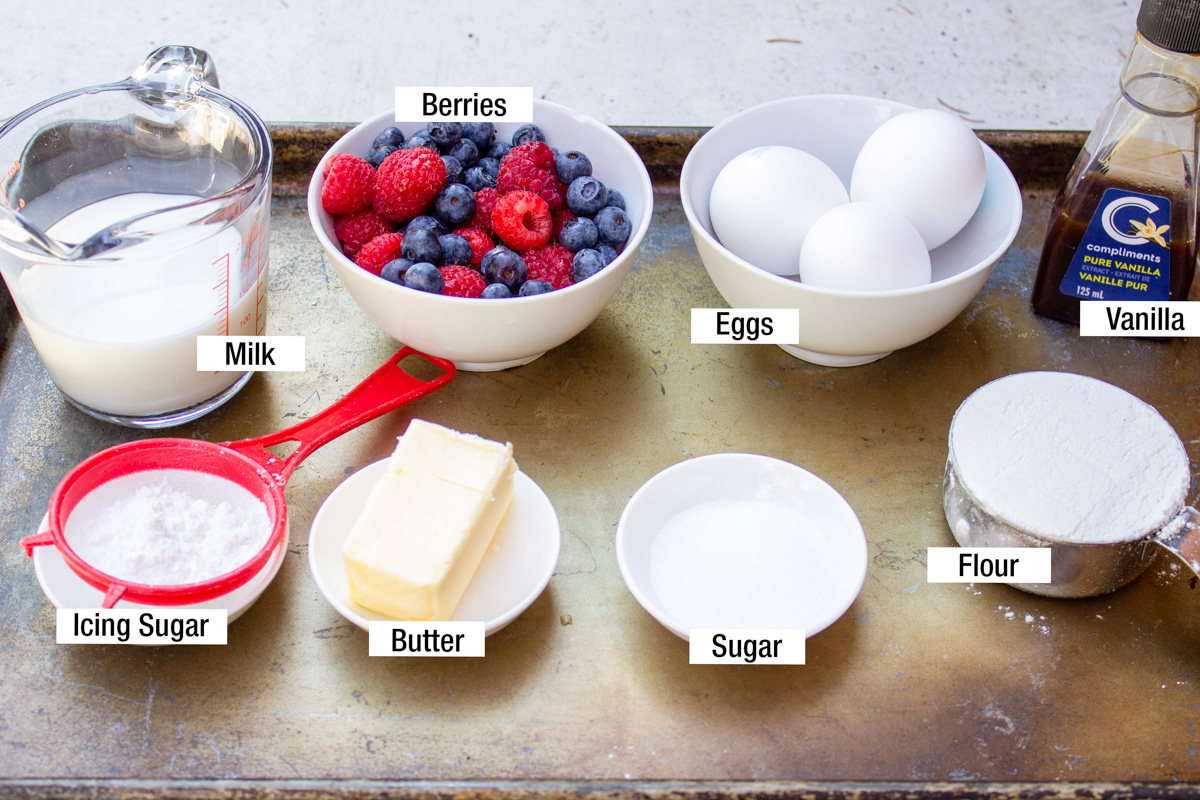 The pancake is made with a batter of eggs, flour, milk, sugar, and vanilla – basic staples and pancake ingredients. The key difference between a Dutch baby recipe and a pancake recipe is in the cooking method (see FAQ for more detail).
Variations and substitutes
Substitute the white sugar with maple syrup if you like.
Flavor options: Add lemon zest, orange zest, cinnamon, or a pinch of nutmeg to the batter
Gluten-free version: Here's a gluten-free dutch pancake recipe.
Step-by-step instructions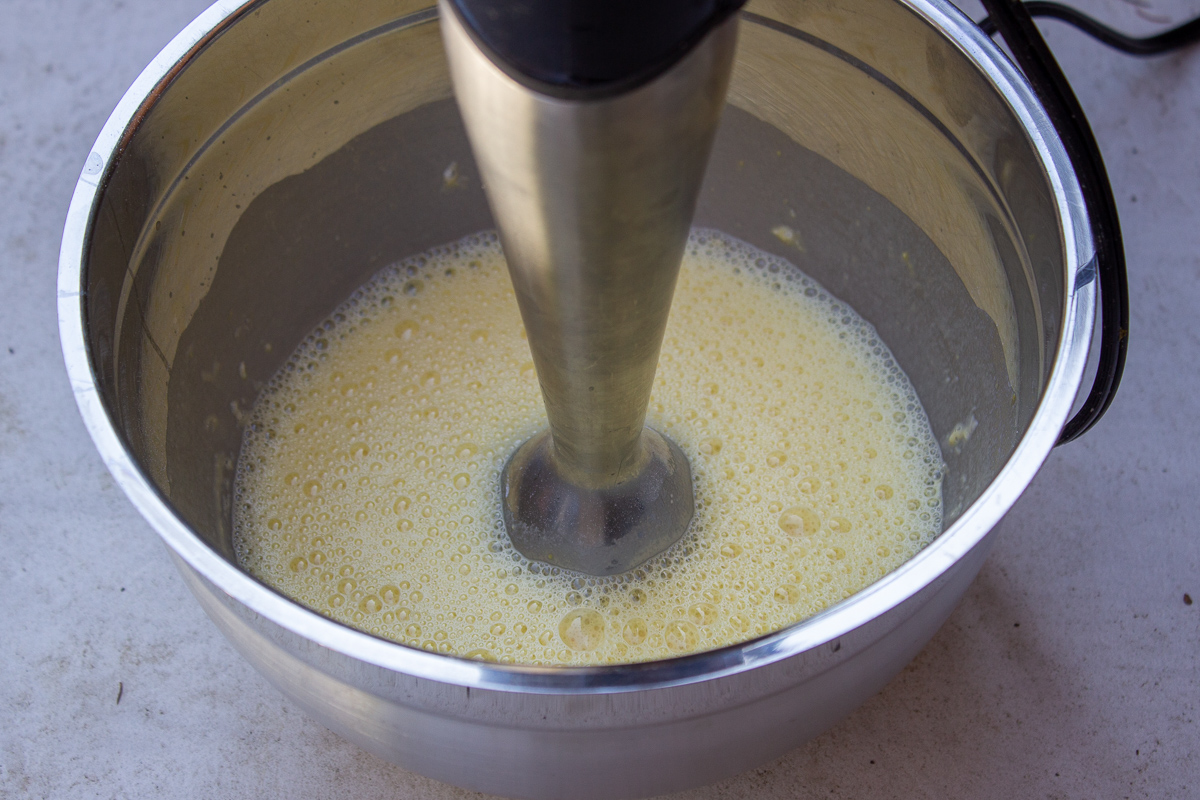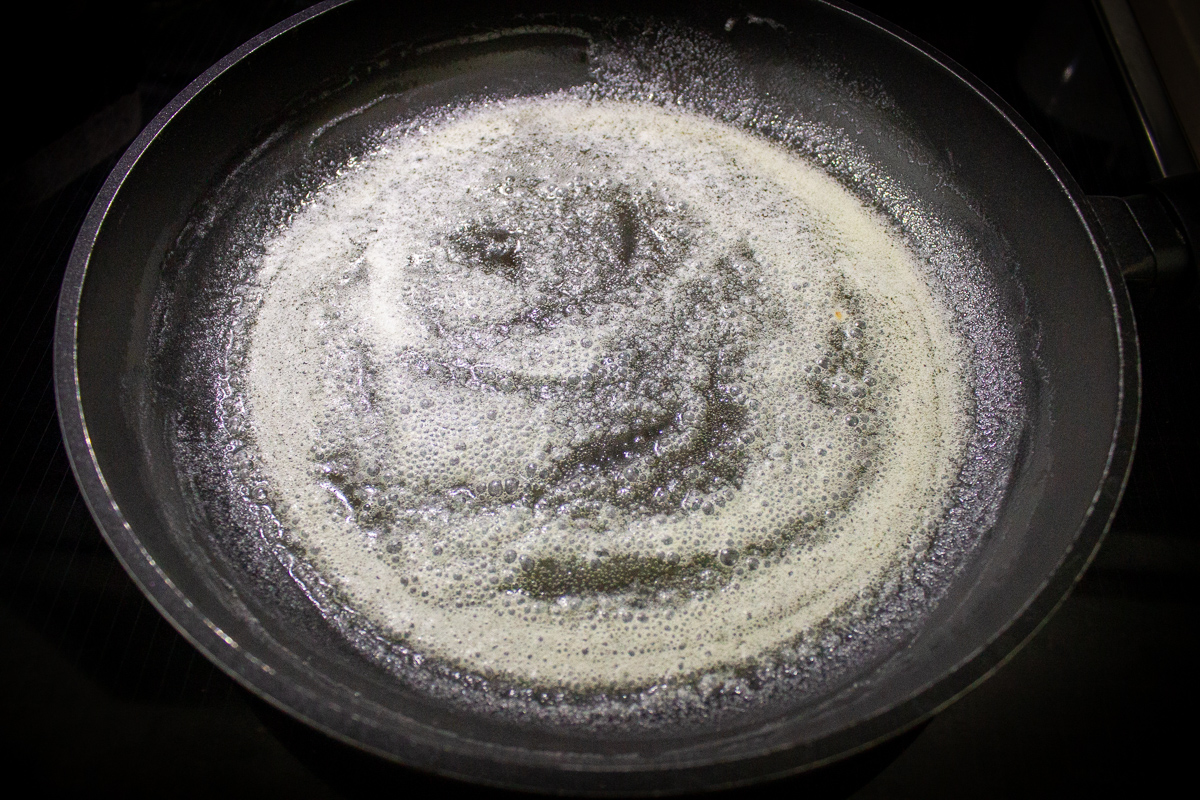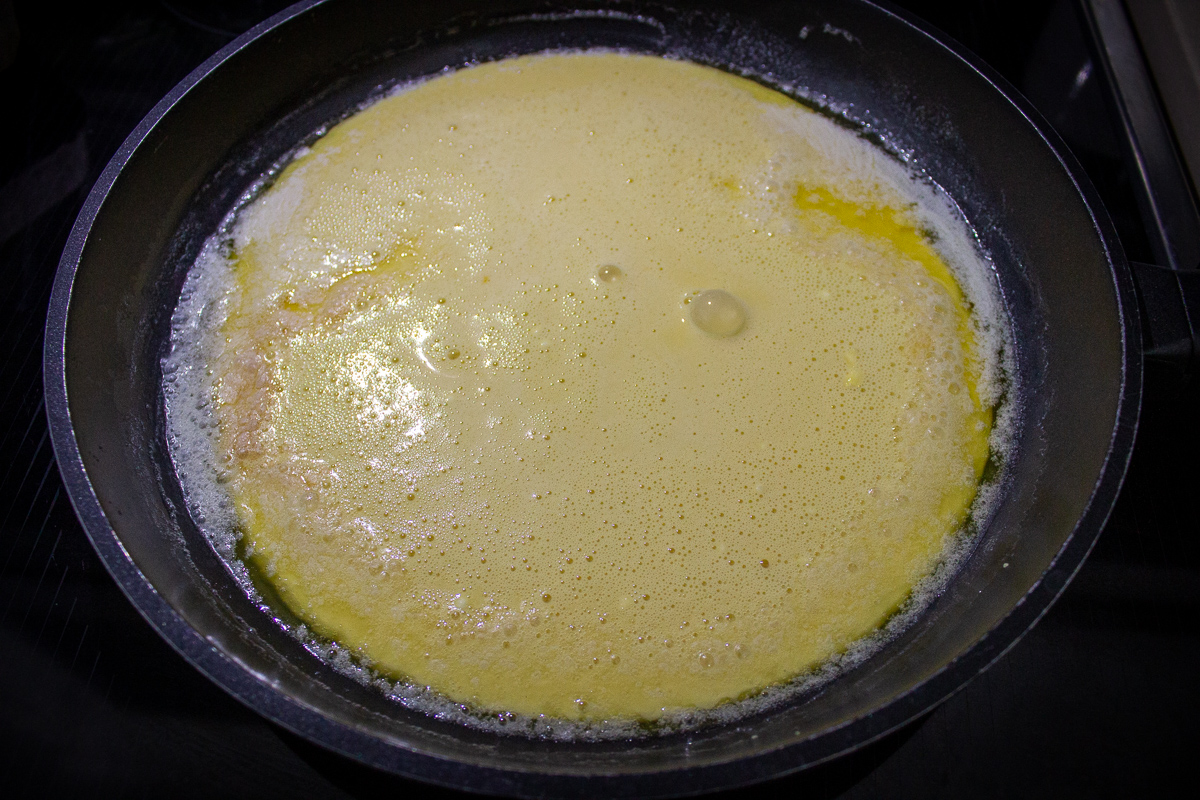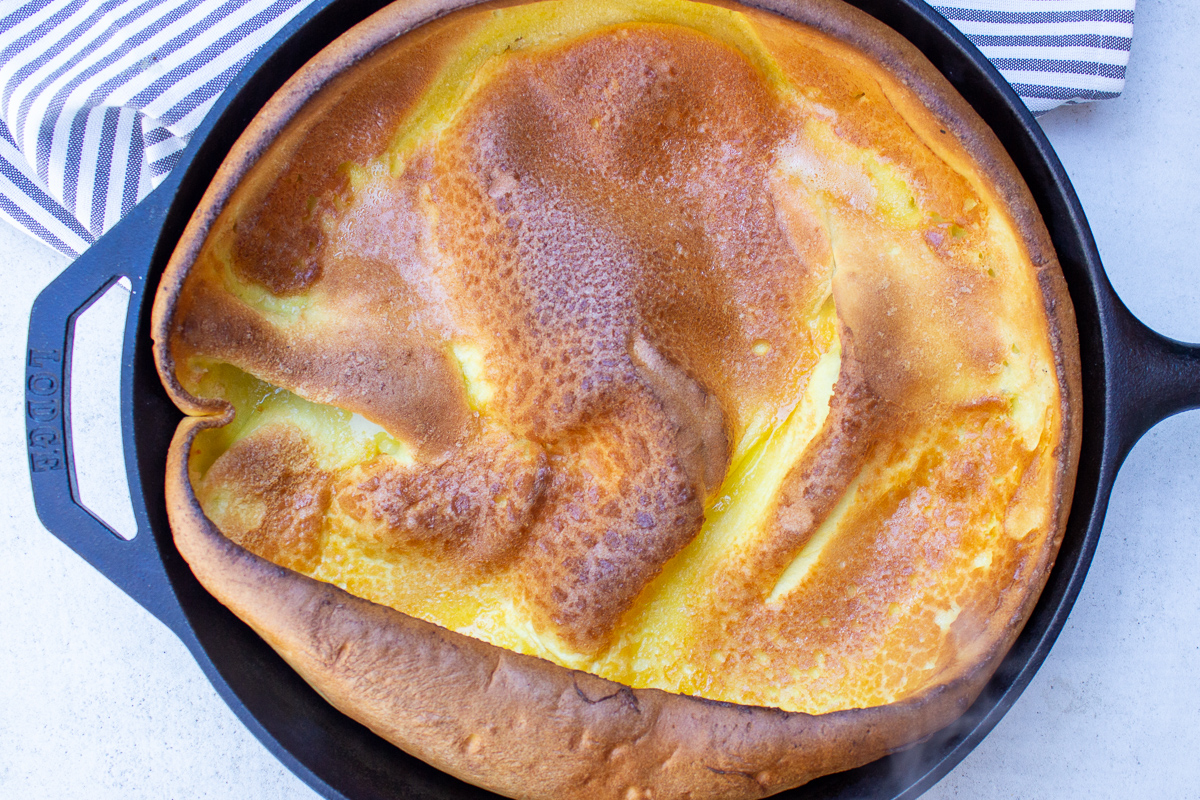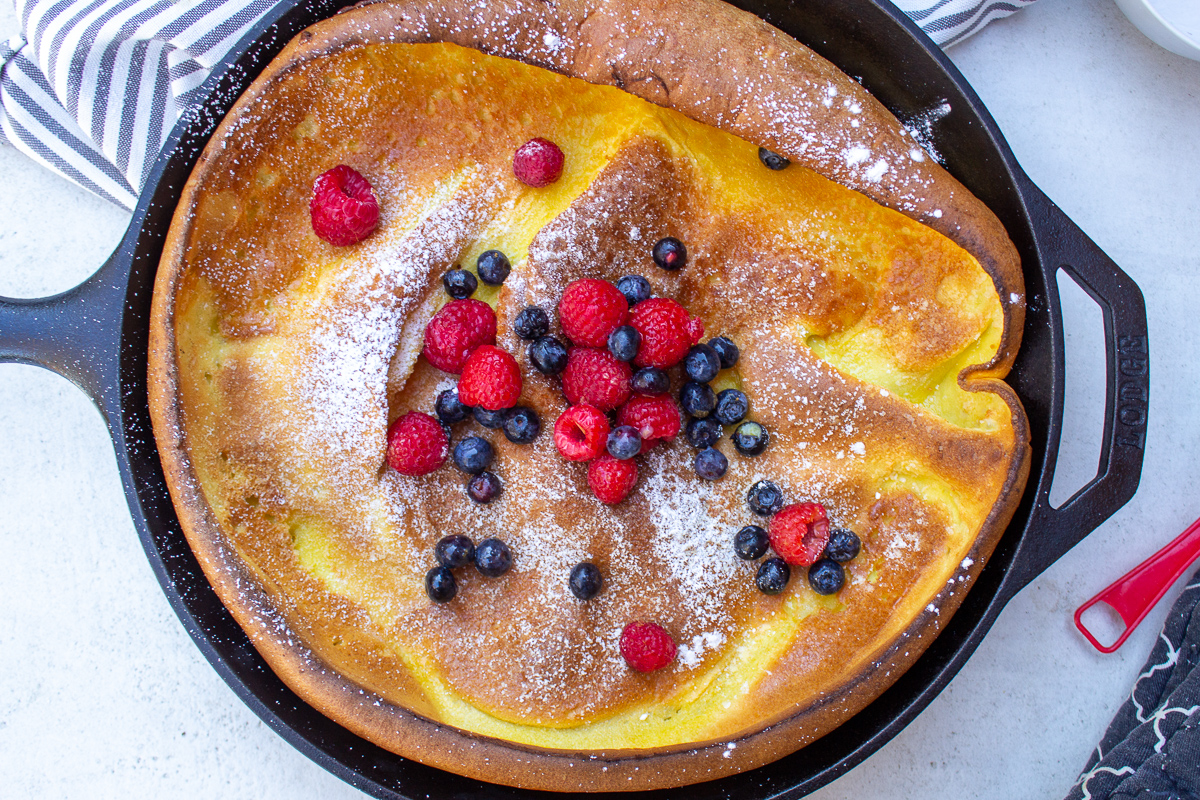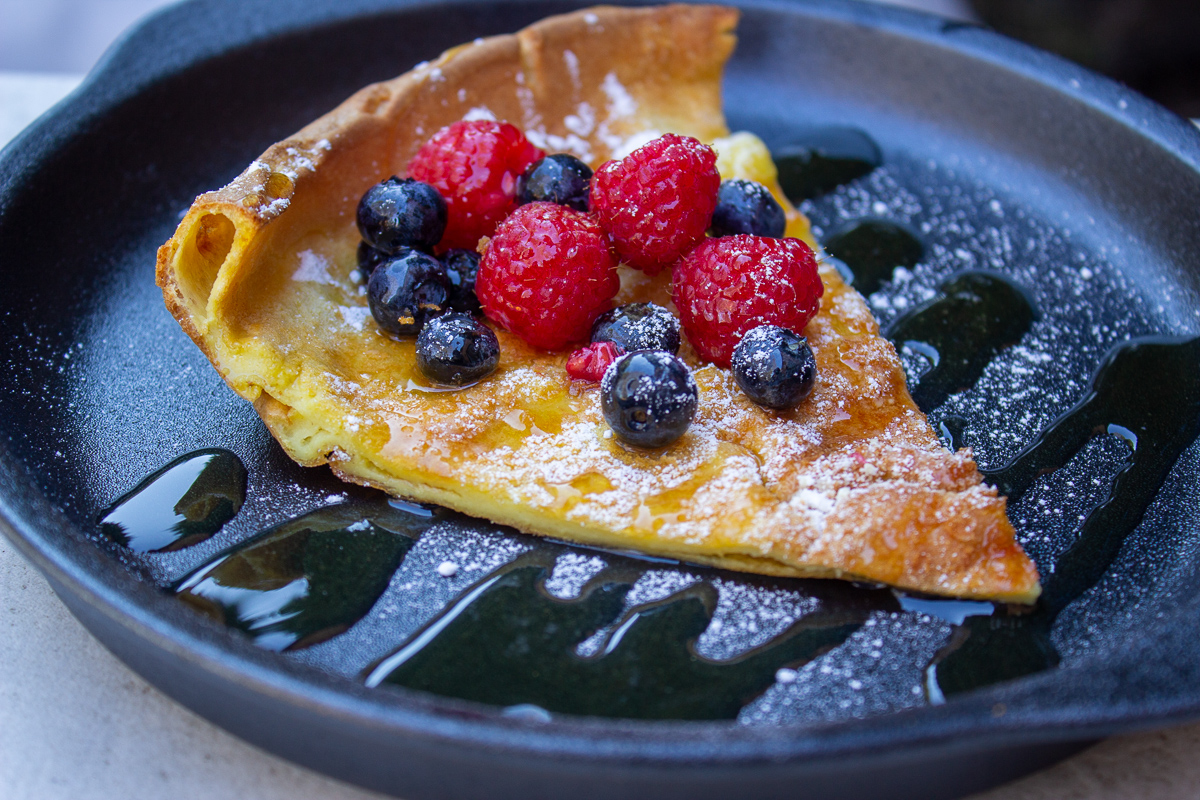 Timing Tips
The Kitchn tested a few timing options. Here's what they found.
You can let the batter rest for 10 minutes to a few hours – whatever suits you.
An overnight rest is not necessary but is fine if more convenient. Take the batter out of the fridge half an hour before baking it.
What to serve with a Dutch pancake
Typically a Dutch pancake is served for breakfast or brunch, but my husband and I sometimes enjoy it for dinner. The standard way to serve the pancake is dusted with powdered sugar and a drizzle of maple syrup or a squeeze of fresh lemon juice.
Sweet toppings ideas
fresh fruit like blueberries, raspberries, blackberries, peaches or bananas
Jam – homemade no pectin low sugar strawberry jam or peach jam – warmed up. Or warm up store-bought jam with a splash of water.
whipped cream, lemon curd, or yogurt are pretty good too!
Savory topping ideas: sautéed mushrooms. peppers or onions, a curry, lox, etc.
As part of a brunch menu, you can pair the pancake with a breakfast egg bake, carrot cake oatmeal, an easy potato skillet breakfast with ham, foolproof Gordon Ramsay scrambled eggs, a side of crispy bacon or ham, and a tropical fruit salad.
Or check out our full list of vegetarian brunch recipes for Mother's Day.
Make Ahead
Because Dutch babies collapse soon after removing them from the oven, this recipe would not be a great candidate to make ahead and reheat.
You can, however, prepare the batter ahead of time (10 minutes to overnight). If you make the batter the night before for convenience, store it in an airtight container. One site noted this apparently makes the pancake collapse a little quicker when removing it from the oven.
Recipe FAQs
What is the difference between a Dutch pancake and a regular pancake?
A Dutch pancake is much larger and much thinner than a regular fluffy pancake. The center is almost custard-like. It's baked in the oven (instead of on the stovetop) and is puffed and taller around the edges. No leavening agent such as baking powder is used in a Dutch pancake. 
Why is it called a Dutch pancake?
The story goes that a daughter of a Seattle diner owner served 3 small pancakes which she mistakenly referred to as Dutch babies, when she actually meant Deutsch (German).
Other techniques for Dutch babies
Most recipes on the internet for Dutch pancakes are pretty much the same. The only difference in 6 well-known recipe sites is the oven temperature and cook time which range from 375F/191 to 450F/232C for 15-25 minutes.
Cooks Illustrated, however, is the only site that used a very different cooking technique for German pancakes. After adding the batter to a buttered cast iron skillet, they put the skillet into a cold oven. Then turned on the heat to 375F/191C to bake the pancake. All other sites add the batter to a preheated skillet, then bake the pancake at high heat.
I tried both ways. To be honest, there was not a lot of difference. I found the pancake with the cold oven method puffed up more, but then collapsed just as quickly as the hot oven method. It's very handy if you forget to heat up the oven though!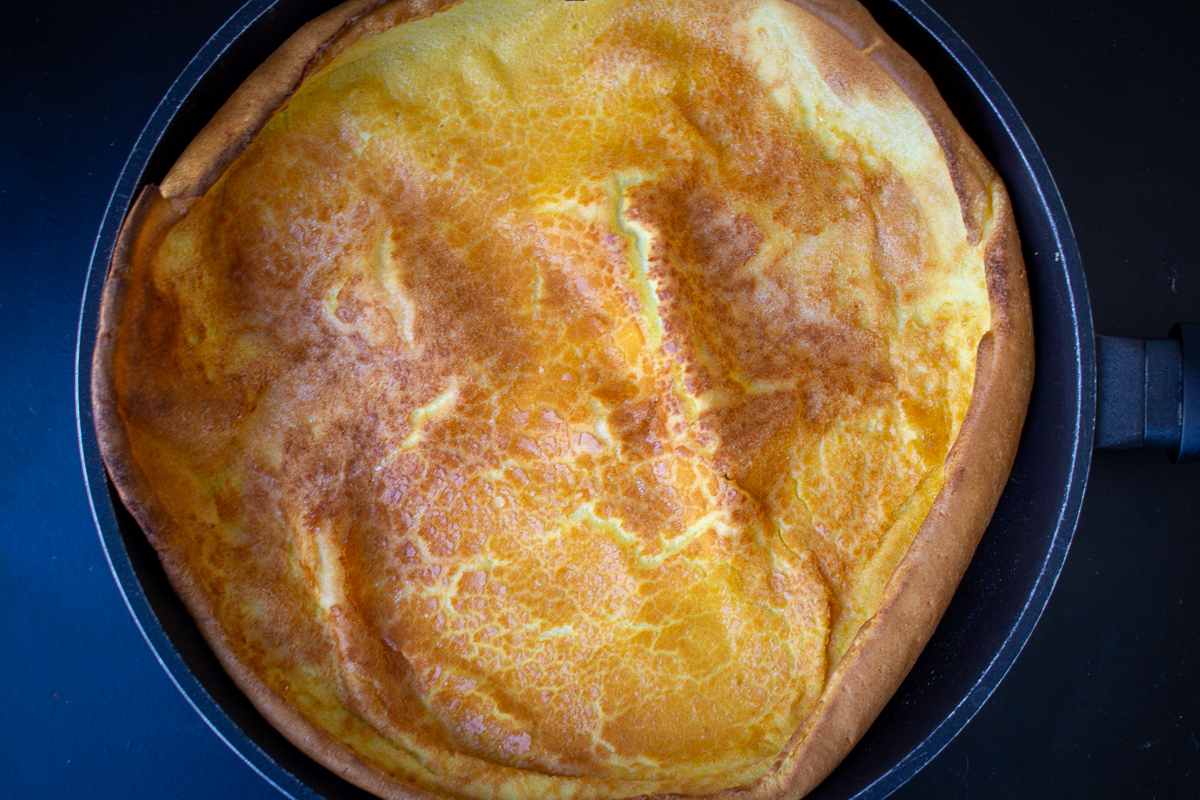 The Kitchn also tested a number of more nuanced techniques such as resting the batter longer, using a whisk instead of a blender, beating some ingredients separately, and beating them all together. Since the results were not drastically different, I went with the easiest – beating all the ingredients together using an immersion blender or whisk. That got my attention!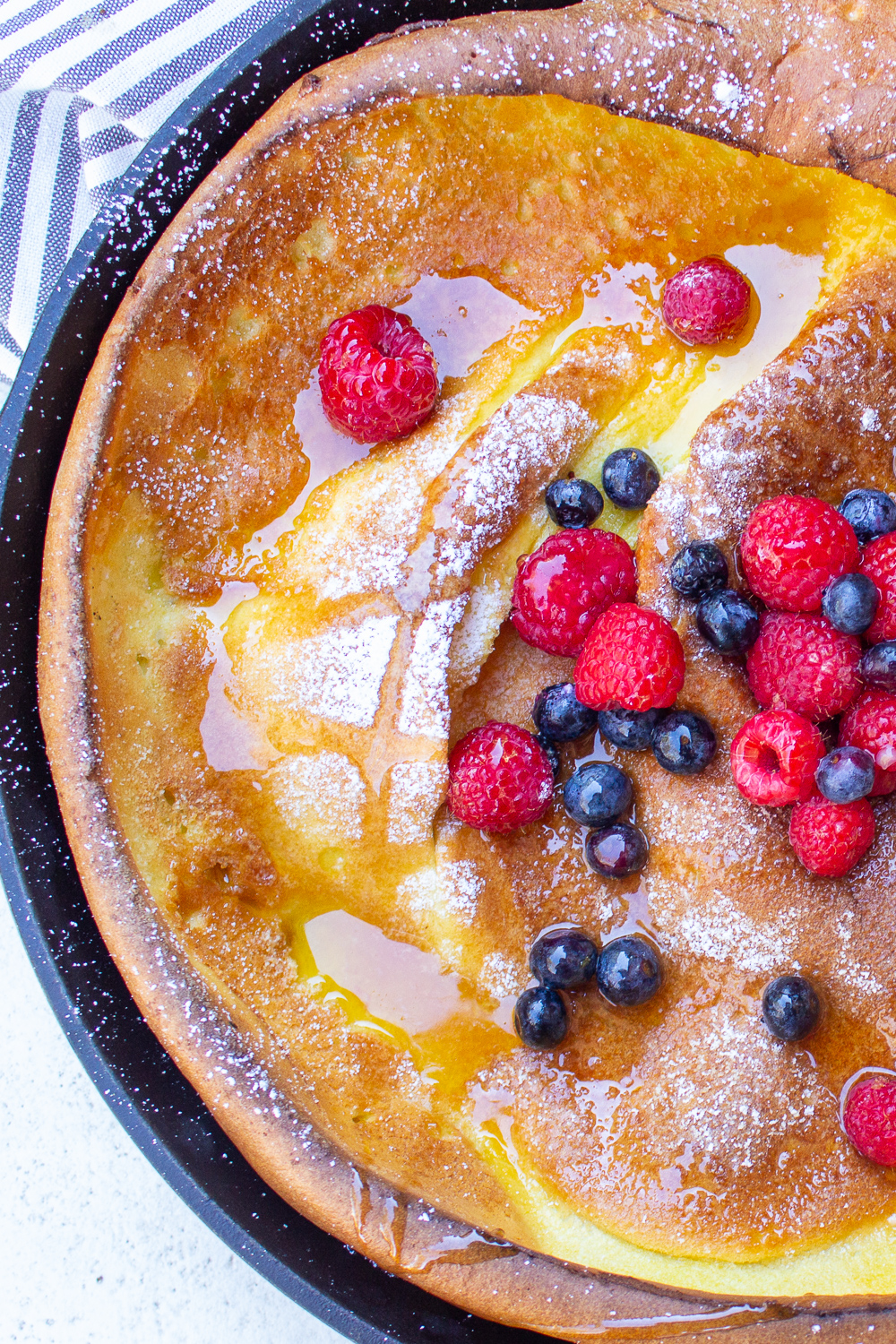 If you like this recipe, please leave a 5 star rating 🌟🌟🌟🌟🌟in the recipe card below. And if you REALLY like it, consider a review in the comments. Thanks very much!
More pancake recipes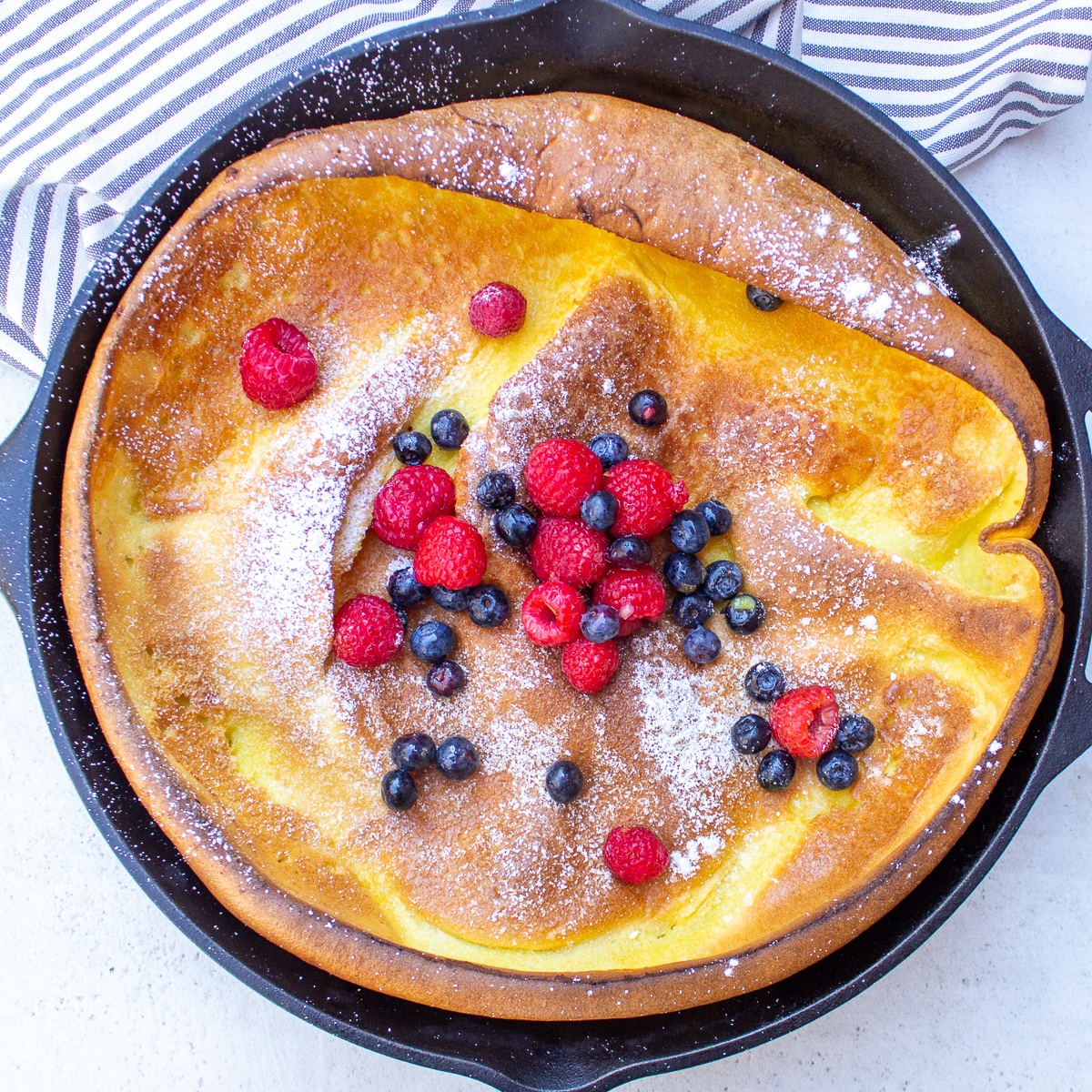 Print Recipe
Pin
Save Recipe
Recipe Saved!
Rate this recipe here
Simple Dutch Pancake Recipe
Picture this. You enter the room with a beautiful golden puffed up Dutch pancake in a skillet. The ooh's and ah's for this impressive Dutch pancake recipe ring in your ears. Your guests don't realize how simple it is. 
Servings:
4
or 3 larger portions
Equipment
oven-proof 9-10 inch skillet (23-25 cm)

e.g. cast iron skillet

immersion blender

or electric mixer, food processor, whisk or fork.
Ingredients
Dutch pancake batter
1/2

cup

all purpose flour

1/2

cup

whole milk or 2% milk

3

large eggs

1

tablespoon

sugar

or maple syrup

1/2

teaspoon

vanilla extract

1/4

teaspoon

salt (omit if using salted butter)

optional flavors, Note 1
Prep and toppings/garnish
3

tablespoons

butter

Topping/garnish options: Note 2
Instructions
HEAT OVEN AND SKILLET: Place skillet on oven rack in the middle position. Heat oven to 400F/204C for at least 10-15 minutes. Note 4 for cold oven method.

MAKE BATTER: While oven and skillet are heating, heat milk in microwave for 20 seconds to bring it to room temperature (if you forget, it's ok – some say the pancake will be puffier, but don't worry, it will still puff up). Blend all ingredients together with whisk, fork or blender until you get a thin, smooth batter.

BAKE PANCAKE: Remove hot skillet from preheated oven. Place butter in pan to melt, brushing it over bottom of the pan and edges of the pan to prevent sticking. Pour batter on top of melted butter. Place skillet in oven. Close oven door and bake for 20 minutes or until pancake is golden brown and puffy.

SERVE IMMEDIATELY: Remove pan and bring to table immediately. Place on hot pad. Dust with powdered sugar (also called confectioners' sugar, icing sugar) and add toppings or serve on the side. Middle of pancake will collapse in a minute or two.
Recipe Notes
Optional flavorings for batter: add a pinch of cinnamon or nutmeg. Or 1/2 teaspoon lemon zest or orange zest. 
Toppings/garnish options for Dutch pancake:

Classic

: dusting of powdered sugar with a drizzle of maple syrup or squeeze of fresh lemon juice

Other sweet toppings

 – fresh berries, your favorite fruit, berry sauce,  preserves, caramelized bananas, whipped cream, jam, yogurt, lemon curd, drizzle of dark chocolate or nutella. 

Savory topping ideas

: sautéed mushrooms and onions, a curry, lox, etc. 

Cold oven method to bake pancake (by Cooks Illustrated) – if you forget to heat the oven!: Melt butter in skillet on stove top. Add batter. Place in cold oven. Then turned on the heat to 375F/191C to bake the pancake for 23-25 minutes until puffy and golden brown. 
Nutritional information is estimated and based on using 2% milk and does not include toppings or garnishes. 
Nutrition
Calories:
207
kcal
|
Carbohydrates:
17
g
|
Protein:
7
g
|
Fat:
12
g
|
Saturated Fat:
7
g
|
Polyunsaturated Fat:
1
g
|
Monounsaturated Fat:
4
g
|
Trans Fat:
1
g
|
Cholesterol:
148
mg
|
Sodium:
136
mg
|
Potassium:
107
mg
|
Fiber:
1
g
|
Sugar:
5
g
|
Vitamin A:
471
IU
|
Vitamin C:
1
mg
|
Calcium:
59
mg
|
Iron:
1
mg
Tried this recipe?
We'd love you to rate it above under 'rate this recipe' or in the comment section below. Thanks!