Simple Dutch Pancake Recipe
Picture this. You enter the room with a beautiful golden puffed up Dutch pancake in a skillet. The ooh's and ah's for this impressive Dutch pancake recipe ring in your ears. Your guests don't realize how simple it is.
You warn them to look quickly because the pancake collapses fast. But they are already busy adding fresh fruit and maple syrup on top, ready to dig in.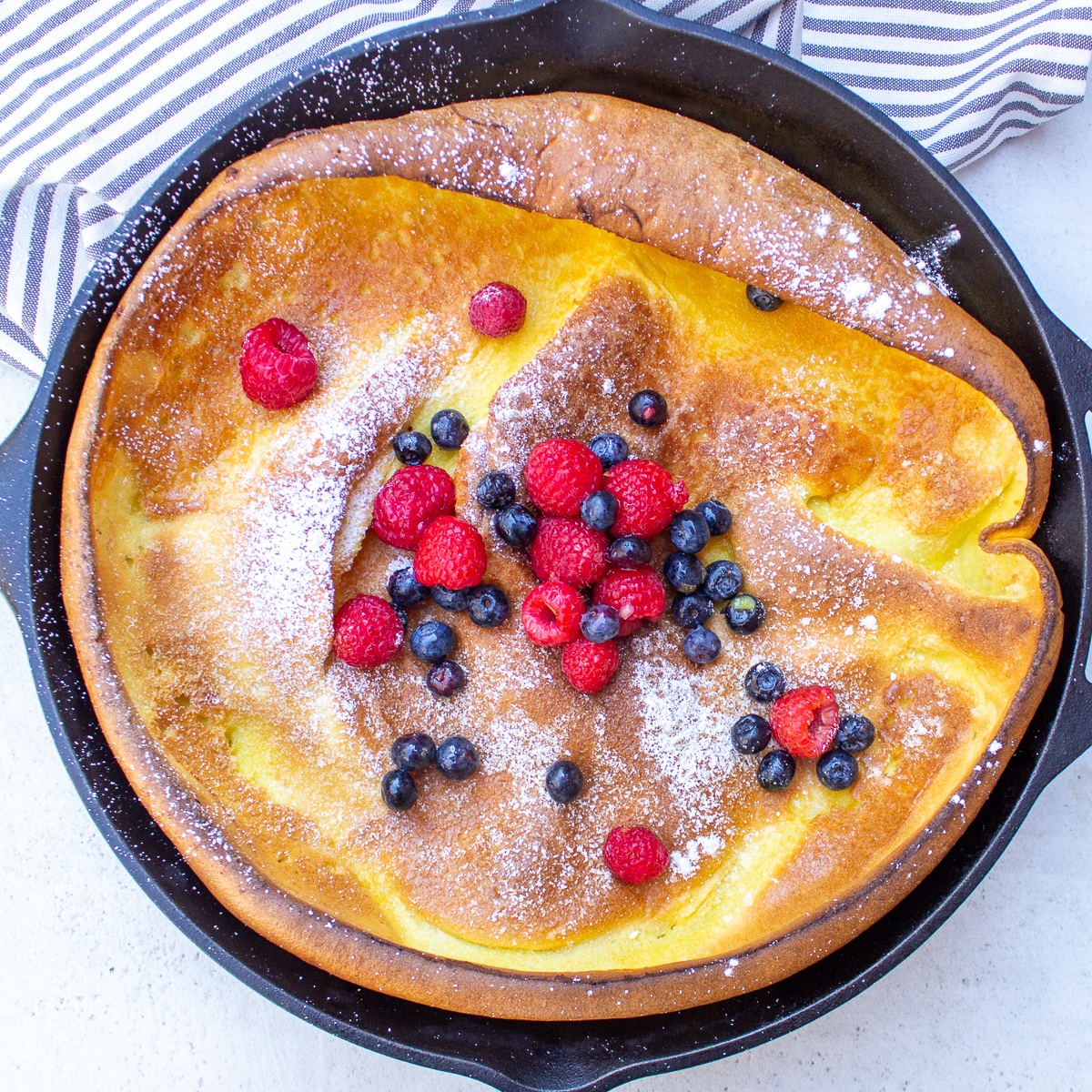 The Dutch pancake – also called a German pancake, pannekoeken or a Dutch puff – actually originated in Germany, not the Netherlands. The story goes that a daughter of a Seattle diner owner served 3 small pancakes that she called Dutch babies when she really meant Deutsch (German).
The pancake is made with a batter of eggs, flour, milk, sugar and vanilla poured it into a buttered skillet and baked for 20 minutes. The sides puff up and get a bit crispy and you get a thin, slightly custardy center.
While the center does collapse minutes after coming out of the oven, the pancake still holds a shallow bowl-like shape.
Are all the recipes for Dutch pancakes on the internet the same?
Pretty much, yes. I compared 6 well-known, good quality websites.
The ingredients were identical.
The measurements almost identical.
All recipes use a 1:1 ratio of flour and milk.
Oven temperatures ranged from 375F/191 to 450F/232C with times ranging from 15-25 minutes.
Cooks Illustrated, however, was the only site that used a very different cooking technique for their German pancake. After adding the batter to a buttered cast iron skillet, they put the skillet into a cold oven. Then turned on the heat to 375F/191C to bake the pancake. All other sites add the batter to a preheated skillet, then bake the pancake at high heat.
I tried both ways. To be honest, there was not a lot of difference. I found the pancake with the cold oven method puffed up more, but then collapsed just as quickly as the hot oven method. It's very handy if you forget to heat up the oven though!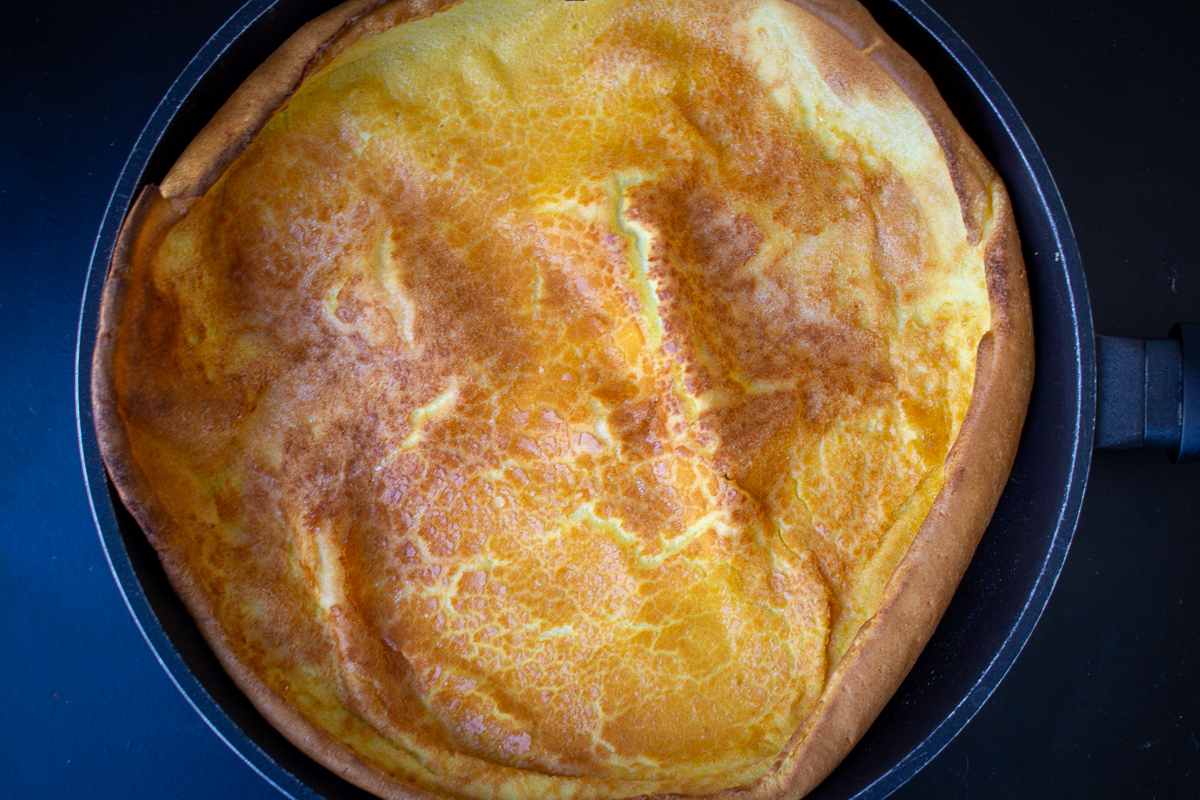 The Kitchn also tested a number of more nuanced techniques such as resting the batter longer, using a whisk instead of blender, beating some ingredients separately and beating them all together. Since the results were not drastically different, I went with the easiest – beating all the ingredients together using an immersion blender or whisk.
What's the difference between a Dutch pancake and a regular pancake?
A Dutch pancake is like a cross between a French crepe and a popover (or Yorkshire pudding).
It's much larger and much thinner than a regular fluffy pancake. The center is almost custard-like.
It's baked in the oven (instead of on the stove top) and is puffed and taller around the edges.
No leavening agent such as baking powder is used.
What to serve with a Dutch pancake
Typically a Dutch pancake is served for breakfast or brunch, but my husband and I sometimes enjoy it for dinner. The standard way to serve the pancake is dusted with powdered sugar and a drizzle of maple syrup or a squeeze of fresh lemon juice.
Here are a few other great toppings.
berry sauce – see our recipe for berry sauce on pound cake
fresh fruit like blueberries, raspberries, blackberries, peaches or bananas
caramelized bananas – see our recipe for ricotta pancakes with caramelized bananas.
homemade no pectin low sugar strawberry jam or peach jam – warmed up. Or warm up store bought jam with a splash of water.
whipped cream, lemon curd or yogurt are pretty good too!
As part of a brunch menu, you can pair the pancake with a breakfast egg bake, carrot cake oatmeal, an easy potato skillet breakfast with ham, a side of crispy bacon or ham and a tropical fruit salad.
Or check out our full list of vegetarian brunch recipes for Mother's Day.
How to make a Dutch baby pancake recipe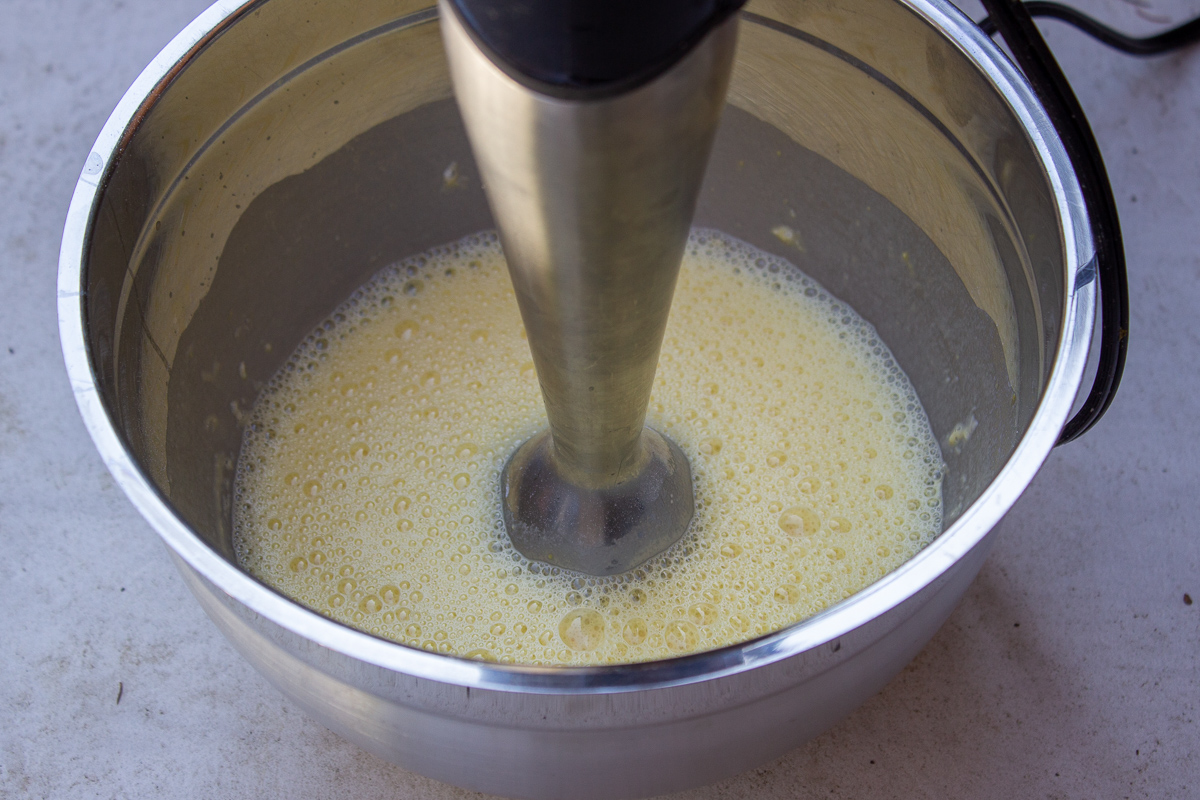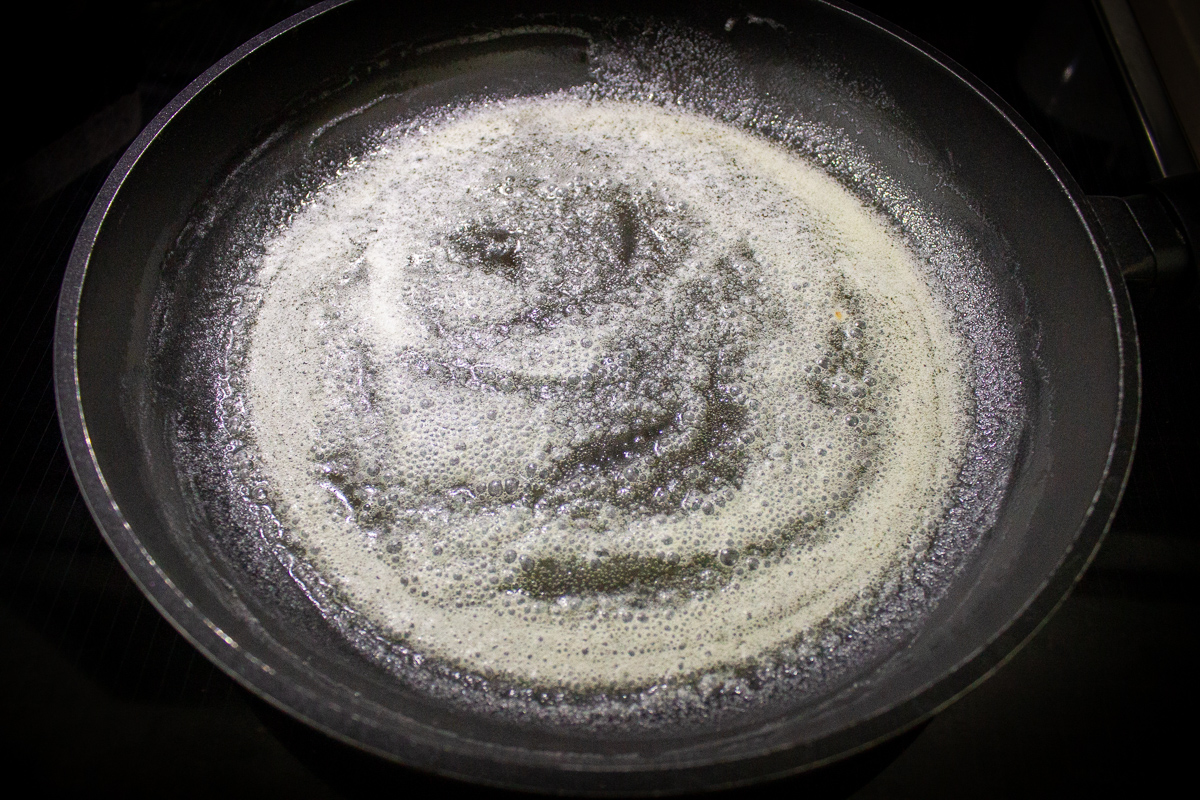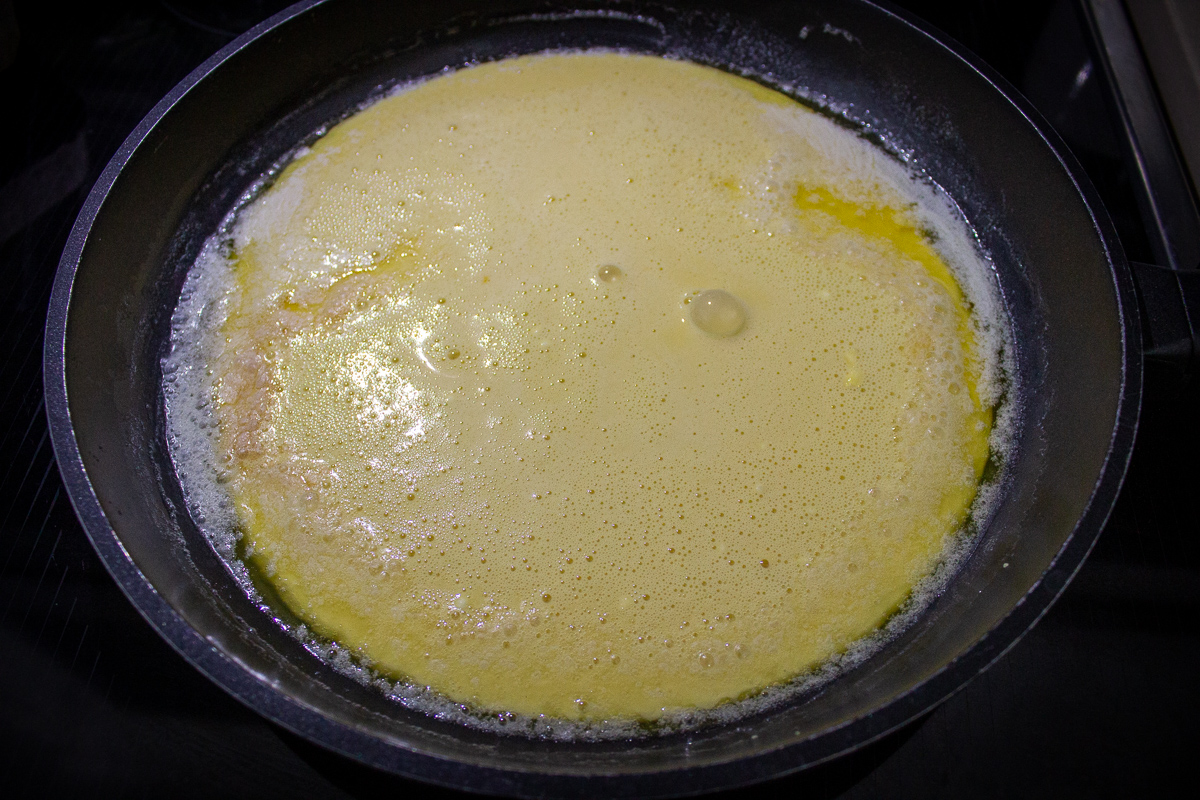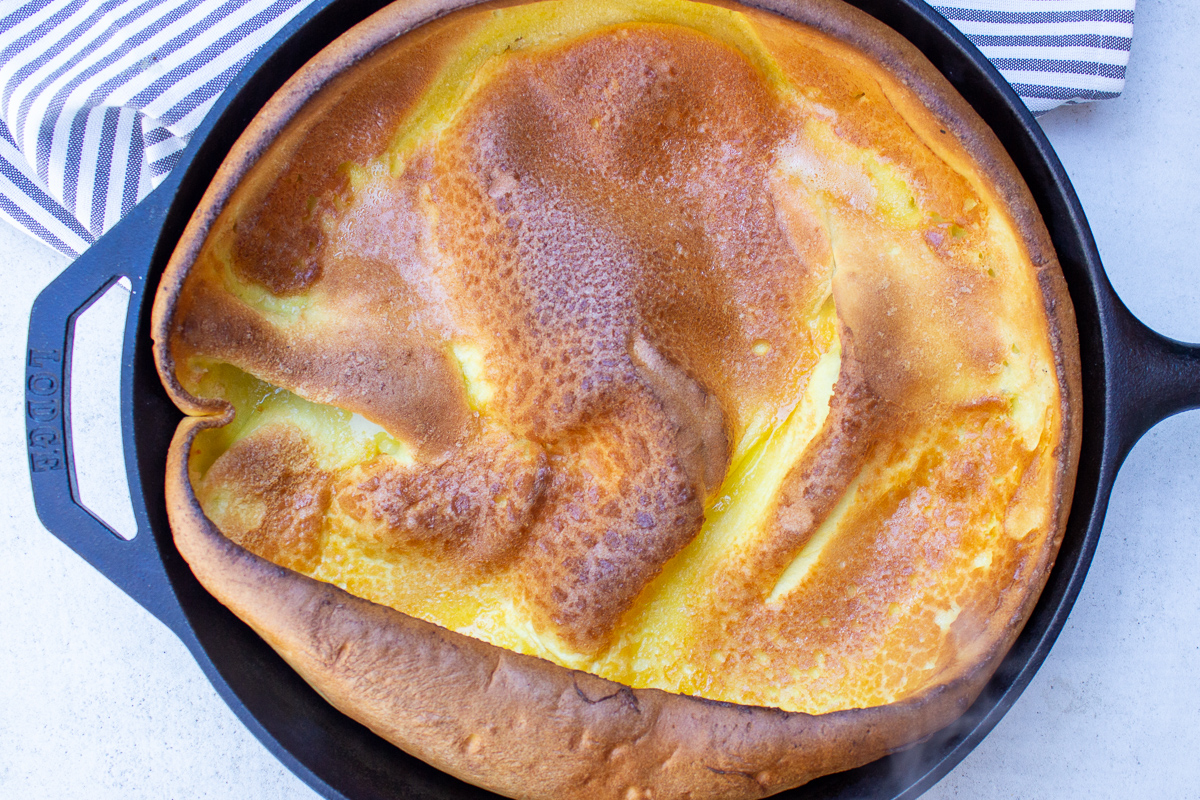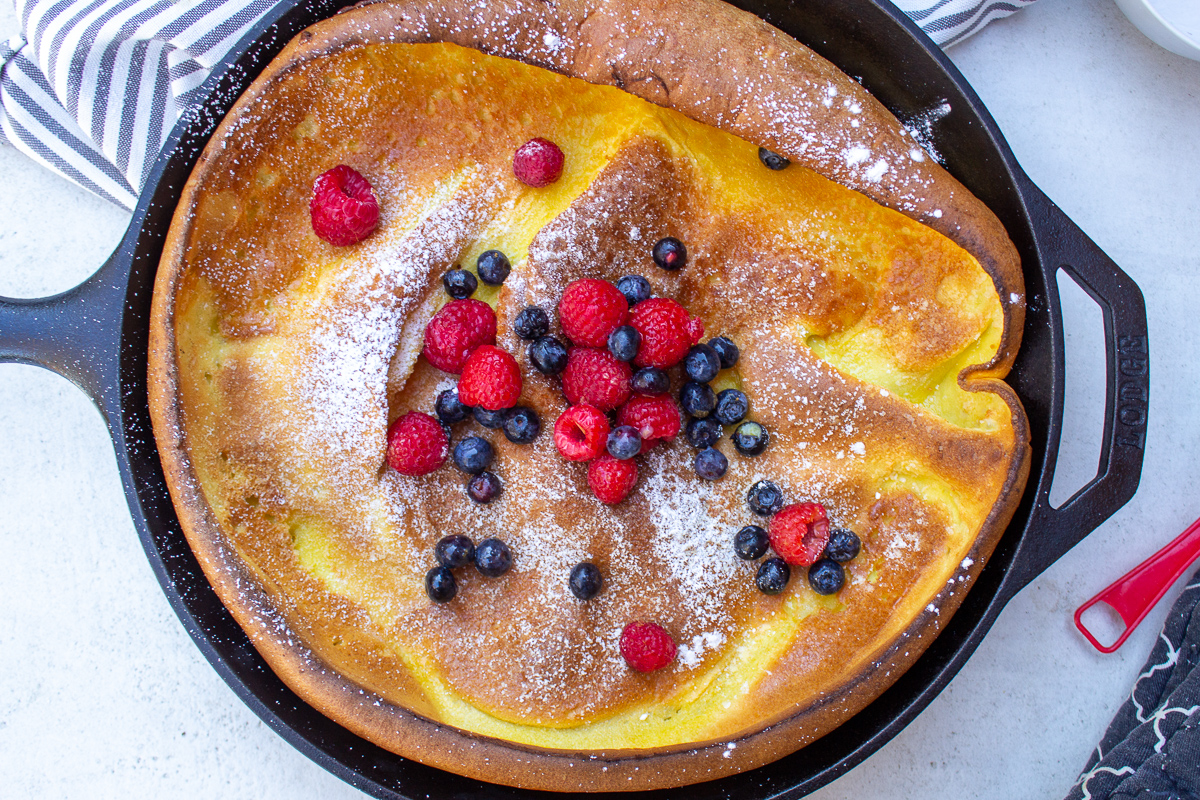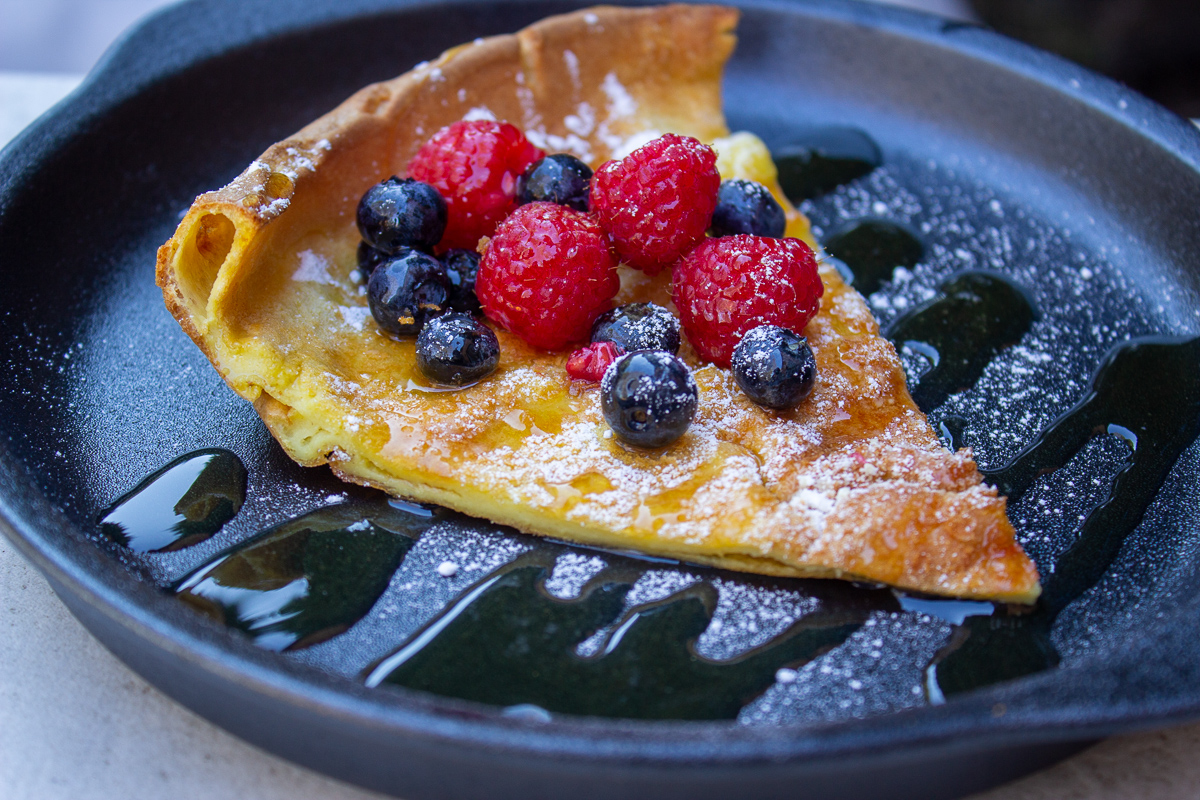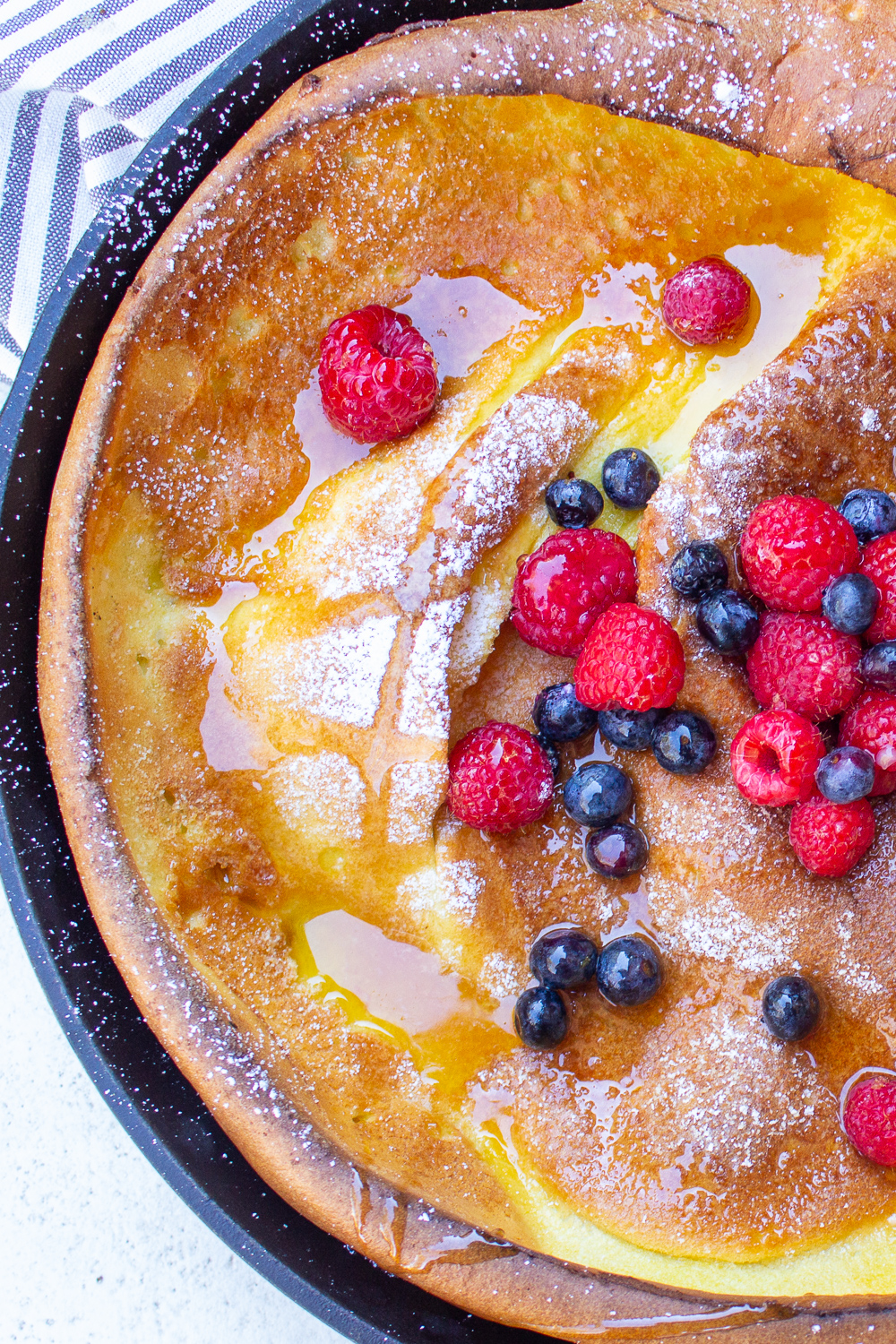 Tailor To Your Taste
Here are a few variations to experiment with.
Technique and equipment
The commonly used method is to bake the Dutch pancake in a oven proof skillet in a hot oven. This is in the recipe.
We have also included Cook's Illustrated cold oven technique in the recipe card.
Equipment:

To blend the batter, you can use a blender, an immersion blender, an electric mixer, a food processor, a whisk or fork.
A 9- or 10-inch cast-iron skillet (23-25 cm) or any other oven proof skillet will work.

The Kitchn tested several different methods that results in some fairly minor differences. A few takeaways:

You can let the batter rest 10 minutes to a few hours – whatever suits you. An overnight rest is not needed, but certainly fine if more convenient. Take the batter out half hour before baking it.
The easiest method is dumping all the batter ingredients together and blending them. That got my attention!
Topping options
Here's where you can get creative. We've listed several options above – fresh berries, your favorite fruit, preserves, caramelized bananas, whipped cream, yogurt, lemon curd.
And of course, a drizzle of maple syrup, lemon juice, dark chocolate or nutella.
One more idea – you can also make a savory Dutch pancake topped with mushrooms, onions, a curry, lox, etc. Maybe I'll post a recipe on that one day…
Batter flavors
You can substitute the white sugar with maple syrup.
Add lemon zest, orange zest, cinnamon or a pinch of nutmeg to the batter.
Shortcut
The only shortcut to take when serving a Dutch baby is with the toppings. Keep it simple if you prefer with fresh fruit and syrup and maybe a dollop of yogurt. The longer option is to make your own berry sauce or preserves.
Make Ahead
Because Dutch babies collapse soon after removing them from the oven, this recipe would not be a great candidate to make ahead and reheat.
You can, however prepare the batter ahead of time. If you make the batter the night before for convenience, store it in an airtight container. One site noted this apparently makes the pancake collapse a little quicker when removing it from the oven.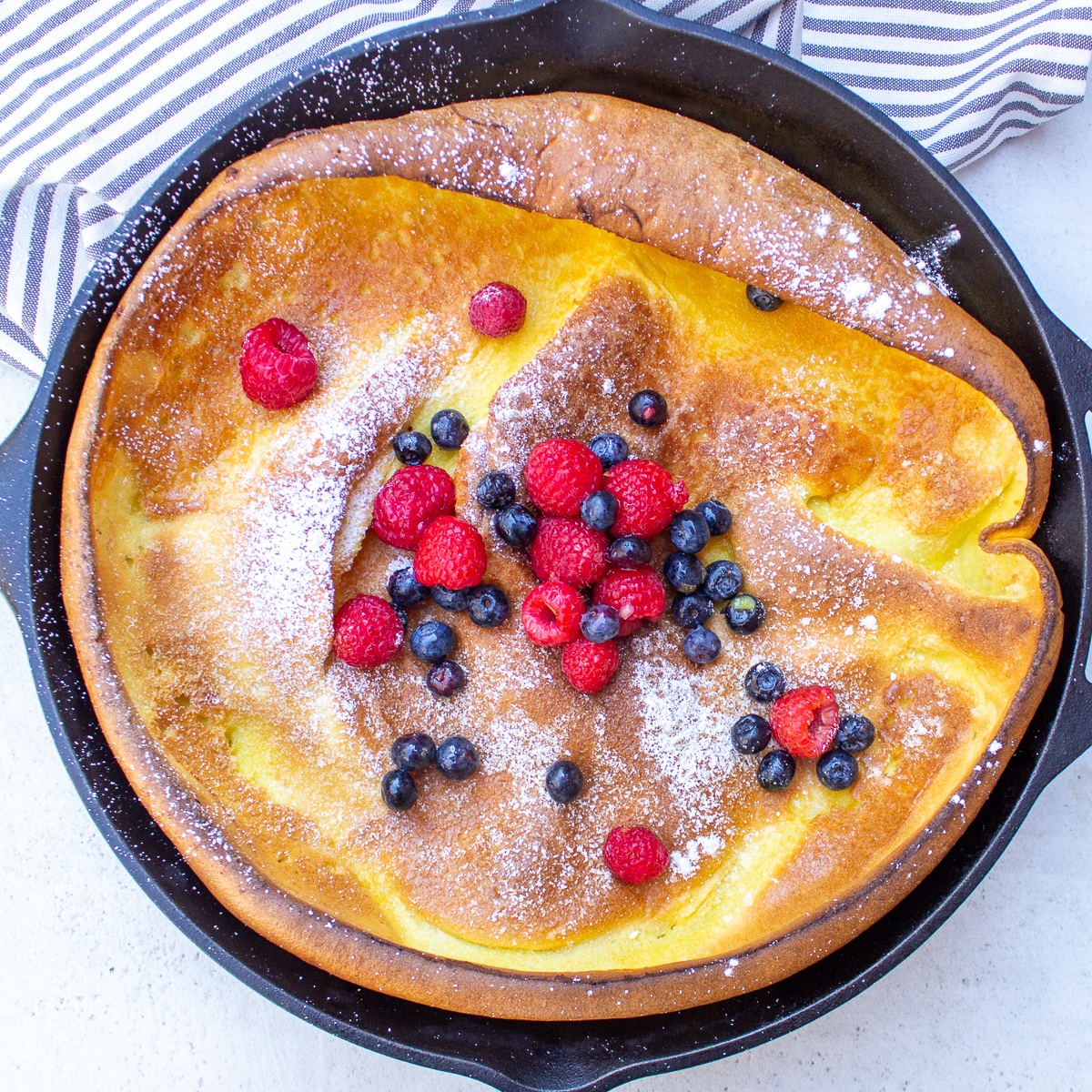 Print Recipe
Pin
Save Recipe
Recipe Saved!
Rate this recipe here
Simple Dutch Pancake Recipe
Picture this. You enter the room with a beautiful golden puffed up Dutch pancake in a skillet. The ooh's and ah's for this impressive Dutch pancake recipe ring in your ears. Your guests don't realize how simple it is. 
Servings:
4
or 3 larger portions
Equipment
oven-proof 9-10 inch skillet (23-25 cm) e.g. cast iron skillet
Ingredients
Dutch pancake batter
1/2

cup

all purpose flour

1/2

cup

whole milk or 2% milk

3

large eggs

1

tablespoon

sugar

or maple syrup

1/2

teaspoon

vanilla extract

1/4

teaspoon

salt (omit if using salted butter)

optional flavors, Note 1
Prep and toppings/garnish
3

tablespoons

butter

Topping/garnish options: Note 2
Instructions
HEAT OVEN AND SKILLET: Place skillet on oven rack in the middle position. Heat oven to 400F/204C for at least 10-15 minutes. Note 4 for cold oven method.

MAKE BATTER: While oven and skillet are heating, heat milk in microwave for 20 seconds to bring it to room temperature (if you forget, it's ok – some say the pancake will be puffier, but don't worry, it will still puff up). Blend all ingredients together with whisk, fork or blender tool (Note 3) until you get a thin, smooth batter.

BAKE PANCAKE: Remove hot skillet from preheated oven. Place butter in pan to melt, brushing it over bottom of the pan and edges of the pan to prevent sticking. Pour batter on top of melted butter. Place skillet in oven. Close oven door and bake for 20 minutes or until pancake is golden brown and puffy.

SERVE IMMEDIATELY: Remove pan and bring to table immediately. Place on hot pad. Dust with powdered sugar (also called confectioners' sugar, icing sugar) and add toppings or serve on the side. Middle of pancake will collapse in a minute or two.
Notes
Optional flavorings for batter: add a pinch of cinnamon or nutmeg. Or 1/2 teaspoon lemon zest or orange zest. 
Toppings/garnish options for Dutch pancake:

Classic

: dusting of powdered sugar with a drizzle of maple syrup or squeeze of fresh lemon juice

Others

– fresh berries, your favorite fruit, berry sauce,  preserves, caramelized bananas, whipped cream, jam, yogurt, lemon curd, drizzle of dark chocolate or nutella. 

To blend batter: you can use a blender, hand blender (immersion blender or electric mixer), a food processor, a whisk or fork.
Cold oven method to bake pancake (by Cooks Illustrated): Melt butter in skillet on stove top. Add batter. Place in cold oven. Then turned on the heat to 375F/191C to bake the pancake for 23-25 minutes until puffy and golden brown. 
Nutritional information is estimated and based on using 2% milk and does not include toppings or garnishes. 
Nutrition
Nutrition Facts
Simple Dutch Pancake Recipe
Amount Per Serving
Calories 207
Calories from Fat 108
% Daily Value*
Fat 12g18%
Cholesterol 148mg49%
Sodium 136mg6%
Potassium 107mg3%
Carbohydrates 17g6%
Protein 7g14%
Vitamin A 471IU9%
Vitamin C 1mg1%
Calcium 59mg6%
Iron 1mg6%
* Percent Daily Values are based on a 2000 calorie diet.
Tried this recipe?
We'd love you to rate it above under 'rate this recipe' or in the comment section below. Thanks!