Chocolate Toffee With Hazelnuts
Chocolate Toffee – buttery, nutty, chocolate-y, crunchy and scrumptious. Like Skor bars, but way better. And much easier to make than you think.
I have been obsessed with making chocolate toffee for years because I love it – plain and simple. It kills me to pay so much money for a few little pieces wrapped in pretty cellophane or cardboard.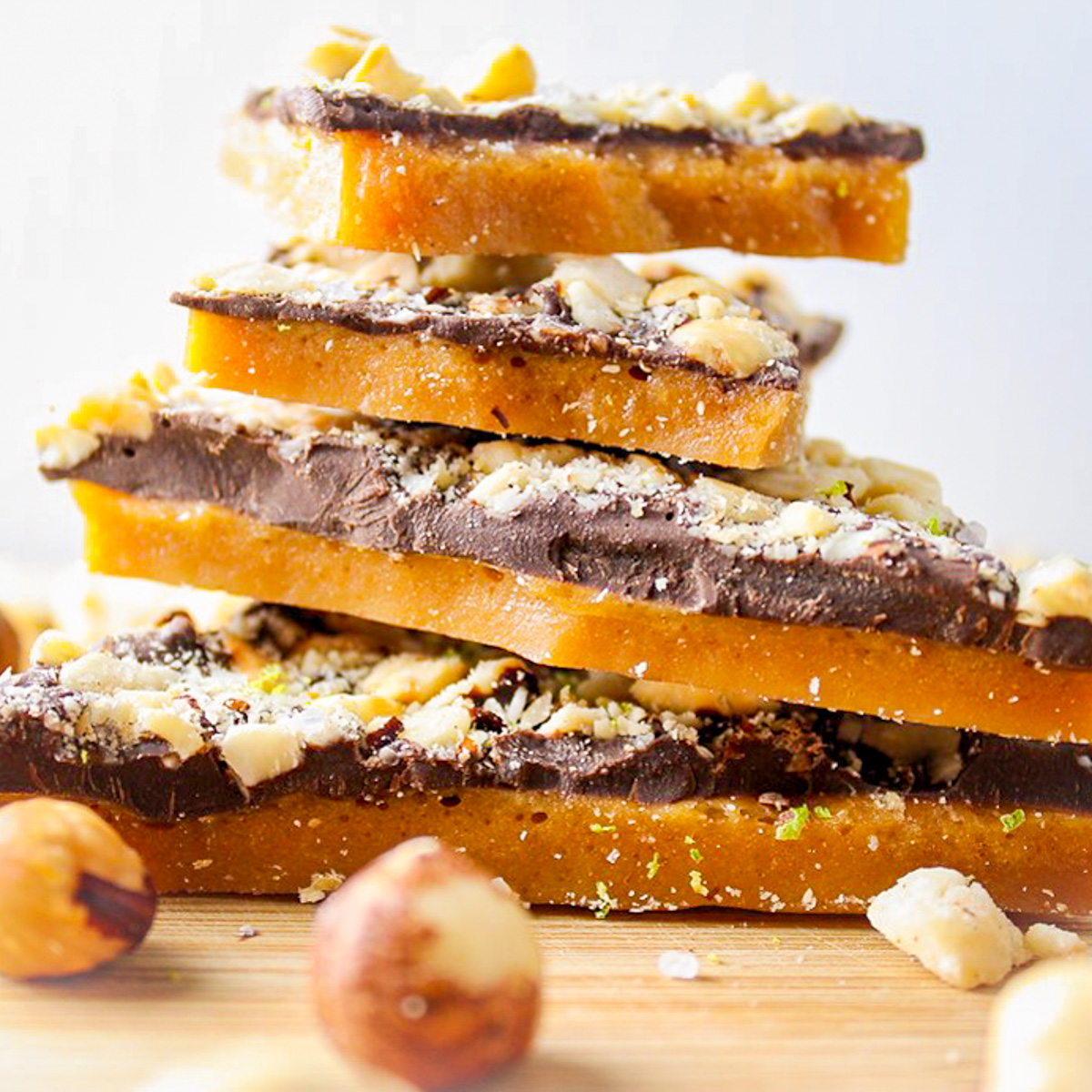 And, yes, I was intimidated to make it myself. I finally decided to tackle it, so in my usual fashion, I researched it to death before I tried it. I read 6 different recipes and a gazillion comments before adapting a recipe by David Lebovitz. Success!
Don't be intimidated by the candy thermometer like I was. I have never made candy before, but with good clear instructions (based on lots of research I promise) it's really not difficult.
The whole process takes about half an hour not including the setting time for the toffee to harden. It takes a bit of concentration and organization, but it's totally worth it. I increased the size of the pan slightly in the recipe so the toffee will be a bit thinner than what you see in these pictures.
If the deliciousness and easier-than-you-think still doesn't convince you, the gift factor might. Wrap in little gift boxes or cellophane and you'll be giving a gift that will surely be coveted.
Tailor To Your Taste
I used crushed hazelnuts in the recipe, but almonds or pecans work perfectly too. In fact, using nuts without skins is a big shortcut. You can crush all the nuts very finely for a more even look if you prefer.
I also like to add some flaky salt (fleur de sel) and a light sprinkling of lime zest.
And, you can use any type of chocolate – dark, semisweet, milk, bittersweet. I used dark Belgian chocolate from a Bulk food store. Chocolate chips are fine too.
Add some finely chopped dried cranberries or other dried fruit as well if you like.
Make Ahead
The chocolate toffee can be stored in an airtight container or ziploc bag for a few weeks – or in the freezer for much longer.
How to make chocolate toffee with hazelnuts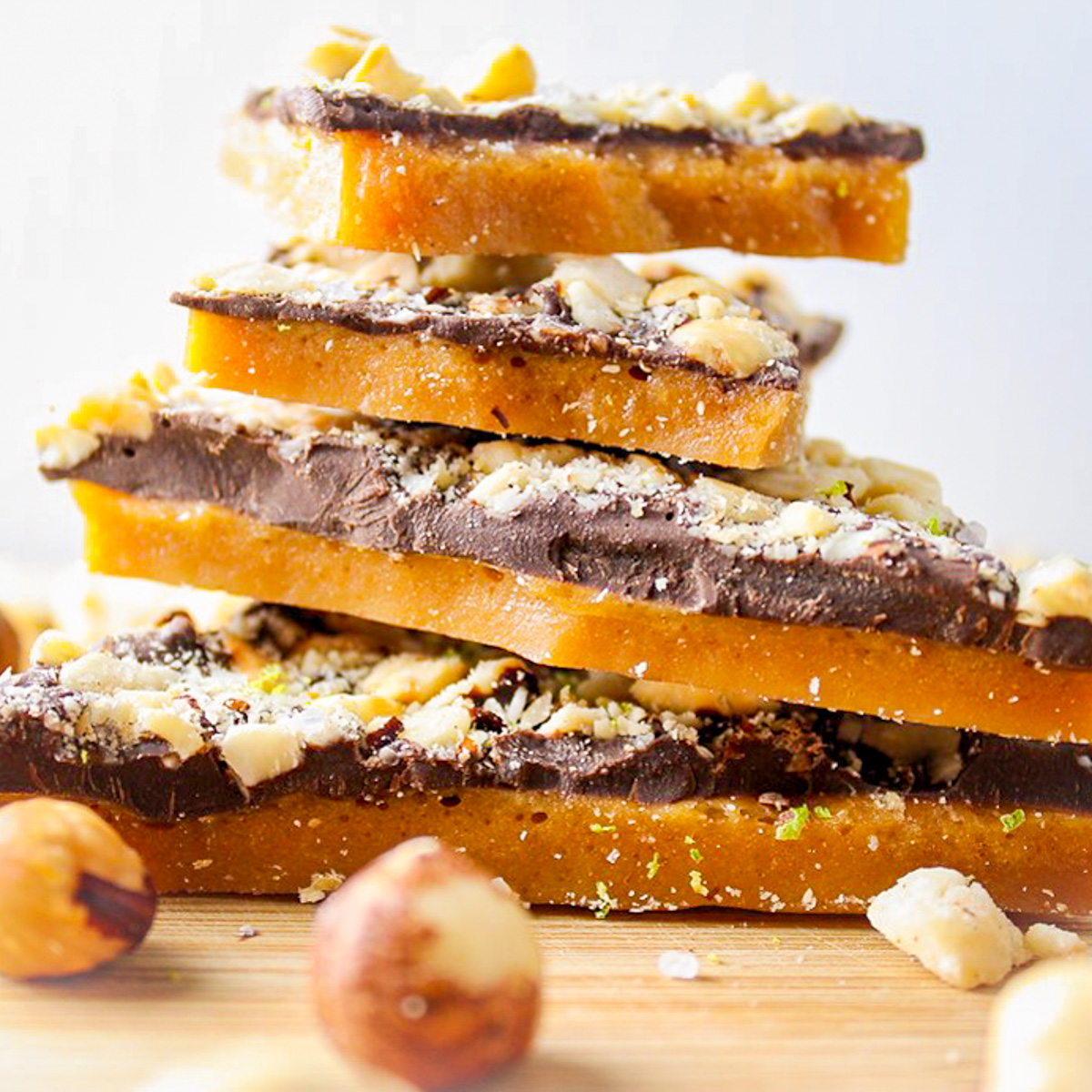 Print Recipe
Pin
Save Recipe
Recipe Saved!
Rate this recipe here
Chocolate Toffee With Hazelnuts
Chocolate Toffee - buttery, nutty, chocolate-y, crunchy and scrumptious. Like Skor bars, but way better. And much easier to make than you think. 
Ingredients
1

cup

hazelnuts

(or almonds)

1

cup

butter

2

cup

white sugar

4

tablespoon

water

1/2

cup

brown sugar, packed

1/2

teaspoon

baking soda

2

teaspoon

vanilla

10

ounce

dark, semi-sweet or milk chocolate, chopped

(or 2 cups chocolate chips)

OPTIONAL: 1 teaspoon lime zest (2 limes); 1 teaspoon flaky sea salt (fleur de sel)
Instructions
TOAST HAZELNUTS: Heat oven to 350F. Place nuts in a pan and bake for 6-9 minutes until lightly brown and fragrant. Let cool. To remove skins from hazelnuts, grab a bunch in your hands and rub your hands together. The skins will rub off easily. It's fine if a few bits of skin remain. To crush nuts finely, pulse in processor or place in a bag and smash them on a wood board with the bottom of a heavy glass or handle of a big knife. Shortcut:, Toast crushed or slivered almonds instead for 5-7 minutes.

GET ORGANIZED: This is important for this recipe as there is a point where things need to flow quickly. It is best to make the toffee with a candy thermometer (but I have noted below what to do if you don't have one). 1. Check the accuracy of your candy thermometer. Boil water in the pot you'll be using and see if your thermometer reaches 212F (or 100C) - the correct temperature for boiling. If it doesn't, you will have to adjust the final temperature of the toffee accordingly. 2. Prepare your pan that should be about 18" x 12" (or slightly bigger). This will give you a good thickness for the toffee. Line pan with parchment paper with an overhang on the sides. Or use tin foil, sprayed with oil. 3. Have a glass of ice water ready (this is critical if you are not using a thermometer, but I use this as a back up as well). 4. Have the baking soda and vanilla ready to add as soon as it is needed.

MAKE THE TOFFEE: In a heavy bottomed medium sauce pan fitted with a candy thermometer, heat butter, water and sugars on medium high to a slow boil, stirring occasionally. When mixture starts to boil, lower heat to medium. Stir mixture occasionally, not often. Watch the thermometer. The final temperature you want is 300F (305F max).

When the thermometer reaches 285F, stop all stirring and wait until the thermometer reaches 300F. It will be a dark amber color. If not using a thermometer (or to double check), drip a small strand of toffee mixture into the ice cold water. If it turns brittle immediately and it easily cracks in half, it's ready. Remove from the heat. Stir in baking soda and vanilla (mixture will bubble up).

ASSEMBLE AND FINISH: .....1. QUICKLY pour the hot toffee into the prepared pan, spreading evenly. Let it cool for a few minutes just until it is firm enough to leave a soft fingerprint when pressed.

2. Spread chocolate evenly over toffee. Let it sit for two minutes (the hot toffee will melt the chocolate), then spread it with a knife or spatula evenly over the surface.

3. Add crushed nuts over chocolate and very gently press with the palms of your hands to make sure they stick.

4. Sprinkle on sea salt and/or lime zest if using. Place the pan in the fridge until hardened. Or leave on counter to harden, but it will take longer.

5. Break it up into pieces with your hands.
Recipe Notes
Make Ahead:  The chocolate toffee can be stored in an airtight container or ziploc bag for a few weeks - or in the freezer for longer.
Nutrition values are estimates for one piece (of 30). 
Nutrition
Calories:
200
kcal
|
Carbohydrates:
23
g
|
Protein:
1
g
|
Fat:
12
g
|
Saturated Fat:
6
g
|
Polyunsaturated Fat:
1
g
|
Monounsaturated Fat:
5
g
|
Trans Fat:
1
g
|
Cholesterol:
17
mg
|
Sodium:
74
mg
|
Potassium:
88
mg
|
Fiber:
1
g
|
Sugar:
21
g
|
Vitamin A:
195
IU
|
Vitamin C:
1
mg
|
Calcium:
16
mg
|
Iron:
1
mg
Tried this recipe?
We'd love you to rate it above under 'rate this recipe' or in the comment section below. Thanks!
Other treats you might like:
Toffee Bars With Chocolate, Nuts and Cranberries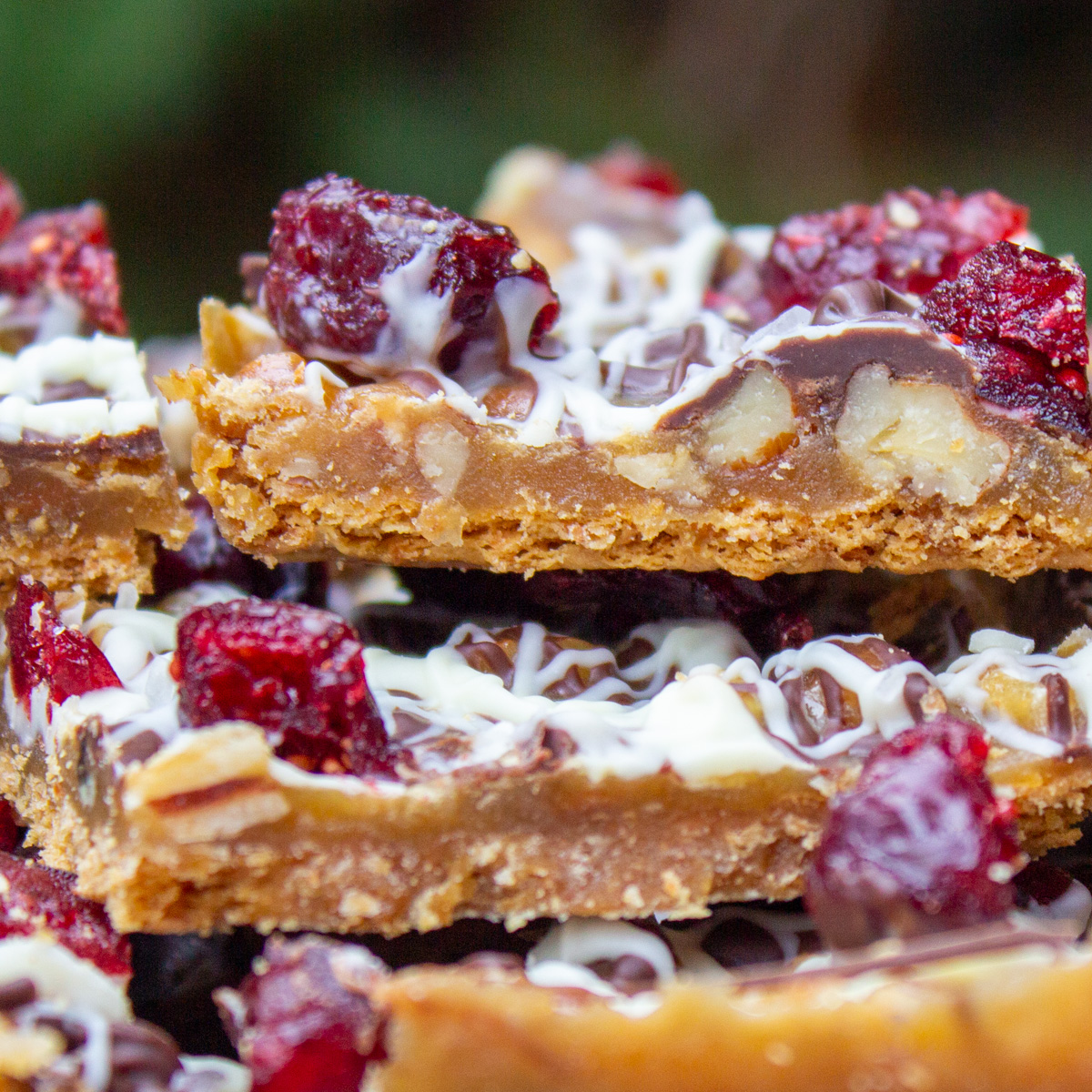 These toffee bars are a twist on the popular graham cracker toffee bars. Buttery and crunchy - and jazzed up with chocolate, nuts, dried cranberries and sea salt. Crave-worthy!
Get the recipe
Chocolate Rice Crispy Treats
Loaded with chocolate, nuts and raisins, these no-bake chocolate rice crispy treats are your answer to that after-dinner chocolate craving. Rich, chewy, crunchy, nutty, chocolate-y deliciousness. Just 10 minutes of hands-on time to prepare (plus chill time).
Get the recipe
Best Salted Caramel Popcorn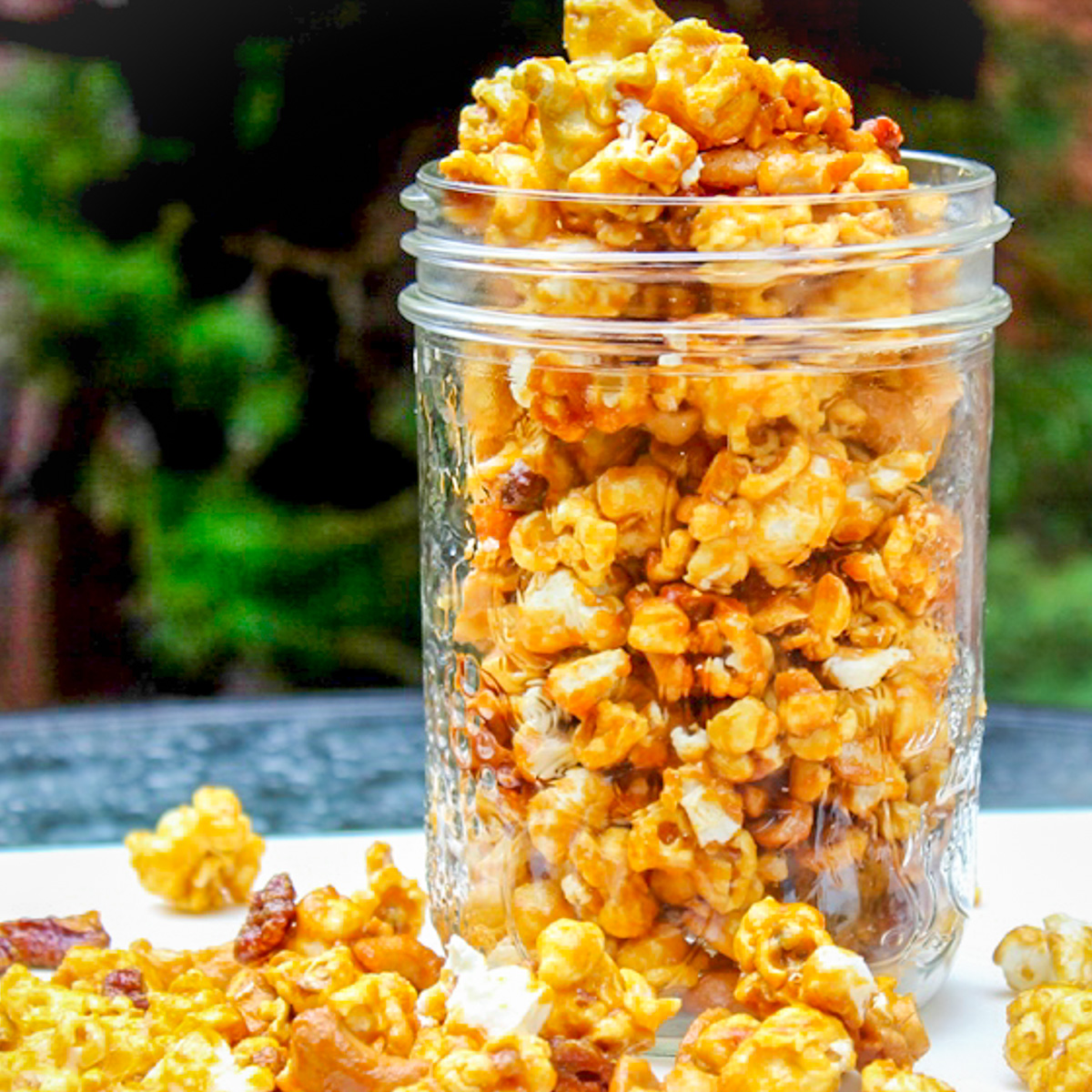 No, you can't just eat a handful of this homemade salted caramel popcorn. It's addictive! Crunchy popcorn and nuts with a mouth-watering buttery salted caramel coating.
Get the recipe