Caprese Appetizers (on Mini Skewers)
We amp up the flavor of these adorable, fresh, tasty mini caprese appetizers with a marinade and a drizzle of balsamic glaze.
A couple of shortcuts make this healthy appetizer even more appealing if you're short on time. And how cute are they for Christmas or any holiday gatherings!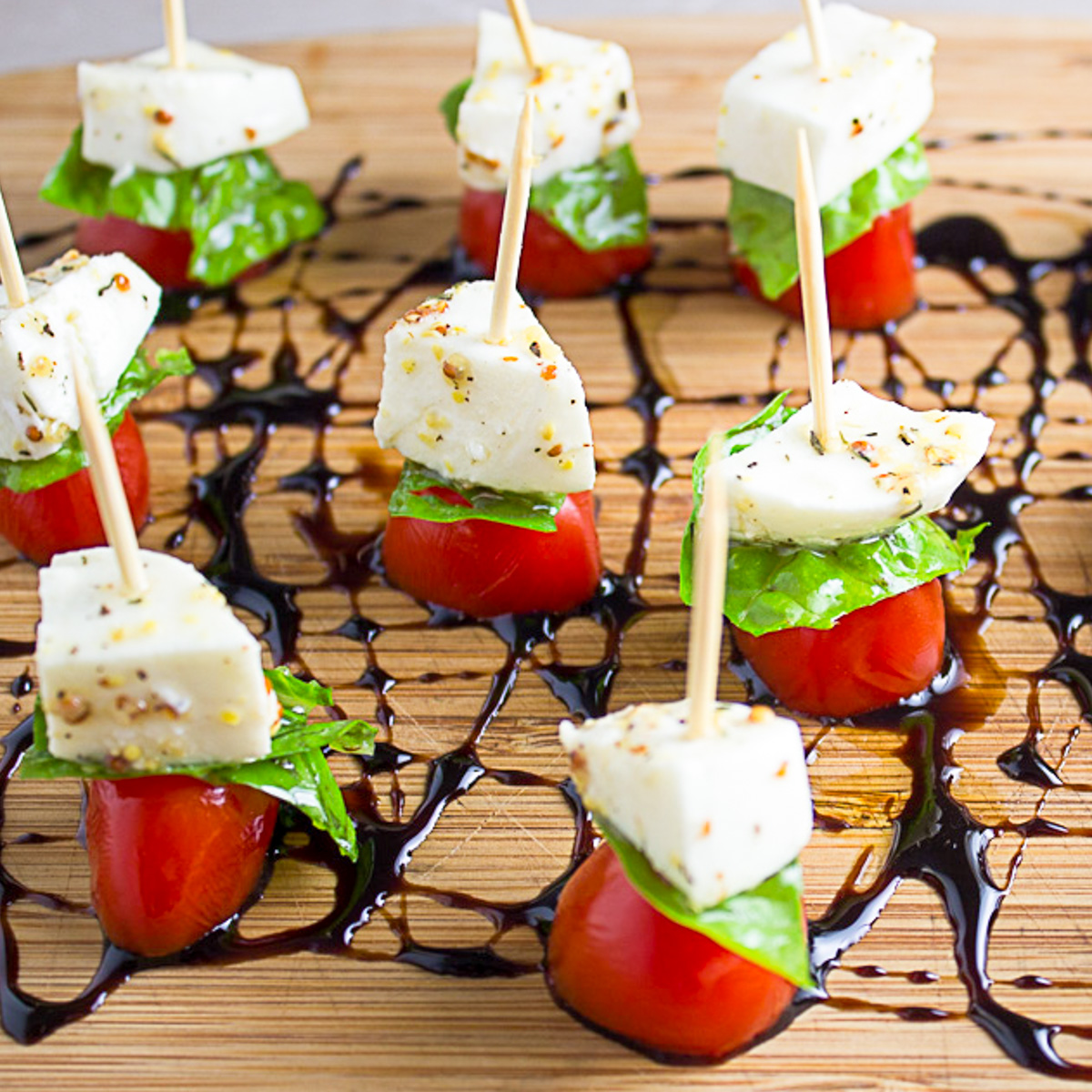 We made these for Jenna's baby shower years ago and they went in a flash. They're made with fresh Mozzarella or Bocconcini, fresh basil and baby tomatoes.
The mini caprese skewers are essentially a bite-sized twist on classic caprese salad – served on a toothpick.
Why make these caprese salad skewers?
easy appetizer recipe with no cooking or reheating fuss.
perfect appetizer to serve as finger food – one bite.
just a few simple ingredients easily found at your local grocery store.
who doesn't like caprese bites that look so cute?
Ingredients – tailored to your taste
There are lots of options, so use what you have on hand or what's available near you.
Cheese: For the cheese, cut up a ball or two of fresh Mozzarella, buffalo Mozzarella or use mini Mozzarella balls (also called fresh Mozzarella pearls) or Bocconcini which is similar. We found mini Bocconcini in a tub at Costco which we cut in half for the caprese appetizer – the perfect size.
Tomatoes: Any cherry or grape tomato will do. Always best in peak season during the summer months, but they are always available year round these days.
Vinaigrette: We like to marinate the cheese in a vinaigrette to enhance the flavor. Use the one in the recipe card or any vinaigrette of your choice such as Italian dressing. You can add extra dried herbs if you like.
Balsamic glaze: A balsamic reduction drizzle adds the best flavor – a sweet tangy finish that complements the bland cheese really well. Here's the difference between balsamic glaze and balsamic reduction. The glaze is sweetened a bit. It's easy to make your own which you can sweeten as you like.
Skewers: I use toothpicks, but feel free to use whatever little skewers you can find – bamboo skewers, wooden skewers, flattened ones, etc. The dollar store has lots of choices.
Variation: add an olive or salami to the mini skewers
Simple recipes for vinaigrette and balsamic reduction are in the recipe notes below if you prefer to make them on your own.
Tips
Squeeze most of the juice and seeds out of the tomatoes if you cut the tomatoes in half. This way the platter won't get watery.
We prefer to drizzle the balsamic glaze on the platter (for dipping) – instead of directly on the caprese bites – as it tends to 'bleed' on the cheese within a few minutes. The design of the glaze makes a dramatic presentation.
Apply the balsamic glaze just before serving, not before.
How to make mini caprese appetizers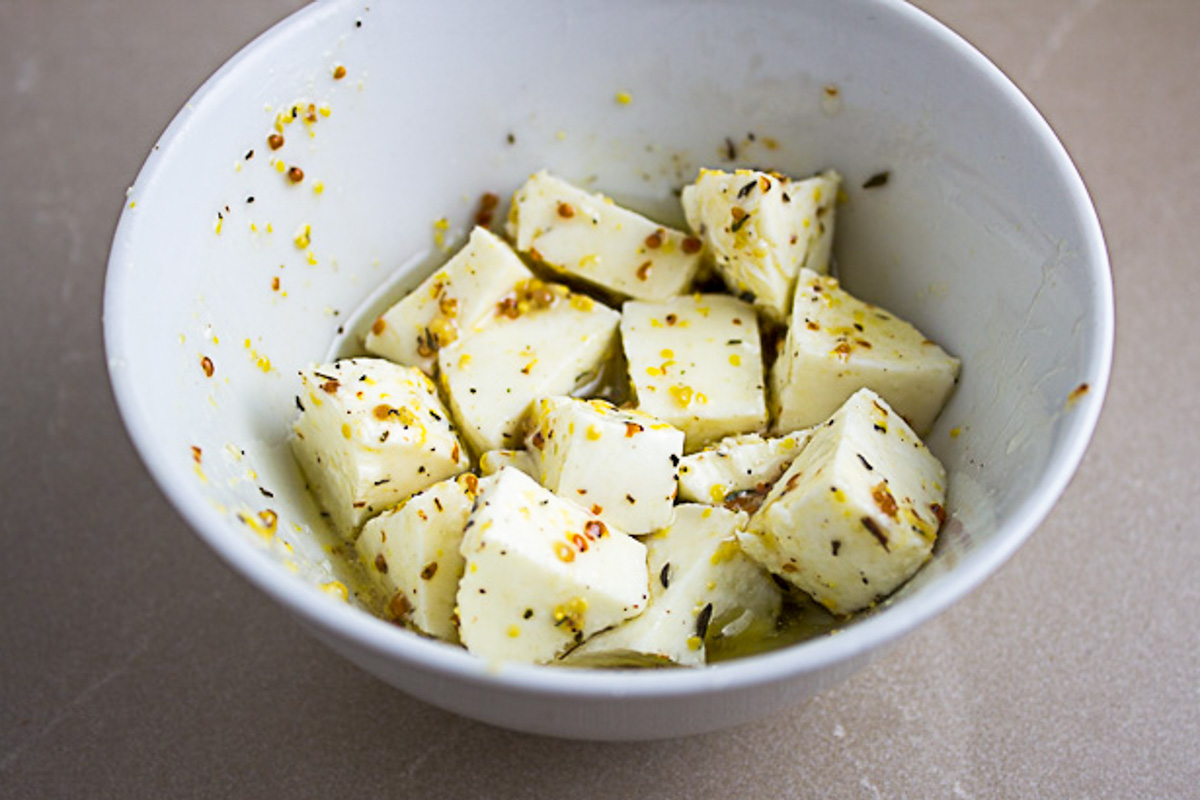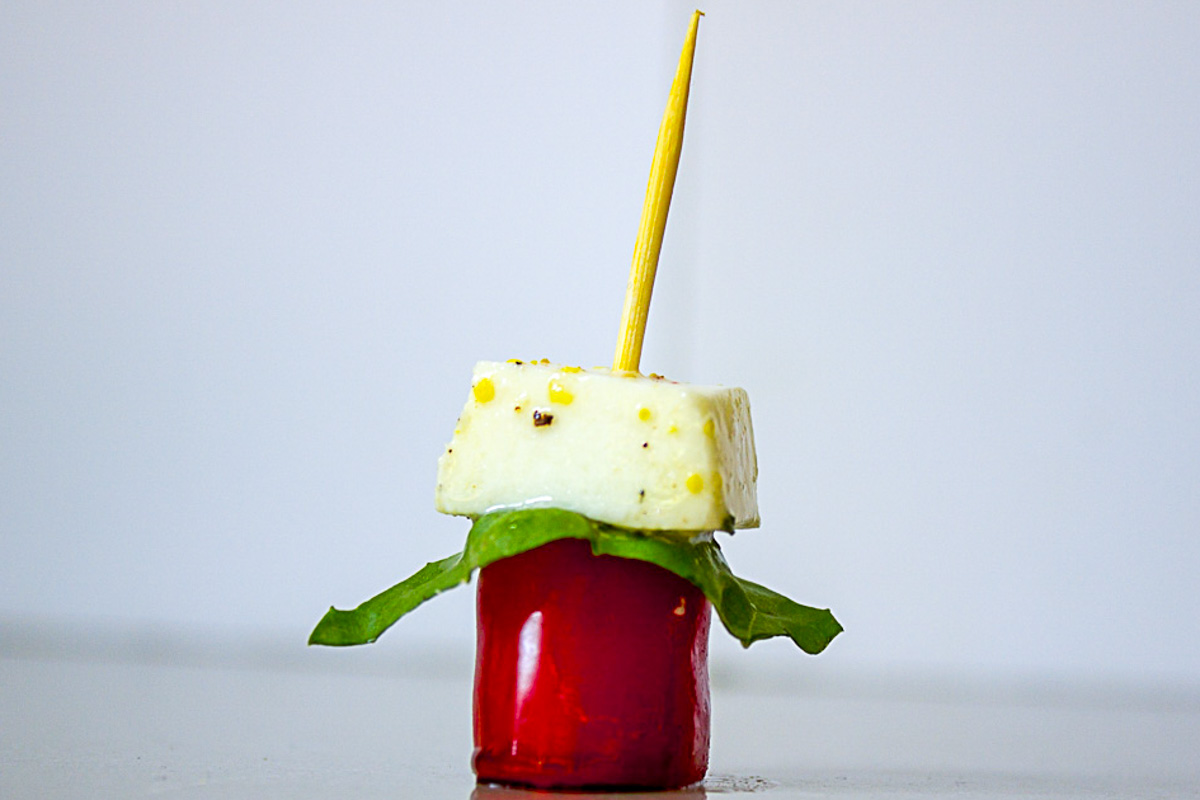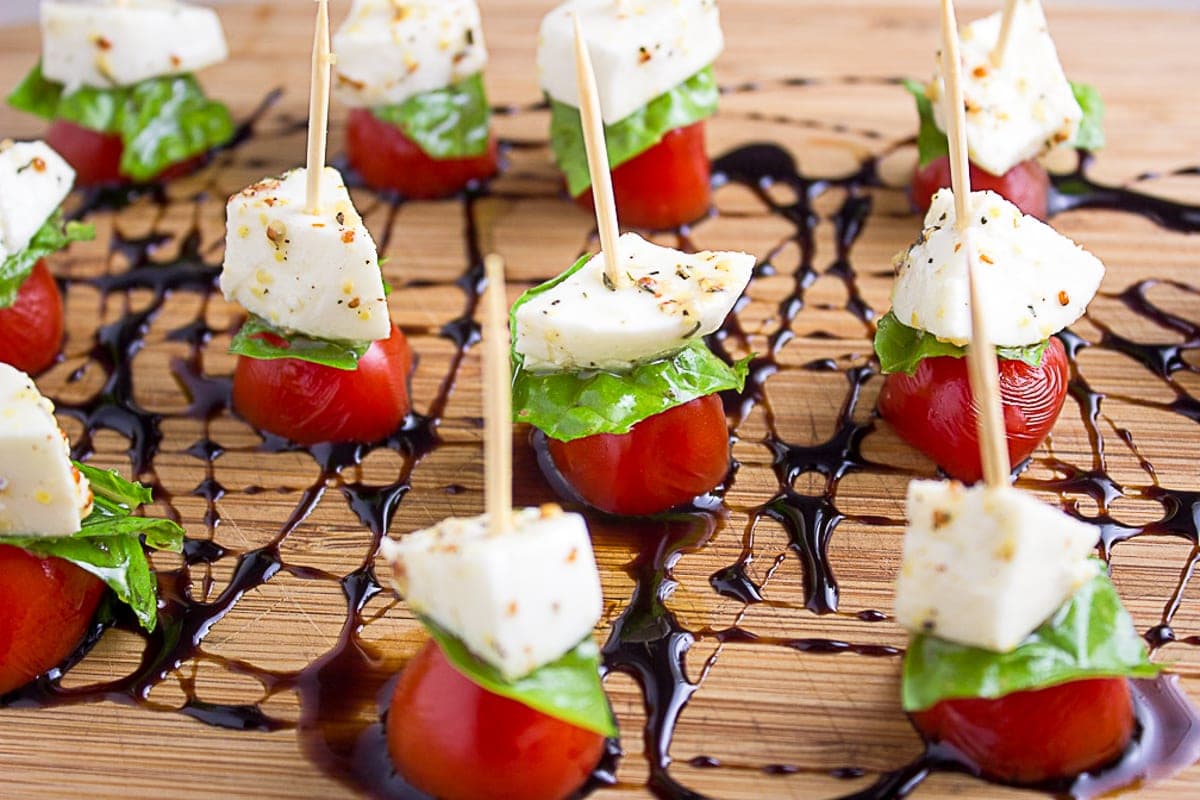 Shortcuts
use a bottled vinaigrette such as Italian dressing for the marinade
skip the marinating time and just toss the cheese in the vinaigrette
use a store-bought balsamic reduction or glaze (I use the kind in a squeeze bottle for easy Jackson Pollock-ish designs)
Make Ahead
Mini caprese appetizers are best made fresh or within a few hours of serving, but there are a couple of ways to make them ahead successfully.
Prep: The marinating and assembling can be done the day before. Store the skewers in the fridge, covered. You can make your own balsamic reduction the day before as well.
Assembling: If you can, assemble the skewers a few hours ahead to keep the basil at its freshest (but they'll still be ok if you don't)
Plating: Drizzle the balsamic glaze on the platter/cutting board just before serving, then add the caprese skewers.
Recipe FAQ
What is a caprese salad?
Caprese salad is a classic Italian salad that comes from the Italian island of Capri. It is commonly made with layers of fresh mozzarella cheese, tomatoes, and fresh basil, then seasoned with a drizzle of extra virgin olive oil and sometimes balsamic glaze. The colors match the Italian flag!
What is the difference between and grape and cherry tomato?
Grape tomatoes are oblong like grapes and smaller than cherry tomatoes. They have thicker skins are are a little less sweet. For this recipe, either will work fine. Any color too.
What is the difference between mozzarella and bocconcini cheese?
Both originate from Naples, Italy and both are mild and creamy with similar flavors. Here's a good article on the difference between mozzarella and bocconcini cheese. Essentially mozzarella is larger (the size of an orange) and bocconcini more the size of an egg. Some retailers sell smaller versions of both.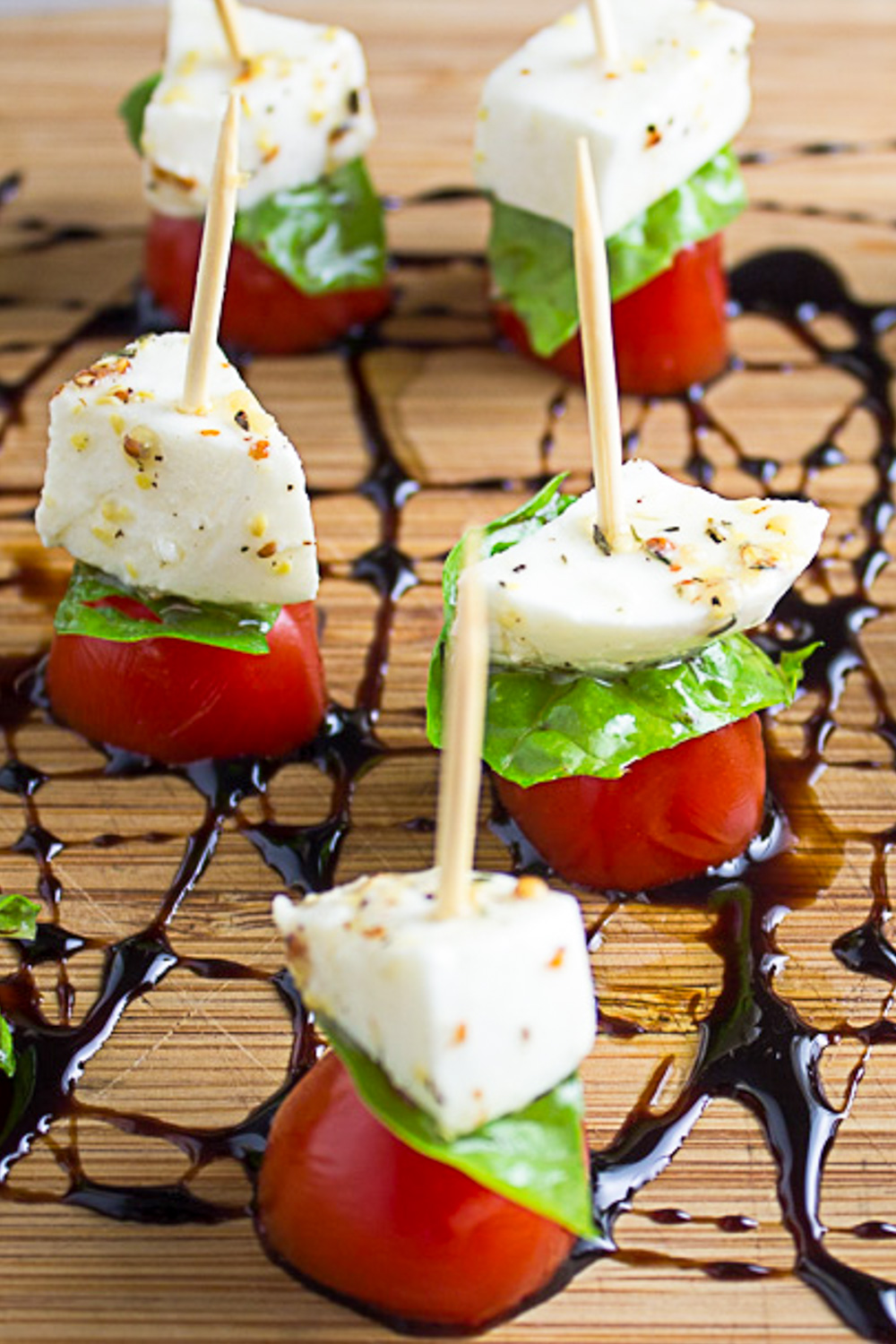 If you like this recipe, please leave a 5 star rating 🌟🌟🌟🌟🌟in the recipe card below. And if you REALLY like it, consider a review in the comments. Thanks!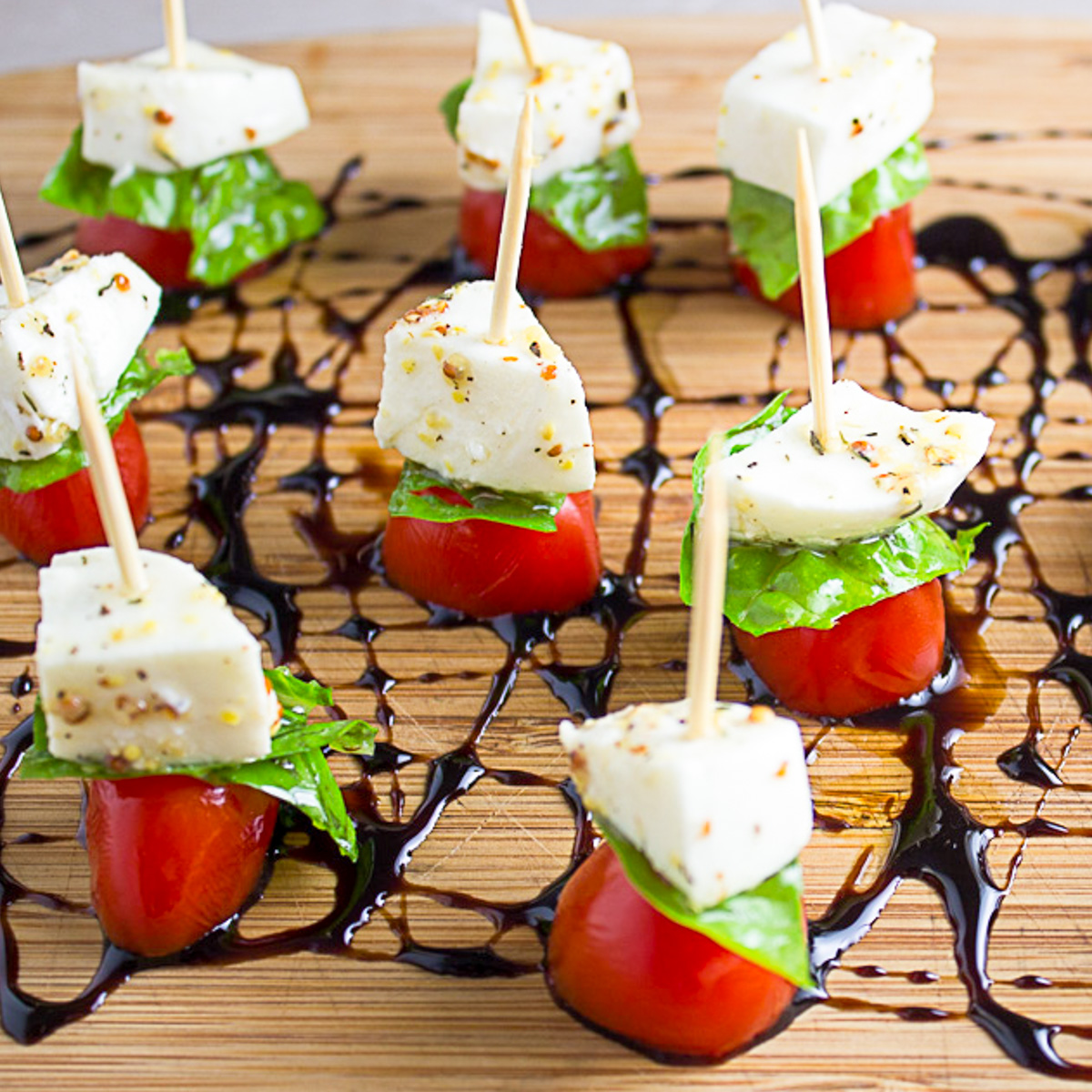 Print Recipe
Pin
Save Recipe
Recipe Saved!
Rate this recipe here
Caprese Appetizers (on mini skewers)
We amp up the flavor of these adorable and tasty mini caprese appetizers with a marinade and a drizzle of balsamic glaze.
Servings:
40
mini caprese skewers
Equipment
40 mini skewers or toothpicks
Ingredients
20

cherry or grape tomatoes, halved, Note 1

(gently squeeze out juices)

20

mini bocconcini cheese balls, cut in half

(or cut 40 1/2-inch cubes from fresh mozzarella balls)

20

fresh basil leaves, cut in half or quarters

(or cut large leaves into 1-1 1/2 inch pieces)

1/3

cup

Italian or vinaigrette dressing (Note 2)
balsamic glaze for drizzle (Note 3)
optional: sea salt

to sprinkle on before serving
Instructions
MARINATE CHEESE: Mix cheese and Italian dressing and let marinate for 30 minutes or overnight. This is optional to add some extra flavor (Note 1 to make your own vinaigrette). OR skip marinating time and just coat the cheese in the vinaigrette.

ASSEMBLE CAPRESE SKEWERS: For each skewer, set half tomato on board/plate (cut side down). Pierce tomato through the top with the end of the toothpick. Place basil leaf on top. Then add cube of cheese coated in vinaigrette. (Make ahead: Note 4)

PRESENTATION: Drizzle balsamic glaze (Note 2) in any zigzag pattern on a platter or cutting board just before serving. Place skewers on top. Serve.
Recipe Notes
Cherry tomatoes – you can leave the tomatoes whole instead, but the appetizers won't stand up on a platter. Lying them down is ok too 🙂
To make your own vinaigrette, whisk together 1 tablespoon lemon juice or white wine vinegar, 1 teaspoon Dijon or grainy mustard, 1/4 cup olive oil, salt and black pepper to taste. Add a pinch of dried or fresh herbs if desired.
To make your own Balsamic reduction/glaze, bring to boil 1 cup of  Balsamic vinegar and 1-2 tablespoons honey in a small saucepan on medium-high heat. Reduce heat and simmer for 10-15 minutes to a syrupy consistency, stirring occasionally (it will coat back of spoon). Cool to room temperature.
To make appetizers ahead: After Caprese appetizers are assembled on toothpicks, they can be put in fridge, covered with plastic wrap, for a few hours or up to a day. Drizzle Balsamic reduction on cutting board or serving platter and place skewers on top of it just before serving. 
Nutrition values are estimates. 
Nutrition
Calories:
46
kcal
|
Carbohydrates:
1
g
|
Protein:
3
g
|
Fat:
4
g
|
Saturated Fat:
1
g
|
Cholesterol:
5
mg
|
Sodium:
11
mg
|
Potassium:
20
mg
|
Fiber:
1
g
|
Sugar:
1
g
|
Vitamin A:
63
IU
|
Vitamin C:
2
mg
|
Calcium:
52
mg
|
Iron:
1
mg
Tried this recipe?
We'd love you to rate it above under 'rate this recipe' or in the comment section below. Thanks!