For a taste of summer, Pesto Orzo and Vegetables a simple, healthy dish with pesto, spinach, green beans and tomatoes. Packed with flavor and ready in 20 minutes.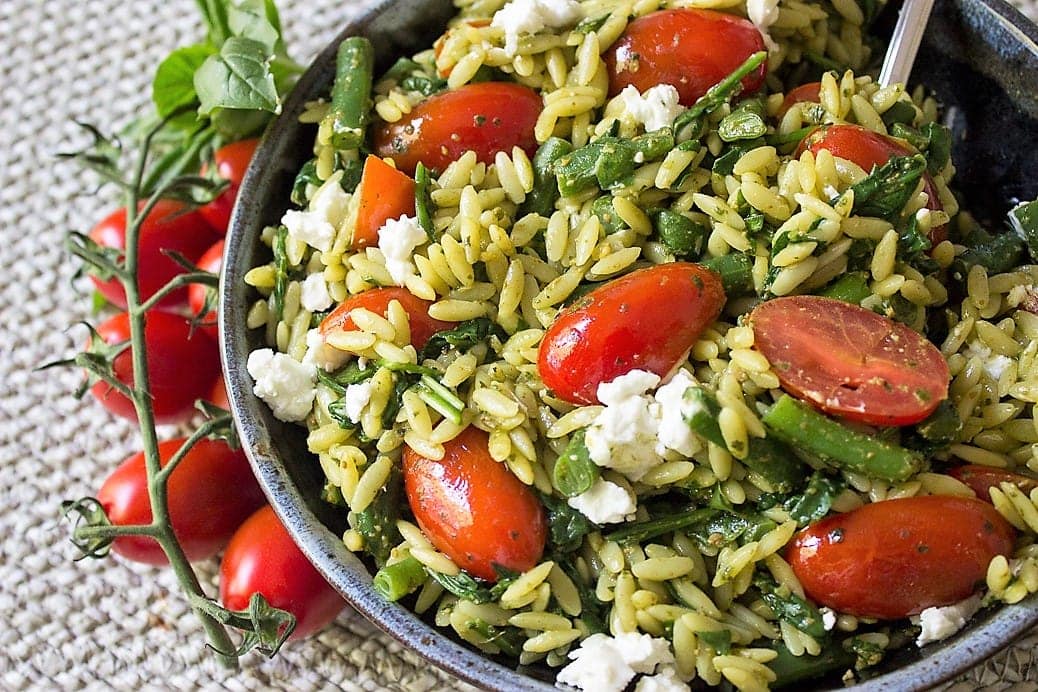 I planted a lot of basil in my garden this summer, so I made several batches of fresh pesto and found a few new ways to use it.  If you're a pasta and pesto lover, you can't go wrong with this vegetarian recipe. I like it served warm, but room temperature is good too.
Needless to say, you can choose your preferred veggies.  For example, instead of baby spinach, try baby kale. Instead of green beans, try small broccoli or cauliflower florets or even chopped asparagus.  (If you do, cut the cooking time by a couple of minutes).  In other words, the recipe is versatile.  And it's really quick to make even if you choose to make your own pesto.
I used our Classic Basil Pesto for this pesto orzo dish, but if you have another favorite – even a store bought pesto – feel free to use that. It's a great make ahead recipe for a potluck or buffet dish.  Try serving it with Sweet and Spicy Salmon or Mediterranean-Style Marinated Chicken.
Tailor to your Taste
Use any type of pesto you like.
Instead of orzo, use any small pasta like small fusilli.
Choose your preferred veggies to add.
Instead of goat cheese as a garnish, use ricotta or feta (or no cheese at all).
Add chopped pitted black olives, chopped green onions or matchstick radishes for some crunch.
Shortcut for Pesto Orzo
Use a good store bought fresh pesto.






Print Recipe
Pin
Rate this recipe here
Pesto Orzo and Vegetables Recipe
A taste of summer, Pesto Orzo and Vegetables is a super flavorful, healthy dish with pesto, spinach, green beans and tomatoes. Ready in 20 minutes.
Ingredients
1

cup

orzo

large handful green beans, trimmed and cut into 1 inch pieces

3

cup

baby spinach or kale, roughly chopped

10

cherry or grape tomatoes, cut in half

3

tbsp

pesto, bought or homemade (Note 1)

1

tbsp

olive oil

(or 2 tbsp)

salt and pepper to taste

Optional: splash of lemon or lime juice

Garnish: goat cheese and/or Parmesan cheese
Instructions
BOIL ORZO AND GREEN BEANS: In a medium pot, bring water with a tablespoon of salt to a boil. Add orzo and boil for 5 minutes. Add green beans. Continue boiling for about 5 more minutes until orzo is soft and beans are tender, but both should still have a bit of 'bite' (al dente). Drain well, then add back to pot.

FINISH THE DISH: Add chopped spinach to orzo in pot and toss well until slightly wilted. Add tomatoes, pesto and enough oil to achieve the consistency you like. Season with salt and pepper to taste. And mix in a squeeze of lemon or lime juice if you like. Transfer to a serving bowl. Garnish with goat cheese and/or Parmesan cheese. Serve immediately or at room temperature.
Notes
Pesto: Use any pesto you like or our Classic Basil Pesto recipe: Process in food processor until smooth: 1 cup packed Basil leaves, 1/4 grated Parmesan cheese, 2 tablespoons pine nuts or walnuts, 1 teaspoon minced garlic and 1/4 olive oil. (makes 1/2 cup)
Nutrition
Nutrition Facts
Pesto Orzo and Vegetables Recipe
Amount Per Serving (0 g)
Calories 310
% Daily Value*
Fat 0g0%
Cholesterol 0mg0%
Sodium 0mg0%
Potassium 0mg0%
Carbohydrates 0g0%
Protein 0g0%
Vitamin A 0IU0%
Vitamin C 0mg0%
Calcium 0mg0%
Iron 0mg0%
* Percent Daily Values are based on a 2000 calorie diet.
Tried this recipe?
We'd love you to rate it above under 'rate this recipe' or in the comment section below. Thanks!
Other pasta dishes you might like:
Fresh Tomato Lemon Olive Pasta Recipe
Fresh tomato lemon olive pasta is a beautiful blend of sweet summer-ripe tomatoes, lemon-basil zing and salty olives, capers and cheese.


Get the recipe
Print
Fresh Vegetable Pasta
This is one of my favorite non-meat meals. Its a light, healthy, zesty, fresh vegetable pasta dish and perfect for spring (or any time for that matter).
Get the recipe
Print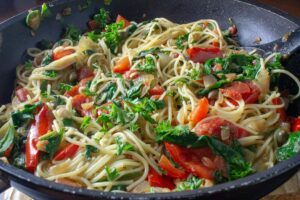 Tomato Spinach Pasta
This spicy cheesy Tomato Spinach Pasta is a quick and easy vegetarian meal. Melty cheese, tangy olives and healthy spinach. A meal in a skillet.
Get the recipe
Print
This recipe previously published two years ago. We're re-publishing it now for pesto season!