Choose your favorites – eggplant, zucchini, peppers, onion, asparagus. And check out our post on how to grill vegetables. Simple and delish.

This is a very simple side dish I make often for regular dinners or dinner parties in the summer.  It's easy, can be made ahead, visually appealing and a great accompaniment to meat, chicken, omelets or fish.
Pictured here are eggplant, red and orange peppers and asparagus, tucked in with fresh, ripe mango slices. Red onion and zucchini are great too. '
How to grill vegetables? I pre-baste the vegetables with Catalina  or French salad dressing (a throw back to the old days) then sprinkle them with oregano. Serve the grilled vegetables hot or at room temperature with any protein. I love them with marinated flank steak, grilled Vietnamese chicken and Canadian maple cedar planked salmon.
What else can you do with grilled vegetables?  Alot.  Here are 7 ways on how else to use them, so make extras.
Ways to Use Grilled Vegetables
Grilled vegetable kabobs:  Cut the grilled veggies into smaller pieces and thread them on skewers with fresh cherry tomatoes
Grilled vegetable salad:  Roughly chop the grilled vegetables, toss into greens, add a little goat cheese and drizzle with balsamic dressing. Try our Party Salad with Grilled Vegetables and Quinoa
Grilled vegetable pizza:  Add the vegetables to your next pizza.  Or better yet, your next grilled pizza.
In Pasta:  Try our Grilled Vegetable Orzo  .  Very popular for pot lucks and buffet tables.
Burger toppings:  Grilled vegetables are great toppings for beef, chicken, fish or veggie burgers.
Grilled vegetable omelets:  Toss some grilled veggies into your next omelet with some cheese and chives.
Grilled vegetables and cheese: Use grilled vegetables in your grilled cheese sandwich with a smear of fruit preserves (good!).
Tailor To Your Taste
Use other dressings like Italian or Balsamic or your own.
Try other seasonings such as thyme, rosemary or basil.
Make Ahead Grilled Vegetables
You can make this dish ahead and serve it at room temperature or warm it in the oven at 350-375F for a few minutes to serve hot.
Print Recipe
Pin
Rate this recipe here
How To Grill Vegetables
Choose your favorites - eggplant, zucchini, peppers, onion, asparagus. And check out our post on how to grill vegetables. Simple and delish.
Ingredients
Red, yellow or orange Peppers, Eggplant , Asparagus, Zucchini, Red Onion (choose what you like)

olive oil

(or Catalina/French dressing)

salt and pepper

thyme or oregano (fresh minced, or dried)

balsamic vinegar (optional)

or balsamic reduction drizzle
Instructions
Heat the grill to medium high.

CUT VEGETABLES: Slice the vegetables into serving pieces. Peppers and zucchini lengthwise; onions and eggplant in round disks; break the ends off asparagus stalks.

SEASON AND GRILL VEGETABLES: Lay the vegetables on a foil lined pan. Brush or drizzle them lightly with olive oil (I love using Catalina or French salad dressing instead). Sprinkle with salt, pepper and fresh or dried oregano (or thyme). Flip over the vegetables and repeat.

GRILL VEGETABLES on each side for a couple of minutes just until tender and grill marks appear. Sprinkle lightly with balsamic vinegar if desired or drizzle with balsamic reduction. Serve warm or at room temperature.
Notes
Make Ahead: Grilled vegetables can be made several hours ahead and left on the counter at room temperature until serving time. If preferred, you can rewarm them for 40 seconds in the microwave or for 5-7 minutes in a 350F oven. 
Tried this recipe?
We'd love you to rate it above under 'rate this recipe' or in the comment section below. Thanks!
Other recipes with grilled vegetables you might like:
Party Salad with Grilled Vegetables and Quinoa Recipe
We love this Party Salad with Grilled Vegetables and Quinoa, loaded with eggplant, corn, peppers and maple-balsamic dressing. Three sides in one colorful dish.
Get the recipe
Print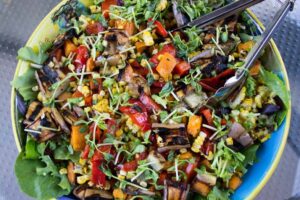 Lemon Risotto with Grilled Vegetables (Instant Pot)
Creamy risotto without the constant hands-on stirring? Yes! This Instant Pot Risotto with Grilled Vegetables takes minimal effort for exceptional results.
Get the recipe
Print
Grilled Vegetable Pasta with Wine Sauce Recipe
Grilled Vegetable Pasta with Wine Sauce is a versatile, healthy summer weeknight meal. Grill the vegetables you have on hand and add shrimp or tofu if you want to stretch it further. Delicious!
Get the recipe
Print
Grilled Vegetable and Potato Hash Recipe
Next time you're grilling some steaks or your favorite protein, try this super easy two-in-one side dish of Grilled Vegetable and Potato Hash. Dinner in a flash with whatever veggies you like best.
Get the recipe
Print
Grilled Vegetable Orzo
Grilled Vegetable Orzo is a beautiful make-ahead, under 30 minute side dish and a step up from the usual sides. Vary the ingredients to make it your own.
Get the recipe
Print
Sweet & Tangy Grilled Eggplant Recipe
Eggplant lovers will rave about this grilled eggplant with a sweet and tangy glaze. The beautiful bold colors make this an impressive side dish at any BBQ or picnic.
Get the recipe
Print