Chicken and Vegetables is one of my favorite comfort foods. Tender chicken smothered in onions, carrots, celery, peppers and spinach and a yummy sauce – all in one skillet.
Food for the soul, this one pot meal of chicken and vegetables goes way back, over 30 years at least. I used to call it smothered chicken. It's a family fall or winter favorite, delicious served with noodles, mashed potatoes or rice. It shares similar tastes to a chicken stew or fricassee, but contains no dairy.
I use bone in, skin-on chicken. If you've seen my other posts, you'll know that I always prefer dark meat (thighs and legs) because I find it is juicier and more flavorful. But since the chicken and vegetables are covered in a sauce, the chicken  – both dark and white – stays moist.
Weird tip: To avoid fry/onion-smell hair, I wrap a scarf around my head during the frying/saute part.  Not pretty and my husband just shakes his head, but worth it!
This recipe is well worth the few extra steps and time in my opinion and it can be made ahead and warmed up the next day.  If fact, it's just as good or better the next day.  To top off the comfort food vibe, serve this saucy chicken and vegetable recipe with fluffy basic mashed potatoes.
Tailor To Your Taste
You can substitute a whole chicken with any type of bone-in chicken pieces you prefer e.g. all thighs, all breasts, etc.
Instead of fresh spinach, use a cup or more of frozen chopped spinach, microwaved on high for 3 minutes then well drained.
Play around with the seasonings. I love thyme or rosemary in this recipe. Marjoram, sage and poultry seasoning would work too. Even dill.
Substitute or add other vegetables like mushrooms, sweet potato or parsnips. I don't suggest watery vegetables like zucchini as they can become mushy.
Shortcuts
Instead of making your own seasoned flour, buy a seasoning mix with similar seasonings (no chili powder or sugar!)
Substitute 2 teaspoons of garlic from the jar or 2 frozen garlic cubes instead of mincing fresh garlic.
Cut down on time by chopping the onions in a food processor.
Make Ahead Chicken and Vegetables
Make the full recipe, cool and refrigerate. Warm up in the oven the next day. The only small downside is that the spinach won't maintain its vibrant green color.
Leftovers are delish and will keep in the fridge for several days.
You can also make the dish a couple hours ahead and rewarm it before serving.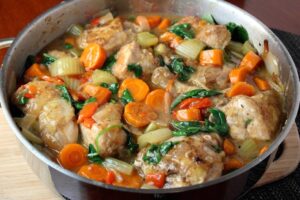 Print Recipe
Pin
Save Recipe
Recipe Saved!
Rate this recipe here
Chicken and Vegetables In A Skillet
Chicken and Vegetables is one of my favorite comfort foods. Tender chicken smothered in onions, carrots, celery, peppers and spinach and a yummy sauce - all in one skillet.
Equipment
a large skillet with lid - about 14". If you don't have one, you can transfer chicken and vegetables to a roasting pan for the oven portion of the recipe.
Ingredients
3.5

lbs

chicken pieces (e.g. legs, thighs, breasts, wings)

bone in, skin on.

1/4

cup

seasoned flour

( 1 tsp salt, 1 tsp thyme, 1 tsp. paprika, ½ tsp pepper, ½ tsp each garlic powder and onion powder)

2

tbsp

vegetable oil

1

large onion

4

large carrots, peeled, cut in 1/2 inch slices

4

celery ribs, cut into 1/2 inch slices

1

red pepper, cut into 1/2 inch slices

2

cloves garlic, minced

(2 tsp)

2

cup

chicken broth, warmed in microwave

1/2

tsp

dried thyme

2

tbsp

cornstarch, mixed into 1/4 cup cold water

3

cups

fresh baby spinach, roughly chopped

optional

salt and pepper to taste
Instructions
Preheat oven to 350F

PREPARE AND SAUTE CHICKEN: Trim extra fat from chicken. Place seasoned flour into a bag and coat chicken, one piece at a time, by shaking in bag. In a large skillet, heat oil on medium to medium-high. Fry chicken on both sides until golden brown, about 3 minutes per side. Drain on paper towels and set aside. If your pan is not large enough to fit all the chicken pieces without squishing them in, fry in two batches then transfer all the chicken to a larger roasting pan.

SAUTE VEGETABLES: Saute vegetables and garlic in the skillet for 5 minutes. Place chicken back in the skillet (or transfer to pan with chicken if using a separate pan) and settle the vegetables under and on top of the chicken. Pour in broth (warmed in microwave) and sprinkle thyme over the chicken and vegetables. Cover, place in the oven and cook for about 45-50 minutes (vegetables should be tender).

FINISH THE SAUCE AND SERVE: Remove chicken to a plate and set aside while you finish the sauce. Skim grease floating on the top and discard. Place skillet (or pan) on stove and bring vegetable and broth mixture to a boil. Pour in the cornstarch-water slurry and stir until thickened. Reduce heat to low, stir in spinach and cook just until wilted, about 1 minute.

Taste and adjust seasonings as needed. If the sauce is too thick, add some more chicken broth or water. Place chicken back into the skillet and spoon over sauce to coat it. If serving to company, transfer the entire dish to a deep platter (or serve in the skillet), sprinkle with chopped parsley if desired and serve with mashed potatoes, rice or noodles.
Notes
Make Ahead: 
Make the full recipe a day or two ahead, cool and refrigerate. Heat in a 350F oven for about 20 min or until hot the next day.
Leftovers will keep in the fridge for several days. I just warm them in the microwave.
You can also make the recipe a couple of hours ahead. Rewarm in a 325-350F oven before serving.  
Nutrition
Nutrition Facts
Chicken and Vegetables In A Skillet
Amount Per Serving
Calories 760
Calories from Fat 432
% Daily Value*
Fat 48g74%
Cholesterol 202mg67%
Sodium 1367mg59%
Potassium 1038mg30%
Carbohydrates 26g9%
Protein 54g108%
Vitamin A 13628IU273%
Vitamin C 63mg76%
Calcium 88mg9%
Iron 9mg50%
* Percent Daily Values are based on a 2000 calorie diet.
Tried this recipe?
We'd love you to rate it above under 'rate this recipe' or in the comment section below. Thanks!
This recipe from 2016, now updated, was previously posted as Smothered Chicken. 
Other chicken comfort food dishes you might like: 
Chicken Meatloaf and Vegetables
This Chicken Meatloaf with Vegetables is NOT dry and boring. It's soft, super moist and tasty with lots of hidden nutrition thanks to the onions, carrots and spinach. Your family will love this one.
Get the recipe
Skillet Chicken Pot Pie (30 minutes)
With a few shortcuts that don't compromise taste, this rich scrumptious skillet chicken pot pie can be made in 30 minutes. The ultimate comfort food.
Get the recipe
Roast Chicken Breast with Gravy
It's hard to beat a roast chicken breast dinner with gravy for comfort food. This recipe is easy - only 10 minutes hands-on time - and elegant enough for company.
Get the recipe
Apricot Chicken Recipe
Sticky, sweet and tangy deliciousness! This Apricot Chicken recipe is a semi-homemade and much better version of that old recipe with onion soup, jam and Catalina dressing. 
Get the recipe