A rich, bold-flavored balsamic maple sauce is the crowning glory of this succulent glazed pork tenderloin. Simple and mouth-watering.
Since pork tenderloin is a bland, lean meat, it needs to be paired with a robust sauce. The balsamic maple mustard glaze made with balsamic vinegar, maple syrup, grainy mustard and garlic fits the bill really well.
The glaze only takes a couple minutes to prepare. I use the same glaze on our Canadian Maple Cedar Plank Salmon, an easy salmon recipe that always gets rave reviews, mostly because of the glaze (and yes, the mild smoky flavor too). A good quality balsamic vinegar can make a difference so get the best you can.
To make the glazed pork tenderloin even more flavorful, moist and tender, brine it before grilling. Brining, of course, would add 2-3 hours to the timing, but I highly recommend it if you have the time.
So, what to serve with pork tenderloin? My faves are chunky apple sauce, Roasted Bok Choy and Broccoli, Roasted Baby Cauliflower, Root Vegetable Mash, Curried Rice with Raisins or Grilled Hasselback Sweet Potatoes.
This simple pork tenderloin recipe is an easy dinner recipe with great flavors. You won't go wrong with it.
Tailor To Your Taste
Cooking method: Instead of grilling, you can roast the pork tenderloin. Instruction are in the recipe notes. The most important tip is not to overcook the meat to the point where it becomes dry.
Doneness: Cook to a temperature of 140F/60C (the meat will rise to 145F/62.8C upon resting) for slightly pink. If you like it with little to no pink in the middle, cook it to 145F/62.8C before you rest the meat with tented foil. There is nothing to worry about pink pork. The temperature is FDA- approved.
Glaze: Use a different glaze or sauce. Two good ones are fresh herb sauce (5 min) or the glaze recipe from sous vide pork loin with raspberry balsamic sauce. Both these sauces should be added after grilling the pork tenderloin.
Shortcuts
Make Ahead
Make the glaze a day or two ahead.
Or, make the entire dish ahead, refrigerate and serve it cold or at room temperature. If you like, you can reheat the remaining sauce to drizzle over the meat before serving.
Other simple pork recipes you might like
Grilled pork recipes
Sous vide pork recipes
Oven and Skillet pork recipes
How to grill pork tenderloin with maple balsamic glaze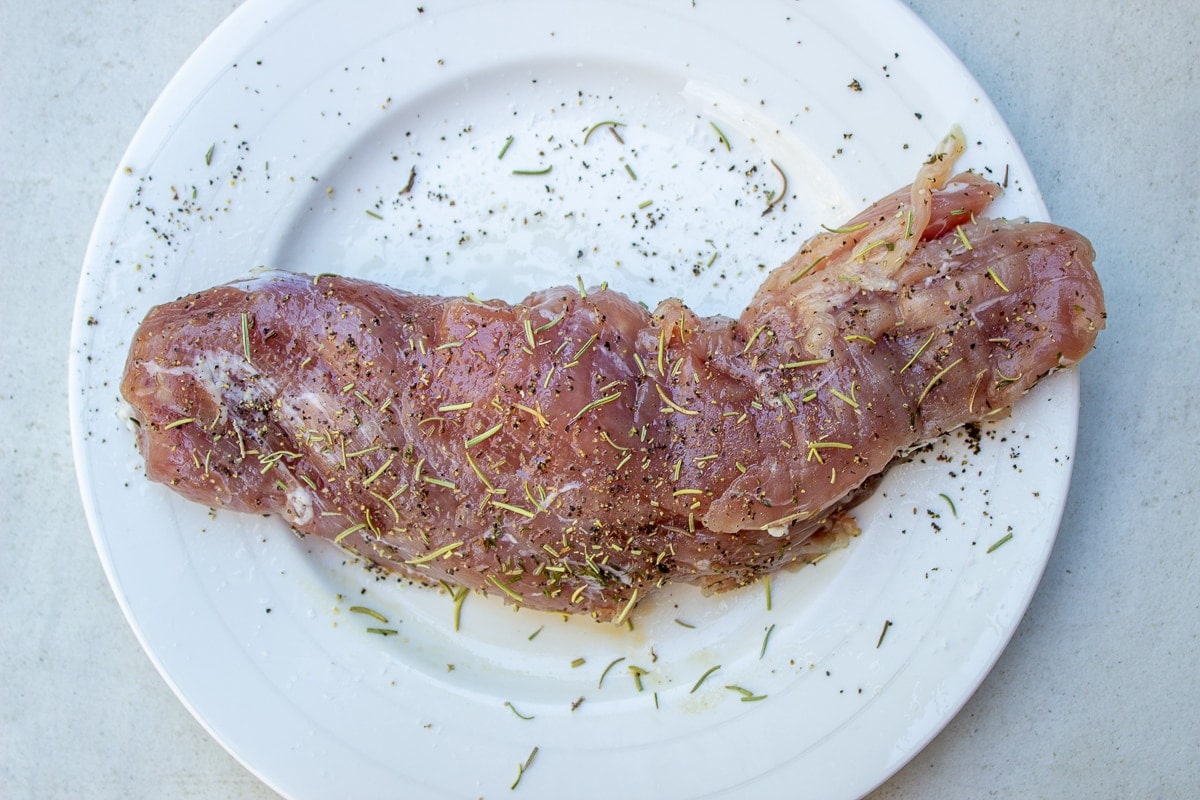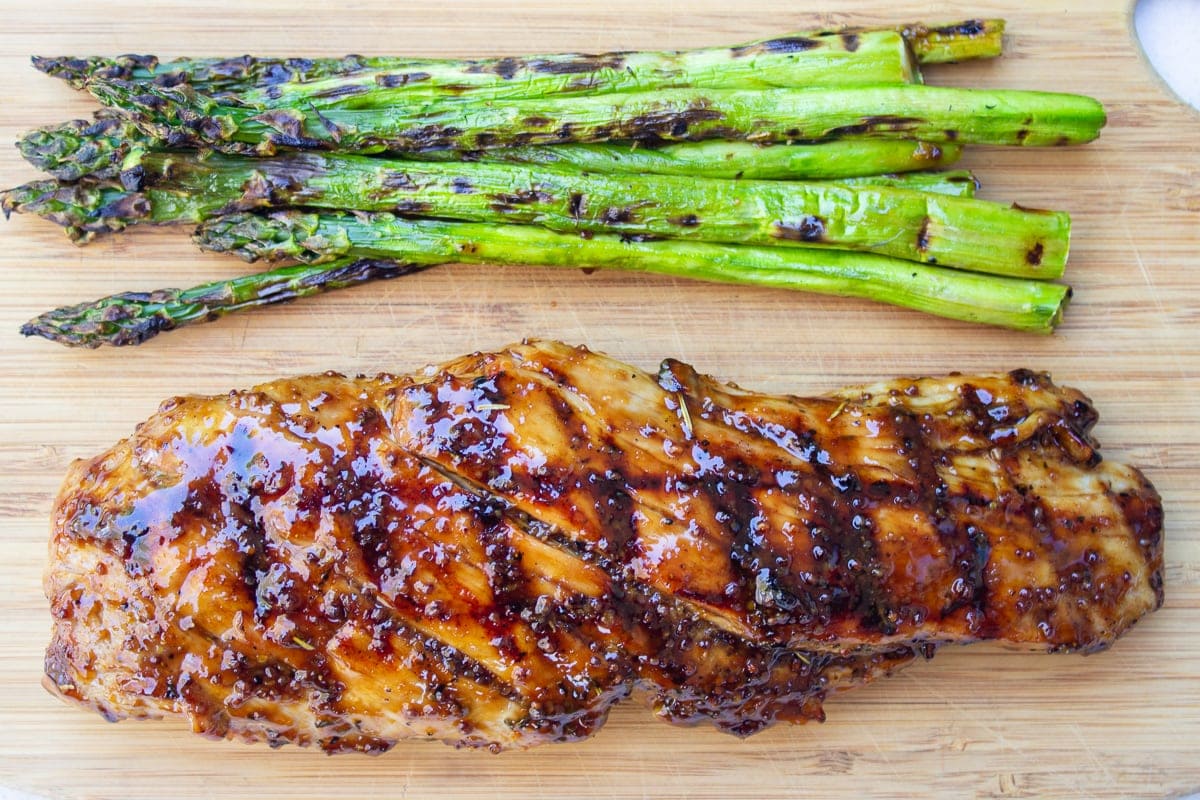 Glazed Pork Tenderloin
A rich, bold-flavored balsamic maple sauce is the crowning glory of this succulent glazed pork tenderloin. Simple and mouth-watering.
Ingredients
1 1/4

pounds

(567kg) pork tenderloin

(1 tenderloin)

2

teaspoon

olive oil

kosher salt, black pepper and dried rosemary (or thyme) to taste
Glaze
2

tablespoon

butter

2

tablespoon

good Balsamic Vinegar

2

tablespoon

grainy (old fashioned) mustard

3

tablespoon

pure maple syrup

1

teaspoon

minced or grated garlic

(about 1 clove)

1

teaspoon

cornstarch
Instructions
PREPARE TENDERLOIN: If necessary, remove any silver skin left on the tenderloin (stringy white silvery connective tissue) with a small sharp knife. To prepare for grilling, rub with oil and sprinkle with salt, pepper and rosemary (or thyme if you prefer). Note 1 to brine

HEAT GRILL to medium high - about 400F/204C.

PREPARE GLAZE: In a microwavable small bowl or measuring cup, add all ingredients and stir. Microwave on high for 1 minute. Stir again.

GRILL TENDERLOIN: (see Note 2 to roast instead). Grill tenderloin about 4-5 minutes, turn, then baste with glaze. Cook several more minutes, then turn and baste the other side with glaze. You will use about 1/2 the glaze. Cook for about 8-13 minutes in total or until instant thermometer reads 140F/60C for medium with a little pink center (or 145F/62.8C for little to no pink). Both temps will rise by 5 degrees with resting. Cover loosely with foil and let meat rest for 10 minutes.

SLICE AND SERVE: Slice meat, drizzle with remaining glaze, (that has been warmed in microwave), and serve with apple sauce or your favorite sides.
Notes
To brine the pork tenderloin (optional): If desired and if you have time, brine the tenderloin for 2-4 hours before preparing for grilling. This makes it more even flavorful and tender. To brine, submerge tenderloin in a bowl or ziploc bag filled with 2 cups water, 2 tablespoons salt, 1/2 tablespoon sugar, a clove of garlic and some herbs - mixed together. Place in fridge. 
To roast (instead of grill); Heat oven to 450F/232C. Coat with half the glaze then roast for 15-20 minutes or until temperature of tenderloin reaches 140F/60C. Tent loosely with foil for 10 minutes, slice and serve with extra sauce. Temp will rise by 5 degrees. For little to no pink, roast to 145F/62.8C.
Make ahead: The glaze can be made a day or two ahead. Or, the entire dish can be made ahead, refrigerated and served cold or at room temperature. If you like, you can reheat the remaining sauce to drizzle over the meat before serving.
Nutrition values are estimates.
Nutrition
Nutrition Facts
Glazed Pork Tenderloin
Amount Per Serving
Calories 394
Calories from Fat 162
% Daily Value*
Fat 18g28%
Cholesterol 143mg48%
Sodium 671mg29%
Potassium 814mg23%
Carbohydrates 17g6%
Protein 40g80%
Vitamin A 233IU5%
Vitamin C 1mg1%
Calcium 39mg4%
Iron 2mg11%
* Percent Daily Values are based on a 2000 calorie diet.
Tried this recipe?
We'd love you to rate it above under 'rate this recipe' or in the comment section below. Thanks!
This glazed pork tenderloin recipe, originally published in 2017, has been updated with new information and pictures.